Most economical family cars 2021
Are you after a spacious and economical new car? Here's a definitive list of the new family cars that deliver the best MPG.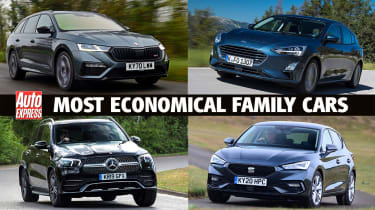 A good family car needs to cover a lot of bases really well in order to stand out from the pack. For instance, it ideally needs to be comfortable and easy to drive, have enough space for passengers and their luggage and be equipped with a good amount of safety tech. And, with fuel prices as high as they are, it helps if they're very economical, too.
To help you pick the right car for your needs when fuel efficiency is a top priority, we've gone through all the manufacturer spec sheets to find the most economical family cars on sale right now. Because different engines are better suited to certain situations than others (for example, a diesel car will probably be more suitable for you than a petrol one if you regularly do lots of driving on motorways), we've split the list into three categories: one for petrol cars, another for diesel cars and the last for hybrids. If you want to wave goodbye to the fuel station permanently and forget about MPG, a pure electric car is the way to go.  
Most economical cars on sale now
To clarify, we're including mild-hybrid engines in the purely petrol and diesel engine categories. This is because, while they have engines that use an electric motor generator unit to improve fuel economy, mild-hybrid cars aren't able to cover any miles under electric power alone, which means they're no different to drive than their petrol- and diesel-only counterparts.
For the purposes of this list, we've also decided not to include fully electric cars here. However, that doesn't mean you shouldn't consider one – there are a growing number of electric car options that can cover lots of miles between charges, and you can check out some of them in our best electric car guide.
Most economical petrol family cars
1. Skoda Octavia 1.0 TSI e-Tec (110hp) SE auto – 56.5mpg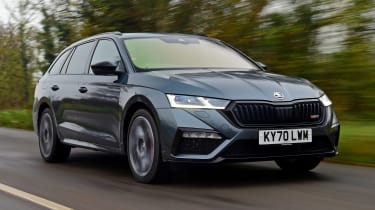 The Skoda Octavia hatchback holds the crown as the fuel economy king of family cars. It's available with a broad selection of petrol engines, but the one to go for if you're after the most frugal option is the 1.0-litre three-cylinder mild-hybrid one – according to the claimed fuel economy figures, it's capable of returning up to 56.5mpg.
Performance takes a bit of a back seat with the mild-hybrid – after all, it only has 109bhp and 200Nm of torque to its name. That said, the claimed 0-62mph time of 10.6 seconds and 124mph top speed should mean this spec of Skoda Octavia has enough pace for most day-to-day driving needs. Do also bear in mind that, while the non-hybridised 1.0-litre petrol engine can be fitted with a manual gearbox, the mild-hybrid e-Tec version is only available with an automatic.
2. Audi A3 30 TFSI (110hp) Technik auto – 55.4mpg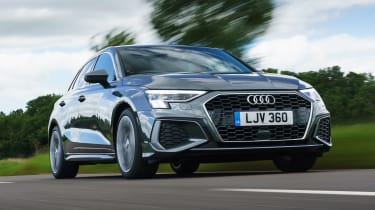 Just falling short of the top spot is the most efficient mild-hybrid version of the Audi A3 Sportback hatchback. With a claimed fuel economy figure of 55.4mpg, it's only 1.1mpg down on what the Octavia can manage – which perhaps isn't too surprising, considering both cars use the exact same engine.
This means the cars are very similar to each other in a lot of areas. Power and torque are the same, at 109bhp and 200Nm, and the 0-62mph time of 10.6 seconds is identical, too. Like the Skoda, the Audi A3 mild-hybrid is also only available with an automatic gearbox – while you can buy an Audi A3 30 TFSI with a manual, it's powered by the regular 1.0-litre three-cylinder petrol engine rather than the electrified one.
3. Peugeot 308 SW 1.2 PureTech (110hp) Active Premium manual – 54.9mpg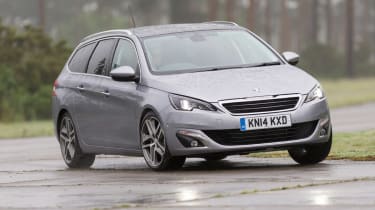 Rounding off the podium places on our most economical petrol family cars list is the Peugeot 308. According to the claimed figures, the French five-door family hatch can return up to 54.9mpg – which is impressive, considering the Peugeot's engine isn't a mild-hybrid one, and therefore has no electric motor assistance to help reduce the car's fuel consumption.
While it's the least powerful engine you can spec in the 308, the 108bhp and 205Nm it produces means there's enough punch in reserve for most motorists' needs. More interestingly still, it isn't an on-paper fuel economy penalty if you opt for the 308 SW estate over the conventional hatchback version, as Peugeot quotes the same 54.9mpg figure for both bodystyles.
4= Vauxhall Astra Sports Tourer 1.2 Turbo (110hp) SE manual – 54.3mpg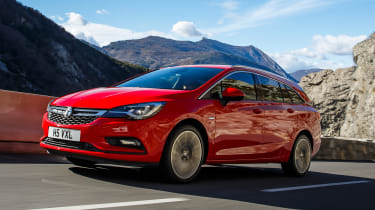 The Vauxhall Astra uses the exact same 1.2-litre three-cylinder petrol engine as the Peugeot 308, so it isn't shocking to see the Astra also has impressive on-paper economy. While it does give away a tiny fuel consumption deficit to the Peugeot, the Vauxhall can still boast a very good claimed figure of 54.3mpg.
It's a pretty punchy engine, too, with its decent 205Nm of torque being available from very low down the rev range at just 1,500rpm. Plus, as is the case with the Peugeot 308, both the hatchback and Sports Tourer estate versions of the Vauxhall Astra have identical claimed fuel economy figures.
4= Volkswagen Golf 1.0 eTSI (110hp) Life auto – 54.3mpg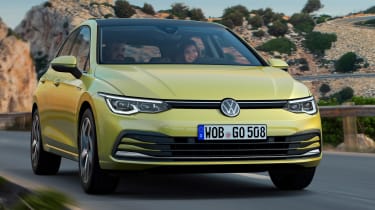 Wrapping up our run-down of the most efficient petrol-powered family cars is the latest generation of the Volkswagen Golf. Courtesy of the 1.0-litre mild-hybrid petrol engine that it shares with the Audi A3 and Skoda Octavia, the Golf is able to match the Astra for efficiency, and return a claimed 54.3mpg.
It's far from being a powerhouse of an engine, though the 108bhp and 200Nm of torque are enough, VW says, to allow a decent 0-62mph time of 10.2 seconds. Do also bear in mind that, if you decide the 1.0-litre mild-hybrid Golf is the car for you, you'll only be able to spec it in the entry-level Life trim.
Most economical diesel family cars
1. Skoda Octavia 2.0 TDI (116hp) SE manual – 68.9mpg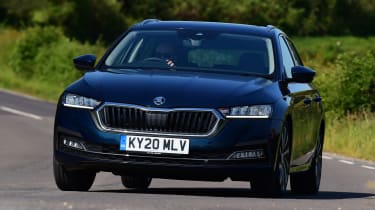 The diesel-powered Skoda Octavia hatchback has followed in the footsteps of its petrol-powered counterpart, by being the most economical diesel family car on sale in the UK. In fact, the 68.9mpg fuel consumption figure is enough to make this particular spec of Skoda Octavia one of the most frugal non-hybrid diesel cars you can buy right now, period.
With respectable outputs of 113bhp and 300Nm of torque, the entry-level diesel Skoda Octavia has enough punch in reserve for motorway cruising duties, too. If you so desire, you can also replace the standard-fit manual gearbox with a DSG automatic – though doing so does reduce the Skoda Octavia's fuel economy a bit to 64.2mpg.
2. Ford Focus 1.5 1.5 EcoBlue (120hp) Zetec manual – 67.3mpg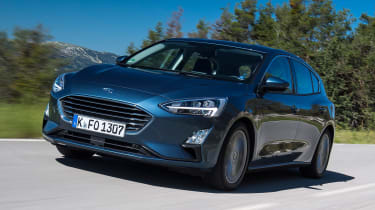 While the petrol engines are a better fit with the Ford Focus' sporty handling characteristics, the 1.5-litre diesel is still a worthwhile choice if you're a fuel economy conscious driver. Whereas the most frugal purely petrol and hybrid versions are capable of up to 51.4mpg and 56.5mpg respectively, the 118bhp diesel is more efficient still with a claimed 67.3mpg.
Going for the most efficient option doesn't mean you'll compromise too much on performance, either, as the engine's 300Nm of torque output means there's a decent amount of in-gear pulling power. However, as peak torque isn't available until around 2,000rpm, you will need to rev the engine a fair bit when pulling away from junctions.
3= Vauxhall Astra Sports Tourer 1.5 Turbo D (105hp) SE manual – 65.7mpg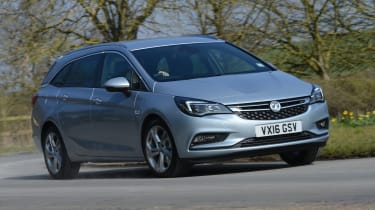 The Vauxhall Astra is available with two versions of the same 1.5-litre three-cylinder diesel engine; one with 108bhp and 260Nm of torque; the other with 120bhp and 300Nm. Overall, the more potent version is a bit more flexible in day-to-day driving, though the less powerful version is still punchy enough to not feel out of its depth on faster roads.
Where it loses out in performance, the less powerful diesel claws back some ground in fuel economy: whereas the 120bhp engine can still return a very good 64.2mpg, the 108bhp option is more frugal still at 65.7mpg. Plus, as is the case with its petrol-powered counterpart, Vauxhall claims the hatchback and Sports Tourer estate versions of the Astra are just as efficient as each other.
3= SEAT Leon 2.0 TDI (115hp) SE manual – 65.7mpg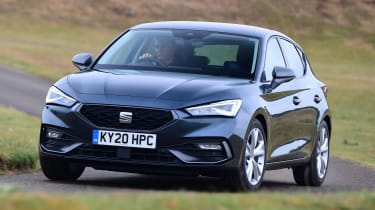 Under the bonnet of the diesel SEAT Leon is a 2.0-litre four-cylinder engine that's very closely related to the one used in the Skoda Octavia on this list. While it admittedly isn't as frugal in the Leon as it is in the Octavia, the SEAT nevertheless sips fuel with this engine: the claimed 65.7mpg is fuel economy isn't that far off what the Skoda can achieve, and means the Leon shares joint third place honours with the Vauxhall Astra.
It's also a decently strong engine, thanks to its respectable outputs of 113bhp and 300Nm of torque. However, do bear in mind that the 2.0-litre diesel is only available on the entry-level SE and SE Dynamic trims, and it's also only available with a six-speed manual.
4. Peugeot 308 SW 1.5 BlueHDi (130hp) Active Premium manual – 65.6mpg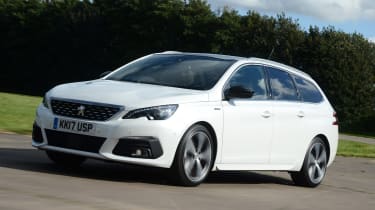 The Peugeot 308 is the lowest ranked diesel car on this list, but it's still a fine buy if you're after an economical family car. According to Peugeot, the hatchback's 1.5-litre diesel engine is capable of returning up to 65.6mpg, which is just 0.1mpg down on what the SEAT Leon and Vauxhall Astra in joint-third place can achieve.
Performance is decent in the Peugeot, too: there's a healthy 300Nm of torque available, and the engine's 128bhp power output makes the 308 the most powerful purely diesel car on this list. Like the petrol-powered Peugeot 308, there's also no on-paper difference between the hatchback and estate versions when it comes to fuel economy.
Most economical hybrid family cars
1. Mercedes GLE 350de (320hp) AMG Line Premium auto – 403.6mpg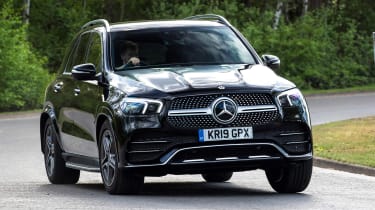 The diesel-electric plug-in hybrid version of the Mercedes GLE is by far the largest car on this list. Despite that drawback, it also has the best on-paper fuel economy, as Mercedes claims the GLE 350de can return up to 403.6mpg.
It's the most powerful car here, too: Mercedes says the GLE hybrid's 2.0-litre diesel engine and electric motor can produce up to 316bhp and a massive 700Nm of torque, which allows it to accelerate to 62mph from a standing start in 6.6 seconds. You will have to pay for the plug-in hybrid privilege, though, as the GLE 350de can only be specified in the range-topping AMG Line Premium trims.
2= Mercedes A 250e (218hp) AMG Line auto – 282.5mpg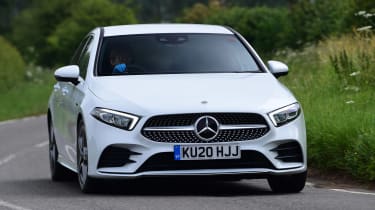 It's a long way back in terms of fuel consumption from the plug-in hybrid Mercedes GLE, but the petrol-electric Mercedes A-Class has very impressive on-paper fuel economy figures to its name. According to Mercedes, the A 250e is able to return up to 282.5mpg, in both its hatchback and saloon guises.
With 215bhp and 450Nm of torque to call upon, the plug-in hybrid Mercedes A-Class also has good performance for a family hatchback. Do bear in mind, though, that the A 250e is quite a bit more expensive than the conventional petrol versions – meaning you'll need to make the most of the car's electric-only range of up to 45 miles to offset the higher starting price. 
2= Audi A3 40 TFSI e (204hp) Sport auto – 282.5mpg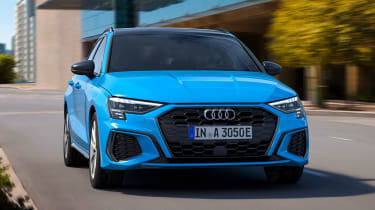 There's not much to split the petrol-electric Audi A3 from its Mercedes adversary. After all, both cars are about the same size and aren't separated by much in terms of pricing. Very little separates the pair in the fuel consumption stakes, either, as the Audi's claimed economy of 282.5mpg is identical to the figure Mercedes quotes for the plug-in A-Class.
Admittedly, the Mercedes is the marginally more powerful of the pair, and therefore has a slight edge in performance. That's not to say the Audi A3 40 TFSI e is a slow car, though: the 201bhp and 350Nm it has are still pretty good for a family hatch, and are enough for the plug-in hybrid Audi to accelerate from 0-62mph in a not-exactly-slow 7.6 seconds.
2= Skoda Octavia iV 1.4 TSI (204hp) SE L auto – 282.5mpg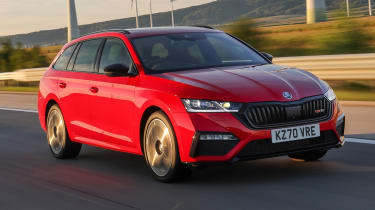 Unlike the purely petrol and diesel versions of the Skoda Octavia, the plug-in hybrid variant can't quite get to the top of the economy standings. The claimed fuel economy of 282.5mpg makes it a very efficient car, though, and means the Skoda shares runner-up honours with the plug-in hybrid versions of the Audi A3 and Mercedes A-Class.
As it uses the same 1.4-litre petrol engine and electric motor setup with the plug-in hybrid Audi A3, the Skoda Octavia iV has the same amount of power and torque, and its 0-62mph time of 7.7 seconds is only a tenth of a second slower. You can spec the plug-in hybrid engine in the Octavia Estate, too – though it's claimed fuel economy of 256.8mpg means it's not quite as efficient as the hatchback version.
3. Suzuki Across 2.5L Plug-in Hybrid (306hp) auto – 282.4mpg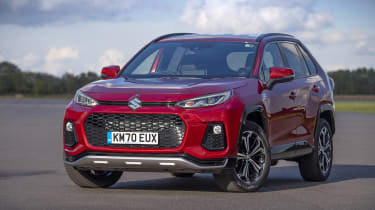 A medium-size SUV with a 2.5-litre petrol engine under the bonnet doesn't sound like the recipe you may expect for a fuel-efficient family car. However, thanks to the electric assistance from its plug-in hybrid powertrain, the Suzuki Across is very economical on paper; its claimed 282.4mpg meaning the car misses out on sharing the runner-up spot by just a tenth of a mile-per-gallon.
One point about the Suzuki Across, though: underneath, it's mechanically identical to the upcoming plug-in hybrid version of the Toyota RAV4. While prices haven't yet been announced, we expect the plug-in RAV4 be a little bit cheaper than the Across (which starts from just under £46,000) when it goes on sale, and it will also have a slightly better warranty: up to five-years/100,000 miles for the Toyota, versus the Suzuki's three-years/60,000 miles manufacturer cover.
Source: Read Full Article