Mazda MX-5 30th Anniversary First Drive: Tangerine Dream
There's not many marques that survive 30 years in the original mold any more. Even some of the most venerable badges have either had breaks in production, or have switched things up a bit to pander to market tastes.
Mazda's MX-5 – or, if you prefer, Miata or Roadster – is something of an exception. 2019 marks 30 years since the Hiroshima brand first introduced the little convertible, and it still follows the same plan as the original. It's a lightweight, two-seat convertible, with a straight four up front breathing nothing but regular air and driving the rear wheels only.
To mark the milestone, Mazda is producing 3,000 of these special 30th Anniversary Edition models. More than a sixth of those – 550 in total – are going to the UK market, so when Mazda UK emailed us and asked if we'd like to go be among the first in the world to drive it, we quite obviously said yes.
Whoah, the paint!
You won't miss it in a car park, that's for sure. This is a new shade, specific to the 30AE (as we're going to call it to save typing), by the name of "Racing Orange". All 3,000 cars come in this rather striking color.
Mazda does like to pick out its celebratory MX-5 models in unique paint too. The previous 25AE in 2014 had a nice Soul Red Crystal with a black power hard top. Fan – and possibly our – favorite, the 10AE, came in Innocent Blue Mica. This is a little more garish than either.
It's quite reminiscent of an older MX-5 special edition, the Le Mans. That run of 24 cars back in 1991 celebrated the 24 Hours of Le Mans victory by the Mazda 787B, and sported an orange and green livery to mimic the race car. That (and the price) actually made the car a bit of a challenge to sell, even in those very limited numbers, but we reckon the 30AE won't hang around forecourts for very long.
What else is special then?
Aside from the orange, which is everywhere, you get some very subtle upgrades just to make everything a little more posh – quite like the 10AE, in fact. A lot of it is based on the Sport Recaro model, which includes the Recaro seats and Alcantara trim (although they're a lot more orange here).
Underneath there's stiffer springs allied to Blistein dampers, a strut brace and a limited-slip differential. This too is part of the top-of-the-range MX-5 kit. Less usual fare includes Brembo front brakes (a first on UK-market cars), matched to Nissin rears, both finished in – you guessed it – orange. They're covered by an extremely smart set of forged aluminum wheels from Rays. Those are model-specific and etched with the 30th Anniversary name.
All 30AE cars use the newest version of the two-liter SkyActiv G petrol, packing 181hp. That drives the rear set of those Rays wheels through a six-speed manual only. Last, but not least, you can get the 30AE in both body styles of the MX-5.
No change to the driving manners, I hope?
Almost none at all. The MX-5 still operates in that little spot between completely skeletal track toys that you build yourself and comfier machinery for relaxing in when you don't feel like really punishing some tires. That said, there are some important things to note, both in terms of the 30AE itself and between the two body styles.
Firstly there's the ride. When you start adding words like "sports", "stiffer", or "lower" into the mix to describe suspension, you're going to be in for a bit of a bad time on anything other than freshly laid asphalt, and the MX-5 isn't exactly a by-word for ride comfort anyway. Ultimately it's not really the case; the 30AE ride is actually pretty decent for the most part, so long as you're not hitting bigger, lumpier stuff.
The RF actually comes off slightly better in that regard. There is a mildly different rear suspension setting to account for the 90-pound roof and its mechanism, and rather than sitting down and responding to bumps more harshly it seems to soak things up a little better.
That also extends to how the MX-5 leaves bends. The RF seems fractionally more composed and it's easier to get the power on that little bit earlier; even with the traction control off, it doesn't seem as eager to let go.
However the regular roadster has the edge into the bends and right through them too. The new Brembo front brakes make getting rid of speed a cinch – if anything they're a little keen to overwhelm the tires at low speed – and the marginally smaller body roll in the roadster makes for more confidence in the corners.
Where the RF loses out most is actually the noise. Mazda's intent is for the RF to be a more refined version of the MX-5, but the amount of wind noise generated by the rear roof section is significantly more than the roadster whether the roof is up or down. It really gets going at around 40mph, and at motorway speeds it's like being back in an old Mk1 MX-5.
The engine is a joy in either car though. It's happy to amble along below 4,000rpm, although we did find it wanting for a little more torque on steep inclines. Spin it past that and up to the 7,500rpm cutoff and you'll have so much fun at not necessarily that much speed. 60mph does come up in under seven seconds for both bodies though, and it is capable of maintaining quite some pace.
It almost goes without saying that, in any form, the MX-5 remains one of the most chuckable cars out there. The gearchange and steering are still a joy and with so little weight to nurse around relative to even city cars, it's a welcome throwback to how cars used to be (without the downsides thereof).
What's it like in the cabin?
It's a pretty nice place to be, all things considered. With the maximum orange theme, Recaros, and Alcantara it's comfortable and there's plenty of kit.
You might recognize the interior from our CX-3 review. That's because the CX-3, MX-5, and Mazda 2 all share the same essential layout – which is fine because it works very well indeed. There's a couple of key differences though: the MX-5 doesn't have a HUD (presumably because there's almost no gap between the top of the binnacle and the windscreen), and it doesn't have a glovebox.
At least it doesn't have one in the conventional position. There is an equivalent, but it's behind you and between the seats – and not very big. In fact, and this won't come as much of a shock, there is almost no storage space in the MX-5's cabin whatsoever. You will find a small cubby in the center console, and a pair of removable cupholders that resemble elk antlers – and which are about as useful for holding cups.
It can be quite a tight fit too. This particular writer is 200lb of middle-aged spread hanging off a 5'10 body, but fits just fine. If you're taller, more portly, or both, you may struggle, although the interior roof pitch does grant a couple of inches more headroom when closed than you may think. We'll gloss over the trunk; no-one buys an MX-5 for practicality, and at 130 liters (127 in the RF), you won't get it. There's enough room for a weekly shop though.
Who is it for?
The MX-5 30AE is effectively the maximum amount of MX-5 you can get, and that comes at a price — which is the price. For the roadster you'll need to give up £28,095, and the RF is £1,800 on top of that. It's not small beans for what's largely an enthusiast's car.
That said, we don't think Mazda will struggle for sales. It's a limited edition, top-of-the-range version of the fastest and most refined MX-5 ever. You'll probably already need to be an MX-5 fan – we don't see a huge number of conquest sales for the 30AE – but if you are, this will be your catnip.
Any alternatives?
As we've mentioned previously with the RF, there's really no competition out there. Nothing does this body style until you get to a 911 at thrice the price, and that's not exactly fair competition.
Ultimately though you're looking at anything in a two-seat convertible coming in at the same price bracket. That'll get you an entry level Audi TT and… well, that's about it. It's still a couple of grand short of the other German convertibles, but it is getting close now.
There's a couple of other cars likely on the shopping shortlist too. First is the Toyota GT86, as the other small Japanese, rear-wheel drive sports car. Without wishing to pander to stereotypes, the other will be the MINI convertible, with the JCW model coming it at roughly the same budget.
And the conclusion?
As all MX-5 special editions should be, the 30AE is peak MX-5 right now. You can certainly get 95% of the experience if you pick a model lower down the range and select very carefully from the options list, and there's no end of tuners who'll make it go faster, all without exceeding the 30AE's sticker price, but you'll still be missing that numbered plaque.
When it comes to the matter of RF vs Roadster… the soft-top handles slightly sweeter but the RF looks stunning and rides a little better, and the chances of you regretting buying either are nil.
Verdict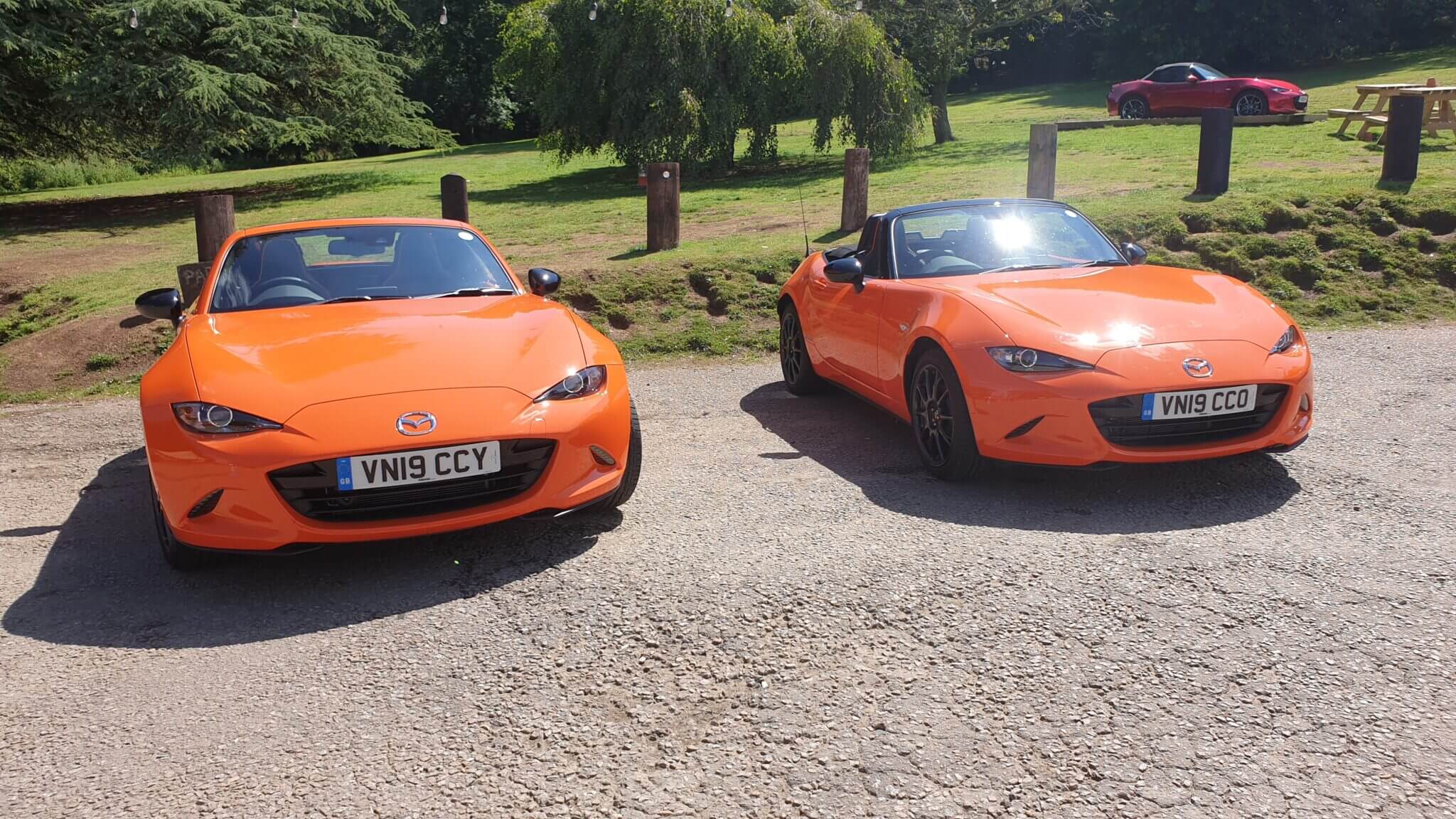 Performance
The 15hp boost over the old car is a welcome addition. New brakes and standard sport suspension means pace across the road is better than ever.
Ride & Handling
Tough to fault the ride in such an uncomplicated car, and handling is typical MX-5 fare.
Space & Comfort
Not the MX-5's forte, but will seat two and weekend luggage well enough. RF's wind noise is intrusive.
Equipment
Oozing with kit, the 30AE has every base covered. Anything more would almost be a waste.
Value
Great fun, well made, well-specified, but starting to overlap premium brands for price.
Quick Facts
Engine
2.0-liter petrol
Power
181hp (184PS, 135kW), 151lbft (205Nm)
Weight
2,480lb (1,124kg) / RF 2,570lb (1,166kg)
Layout
Front-engine, rear-wheel drive
0-60mph
6.3 seconds / RF 6.6 seconds
Top Speed
136mph (219km/h) / RF 137mph (220km/h)
Price As Tested
£28,095 / RF £29,895
Source: Read Full Article