"Max Verstappen provided the best value-for-money in F1 last year"
Despite his eye-watering F1 salary, Max Verstappen cost Red Bull just $2.3m per victory in 2022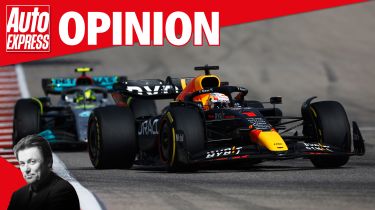 For as long as I can remember, early March was always the immovable, much-loved slot in the automotive calendar. This was the time when the mainstream motor industry, its designers and the car-loving general public headed to Switzerland for the legendary Geneva International Motor Show.
Not only was it generally regarded as the most important and informative automotive exhibition on the planet, it was staged at the right time, in the right neutral place, and for all the right reasons.
F1 preview 2023: full Formula One teams and drivers grid guide
Geneva in the first few days of spring always felt like the beginning of the automotive year, proper. It was the place for petrolheads, EV evangelists and diesel diehards to congregate.
Trouble is, the above is history. In this post-Covid era, the exhibition could and should be staged this month. But mysterious, largely unknown men in suits brutally killed it off. They claim it will be held in February 2024, but I'll believe it when I see it.
This year at least, the huge loss for the mainstream car-manufacturing business is a massive gain for the Formula 1 industry. How so? Because F1 has cleverly moved the start of its 2023 season forward.
So instead of making their way out to Switzerland in the coming days, motor industry execs, leading designers, concept car specialists, journalists, film crews and the all-important motoring public are at least being given an opportunity to do something else: watch Bahrain Grand Prix testing, practice sessions, qualifying, interviews, and the race itself, via pay-per-view or terrestrial TV channels. No doubt about it – the spirited, vibrant F1 world has just upstaged sleepier, almost lethargic mainstream car exhibitions.
And since glamorous firms such as Mercedes, Ferrari, Aston Martin and Alpine have no Geneva to display their wares, perhaps extended Grand Prix meetings are the ideal venues to exhibit them in future. On-track demo runs by F1 drivers could work. As could the drivers doing 10-lap races in road-going Mercs, Ferraris, Astons, Alpines etc.
Talking of the top F1 boys, some of their annual salaries are in one sense absurdly over the top, but in another highly revealing. For the 2022 season, Red Bull's Max Verstappen was paid around $35million which, at first glance, is an obscenely high figure. But he did win 15 races and this means he cost his employer 'only' $2.3m per victory. Meanwhile, teammate Sergio Perez was paid $10m, but only nicked two wins (therefore $5m apiece). 
Ferrari's Charles Leclerc was on $12m and won three times ($4m per win). His No 2, Carlos Sainz, earned $10m, and won once ($10m a win). At Mercedes, George Russell's estimated salary was a mere $5m, with Lewis Hamilton on around $40m. Yet George scraped a victory (thus a $5m-per-win ratio), while Hamilton was winless. Had he secured a token victory, we could have said he was paid $40m per win. But he didn't, so we can't.
With all this in mind, Verstappen was, by some margin, the best value-for-money elite F1 driver last year, while Hamilton was the worst. I understand that Lewis has accepted a pay cut of around $5m for 2023 and that Russell will cop at least $3m more. Rightly so.
Do you agree with Mike? Let us know in the comments section…
Source: Read Full Article