Limited Edition Ford Mustang Mach 1 revealed with 473bhp
Ford has launched a reborn iconic version of the Mustang muscle car, but it won't be coming to the UK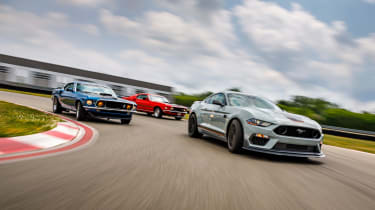 This is the new Ford Mustang Mach 1. It's a limited edition version of the firm's most famous muscle car, which pays homage to the range-topping Mustang models from the 1960s and 1970s. It will go on sale in the USA early next year, but it won't be sold in the UK.
Like the original Mach 1, this new model bridges the gap between the standard Mustang and the Shelby Mustang, fitted with a number of visual upgrades alongside chassis and performance revisions aimed at making the Mach 1 a Mustang at home on track.
• The top 10 best muscle cars ever made
It's powered by a tuned version of the standard Mustang's 5.0-litre V8 engine, which has been fitted with a new intake manifold, oil filter adapter and a reflashed engine management system. As such, power and torque figures have risen from 444bhp and 533Nm to 473bhp and 569Nm. Like the standard car, the engine sends its power to the rear wheels via a six-speed manual gearbox, although a ten-speed automatic is offered as an optional extra.
Ford has also fitted a few extra mechanical upgrades that are designed to keep the car's drivetrain cool on the track. There's a pair of new heat exchangers – one for the engine oil and one for the gearbox oil – along with a cooling system for the differential.
As with the original Mach 1, Ford has worked on the Mustang's handling, adding stiffer anti-roll bars, front springs and subframe bushes, as well as a set of tweaked adaptive dampers, a sharper steering rack and an improved brake servo. Buyers also get a new set of 19-inch alloy wheels, which are styled to look like the original Mach 1's.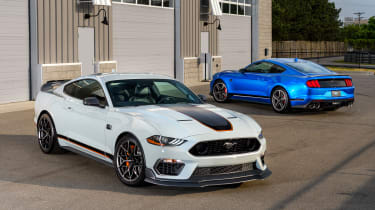 As standard, the Mach 1 features a more aggressive front splitter, a tweaked radiator grille, an extended undertray with aerofoils, a rear diffuser borrowed from the Shelby GT500 and a new rear spoiler, all of which the firm says improves the car's downforce by 22 percent.
Ford also offers an optional handling package. This adds front and rear canards, an even larger front splitter and an enormous rear wing. The package is only available with the default six-speed manual gearbox, and Ford says it improves the Mustang's downforce by almost 150 percent.
Compared with the standard Mustang the Mach 1 includes a satin black bonnet stripe and an exclusive Fighter Jet Grey paint finish. Inside, Mach 1 buyers get fresh black and aluminium trim for the dashboard, a cue ball shift knob, new graphics for the car's 12.3-inch digital gauge cluster and a numbered plaque displaying the car's chassis number.
Would you like to see the new Mustang Mach 1 go on sale in the UK? Let us know in the comments section below…
Source: Read Full Article