Lexus LF-ZC concept to rival Tesla Model 3 in 2026
The LF-ZC concept shows off new battery technology, and makes use of bamboo in the cabin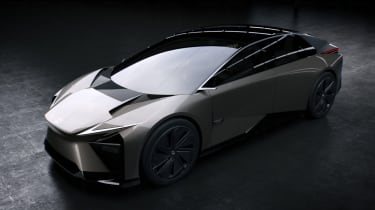 Lexus has brought two all-electric concept cars to the 2023 Tokyo Motor Show, the LF-ZL SUV and this – a sleek four-door saloon called the LF-ZC.  
LF-ZC stands for 'Lexus Future Zero-emission Catalyst' and Lexus says the concept showcases the firm's intentions for "elevated driving dynamics" and "uncompromised design".
That means LF-ZC isn't just some wacky concept that'll never see the light of day. Lexus says the car is scheduled to launch in 2026. Technical details for the LF-ZC are slim, but Lexus has said previously that its next-generation EVs (like the LF-ZC) will have up to 620 miles of range – sitting on architecture shared with parent company Toyota. Lexus also claims LF-ZC will have an all-wheel drive 'DIRECT4' system which will likely consist of an electric motor on each axle. 
The LF-ZC is 4,750mm long, 1,880mm wide and 1,390mm tall, making it a similar size to the BMW i4 and Tesla Model 3. Lexus calls the LF-ZC's design language "Provocative Simplicity" – and it certainly stands out in concept form. 
The roofline extends all the way to the rear for a coupe-saloon profile and the raked windscreen should help it achieve Lexus's targets of a low drag coefficient of under 0.2Cd, which would make it even more aerodynamically-efficient than the slippery Mercedes EQS.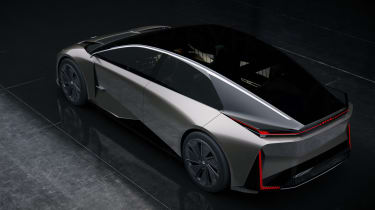 Angular bodywork, a pronounced ridge on the bonnet with a new interpretation of the 'Spindle' grille, digital wing mirrors and an ultra-thin rear light bar are all technology and design traits we've seen on current Lexus models like the RZ. 
Inside the LF-ZC we can see Lexus's interest in the yoke-style steering wheel remains. The maker calls the cabin an Intelligent Cockpit, using a new software called Arene OS, which allows for continuous updates of safety and infotainment features. The idea is to create a more personalised digital readout.
Lexus is also working on AI technology with next-generation voice recognition. The system should be able to provide routes and recommendations based on the driver's history and preferences. In the name of sustainability, the interior also features the use of bamboo. 
To help keep the driver focused on the road, the LF-ZC has a display projected onto the windshield but unlike a traditional head-up display, it's physically interactive. 
Want the latest car news in your inbox? Sign up to the free Auto Express email newsletter…
Source: Read Full Article