Lexus LC Coupe and Convertible gain chassis upgrades for 2022
Lexus says mechanical tweaks have made the LC more comfortable and improve its handling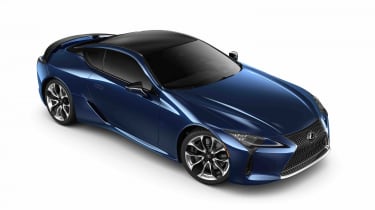 Lexus has revised its LC Coupe and LC Convertible models for their 2022 model year with a round of tweaks. The changes include suspension, software and even safety improvements, with the aim of keeping the car competitive against rivals such as the BMW 8 Series.
The Japanese firm says it has made changes to the LC Coupe's suspension settings, to give the driver "a better sense of the car being in contact with the road." The firm hasn't divulged specifics, but it claims the changes have improved the car's steering response.
New Lexus LC Black Inspiration special edition unveiled
Lexus's engineers have also recalibrated both cars' drive modes, to provide more comfort in Normal mode and slightly sharper handling in the Sport S+ setting. Lexus says that the chassis in both cars now better manages pitch and roll as a result of the update.
Inside, there's a new shift lock mechanism for the automatic gear selector, which prevents the driver from shifting into reverse while travelling forwards. The front seats have also been redesigned with deeper cushions, which Lexus says improves comfort further.
Buyers will have a choice of two powertrains – a 354bhp 3.5-litre V6 hybrid mated to a CVT gearbox, or a 471bhp 5.0-litre V8 that drives a conventional automatic transmission. The convertible model will only be available with the latter option.
Prices start from £99,500 for the hybrid-powered LC 500h and the V8-powered LC 500 in the firm's recently launched Black Inspiration trim-level. The LC Convertible starts from £102,725.
Now click here to read our review of Lexus's first plug-in hybrid car, the NX 450h+…
Source: Read Full Article