Lexus Launched the 2021 IS and Offers a Wide Variety in Packages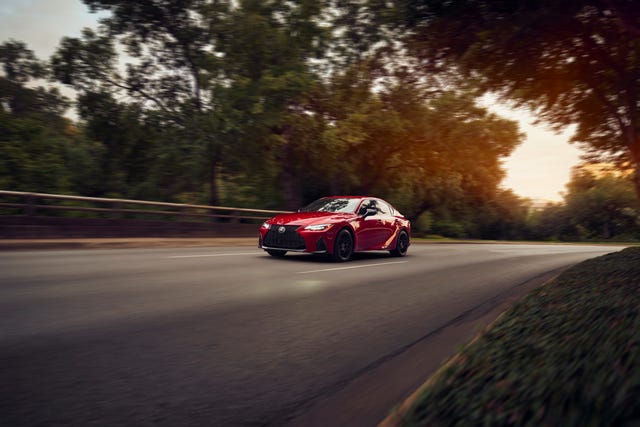 The third-generation Lexus IS arrives for the 2021 model year with development miles accrued at a new technical center in Japan, which includes a 3.3-mile track. Furthermore Lexus widened the front track and worked to reduce the car's un-sprung mass with bolt hubs replacing studs as well as lighter weight springs and suspension arms. That means it comes with more sport sedan street cred. But you have to look in the right place to find it.
That's because the IS sold in the U.S. comes in two models, IS 300 and IS 350 F Sport, with three engines, two transmissions, and two drivetrains. And that combination of kit is split in an atypical way to give you four different configurations to choose from.
It starts with the IS 300 rear-wheel-drive (RWD). It's powered by a 2.0-liter turbocharged inline-four producing 241 hp between 5,200 – 5,800 rpm and 258 lb-ft of torque between 1,650 – 4,400 rpm. An eight-speed automatic transmission bolts on and sends power to the rear, 18-inch wheels. The IS 300 starts at $40,025.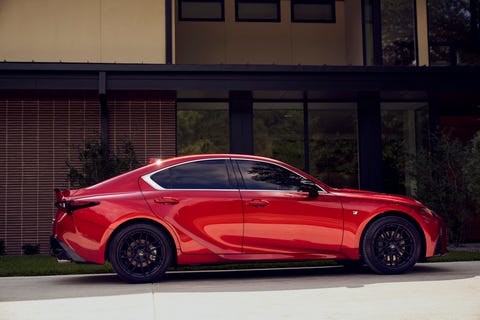 If you stick with an IS 300, but want all-wheel-drive (AWD), you get a different engine and transmission. It's a naturally aspirated 3.5-liter V6 peaking at 260 horsepower at 6,600 rpm and 236 lb-ft of torque between 2,000 – 4,800 rpm. But going AWD also reduces forward gears from eight to six. Doing so also raises the base price $2k to $42,025.
Moving up to an IS 350 now means you also automatically move up to the F Sport. In other words, the F-Sport is only offered on the IS 350 and also the only way one can get an IS 350. So you get a sportier look including 19-inch wheels, different front and rear bumpers, and a spoiler. Moreover, you also get a different steering wheel that's heated as well as more adjustable and heavily bolstered heated and ventilated front seats.
The least expensive IS 350 F Sport is the RWD model. It comes with a third different engine. While still a naturally aspirated 3.5-liter V6, its tuned to produce 311 hp at 6,600 rpm and 280 lb-ft of torque at 4,800 rpm, though you need premium gas to achieve those numbers. It costs $43,925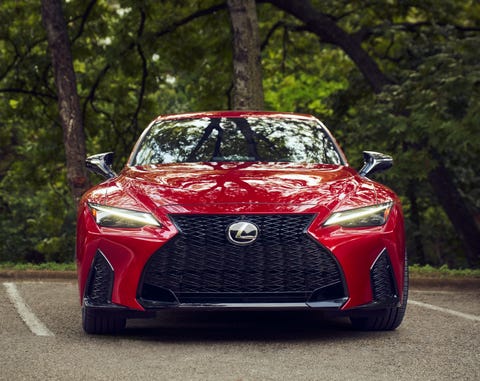 The final configuration is, logically enough, the IS 350 F Sport AWD. In it, you get the more powerful of the two V6s, but the same six-speed transmission as the IS 300 AWD. This is what causes a small anomaly. Usually cars equipped with AWD have RWD beat in off-the-line acceleration and reach 60 mph first. Not here. The IS 350 RWD hits 60 mph in 5.6 seconds, the AWD, 5.7. Regardless, this model starts at $45,925.
But to truly reap the rewards of a wider front track and less un-sprung mass to chuck around, not to mention forcing the front brake ducts to earn their share of front bumper space, you need to add the Dynamic Handling Package. Doing so adds $4,200 to the price tag—$3,800 for AWD models—but adds adjustable dampers, four pounds per corner lighter 19-inch BBS wheels, and more drive modes, including a Sport plus setting.
And, really, you need to get the RWD IS 350 F Sport because that is the only way for the Handling Package to include a Torsen limited slip rear differential and summer performance tires. If you're thinking about track time in a Lexus, this is really your only option here. And, honestly, $48,125 for said car is totally competitive in today's market.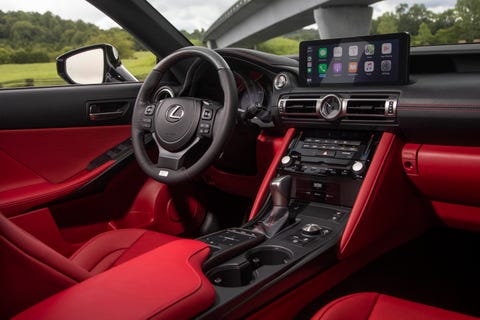 So, yeah, it's an odd combination of ways to configure a car trying to be a traditional sports sedan. And when I got behind the wheel of an IS 350 AWD without the dynamic handling package, I came away feeling it's the wrong choice for enthusiasts.
There are several positives, including the sonorous sound from naturally aspirated six-cylinders, an increasingly rare delight these days. You also sit in supportive seats and a show off a generally pleasing sport-sedan look. But you also only get six-speeds to work with in the transmission, so the engine has to work harder than you think it should these days.
"What?!, Why is the engine dropping more than a 1,000 revs below power peak?"
Handling is a bit of a mixed bag, too. The IS generally behaves well. Steering is precise and feel is actually better than expected, thank you new test track, but grip from the all-season rubber is pretty darn low. Furthermore, the body rolled into corners enough to liken it to a Lexus ES.
You do have different drive modes, but you don't have adjustable dampers, so going into sport drive mode speeds up shifts and weights up the steering a bit, but little else. And with AWD, I got no help increasing the fun from the powertrain, either. Even with a heavy right foot, the rear end would not budge, not even a little. Believe me, I tried. Ultimately, I came away a bit underwhelmed.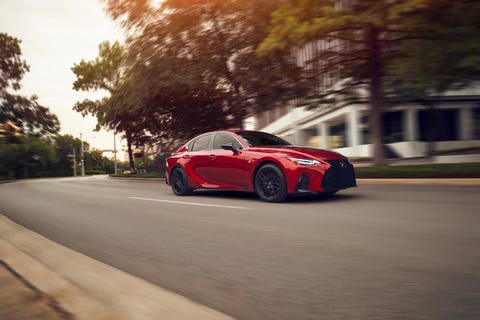 That was true of driver comfort as well. It's actually quite comfortable save for one issue. In the middle of the driver's side foot well is this odd hump coming out of the transmission tunnel. It's just big enough to disturb you while driving. It's not in the way of your leg to work the pedals or anything, but as you apply throttle—especially in a corner—your calf feels pressure against it. It's unsettling. I imagine if you bought one, you'd get used to it, but I'd be much happier if it wasn't there.
It's not there on RWD IS models. Sending 311 horsepower through a Torsen limited-slip differential and on to proper performance tires sounds fun, too, especially with a properly stiffened set of dampers. At least in theory, the die-hard enthusiasts would have a blast in one, correctly equipped IS configuration. For everyone else, you have a variety to choose from, a full spice rack of non car-nerd choices to extract the flavor you want.
And everyone can appreciate the cool styling. The IS stands low and wide and generally looks sharp. Both the front and rear wheel arches flare out wide. When looking in profile, you see a strong crease in the metal extends at a 45-degree angle from the middle bottom of the rear door to meet the top of the rear wheel well. Nice.
Some people find the front grille more appetizing than others, but the daytime running lights now rest above the headlights and form a check-mark shape, which I like. The rear is the car's busiest part. There's this Tupperware lid shape on top, it gives a wide perch for the taillights and a narrow one for the spoiler. But all praise the true, legit dual exhaust pipes. That's a big plus.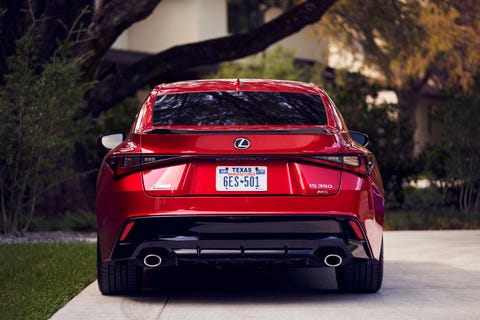 Inside, I appreciate the flexibility of the 60/40 split folding rear seats for cargo and the dual-climate control to mitigate fights over temperature. Standard equipment for infotainment duties is an eight-inch center console display, but feel free to upgrade to a 10.3-inch widescreen instead. Either way you get Apple Carplay and Android Auto connectivity.
And, of course there's new safety tech. It's got a new name, too: Lexus Safety System plus 2.5. It adds to the list of usual safety systems new features like daytime bicycle detection and intersection turning assist. This is, of course, in addition to your now usual automatic emergency braking and adaptive cruise control.
Considering the 2021 Lexus IS price it's easy to see the practical value in this car. But it's much harder to connect to it emotionally. A car needs to speak to you and listen as well. And the IS 350 F Sport AWD simply didn't. I heard no encouragement to have more fun, or to forget the day and relax. And, now more than ever, us enthusiasts need that in a car.
Maybe rear-wheel-drive and a limited slip would clear its throat, I hope to find out soon and share.
Source: Read Full Article