Hyundai teases upcoming hydrogen-powered sports saloon
Teaser video reveals Hyundai's plans for high-performance hydrogen fuel cell model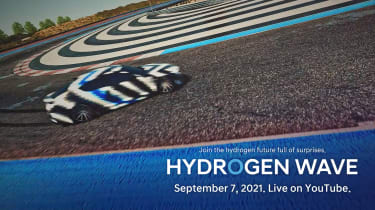 Hyundai will set out its vision of a line-up of hydrogen fuel cell electric vehicles for the future and more, at an online forum on September 7th. 
Among the reveals at the 'Hydrogen Wave' event will be a hydrogen fuel cell electric sports saloon, which can be seen tearing around a race track in a newly released teaser video.
New Hyundai Nexo fuel-cell SUV 2018 UK review
The mystery hydrogen performance car looks to be a BMW 3 Series-sized saloon, and shares little with Hyundai's current model line-up. It has a similar angular headlight design and sloping rear deck to the US-only Elantra N, but the glasshouse is entirely different, suggesting an all-new model with cutting edge powertrain technology. From the exuberant powerslides in this teaser video, it's safe to assume that the new car will be rear-wheel drive, or four-wheel drive with a drift mode.
A high-performance fuel-cell electric vehicle is not entirely unexpected from Hyundai's N division. In 2015, the brand's performance arm revealed the N 2025 Vision Gran Turismo, powered by the world's first mass-produced hydrogen fuel cell, developed by Hyundai two years prior. The concept racer used two fuel cell stacks and a supercapacitor system to generate 872bhp. 
Alongside the sports vehicle, the brand will reveal more future fuel cell concepts and prototypes during the event.  
Hyundai will also look to debut 'next-generation hydrogen fuel-cell systems' in a number of new applications. To this effect, the event will cover applications of hydrogen technology beyond conventional cars, including hydrogen-powered commercial and public transport vehicles.
Hyundai has been a key player in hydrogen fuel cell technology in recent times, having released a hydrogen-electric SUV in 2018, called the Nexo, and a hydrogen-powered version of its ix35 back in 2015. The company also has a hydrogen sub-division called HTWO, and branding for this company can be seen in some of the teaser clips issued before the Hydrogen Wave forum next month.
Click here for our list of the fastest electric cars in the world…
Source: Read Full Article