Hot all-electric Vauxhall Corsa GSe targets EV buyers who just wanna have fun
The new Corsa GSe hatch will be first all-electric model in Vauxhall's sub-brand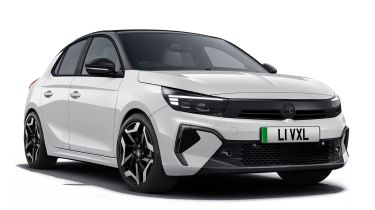 Vauxhall's sporty VXR sub-brand may have been quietly axed in 2017, but the British firm is now building a range of performance models under the GSe moniker. And the next will be a Corsa supermini, Auto Express can reveal.
The GSe badge stood for Grand Sport Einspritzung, which translates from German as Grand Sport Injection, when it featured on the Commodore GS/E and Monza GSE back in the seventies and eighties. But it's now it stands for Grand Sport Electric.
New Vauxhall Astra GSe 2023 UK review
The Corsa will be the manufacturer's first pure-electric GSe model, following in the wheeltracks of the plug-in hybrid Astra GSe hatchback and Grandland GSe SUV models. Both of these cars combine a turbocharged petrol engine with electric motors, for an output of up to 296bhp.
Our exclusive image shows how the forthcoming Corsa GSe could look. In line with its GSe siblings, the hot Corsa is expected to feature unique wheels and plenty of gloss-black detailing.
While the Astra GSe uses contrasting paint to separate it from lesser models in the range, there's a chance the Corsa GSe may feature individual bumper inserts, as well as a contrasting roof.
As with the Astra, we understand Vauxhall will resist fitting the Corsa GSe with a more powerful motor for extra straight-line speed. The car is expected to use the larger 51kWh battery found
in higher-spec versions of the recently facelifted Corsa Electric, sending 154bhp through the front wheels for a 0-62mph time of around eight seconds. But stiffer springs, a lower ride height and recalibrated steering could be on the cards, helping to justify the GSe's expected higher price tag.
Given that the Corsa Electric currently costs £38,585 in flagship Ultimate guise, the GSe hot hatch could feasibly push beyond the £40,000 mark when it hits the road in 2024. Rivals for the Vauxhall will include the Abarth 500e and the larger Cupra Born and MG4 XPower, as well as the hotly anticipated MINI Cooper.
Click here for our list of the best electric cars on sale right now…
Source: Read Full Article