Honda pauses UK production due to supply shortages
The sluggish passage of parts through congested UK ports has halted production at Honda's Swindon plant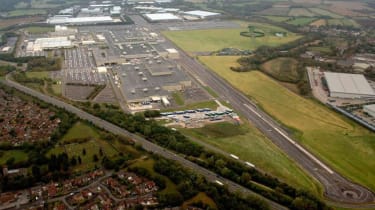 Honda has been forced to stop the production lines at its Swindon plant due to a lack of parts.
The Japanese manufacturer uses a "just in time" delivery system for its UK facility, but congestion at UK ports has cut off the brand's supply lines.
Car industry's final plea to prevent £55bn Brexit blow
A spokesperson for Honda said production will be halted today "due to transport-relayed parts delays," but the firm is looking to restart production as soon as possible. Honda is also looking at other means of supplying its factory with parts, such as air freight.
The port congestion is largely due to the backlog of orders that had built up from the UK's first coronavirus lockdown. Many UK companies are also stockpiling goods from the EU, before post-Brexit tariffs are applied on 1 January 2021.
Honda's supply difficulties at Swindon come just months before the factory is due to close. The manufacturer recently confirmed that it would shutter its UK plant in 2021, once the current Civic's life cycle draws to a close – at a cost of 3,500 jobs.
Both Honda and Justin Tomlinson, Member of Parliament for North Swindon, insist that the closure is not related to Brexit, but rather to cut costs. A new EU-Japan trade deal has made it easier for Honda to make its cars in Japan and import them to Europe, axing the current 10 percent tariff applied to new Japanese imports.
Now read all the latest news on the next-generation Honda Civic. Let us know your thoughts in the comments section below…
Source: Read Full Article