Half of drivers break rural 60mph speed limits
The highest-ever proportion of drivers admit to breaking the speed limit on the most dangerous type of UK road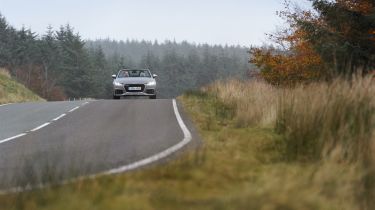 Nearly half of drivers admit to having driven above the 60mph speed limit on rural roads, which are the most dangerous type of road in the UK, last year.
The RAC surveyed 3,102 drivers for its Report on Motoring survey; 48 per cent admitted to having broken a 60mph rural limit in 2022, up from 44 per cent in 2021 and the highest proportion on record. Eight per cent of respondents said they broke such limits frequently, while 40 per cent have done it occasionally.
Non-built-up, rural national speed limit roads are the most dangerous in the UK. A total of 514 people were killed on these roads in 11,827 collisions in 2021, making the fatality rate four per cent higher than on motorways.
Unmarked mobile speed camera van introduced by police
However, 60 per cent of drivers surveyed said they have broken the 70mph speed limit on motorways and high-speed dual carriageways – this is five per cent more than the number who did so in 2021.
Meanwhile, 40 per cent of drivers admitted to breaking 30mph speed limits in urban areas and 46 per cent have broken 20mph limits. Those breaking 60mph and 70mph speed limits most commonly justified their actions by saying they were travelling at the same speed as other vehicles on the road. Drivers who exceeded 20mph limits said they felt the limit was inappropriate for the road they were on, with most saying they only comply with them when there are enforcement or traffic calming measures in place.
RAC road safety spokesman Simon Williams commented: "While the number of fatalities on our roads is no longer falling, we certainly don't want to see an increase in deaths. We think the Government should address the issue of fatalities on 60mph rural roads by advising roads authorities to reduce limits on the most dangerous stretches to more appropriate levels. This is something half of drivers surveyed for the RAC Report on Motoring would like to see, with only a quarter disagreeing."
Tell us what you think of your car in the Driver Power survey…
Source: Read Full Article