GT Sport Time Trials: Road Racing
Gran Turismo Sport Time Trial fans have another new set of events to occupy them for the next two weeks, both set on race tracks that are also public roads — although that's only fictionally so in the case of one circuit. Unusually, the events are swapped round from their typical order, with the fixed setting trial on the right rather than the normal left.
That event is something of an icon though, as it replicates one of the more famous endurance races — and for Australians at least, the most famous. You'll head to the Mount Panorama circuit, also known as Bathurst, for your hot laps, which will see you set the best time you can in a Gr.3 race car.
These vehicles are GT Sport's equivalent to GT3 cars. They're based on roadgoing vehicles but, with the exception of the basic body shell and engine configuration, they usually bear very little similarity to the road cars. Like GT3, every Gr.3 car is rear-wheel drive, though they may be front- or mid–engined, with even the rear-engined 911 converting to a mid-mounted layout with the RSR.
All you have to do is pick which Gr.3 car you want and, on racing hard tires, get out there and set a lap time — just like qualifying for the Bathurst 12 Hours.
The tuning event will whisk you to the Alsace region of France, for an event set at the fictional Alsace Village circuit. Reminiscent of Le Mans — and the old Eifel Course Maker location from GT5/GT6 — the Alsace circuit winds through an imaginary town somewhere in the foothills of Les Vosges, with plenty of elevation changes.
Your steed for the event is the "ultimate driving machine": BMW's 2003 M3 sports coupe. It's a pretty rapid car as standard, even 17 years later, but you'll also have free rein over vehicle tuning. You'll need it too, as along with having no power or weight restrictions and no BOP to deal with, the car is on sports hard tires. Make sure you take the brave pills.
GT Sport's Time Trial mode is a global competition, ranking your best time against all players worldwide, rather than just those in your region as with other Sport Mode events. This time trial will run through to March 25, when further events will replace it.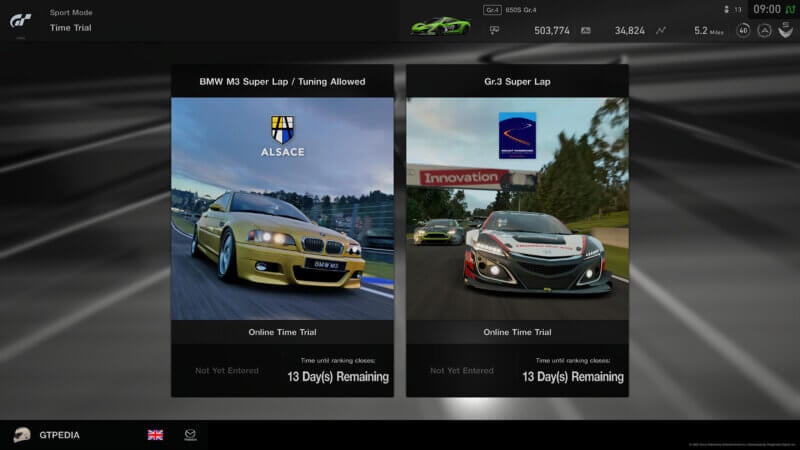 LBMW M3 Super Lap/Tuning Allowed
Track: Alsace Village
Car: BMW M3 '03 – Garage Car
Tires: Sports Hard
BOP: Off
Power/Weight Limit: N/A
Settings: Adjustable
Gr.3 Super Lap
Track: Mount Panorama
Car: Gr.3 – Garage Car
Tires: Racing Hard
BOP: On
Power/Weight Limit: N/A
Settings: Fixed
Source: Read Full Article