GT Sport Daily Races: Twin Test
Another Monday means another fresh round of Gran Turismo Sport Daily Races appears, and this week players will be racing some of the game's core cars as well as a regular head-to-head.
Race A sees you making the choice between two largely identical cars. You can pick either the Subaru BRZ or the Toyota 86GT (in its original game form) for a three-lap race of the Autopolis circuit.
Toyota and Subaru developed the car together, based around a simple front-engine, rear-wheel drive, lightweight coupe formula. Although the Toyota version is by far the better-selling, Subaru actually built all of the cars, as well as providing the two-liter boxer four engine.
The other two races this week focus on the main car classes for Sport Mode: Gr.3 and Gr.4.
It's Gr.4 — the game equivalent to GT4 — in action first, in Race B. Another short, sprint race, this event puts you into your choice of Gr.4 car at the Sardegna Road Track A.
Generally, it's the front-wheel drive cars that dominate this category and it should be the case again this week. The four-lap race has no tire wear to contend with, and the long straights should see the likes of the Volkswagen Scirocco set the fastest times.
This week's Race C endurance event will take you to the Nurburgring in Gr.3 cars, but unlike this past weekend's Nurburgring 24 Hours you'll only be using the Grand Prix circuit.
Again it's free choice of any car from the Gr.3 class, but there's a strategy element to be aware of. Both the Racing Medium and Racing Soft tires are available and mandatory, which means that if you don't use both sets of tires for at least a lap each in the race, you'll pick up a one minute post-race time penalty.
These three races will run through to Monday, June 14, when another new set of three will replace them.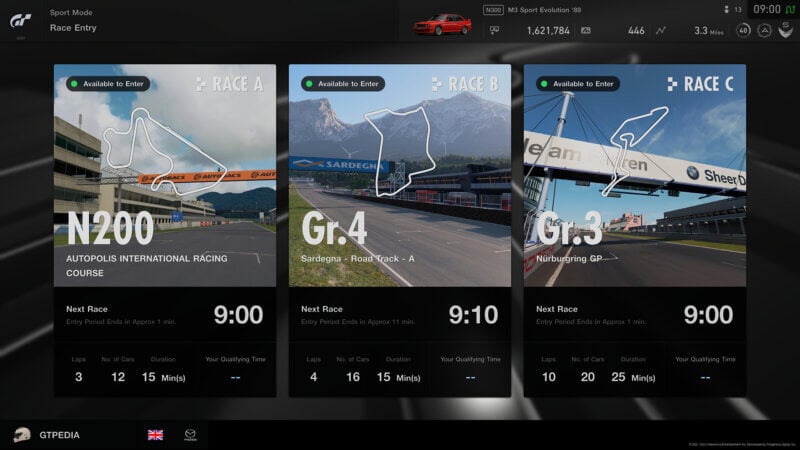 Race A
Track: Autopolis International Racing Course, 3 laps
Car: Subaru BRZ S '15, Toyota 86 GT '15- Provided Car
Tires: Sports Hard
Start Type: Grid Start
Fuel use: Off
Tire use: Off
Race B
Track: Sardegna – Road Track A, 4 laps
Car: Gr.4 – Garage Car
Tires: Racing Medium
Start Type: Rolling Start
Fuel use: Off
Tire use: Off
Race C
Track: Nurburgring – GP, 10 laps
Car: Gr.3 – Garage Car
Tires: Racing Medium*, Racing Soft*
Start Type: Rolling Start
Fuel use: 1x
Tire use: 7x
* denotes mandatory tire
Source: Read Full Article