GT Sport Daily Races: Mean Streets
It's another new week, and that means a new set of three GT Sport Daily Races. There's a little something familiar for players this week, but also something a lot more unusual.
Race B provides a semblance of normality, with a regulation Gr.4 race at the full Lago Maggiore track. It's simply a case of picking up whatever Gr.4 car takes your fancy, and pounding out the three laps. However, players will need to be aware of a radical shake-up in BOP, which has affected Gr.4 more than most. What may have worked last week might not do so well this time round.
The format of Race C is pretty familiar too. This long, 12-lap race takes you to the full Autopolis track in Japan, and you'll be able to use any of the Gr.2 cars — the Super GT GT500 machines — for the race. There won't be much tactical play at work, as the tire wear multiplier of 6x and Racing Hard tires should last the distance. It's probably for the best, as the Autopolis pit lane entry is a nightmare.
You'll find the unusual in Race A this week. It's a one-make race for the Honda NSX Type R, and it takes you to Willow Springs, but it's not the Willow Springs you might expect. Rather than the fast Big Willow track, you'll be taking on the tighter, twistier Streets of Willow Springs. That's been the scene of some controversy in the past, and it's a pretty tricky circuit to get to grips with.
These three races will run through to Monday, June 1, when another new set of three will replace them.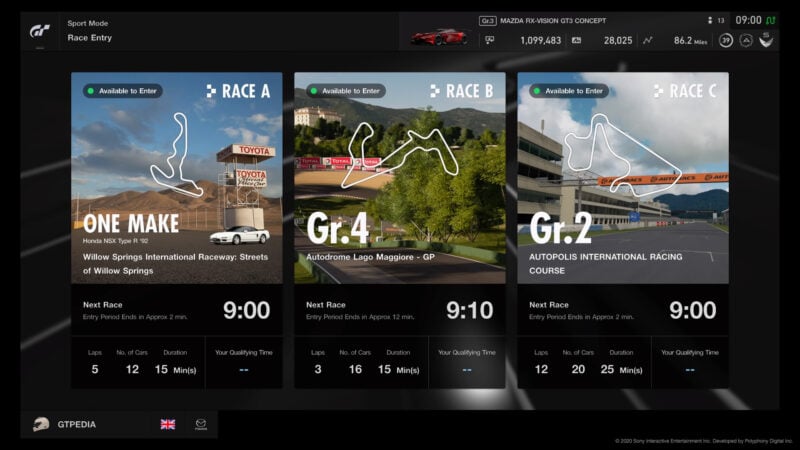 Race A
Track: Willow Springs – Streets of Willow Springs, 5 laps
Car: Honda NSX Type R '92 – Provided Car
Tires: Sports Hard
Start Type: Grid Start
Fuel use: Off
Tire use: Off
Race B
Track: Autodrome Lago Maggiore GP, 3 laps
Car: Gr.4 – Garage Car
Tires: Racing Hard
Start Type: Rolling Start
Fuel use: Off
Tire use: Off
Race C
Track: Autopolis International Racing Course, 12 laps
Car: Gr.2 – Garage Car
Tires: Racing Hard
Start Type: Rolling Start
Fuel use: 2x
Tire use: 6x
Source: Read Full Article