GT Sport Daily Races: Brawling Boxers
Given the speed at which 2020 has been passing, it might be hard to believe that it's the 31st Monday of the year. Nevertheless, a new Monday means a new set of GT Sport Daily Races, and in accordance with the recent trend for slightly left-field events, there's an odd flavor this week.
It doesn't come in Race B or Race C though, which are very much business as usual. The former is as classic a GT Sport combination as it gets: Dragon Trail and Gr.4. Just pick up whichever Gr.4 takes your fancy — and the front-wheel drive ones don't have it entirely their own way this week — and get racing at the Seaside course for a four-lap race.
Race C also has a very familiar feeling, though the Monza circuit is actually one that didn't ship with the game originally and arrived in the 1.11 update in January 2018. It's a ten-lap race for Gr.3 race cars, and there's a tactical aspect too with the mandatory tire requirement.
If you're not familiar with mandatory tires, it's a rule that requires you to use a certain tire grade (or grades) at least once for a given race. Players who don't use that tire face a stiff penalty at the end of the race, which is set at 20 seconds in these Daily Races. For this week's race at Monza, the Racing Hard tire is the mandatory grade. As the Medium compound is also available, you'll need to decide whether it's worth running both sets with a stop or staying on the mandatory set and keeping yourself on the circuit.
It's over at Race A where we see something a little strange this week. You'll be heading to Fuji for a four-lap race; nothing particularly odd about that. The race gives you the option of one of two different vehicles which it will provide — the 993-generation Porsche 911 RS Clubsport and the 997-generation Porsche 911 GT3. The unusual part comes from the fact that both have extensive suspension tuning compared to the stock cars. This "pre-tuned" car format is something we've only seen once before, in an FIA race in late July, but early indications are that it should generate some very close races.
These three races will run through to Monday, August 10, when another new set of three will replace them.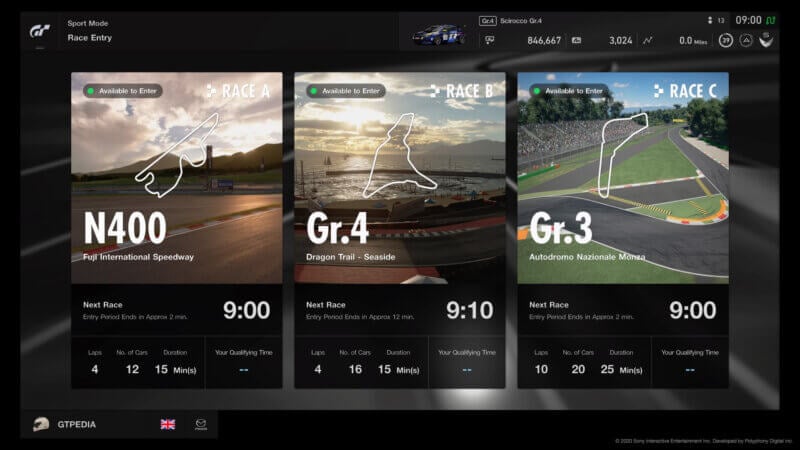 Race A
Track: Fuji International Speedway, 5 laps
Car: N400 – Provided Car
Tires: Sports Soft
Start Type: Grid Start
Fuel use: Off
Tire use: Off
Race B
Track: Dragon Trail – Seaside, 4 laps
Car: Gr.4 – Garage Car
Tires: Racing Hard
Start Type: Rolling Start
Fuel use: Off
Tire use: Off
Race C
Track: Autodromo Nazionale Monza, 10 laps
Car: Gr.3 – Garage Car
Tires: Racing Hard*, Racing Medium
Start Type: Rolling Start
Fuel use: 6x
Tire use: 13x
Source: Read Full Article