Forza Horizon 4 Season Change: BMW Muscles Into Autumn
Thanksgiving is a time for celebration, and Forza Horizon 4 wants to give thanks to players with the newest Autumn season. There's no turkey hunting, but there are plenty of events to sink your teeth into.
One of the coolest BMWs ever made makes its way to the festival this week, along with more Playlist prizes for 50% and 80% completion. Let's look under the hood and see what Autumn has for us.
8-Series Cruising For A Bruising
This week's big prize is arguably one of BMW's finest moments. The 1995 850CSi was seen as a flagship in the range and became a sleeper hit as a grand tourer.
Packing the mighty 5.6-liter S70 V12 (loosely, but not directly, related to the engine in the McLaren F1) the 850CSi puts out a beefy 370hp. Unusually, BMW paired this exclusively to a manual transmission, giving the 850CSi proper sports car manners to go with the surprising performance. However, the styling will also attract just as much attention as the muscle under the hood.
If you want no less muscle but a good deal less sophistication, there's also the 2011 HSV GTS. Also known as the Vauxhall VXR8, this Aussie brute can deliver M3-baiting performance as well as barbequeing its rear tires. Providing the power is an old-school 6.2-liter V8 with 437hp. Carving through corners at speed can be forgotten about in the HSV, as big slides and big fun are the main course.
The latest Photo Challenge puts one of the most iconic landmarks in Edinburgh to the forefront. #ScotlandTheBrave wants you to snap any car that you're driving in front of the famous Scott Monument on Princes Street. Seasonal championship prizes this week include the Maserati MC12 Corsa and the Ferrari 288 GTO.
One highlight comes in the form of the 2018 Renault Megane R.S. The latest iteration of the French hot hatch has gone for a more subdued look, but this hides performance and handling improvements over the previous model. It also shares its 1.8-liter turbocharged four-pot with the Alpine A110, offering 275hp. Coupled to one of the best chassis in a hot hatch, the Megane will walk all over the competition.
The Megane is yours after you complete the "Concrete Jungle" championship.
Read on further for all of Autumn's events:
Concrete Jungle
Series: Road Racing Series
Cars: Hot Hatch
Restrictions: B Class, 700 PI
Prizes: 15,000 CR, 25,000 CR, 2018 Renault Megane R.S.
City Slicker
Series: Road Racing Series
Cars: Classic Muscle
Restrictions: C Class, 600 PI
Prizes: 15,000 CR, 25,000 CR, 1970 AMC Rebel
Street Cred
Series: Street Scene
Cars: Retro Supercars
Restrictions: A Class, 800 PI
Prizes: 15,000 CR, 25,000 CR, Ferrari 288 GTO
The Trial: Fast Or Last (Co-Op Championship)
Series: Road Racing Series
Cars: Track Toys
Restrictions: s1 Class, 900 PI
Prizes: Maserati MC12 Versione Corsa
Autumn Games – Series 29
Series: Playground Games
Cars: Super Saloons
Restrictions: A Class, 800 PI
Prizes: Maserati Ghibli S Q4
Rail Yard Ramp Danger Sign
Season Objective: 774.3 ft
Old Town Speed Trap
Season Objective: 210 mph
Forest Green Speed Zone
Season Objective: 115 mph
Forzathon Events
Modern sports cars are the main highlight of this weeks Forzathon. With a wide selection available, choose your weapon and get things rolling.
Next up, you'll need to exercise your tuning skills as you'll need to get 3 stars at the Moorhead Wind Farm speed trap. With a target of over 240mph, you're going to need a lot of power. Afterwards, show off your rally skills by earning an Airborne Pass skill during a race.
Finally, you'll have to earn two podium finishes in Road Racing Series events to wrap up the latest challenges.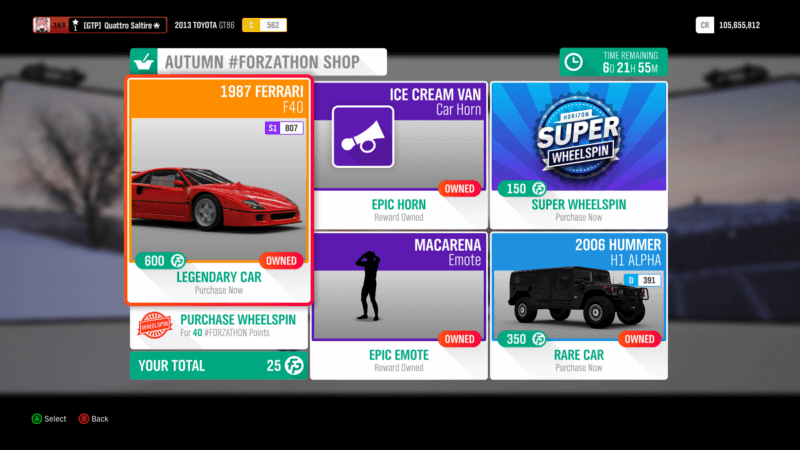 Forzathon Shop
Another legendary supercar graces the front of the shop this week: the 1987 Ferrari F40.
Considered by many to be the greatest supercar of all time, the F40 holds the honor of being the first production street car to officially exceed 200mph. That speed comes courtesy of a 2.9-liter, twin-turbocharged V8 with 478hp. Thanks to a revolutionary carbon fiber construction which was unheard of in the 1980s, the featherweight F40 can also hold its own in the corners.
The price for the F40 is a rather steep 600 Forzathon Points, but it's a small price to pay for an icon.
On the other end of the scale is the Hummer H1 Alpha. Everything about this beast is the complete opposite to the F40, however the Hummer is almost unstoppable when going off road. You won't be going anywhere quickly, as although the 6.6-liter turbocharged diesel V8 produces 300hp, the offroader weighs more than 8,100lb.
At 350 FP, the Hummer is reasonably cheap, and could help save you effort from trying to earn one in a wheelspin.
This week's novelty items are the Ice Cream Van horn and the Macarena emote.
Source: Read Full Article