Ford Ranger vs Isuzu D-Max
The UK's pick-up truck segment has dwindled, can the Ford Ranger or Isuzu D-Max pick up the pieces?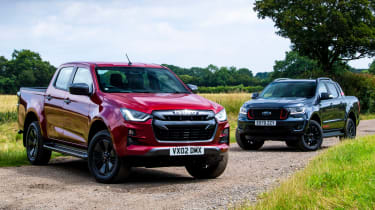 If you need a work vehicle that has to double as family transport, you can't go wrong with a pick-up truck. These rugged 4x4s are among the most versatile machines around, because they can carry heavy payloads, tow even bigger trailers, and tackle tough terrain. Yet they're also spacious, and the highest-spec models offer kit that's usually found on more expensive premium SUVs. 
However, the pick-up truck sector is in a state of flux. The Mercedes X-Class has come and gone, the Mitsubishi L200 is bowing out, the Nissan Navara has gone AWOL and a new Volkswagen Amarok won't arrive until 2022. But the Ford Ranger is still going strong, while Isuzu has just introduced an all-new D-Max to the class. The Japanese firm is hoping to capitalise on the sector's
shake-up with this new model, and it's a seriously strong contender. 
Best pick-up trucks 2021
So what better way to see how the new D-Max measures up than by comparing it with the Ranger? It's going to be a tough battle, but can the newcomer impress against the UK's best-seller?
Isuzu D-Max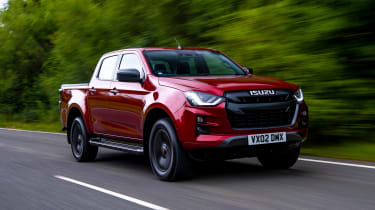 | | |
| --- | --- |
|   | Isuzu D-Max 1.9D V-Cross auto |
| Price: | £32,759 (excluding VAT) |
| Engine: | 1.9-litre 4cyl turbo, 162bhp |
| 0-62mph: | 13.0 seconds |
| Test economy: | 33.5mpg/7.4mpl |
| CO2: | 241g/km |
Isuzu has sold the D-Max pick-up truck in the UK for nearly 20 years, and the Mk3 arrived at the start of 2021. There is a wide range of variants on offer, and here we're testing the top-spec V-Cross double-cab auto, which costs £32,759, excluding VAT.
More reviews
Car group tests
Nissan Navara vs Mitsubishi L200 vs Isuzu D-Max
In-depth reviews
Isuzu D-Max pick-up review
Road tests
New Isuzu D-Max 2021 review
New Isuzu D-Max XTR 2019 review
Isuzu D-Max AT35 Arctic Trucks review
Isuzu D-Max Arctic Trucks AT35 review
Isuzu D-Max Fury review
Design & engineering
The all-new Isuzu D-Max gets a sharper look when compared with its predecessor. Chief among the upgrades is a new "double-fang" grille, which comes with a different finish depending on the spec you go for. On Utility models it's black plastic, mid-spec versions have silver or chrome treatments, while the top-spec V-Cross tested here has a gunmetal grey finish, with a lower skid plate, wing mirrors, door handles and 18-inch alloys all finished in the same colour. This high-end model also gets LED headlights with smart-looking U-shaped running lights.
Under the skin, the D-Max retains a traditional body-on-frame layout, although Isuzu has made the ladder chassis lighter and 23 per cent stiffer than its predecessor's. There's double-wishbone front suspension and a leaf-spring layout at the back that's designed to cope with heavy payloads. Switchable four-wheel drive allows you to select rear-drive to help boost economy on the road, while high and low-range 4WD, plus a standard rear diff lock, mean the Isuzu should be able to tackle nearly any road conditions put in front of it.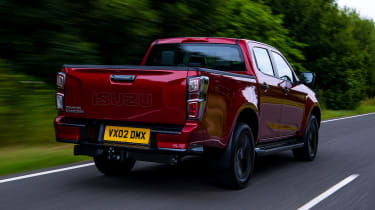 Inside, the D-Max has been given a thorough overhaul with an upmarket look. The top-spec V-Cross has a large nine-inch touchscreen with a row of toggle switches below for the dual-zone climate control, and a rotary selector for the four-wheel-drive system sits below that. There are piano-black trim pieces in places – although these could be prone to scratching if you're not careful – while leather seats are fitted as standard to this priciest model. 
Build quality feels solid, and the extensive kit list includes an eight-speaker stereo, heated seats, electric adjustment for the driver's seat, front and rear parking sensors, a rear camera and a generous suite of safety and driving-assistance functions.
Driving
Isuzu introduced an all-new 1.9-litre diesel with the previous-generation D-Max, and this has been carried over to the new model with a few tweaks. However, one thing that hasn't changed is the engine's noise: it's quite rattly at start-up, and under hard acceleration, too.
With 162bhp on tap, the D-Max is 6bhp down on the Ranger, while a torque figure of 360Nm is 60Nm adrift of the Ford's, too. The Isuzu also makes its maximum power at 3,600rpm, which is pretty high-revving for a diesel, so the motor is more vocal more of the time than the Ranger's diesel.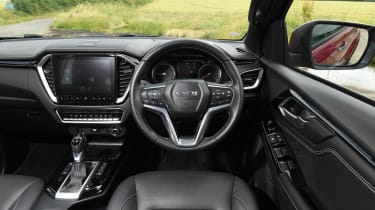 The power deficit combined with a slower-shifting auto gearbox means the D-Max is behind in the sprint from 0-62mph, with a quoted figure of 13 seconds, compared with the Ranger's solid 11.4-second time. These aren't really sporty vehicles, though, and most of the time the Isuzu delivers decent everyday performance. It's best to let the auto gearbox do its own thing, and while the six-speed transmission isn't quite as quick to react as the Ford's 10-speed unit, it shifts smoothly, especially when kicking down a ratio or two.
One neat trick that the D-Max has is the ability to quickly shift from two to four-wheel drive on the move. An updated "on-the-fly" shift system means the 4WD set-up engages quickly, so the truck is ready for rougher terrain immediately. Also included is a rear diff lock; this only engages in low-range mode at speeds below 5mph, but means the D-Max can tackle extreme off-road conditions without breaking a sweat. It's an area where the Ranger also does well, but the Isuzu feels like it has a slight edge.
Practicality
Both trucks are evenly matched when it comes to their claimed payload weights and towing capacities, but the D-Max adds a slightly more versatile interior into the mix. For starters, there's a twin-glovebox set-up, plus you get lidded storage on top of the dash, and pop-out cup-holders at either end of the dashboard. There are more cup-holders on the centre console (making 10 in total) and a central armrest cubby, too.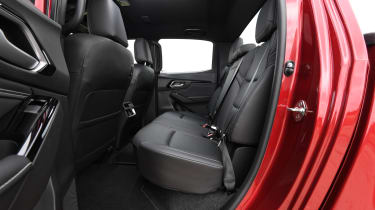 In the back, there's good room for passengers and they also get a USB socket and air vents. The seats fold flat, but the 60:40-split bases also flip up to reveal additional hidden storage; with no boot to offer secure cover, this is a clever addition.
Ownership
Safety is a real highlight of the new Isuzu D-Max. It earned a five-star Euro NCAP safety rating in 2020 –the first pick-up truck to do so under the current regime – and it features a raft of modern safety kit. Isuzu shares Subaru's EyeSight tech, which incorporates twin cameras in the windscreen, so forward collision warning and automatic emergency braking are included, as are traffic-sign recognition and lane-departure warning.
Go for an auto-equipped D-Max, and adaptive cruise control and lane assist are also added to the specification, although the latter is very sensitive and can sometimes feel like it's wrenching the wheel out of your hand as you're driving.
Running costs
Since the Isuzu D-Max and Ford Ranger are classified as light commercial vehicles (LCVs), they pay the same tax. 
At the moment, LCVs aren't taxed based on CO2 emissions, so Benefit-in-Kind tax for lower-rate earners is £700 a year whether you buy a basic truck or a high-spec model. This is where the benefits of a pick-up lie in comparison with a similarly specced SUV, making the truck an attractive proposition.
Testers' notes
"Having also tried a D-Max with a manual gearbox, we'd recommend the auto every time. The former has a short first gear and a slack shift action."
Ford Ranger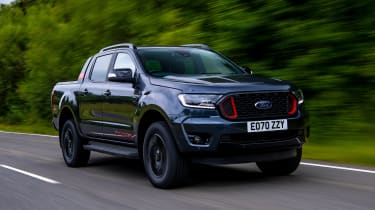 | | |
| --- | --- |
|   | Ford Ranger 2.0 EcoBlue 170 Limited auto |
| Price: | £32,441 (excluding VAT) |
| Engine: | 2.0-litre 4cyl turbo, 168bhp |
| 0-62mph: | 11.4 seconds |
| Test economy: | 33.5mpg/7.4mpl |
| CO2: | 233g/km |
| Annual road tax: | £275 |
The Ford Ranger is our current favourite pick-up truck, having won the class in our New Car Awards for three years in a row. The truck in our pictures is the now-discontinued Ranger Thunder, which has a more powerful 210bhp twin-turbodiesel, but we're testing the mid-range Limited model, with a 168bhp EcoBlue diesel and 10-speed auto gearbox.
Design & engineering
The current Ranger's basic body-on-frame platform has been around for a decade now, but constant revision means that the Ford is still a strong contender in the pick-up truck class. The most recent update in 2019 introduced new suspension, with special attention focusing on making the model more comfortable when unladen. 
This update also introduced the more efficient 2.0 EcoBlue diesel from the Transit van, which replaced the Ranger's 2.2 and 3.2-litre TDCi diesels. The engine comes in 168bhp or 210bhp twin-turbodiesel guises, so even the less-powerful Ranger still manages to outgun the D-Max. A six-speed manual is standard, while the lower-powered diesel can also be had with a 10-speed auto derived from the transmission found in the Mustang. The auto is standard with the 210bhp diesel motor.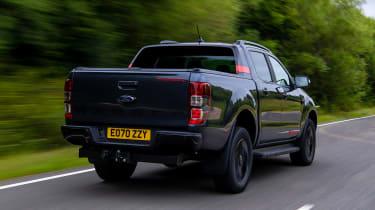 As with the D-Max, the Ranger has switchable four-wheel drive, which is operated via a rotary controller on the centre console. Rear-wheel drive improves efficiency, while 4WD and a low-range setting are there to help in slippery conditions. A diff lock is available as a £300 option on Limited specification (it's standard on the D-Max).
Limited trim sees the Ranger kitted out with a chrome grille, door handles and mirror surrounds, plus a polished rear bumper, running boards and roll bar in the load bed. Compared with the D-Max in V-Cross spec, the Ford has a bit of an old-school truck vibe. If that's not for you, then there are plenty of other options in the Ranger line-up.
Cabin quality is decent, although not quite up to the same standard as Ford's latest passenger cars. Standard kit includes the firm's SYNC 3 infotainment, keyless operation, leather seats with electric adjustment for the driver, front and rear parking sensors and a reversing camera. However, while the auto-equipped D-Max has adaptive cruise control as standard, it's part of an option pack on the Ranger.
Driving
Fire up the Ranger's four-cylinder EcoBlue diesel, and it's clearly more refined than the Isuzu's motor. It can be loud when it's cold, but it soon settles once it's warmed up. The 10-speed auto also makes the most of the engine's torque, and with 420Nm on offer, there's plenty of it. Smooth shifts, especially in kickdown, mean that power delivery is slick.
A pick-up truck is never going to be as sprightly as a hatchback in corners, but the Ranger is just about the best-handling truck in the class. The body does roll, but it doesn't feel like the Ranger is going to topple over in corners, while the steering is quick, too.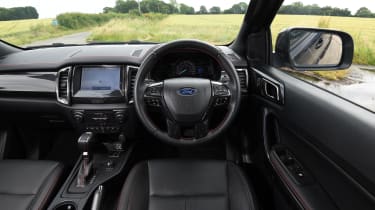 Ford's update in 2019 introduced recalibrated springs and dampers. The aim was to deliver a more comfortable ride without compromising load- carrying ability, and the firm has been successful. Most pick-ups – and we include the D-Max in this – tend to shimmy and shake over small imperfections in the road, and they're often at their worst when they're unladen. While big bumps do send shudders through the Ranger's frame, they're heard more than they're felt, and overall the Ford is pretty smooth.
Engage four-wheel drive, which is a slower operation than it is in the Isuzu, and there's less steering lock to work with, while the transmission tends to shunt and groan when you use full lock.
Practicality
There's a higher floor in the Ranger than there is in the D-Max, so it's slightly trickier to climb aboard, and it also means that you sit with your knees higher, especially in the back. Like the D-Max, the Ranger comes with running boards that help you to step up into the cab, but rear access is slightly compromised thanks to the Ford's narrower back doors, while a lack of grab handles means smaller passengers might struggle to get into the truck.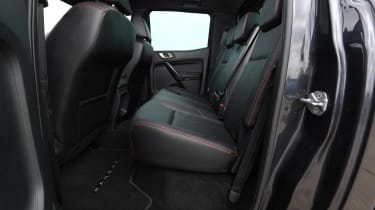 As with Isuzu, Ford offers a range of accessories to kit out the load bed. Both trucks here come with a plastic liner to prevent scratches, while the Ranger's roll-top cover is a universal-fit item that can be added to the D-Max, too. Truck tops, hard covers and extra tie-down rails are also available.
Ownership
The Ranger is sold via Ford's Transit Centres, so the company's Driver Power ratings for its passenger car franchises don't really apply here. Isuzu has a small dealer network in the UK in comparison, and has never appeared in our survey.
In terms of new-car cover, Isuzu has an advantage here, because the D-Max comes with a five-year/125,000-mile warranty and five years of roadside assistance. The Ranger has Ford's standard three-year/60,000-mile warranty, and a year's breakdown cover.
Running costs
Since these trucks are commonly bought by business users, we've listed their prices excluding VAT. However, tax or no tax, the D-Max offers good value for money. The range starts at a lower price, but you also get more equipment for your cash, while the V-Cross is the top-spec model, but is priced similarly to the mid-range Ranger Limited.
Where the Ford edges ahead of the Isuzu is with its more powerful engine option and wider choice of high-spec variants. offers similar looks to the V-Cross, for example. 
Testers' notes
"The Ranger Thunder is no longer on the price lists, but two new special editions, the Wolftrak and Stormtrak, offer a similarly stylish makeover."
Verdict 
First place: Ford Ranger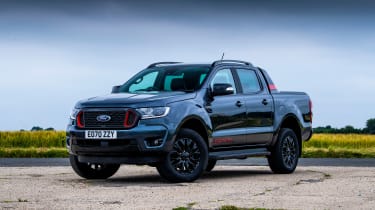 It's still our favourite pick-up truck, but the Ranger's advantage is getting smaller. These two trucks largely match each other in terms of price and kit, but the Ford edges ahead thanks to its smoother and punchier engine, excellent 10-speed auto and more comfortable ride. Add in the option of an even more powerful diesel and higher-spec variants, and the Ranger is a great all-rounder.
Second place: Isuzu D-Max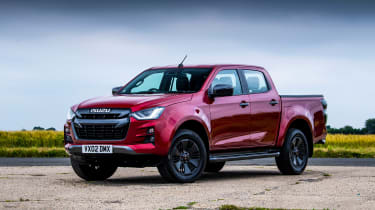 The D-Max is an excellent alternative to the Ranger. It offers great value for money, is well equipped – even in lower-spec trim levels – and the five-year warranty will be attractive to many, plus it arguably has an advantage off-road. But the diesel engine lets it down: it's noisy and underpowered compared with the Ford's. The truck's ride isn't as composed as its rival's here, either.
Also consider…
Toyota Hilux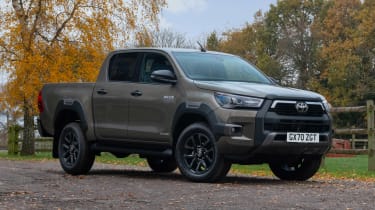 Model: Toyota Hilux 2.4 D-4D Invincible auto
Price: £31,551 (ex. VAT) 
Engine: 2.4L 4cyl, 148bhp
Toyota's workhorse offers good value and striking looks, plus should be a reliable machine. Like the Ranger, there's a more powerful diesel on offer with 200bhp, and at £31,551 the Hilux still undercuts both of our challengers here.
SsangYong Musso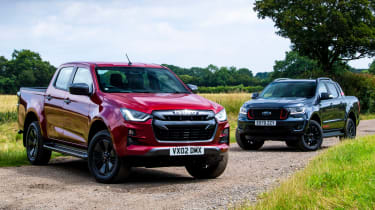 Model: SsangYong Musso Rhino LWB
Price: £30,355 (ex. VAT) 
Engine: 2.2L 4cyl, 179bhp
SsangYong extended the rear of the Musso to create the Rhino. It has a deeper bed than either rival here, and has a bigger payload, while a facelift coming soon might help buyers get more of a discount on that price tag.
Figures
| | | |
| --- | --- | --- |
|   | Ford Ranger 2.0 EcoBlue 170 Limited auto | Isuzu D-Max 1.9D V-Cross auto |
| CV price/total as tested (exc. VAT) | £32,441/£32,441 | £32,759/£33,259 |
| Annual tax liability std/higher rate | £700/£1,400 | £700/£1,400 |
| Annual fuel cost (12k/20k miles) | £2,218/£3,697 | £2,218/£3,697 |
| Insurance group/quote/VED | N/A/TBC/£275 | 50/TBC/£275 |
| Cost of 1st/2nd/3rd service | £333 (2yrs) | N/A |
| Length/wheelbase | 5,359/3,220mm | 5,265/3,125mm |
| Height/width | 1,821/1,977mm | 1,790/1,870mm |
| Engine | 4cyl in-line/1,996cc | 4cyl in-line/1,898cc |
| Peak power/revs | 168/N/A bhp/rpm | 162/3,600 bhp/rpm |
| Peak torque/revs | 420/N/A Nm/rpm | 360/2,000 Nm/rpm |
| Transmission | 10-speed auto/4wd | 6-speed auto/4wd |
| Fuel/AdBlue capacity/spare wheel | 80/14 litres/yes | 76/20 litres/yes |
| Load bed (length/width/depth) | 1,613/1,560/511mm | 1,495/1,530/490mm |
| Kerbweight/payload/towing weight | 2,202/1,068/3,500kg | 2,030/1,070/3,500kg |
| Turning circle | 12.7 metres | 12.5 metres |
| Approach angle/departure angle | 29/27 degrees | 31/24 degrees |
| Breakover angle/wading depth | 24 degrees/800mm | 22 degrees/800mm |
| Minimum ground clearance | 237mm | 235mm |
| Basic warranty (miles)/recovery | 3yrs (60k)/1yr | 5yrs/5yrs |
| Driver Power manufacturer/dealer pos. | N/A | N/A |
| NCAP: Adult/child/ped./assist/stars | 96/86/81/71/5 (2012) | 84/86/69/83/5 (2020) |
| 0-62mph/top speed | 11.4 secs/112mph | 13.0 secs/112mph |
| Auto Express econ. (mpg/mpl)/range | 33.5/7.4/590 miles | 33.5/7.4/560 miles |
| WLTP combined | 31.7mpg | 30.7mpg |
| WLTP combined | 7.0mpl | 6.8mpl |
| Actual/claimed CO2/tax bracket | 226/233g/km/N/A | 226/241g/km/N/A |
| Airbags/Isofix/park sensors/camera | Seven/yes/f&r/yes | Eight/yes/f&r/yes |
| Diff lock/lane keep/blindspot/AEB | £300/yes/yes/yes | Yes/yes/yes/yes |
| Climate ctrl/adaptive cruise | Yes/£1,125 | Yes/yes |
| Leather/heated seats | Yes/yes | Yes/yes |
| Met paint/LED lights | £500/yes | £500/yes |
| Keyless entry/tailgate damper | Yes/yes | Yes/yes |
| Sat-nav/digi dash/DAB/connectivity | £670/no/yes/yes | No/no/yes/no |
| Wireless charge/CarPlay/Android Auto | No/yes/yes | No/yes/yes |
Source: Read Full Article