Ford Kuga vs Toyota RAV4 vs Skoda Karoq
The all-new Ford Kuga has landed. Can it make an impact against the Skoda Karoq and Toyota RAV4?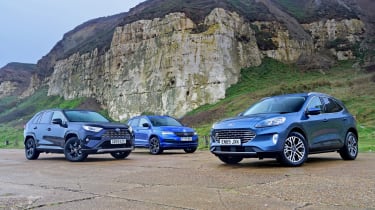 This  is the new Ford Kuga, the brand's latest SUV. It's an all-new model, and Ford has overhauled the car in every key area to give it the best chance of coming out on top in a very competitive sector. So we're going to find out if it does exactly that in this comparison test. 
There's a wide range of engines, but here we try the new 2.0-litre diesel mild hybrid. It takes on the full-hybrid petrol Toyota RAV4 and a diesel version of the Skoda Karoq, in a battle of different powertrains at a similar price point. This version of the Kuga is manual only, while the Toyota is auto only, but you can have either gearbox in the Karoq: we've picked the twin-clutch DSG auto for price parity.
Best SUVs to buy 2020
Here, we'll find out how well Ford's mild-hybrid tech works, but more importantly we'll see how the new Kuga stacks up in key areas such as practicality, kit, comfort and tech.
The Karoq has been a class leader since it was launched, and the RAV4 is another one of our favourites in this class, so the Kuga has a big task if it wants to beat its rivals. The Skoda offers lots of practicality for the price, and the Toyota drives well, so can Ford's new Kuga make its way into the top tier of mid-size SUVs?
Ford Kuga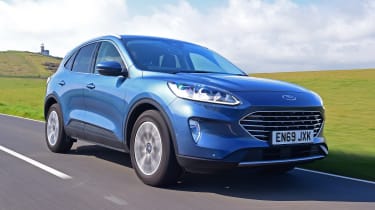 | | |
| --- | --- |
| Model: | Ford Kuga 2.0 EcoBlue mHEV Titanium |
| Price: | £29,375 |
| Engine: | 2.0-litre 4cyl diesel, 148bhp  |
| 0-60mph: | 9.3 seconds |
| Test economy: | 44.6mpg/6.3mpl  |
| CO2: | 135g/km |
| Annual road tax: | £150 |
The Ford Kuga has been around for more than a decade, so it's a well established model. This all-new version brings mild-hybrid power, including on the diesel variant that we're testing here. In Titanium trim it costs from £29,375.
More reviews for Kuga
Car group tests
Renault Koleos vs Skoda Kodiaq vs Ford Kuga
Ford Kuga vs Volkswagen Tiguan vs Mazda CX-5
In-depth reviews
Road tests
New Ford Kuga PHEV 2020 review
New Ford Kuga 2020 review
Ford Kuga Titanium
New Ford Kuga 2017 review
Used car tests
Design & engineering
The Kuga is based on Ford's C2 platform, so it shares tech and chassis components with the Focus hatchback. This is very similar to the arrangement on its rivals; the RAV4 is related to the Corolla hatchback, while the Karoq and Octavia are closely linked. Each SUV shares traits with its family car sibling, too.
In the Kuga's case, it's the car's ride and handling which are strong points. This is thanks in part to MacPherson strut front suspension and a multi-link rear set-up, which helps with comfort and agility. The Kuga also has a similar interior to the Focus; the large central touchscreen on the dash is the same, and even small features such as the gearlever and starter button will be familiar to anyone who's driven a Focus. Interior quality in the Kuga is good, matching both rivals here for the standard of its materials. The Toyota feels slightly better built, but with a more fussy design, while the Karoq's look is plainer, but a bit classier.
The new Kuga is well equipped in Titanium trim, because sat-nav is standard, along with Android Auto and Apple CarPlay, plus lane-keep assist, LED lights, wireless phone charging and keyless entry.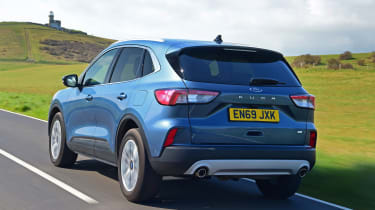 Our test car is powered by a 2.0-litre diesel with mild-hybrid technology. This system recoups power under braking, storing it in a small battery and using it to boost efficiency in conjunction with the stop-start system. Ford calls this Kuga a hybrid, but it's a long way from the RAV4 here, because it can't run on electric power alone. In normal driving the Kuga behaves almost exactly like any other diesel-powered vehicle.
A six-speed manual box drives the front wheels, and the powertrain produces 148bhp and 370Nm of torque, so the Kuga is the torquiest car in this trio.
Driving
This torque advantage was reflected in our in-gear tests, because the Kuga was the best performer. In fifth and sixth gears, the Ford went from 50-70mph in 7.4 and 9.8 seconds respectively, which was a reasonable gap ahead of the Skoda's 7.6 and 11.6-second times. 
The Ford accelerated from 30-50mph in 3.3 seconds in third and 5.1 seconds in fourth gear, which was identical to the Karoq. The CVT-equipped RAV4 doesn't have gears as such, and took 2.8 seconds in that test, and 4.1 seconds in the 50-70mph sprint.
In daily driving, the Kuga is punchy and easy to drive, because you rarely have to change down a gear to speed up out of a town or village, for example. The low-down torque means you can squeeze the power on and get up to speed smoothly. It's no hardship to use the gearbox, though, because the six-speed unit is excellent. The shift is precise and has a mechanical feel; it's one of the best in any mid-size SUV.
There's more for the driver to enjoy here as well, since the Kuga is great to drive for an SUV. There's a bit of body roll, but it's well controlled, and the car has plenty of grip, too. It's not as playful as the lower-slung Focus, but it has a similar feel through corners. It's composed and there's a natural weight and plenty of precision to the steering. The Kuga is quite a bit more fun to drive than its rivals.
While the Ford doesn't ride quite as smoothly as the Toyota, it's a match for the Karoq, so it scores highly in this section because it blends both aspects very well. There's a little vibration over rough roads, but the dampers do a good job, especially at higher speeds.
As for the mild-hybrid system, it's only noticeable in traffic, because it helps the stop-start system to react quickly. When the engine's running, it's quiet enough at a cruise, with a bit of background rattle, and only starts to sound harsh as you get higher up the rev range. There's no reason to rev it too hard, though, because there's a noticeable drop-off in power after 3,500rpm. It's best to keep it relaxed. This is the case in both rivals, although in the Toyota that's because of the CVT box rather than the engine itself.
Practicality
The Kuga has between 475 and 526 litres of boot space thanks to a sliding rear seat, adding some extra practicality.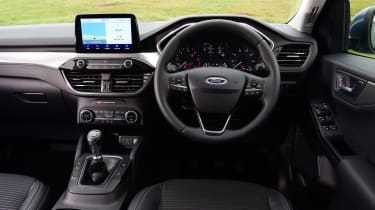 The RAV4 has 580 litres – it's very spacious – and the Karoq offers 521 litres in SE spec. These are two of the most practical models in the family SUV class, but the Ford matches them with its added versatility touch. The boot is easy enough to access, and there's room for three or four big suitcases.
There's enough space in the rear for adults, too, but again the Kuga drops back when compared with its rivals. The Toyota has more room, and the Karoq is the most spacious of all, thanks to neat packaging that makes the most of the space available.
Ownership
In our 2020 Driver Power survey, Ford finished a disappointing 24th out of 30, which was a long way behind its rivals here. However, the Kuga scored a full five stars in its Euro NCAP crash test, matching the other cars. It equals the Toyota for safety kit, with lane-keep assist and AEB as standard. The Skoda does without the former.
Running costs
The Ford returned 44.6mpg on test, which works out at £1,474 a year in fuel over 12,000 miles. The hybrid Toyota returned 47.3mpg – at a cost of £1,390 over the same period – while the Skoda returned 45.5mpg for an annual fuel bill of £1,445. Those figures are close enough that it won't make too much difference which car you pick. They're all pretty economical. 
The RAV4 is slightly cheaper than its rivals for road tax, because it's classed as an alternative-fuel vehicle and gets a £10 annual discount.
Testers' notes
"Ford offers a Driver's Assistance pack on the Kuga for £1,000. It adds a reversing camera, adaptive cruise control and blind-spot assist, and is a relatively good-value upgrade for Titanium-spec cars."
Toyota RAV4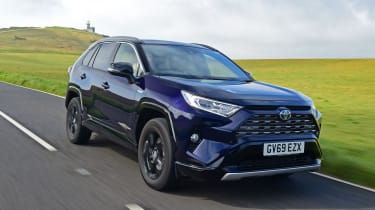 | | |
| --- | --- |
| Model: | Toyota RAV4  2.5 Hybrid 2WD Icon |
| Price: | £30,970 |
| Engine: | 2.5-litre 4cyl hybrid, 215bhp  |
| 0-60mph: | 7.8 seconds |
| Test economy: | 47.3mpg/6.0mpl  |
| CO2: | 126g/km   |
| Annual road tax: | £140 |
This latest Toyota RAV4 is only available as a hybrid. Here we're testing it in basic Icon trim (Dynamic pictured), since it's closest to the Ford and Skoda on price – but standard equipment is similar.
Design & engineering
Toyota's SUV uses a 2.5-litre four-cylinder non-turbo petrol engine with an electric motor, and as with all other Toyota hybrids, it sends power to the wheels via a continuously variable transmission (CVT). This means it doesn't have gears as such, and instead changes ratio continuously. It's not much different in normal use than any other automatic gearbox, but it becomes more obvious when you need more power, because it holds the engine at a certain rpm for maximum acceleration.
The engine and electric motor combined produce 215bhp, which is the most here. As with the Kuga, the RAV4 is front-wheel drive only, despite its SUV shape – but most owners will appreciate the fuel economy gains, and won't miss having four-wheel drive.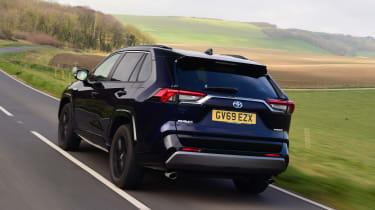 Under the skin is the Toyota New Global Architecture (TNGA) platform, which also underpins the C-HR, Corolla and Prius models. The RAV4 features MacPherson struts at the front and double wishbones at the rear – a sophisticated arrangement that brings big benefits for ride and handling.
Inside, there are a few cheap-looking materials around the cabin, but build quality is good. The display on the dash looks dated and is a pain to use, but the Toyota is great at the simple things you do every day, such as changing the air-conditioning settings. The chunky buttons are well placed and easy to use when you're on the move.
Standard kit is good even in the entry-level model. Every RAV4 features cruise control, lane-keep assist, a reversing camera and full smartphone connectivity (Android Auto and Apple CarPlay) as standard.
Driving
The RAV4's suspension layout means that it's surprisingly good to drive for an eco-focused SUV. It's not quite as sporty as the Kuga, with a bit more body roll and slightly less precise steering, but it's far from wayward, and there's plenty of grip. 
Most importantly, it's comfortable. Rough roads are noticeable in the Toyota but aren't unpleasant, and it's very smooth on the motorway. A high driving position means it feels bigger from behind the wheel than its rivals, although it's no more difficult to manoeuvre around town.
The electric motor means it's at its best in urban environments; the low noise levels are very relaxing, especially when the engine shuts off while cruising. It's also silent while waiting in traffic, even if the all-electric running is more limited than we'd like. 
When the 2.5-litre engine does come on, it's a bit noisy. Sometimes it charges the battery up at idle, but it's mostly because of the CVT gearbox.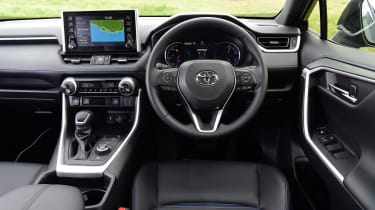 If you require faster acceleration and put your foot down, it sends the revs soaring to maximise power. This is because the petrol engine under the bonnet doesn't have a turbocharger, so its peak power comes quite high in the rev range, at 5,700rpm (the Ford and Skoda's diesel motors put out their maximum power at 3,500rpm). 
It's an unpleasant noise, but the Toyota is quite quick, so you're soon up to speed and able to lift off the gas. The RAV4 was faster from 0-60mph in our tests than its rivals, taking 7.8 seconds, while the Kuga and Karoq took 9.3 and 8.4 seconds respectively. It also went from 30-70mph quicker than the others: the Toyota took 6.8 seconds, the Ford took 8.7 seconds, and the Skoda took 8.5 seconds.
Practicality
Hybrid cars need somewhere to store their bulky batteries, but the RAV4's boxy shape and SUV styling mean it hides them well. The boot floor is a little on the high side, but there's still lots of room on offer, with 580 litres of space available. It's bigger than the Kuga and beats the Ford when it comes to total space with the seats folded, too.
Leg and headroom in the back are excellent, and even tall adults will be able to sit comfortably, thanks to the RAV4's boxy shape and high roofline. However, the Toyota's rear seat backs are quite reclined, so do check if passengers will be comfortable with this. 
The driving position is good, with lots of adjustment and comfortable front seats. Standard-fit parking sensors and a reversing camera are useful for manoeuvring in tight spots, because rear visibility could be better.
Ownership
Other standard safety kit on the Toyota includes autonomous braking and lane-keep assist, which are great to see on an entry-level model. Blind-spot assist isn't available without moving up to a more expensive trim, though, because there aren't really any options to add here. As with its rivals, the RAV4 scored a five-star rating in its Euro NCAP crash test.
Toyota offers a five-year, 100,000-mile warranty – which includes the battery and hybrid system, and is one of the best around. The brand has a strong reputation for reliability, and our readers reflected this when they placed the brand sixth overall in our 2020 Driver Power survey.
Running costs
Hybrids are a great choice for company car drivers because of their low CO2 emissions, which lead to lower tax bills. The RAV4's 126g/km mean it sits in the 28 per cent Benefit-in-Kind (BiK) bracket, so standard-rate earners will pay £1,722 a year to tax it. This is a small saving over the Kuga's £1,727 and the Karoq's £2,163 for the same earner; those cars cost more because of their diesel engines and higher CO2 figures under the latest WLTP testing system.
Testers' notes
"The RAV4 isn't the best choice for those wanting to tow, because it's only rated to pull up to 1,650kg in weight due to the hybrid system. The Kuga can pull 1,900kg and the Karoq can tow 2,100kg."
Skoda Karoq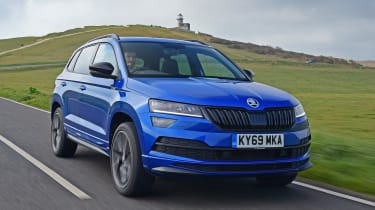 | | |
| --- | --- |
| Model: | Skoda Karoq 2.0 TDI 150 DSG 4×4 SE |
| Price: | £30,585 |
| Engine: | 2.0-litre 4cyl diesel, 148bhp  |
| 0-60mph: | 8.4 seconds |
| Test economy: | 45.5mpg/6.2mpl  |
| CO2: | 171g/km |
| Annual road tax: | £150 |
The Skoda Karoq is our current favourite family SUV and is an Auto Express Award winner. Here, we're testing the SE model (our pictures show a SportLine) in 2.0 TDI 150 DSG 4×4 spec, which costs £30,585.
Design & engineering
The Karoq sits on the widely used VW Group MQB platform, so it shares parts with lots of other models, including rivals like the SEAT Ateca and cars in other classes, such as the Skoda Octavia and larger Skoda Kodiaq. There are MacPherson struts up front, and while front-wheel-drive models have a torsion beam at the rear, our test car's four-wheel-drive layout means it gets a multi-link set-up. There's not too much difference between the two configurations, though, because all Karoqs are good to drive.
Adaptive dampers are available if you choose the Dynamic Chassis Control optional extra, which costs £1,030. It lowers the car by 10mm and allows you to choose damper settings when cycling through the different driving modes.
While the Ford uses mild-hybrid tech and the Toyota is a full hybrid, the diesel engine here is entirely conventional. The 2.0 TDI motor produces 148bhp, which is the same as the Kuga's, but there's a bit less torque (at 340Nm to the Ford's 370Nm).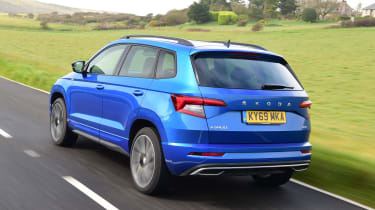 The DSG gearbox drives all four wheels here, although we'd recommend a front-wheel-drive model because it will be cheaper to run, and few will need off-roading capability in a Karoq. It might be useful for towing, though, because it helps with traction on wet grass – and the Skoda has the highest towing capacity here, at 2,100kg.
The Karoq's interior has a neat, modern-looking layout. It could have a bit more flair, because it's dominated by black plastics, but build quality is good. 
Standard kit is reasonable, although the Skoda misses out on a few features that are included on the Ford or Toyota, such as keyless entry and a reversing camera. It does have Android Auto and Apple CarPlay, plus climate control, cruise control, parking sensors and autonomous emergency braking, though.
Driving
The Skoda's turbocharged diesel gives it lots of flexibility; unlike the Toyota, its auto box keeps revs low. Maximum torque arrives at 1,750rpm, so cruising refinement is good, although the Skoda's engine is the loudest here if you do need a few more revs to get up to speed.
The DSG gearbox is very good in most situations: it shifts swiftly and smoothly, and manual changes are quick enough. Unfortunately, it's a little jerky and laggy at low speed, especially when the stop-start system cuts the engine. The box comes into its own when you consider acceleration, though, because the Karoq was quite a bit quicker at the track than the Ford, which has an identical power figure.
The Skoda took 8.4 seconds to go from 0-60mph and 8.5 seconds to go from 30-70mph, times helped by the quick shifts of the DSG box; the manual Ford took 9.3 and 8.7 seconds in those tests respectively. The Toyota was quicker than both because it's the most powerful car here, but all three vehicles meet the minimum level of performance we'd expect from a family SUV such as these.
In gear the Skoda was identical to the Ford from 30-50mph in third and fourth, and slightly slower from 50-70mph in fifth and sixth. Both cars were slower than the Toyota because the RAV4's gearbox always sets the optimal engine speed when you hit full  throttle.
The Karoq is well controlled in corners and remains composed on country roads, keeping the worst potholes from crashing through the suspension. It's good at speed too, and matches its rivals when it comes to comfort.
It's not as good to drive as the Ford, though. Body roll is more controlled than in the Toyota, but the steering is numb and a little light, although it's precise.
Practicality
We're testing a Karoq SE model, so it has a fixed rear boot space of 521 litres. Cars in SE L spec and above feature 'Varioflex' seating in the rear, which means the 60:40-split bench can slide forward and back, allowing you to prioritise load capacity or legroom.
Yet even without them there's lots of room in the back of the Karoq. The high roofline and big windows mean it has an airy, spacious feel.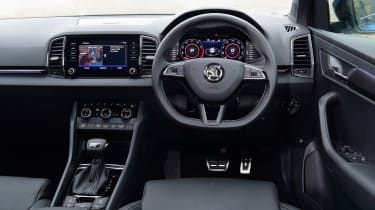 There's up to 1,630 litres of boot space available with the rear seats folded, which isn't quite as much as the RAV4, but the Skoda is still a practical choice. It's got the biggest towing capacity, as well as the tightest turning circle. It means the Karoq is the most manoeuvrable and easiest to drive.
Ownership
Skoda usually scores well in our Driver Power surveys, and its 2020 result was no different. The brand matched its fifth-place finish from 2019, while Toyota was sixth, so both of these brands impressed their customers a lot more than Ford did, in 24th.
Safety kit could be better though, because there's no lane-keep assist here, which is standard on both rivals. A reversing camera costs extra as we've already seen, but at least autonomous braking is fitted on the Karoq in SE trim.
Running costs
Our depreciation experts predict that the Skoda will hold on to 45.2 per cent of its value after three years or 36,000 miles. That means it will lose £16,761 over that time, retaining £13,824 after a typical ownership period. That places it in between its rivals for residuals.
The Ford should keep 44.9 per cent, which is a drop of £16,174 over the same period to a value of £13,201, while the Toyota is expected to retain 55.3 per cent, falling by £13,844 to £17,126.
Testers' notes
"The Karoq is packed with Skoda's 'Simply Clever' practicality features, such as an ice scraper in the fuel filler door, an umbrella under the front seat and a car park ticket holder on the windscreen."
Verdict
First place: Ford Kuga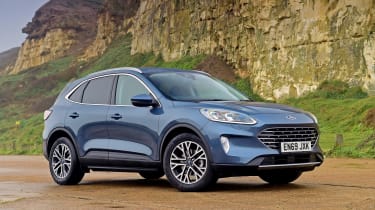 The Kuga is a great return to form from Ford. It's still the family SUV for keen drivers, because it handles brilliantly, but in Titanium spec it's cheaper and better equipped than the Karoq – and nearly as versatile, despite slightly less passenger room. The mild-hybrid tech boosts efficiency, while strong infotainment, a good level of safety kit, more equipment than the Skoda, and enough space for the family make it a solid mid-size SUV.
Second place: Skoda Karoq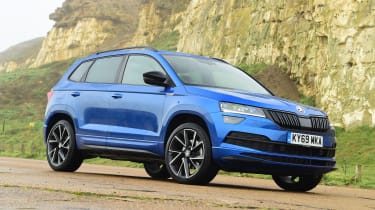 Diesel trim isn't the Karoq's sweet spot. This shows how the market has moved on. We'd go for a 1.5 TSI in higher-spec SE L trim instead, because SE doesn't get enough kit for the price, and you don't get the sliding rear seat. Still, the Karoq drives and rides nicely enough, the infotainment is fine, and quality is good. It's just that the Kuga is a better-value option to buy and run. The Karoq is still a great family SUV, though.
Third place: Toyota RAV4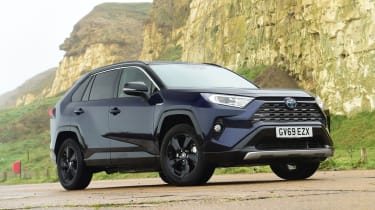 This is a close result and the RAV4 is still a fine car. If you're dead-set on hybrid power, then this is the one to go for. But while it can match the Kuga on usability, it still lags behind in some areas – the infotainment system in particular. Focus on the efficiency and practicality bonuses though, plus the safety kit, and it's easy to see why the RAV4 is a popular machine with many buyers.
Also consider
Kia XCeed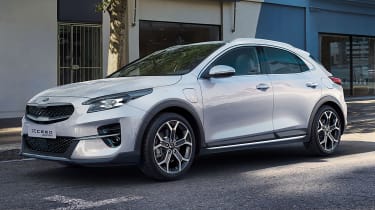 Model: Kia XCeed PHEV 3On sale: Now  Price: £30,695 Engine: 1.6 PHEV, 139bhp
Kia's plug-in XCeed has just gone on sale, with deliveries due to happen imminently. It's a full plug-in hybrid (there's a PHEV Kuga, too) so should be efficient, while its tech is great as well.
Figures
| | | | |
| --- | --- | --- | --- |
|   | Ford Kuga 2.0 EcoBlue mHEV Titanium  | Skoda Karoq 2.0 TDI 150 DSG 4×4 SE | Toyota RAV4 2.5 Hybrid 2WD Icon |
| On the road price/total as tested | £29,375/£30,870 | £30,585/£30,585 | £30,970/£30,970 |
| Residual value (after 3yrs/36,000) | £13,201/44.9% | £13,824/45.2% | £17,126/55.3% |
| Depreciation | £16,174 | £16,761 | £13,844 |
| Annual tax liability std/higher rate | £1,727/£3,453 | £2,163/£4,325 | £1,722/£3,444 |
| Annual fuel cost (12k/20k miles) | £1,474/£2,456 | £1,445/£2,408 | £1,390/£2,316 |
| Insurance group/quote/road tax cost | 17/£575/£150 | 14/£474/£150 | 25/£486/£140 |
| Servicing costs | N/A | £342 (2 years) | £190/£340/£190 |
| Length/wheelbase | 4,614/2,710mm | 4,382/2,630mm | 4,600/2,690mm |
| Height/width | 1,678/1,883mm | 1,607/1,841mm | 1,685/1,855mm |
| Engine | 4cyl in-line/1,995cc | 4cyl in-line/1,968cc | 4cyl in-line/2,487cc |
| Peak power/revs | 148/3,500 bhp/rpm | 148/3,500 bhp/rpm | 215/5,700 bhp/rpm |
| Peak torque/revs | 370/2,000 Nm/rpm | 340/1,750 Nm/rpm | 221/3,600 Nm/rpm |
| Transmission | 6-speed man/fwd | 7-speed DSG/4wd | CVT auto/fwd |
| Fuel tank capacity/spare wheel | 54 litres/repair kit | 55 litres/£150 | 55 litres/full-size |
| Boot capacity (seats up/down) | 475-526/1,534 litres | 521/1,630 litres | 580/1,690 litres |
| Kerbweight/payload/towing weight | 1,680/636/1,900kg | 1,607/641/2,100kg | 1,590/545/1,650kg |
| Turning circle | 11.1 metres | 10.2 metres | 11.8 metres |
| Basic warranty (miles)/recovery | 3yrs (60,000)/3yrs | 3yrs (60,000)/3yrs | 5yrs (100,000)/1yr |
| Driver Power manufacturer/dealer pos | 24th/23rd | 5th/10th | 6th/2nd |
| NCAP: Adult/child/ped./assist/stars | 92/86/82/73/5 | 93/79/73/58/5 | 93/87/85/77/5 |
| 0-60/30-70mph | 9.3/8.7 secs | 8.4/8.5 secs | 7.8/6.8 secs |
| 30-50mph in 3rd/4th | 3.3/5.1 secs | 3.3/5.1 secs | 2.8 secs |
| 50-70mph in 5th/6th | 7.4/9.8 secs | 7.6/11.6 secs | 4.1 secs |
| Top speed/rpm at 70mph | 121mph/1,900rpm | 119mph/1,600rpm | 111mph/N/A |
| Braking 70-0/60-0/30-0mph | 52.3/35.9/10.7m | 49.7/36.8/9.6m | 55.5/37.7/10.4m |
| Auto Express econ (mpg/mpl)/range | 44.6/6.3/530 miles | 45.5/6.2/550 miles | 47.3/6.0/572 miles |
| WLTP combined mpg | 55.4mpg | 39.8-43.5mpg | 48.7-50.4mpg |
| WLTP combined mpl | 12.2mpl | 8.8-9.6mpl | 10.7-11.1mpl |
| Actual/claimed CO2/tax bracket | 170/135g/km/30% | 166/171g/km/37% | 138/126g/km/28% |
| Airbags/Isofix/park sensors/camera | Seven/y/y/£1,000* | Seven/yes/yes/£315 | Seven/yes/yes/yes |
| Auto/lane keep/blind spot/AEB | No/yes/£1,000*/yes | Yes/£930*/£930*/yes | Yes/yes/no/yes |
| Clim ctrl/cruise/leather/heated seats | Yes/yes/no/£500* | Yes/yes/£1,350/£210 | Yes/yes/no/no |
| Met paint/LEDs/keyless/pwr tailgate | £600/yes/yes/£450 | £595/£1,235/£445/£520 | £615/no/no/no |
| Sat-nav/digi dash/DAB/apps | Yes/no/yes/yes | £750/no/yes/yes | £699/yes/yes/yes |
| Wireless charge/CarPlay/Android Auto | Yes/yes/yes | No/yes/yes | No/yes/yes |
Source: Read Full Article