Ford Kuga diesel models axed
The Ford Kuga has followed its Fiesta sibling in dropping diesel engines from the range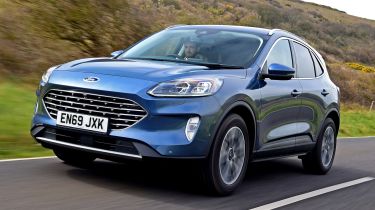 The Ford Kuga is now petrol-only, with Ford confirming it has dropped the 1.5-litre and 2.0-litre EcoBlue diesel engines from the line-up.
Slow diesel sales and the increasing popularity of electrified powertrains means that Ford is streamlining its range, although it is currently reviewing whether diesel power has a future in the Kuga, according to a Ford spokesperson.
The Kuga follows the Fiesta hatchback in cutting out diesel, and engine options now consist of one pure-petrol and two hybrid petrol units. Buyers have the choice of either a 1.5-litre petrol with 148bhp, a 2.5-litre petrol hybrid with 187bhp or a plug-in hybrid petrol producing 222bhp.
Ford Kuga review
The decision means that the recently facelifted Focus is now the only Ford available with diesel power, which saw a dramatic drop in overall car sales this year. According to SMMT, new car sales saw a slight increase from 2020 to 2021, but pure diesel-engined cars took a significant 46.9% year-on-year sales hit.
There was also a decline in petrol car sales, although this is much smaller at 14.8%. The same data indicates a rapid uptake in electrified vehicles, explaining Ford's decision for a mostly hybrid engine line-up for the Kuga. Mild-hybrid petrol sales saw an enormous 75.6% increase over the previous year.
Ford isn't the only manufacturer to axe diesels from its range. No new Volvo will be launched with a diesel engine, for example, and the marque removed the diesel-powered XC40 from sale last year. The Mazda 6 also ditched diesel in 2020 in favour of a petrol-only engine range.
Now read our list of the Best electric SUVs to buy now…
Source: Read Full Article