Extreme snow cars – the ultimate cold weather vehicles
When the going gets tough, the tough get massive wheels and ski-doo tracks. These are the world's most extreme snow cars…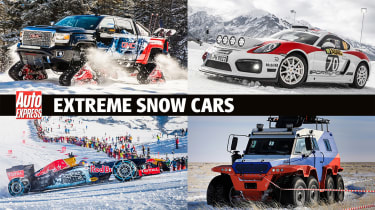 Heavy snow is very rarely a problem for drivers in the UK, which is probably why gritting machines feel like they're in such short supply whenever a few inches of the white stuff appears.
When there's significant snowfall, transport disruption almost always follows, and when your travel is essential it'd be handy to have a vehicle that's up to the task.
As it happens, some car manufacturers have put a lot of thought into what their vehicles would look like if they were built to survive in the harshest winter conditions. Some of their ideas never went further than concept stage, though a few designs actually made it to the real world.
Then there are the low-volume producers and lesser-known companies who couldn't wait for a solution to come along, instead making their own modifications to existing vehicles in order to overcome everything from cold snaps and blizzards to a new ice age.
The results over the years have been rather extravagant, it has to be said. We've rounded up the most extreme snow cars we could find below. 
Antarctic Snow Cruiser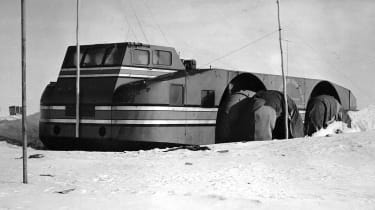 The Antarctic Snow Cruiser was built in 1939 with the aim of helping US explorers get around the polar region. Powered by two 11.0-litre diesel engines and four 56kW electric motors, this beast of a machine was 17m long and six metres wide, weighing 34 tonnes when fully laden.
In practice the Snow Cruiser was a disaster: the wheels broke as soon as it was unloaded onto the ice early in 1940, and the smooth tyres provided very little in the way of traction. In fact, the crew realised that the vehicle made better progress driven backwards, and its longest journey – measuring 92 miles – was completed in reverse.
The Snow Cruiser was abandoned after less than 12 months in operation. It was last seen in 1958.
Bombardier B12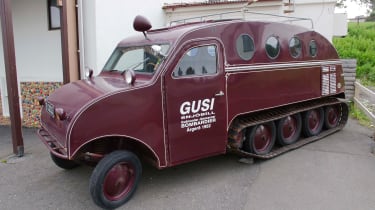 Another extreme snow car plucked from the history books is this, the Bombardier B12. Invented by Joseph-Armand Bombardier, the contraption uses tank-like tracks and what amounts to a pair of skis to get around on the snow. As the name suggests, the vehicle could carry up to 12 passengers, and it proved popular as a form of public transport in Quebec from the late 1930s onwards.
A fleet of B12s was still in operation in the Yellowstone National Park, USA, as recently as 2016, although tougher noise and efficiency standards finally brought their impressively long service to an end.
Aton Impulse Viking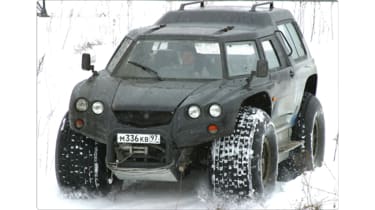 The first (but certainly not the last) Russian off-roader on this list is the Aton Impulse Viking. While it certainly looks imposing, the 1.8-litre engine within is contrastingly small, producing just 81bhp. As a result, the Impulse Viking's top speed is a mere 37mph. Not what you want to hear when one of its intended jobs is to act as an emergency vehicle.
If you happen to have an accident on a snowy mountain, the Impulse Viking will at least get you back to base, capable of tackling 38-degree slopes and affording 25cm of ground clearance along the way.
In 2014 you'd need $200,000 for this go-anywhere (slowly) seven-seater, although little has been heard from Aton in the years since so it's likely the company went bust.
GMC Sierra All Mountain Concept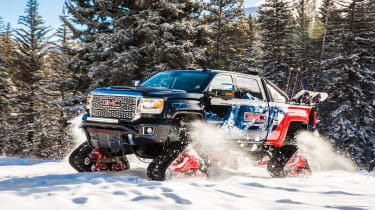 In 2017, US truck manufacturer GMC designed a snow-going vehicle based on its 2500HD Crew Cab. The GMC Sierra All Mountain Concept contained a 6.6-litre, twin-turbocharged V8 diesel engine producing a whopping 439bhp, with torque amounting to 1,234Nm.
Two sets of tracks were added to each axle, with a 30-inch light bar, massive speakers and snowboard racks fitted elsewhere on the vehicle. GMC claimed these additions made the concept "perfectly suited" to snowy conditions, and on the evidence of the pictures, they weren't wrong.
RaptorTRAX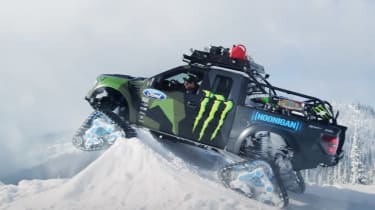 A list of extreme, heavily modified vehicles wouldn't be complete without something from Ken Block's garage, and the stunt-driver's Ford F-150 RaptorTRAX fits the bill all too well.
The 6.2-litre V8 under the bonnet is capable of 650bhp, while the rest of the recipe closely follows that of the Sierra All Mountain Concept: as well as snowboard racks and a roof basket, there's a rear-mounted winch for hauling the RaptorTRAX out of tricky situations.
A hard day's adventuring will probably give you an appetite, so there's a BBQ fixed to the rear too.
Nissan Winter Warrior concepts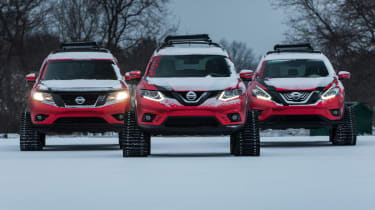 Nissan has form when it comes to snow-based concepts. In 2016 it revealed a trio of them ahead of the Chicago Motor Show, based on the Pathfinder, Murano and X-Trail respectively.
Along with the Dominator Tracks – each 48 inches long, 30 inches high and 15 inches wide – the Nissans received red-chrome body wraps to help them stand out in the snow, plus accessories like roof rail crossbar and bumper protectors.
And for those prepared to brave the cold, a 9x9ft hatch tent was thrown in too.
Nissan 370Zki concept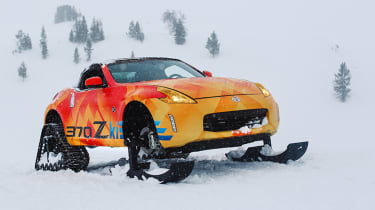 Nissan's Warrior Concepts were followed two years later by the 370Zki concept; part sports car, part snowmobile. The 3.7-litre V6 in the standard 370Z was retained, producing 324bhp via a seven-speed automatic gearbox.
All of the drivetrain had to be stripped off and redesigned in order to power the tracks at the rear, but strangely the front brake discs were retained despite being rendered useless when mounted to a set of custom skis.
Nissan also concocted the Armada Snow Patrol concept – based on the Armada SUV – in order to tow the 370Zki around. But apparently it was much more suited to chasing cars…
Best SUVs to buy 2020
Lamborghini Nitro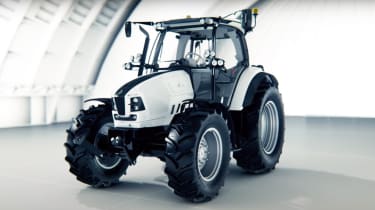 Lamborghini is known the world over for its supercars, but you might not know that before it earned its crust as a manufacturer of the planet's flashiest cars, it built tractors. And it still does. Albeit under a different company.
The Lamborghini Nitro has been with us for several years now, aiming to combine the functionality of the tractor with the design qualities of Lamborghini. We'll leave you to judge how well the combo works.
The engine is a four-cylinder diesel producing 480Nm of torque, and while this is probably useful in a muddy field, the top speed is a miserable 26mph.
Lotus Concept Ice Vehicle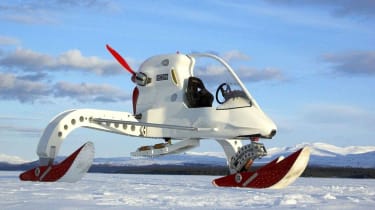 When Lotus – a fabled maker of lightweight sports cars – announced it was making a 1,680kg electric hypercar, there were those who thought the company had gone mad. However, it turns out that Lotus and madness go way back.
In 2008 it came up with the Concept Ice Vehicle, a biofuel-powered icescape crosser designed to navigate Antarctica in order to raise awareness about climate change. A BMW motorcycle engine was harnessed to drive a propeller at the rear of the craft, with a trio of independently-suspended skis giving it stability on the snow.
Hyundai Elevate concept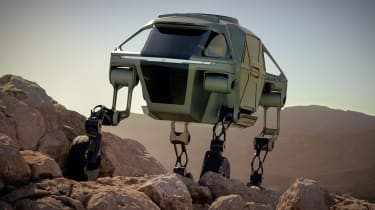 No this isn't an AT-AT Walker from Star Wars, this is the Hyundai Elevate: a walking robot car conceived ahead of the 2019 Consumer Electronics Show in Las Vegas.
According to Hyundai, the Elevate would be capable of spanning gaps of up to five feet, also scaling five-feet tall obstacles. Each 'leg' could be locked too to provide omnidirectional motion.
There were no torquey diesel engines this time though, with the Elevate using an electric motor in each leg to provide movement. There are wheels too for more conventional travel on less arduous terrain.
Track N Go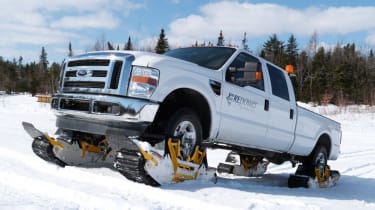 If you need to get across deep snow in a car, you've got two choices: find a vehicle suitable for the job, or modify one sufficiently to get by. For those opting for the latter, there's a relatively easy (although admittedly expensive) way of doing it.
Track N Go is a company that makes fit-on snow tracks for 4×4 vehicles. It claims a set of four tracks can be fitted to a four-wheeled vehicle in under 15 minutes, giving drivers unparalleled off-road ability in wintery conditions.
The tracks themselves are driven by the wheels, which are locked in place to give an extra eight inches of ground clearance. The whole shebang weighs a not-insignificant 680kg, and is designed to operate at a maximum gradient of 25%. The top speed? No more than 40mph is 'recommended'.
As for the price, you're looking at $25,000 (£18,500 approx).
Red Bull RB7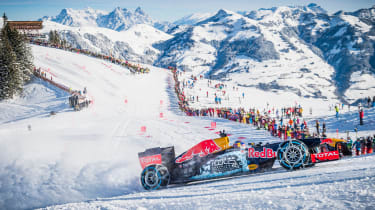 Formula 1 cars are difficult enough to handle when it's raining, but what about when it's snowing? To find out, Red Bull strapped a set of tyre chains to its RB7 – the car that won Sebastian Vettel his second world title in 2011 – and sent Max Verstappen out onto a slope in Kitzbuhel in 2016 to see what he could do.
A fair bit, as it turned out. With the ride height raised the RB7 coped admirably well on its short demonstration run in front of a crowd of bemused onlookers, traversing the piste with ease. Sadly, the North Pole Grand Prix never materialized…
Citroen SpaceTourer 4×4 E Concept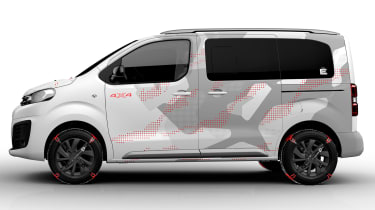 The Citroen SpaceTourer isn't the first vehicle that springs to mind when you think of extreme snow cars, but this 4×4 E Concept version certainly looks the part. It was conceived ahead of the Geneva Motor Show in 2017, and is designed for families and friends to get around Europe's alpine ski resorts.
The ride height has been raised by 60mm, and the car is powered by a 148bhp diesel engine that's connected to a six-speed manual gearbox. Four-wheel drive is provided by a selectable transmission developed by Automobiles Dangel, a French drivetrain specialist.
On the outside, special skid plates and aluminium roof bars join tyre chains and a bespoke colour scheme. Inside the modifications are less extravagant, with partial leather seating and a more upmarket dashboard.
Brabus 800 Adventure XLP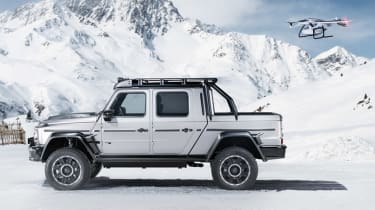 You'd think the Mercedes-AMG G63 would be pretty well suited to snow already, but according to Brabus there was clear room for improvement. In February 2020 it revealed the 800 Adventure XLP, which took the G-Wagen's sense of adventure to new extremes.
69cm longer than the standard G63, the 4.0-litre twin-turbo V8 engine was fettled to boost power from a measly 577bhp to a whopping 789bhp. The top speed of 130mph was limited by the off-road tyres, although it could still manage 0-62mph in 4.8 seconds.
With the suspension completely redesigned, the ride height was boosted to just shy of half a metre. You could even spec a drone (called the 'Wingcopter') with a top speed of 150mph, good for spotting any crevasses or polar bears blocking the path ahead.
Prices started at £330,000, although you could double that figure by going overboard on the options list.
Modified Hyundai Santa Fe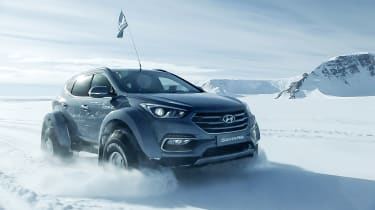 What was the first passenger vehicle to cross the Antarctic? You might think it was something completely bespoke and horrendously expensive, but in actual fact it was this: a modified Hyundai Santa Fe.
The 2.2-litre diesel engine and the car's transmission were left as standard, although the suspension and tyres had to be replaced with something more appropriate for the trip.
Hyundai even went for pedigree behind the wheel: the Santa Fe was driven by none other than Patrick Bergel, the great grandson of Sir Ernest Shackleton. The trip took place in December 2016 and was timed to coincide with the 100th anniversary of Shackleton's Trans-Antarctic expedition of 1914-16.
Porsche 718 Cayman GT4 Rallye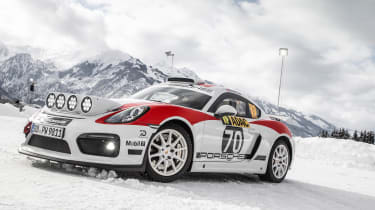 In 2018, Porsche revealed a concept, rallying version of then outgoing Porsche Cayman. The response was overwhelmingly positive and so the German manufacturer announced in 2019 that it would put the car into production, albeit based on the new 718 Cayman GT4 Clubsport instead.
The 3.8-litre, naturally aspirated flat-six engine and its 3.8-litre engine were left alone, although the underbody had to be reinforced and the downforce from the aero package reduced. A roof-mounted air intake was installed on the roof, in addition to the LED light bar on the bonnet.
Customers can enter the GT4 Rallye into the FIA's WRC R-GT class, or alternatively just spend all day gawping at it.
Volkswagen Amarok AT35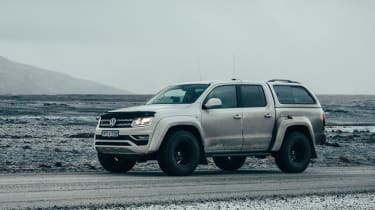 This one-off Amarok AT35 was modified by the same company – Arctic Trucks – that prepped the Hyunda Santa Fe for its trans-Antarctic expedition. All of the usual adaptations apply, such as a raised ride height and enormous all-terrain tyres.
Inside you'll find a portable generator, a fire extinguisher, a VHF radio, a first aid kit and defibrillator, plus a tool box and jack for performing emergency repairs. Oh, and there's a cappuccino machine too.
The AT35 is powered by a 3.0-litre V6 diesel, and VW claims it can carry up to 1,154kg while maintaining the Amarok's 45-degree climbing ability. It was built to go to work in Iceland, acting as a support vehicle for winter driving experiences.
Avtoros Shaman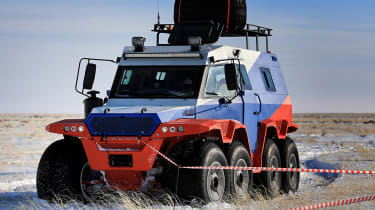 The Avtoros Shaman is another extreme snow car that hails from Russia, although with eight wheels it can tackle just about any terrain… including water. The Shaman has a wading speed of 4.3mph, with a pump that can extract 200 litres per minute from the vehicle's boat-formed frame.
On land the Shaman has a top speed of 44mph, with a 3.0-litre diesel engine providing a modest 144bhp and 350Nm of torque. On paper, that's not a lot given that the 'car' weighs 4,800kg, and that's before you've loaded it up with the maximum 1,500kg payload its makers say it can carry on hard surfaces.
At 6,300mm long, 2,500mm wide and 2,700mm in height, the Shaman has room for eight passengers in addition to the driver. And whoever's in charge of steering can turn all eight wheels if necessary, making this one of the most agile off-roaders ever.
Tesla Model 3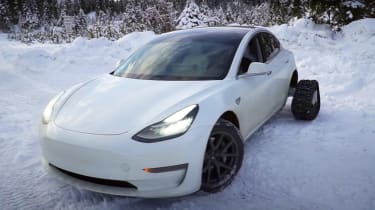 But not just any Tesla Model 3. One owner decided his Model 3 Standard Range Plus needed to be adapted for the snowy slopes of Canada, and so partnered up with Mullin Manufacturing to fit tracks to the rear axle.
Though not the most natural piece of engineering, the system worked, enabling the driver to cruise through picturesque forest tracks in relative silence. Unfortunately the driver voided the car's warranty in the process, so it's probably not an experiment that's worth repeating.
Ripsaw F4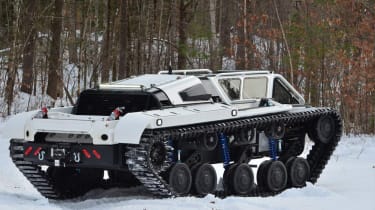 Howe & Howe – makers of the Ripsaw F4 – claims that this is the fastest dual-tracked vehicle in the world, with a top speed of 55mph. The tank-like system gives the vehicle a turning circle of less than two-and-a-half metres, with the whole thing weighing more than 4.5 tonnes.
The tracks give 20 inches of ground clearance for the passenger pod, which can seat up to four people at a time. There are gullwing doors for access, although you'll have to be quite nimble to clamber inside.
There's a winch for if you get stuck, and storage compartments on the exterior will carrying stowing anything from luggage to heavy weaponry. So the F4 should suit commuters and invading armies in equal measure.
Subaru WRX STI TRAX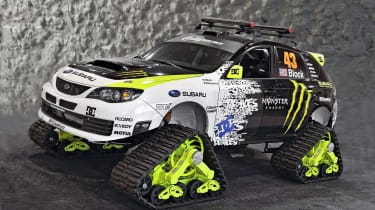 Subaru's exploits in the World Rally Championship have taken it to some of the harshest conditions on the planet but for the most extreme snowy landscape, something extra special was needed. Based on a 2009 Subaru WRX STI with full rally preparation, the TRAX was built by Vermont SportsCar for none other than professional automotive hooligan Ken Block. 
The Mattracks rubber track system is driven by a tuned version of the WRX STI's 2.5-litre turbocharged engine with 400bhp and 542Nm of torque. A five-speed close-ratio gearbox, a Subaru programmable differential and rally-spec dampers keep the TRAX moving almost regardless of the terrain and there's even a rack for four snowboards.
The WRX STI TRAX also comes with a specially built carbon fibre sleigh that can be pulled along behind the vehicle with four passengers on board. With Ken Block at the wheel, its heated Recaros must surely be the worst seats in the house.  
VW Snowreg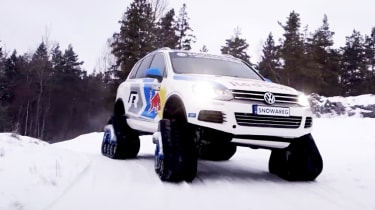 Back in 2014 Volkswagen decided that it didn't want to use the tried and tested helicopters to ferry personnel from stage to stage at the Rally Sweden World Rally Championship event and instead it created the VW Snowreg.
Based on the standard 4.2-litre V8 TDI diesel engined Touareg SUV, the Snowreg gained 18-inch wide Mattracks to help in the ice-bound conditions. Despite a 340bhp power output and a mountainous 664Nm of torque, it was limited to 40mph, which was probably a sensible move.
Now take a look at our all-time favourite concept cars…
Source: Read Full Article