EV-friendly electricity tariffs compared: Save £££s when charging your electric car
We rate the value of special electric car tariffs from a range of UK providers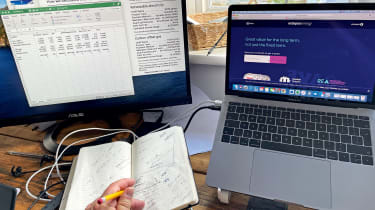 If you're making the move to an electric or plug-in hybrid car, it won't come as a great shock to learn that your electricity bill is going to go up. If you are plugging in at home, the average-mileage motorist can expect their meter to clock between 50 and 80 per cent more power usage when charging a car.
Fortunately, you can shop around for an energy supplier and make sure you are on the best tariff for a high user. Details of your current deal and usage will be on your bill and a few simple sums will allow you to estimate how much more power you'll use – a key bit of prep before looking for quotes. Which of our eight suppliers will take the lead?
How we tested them
We took the average power consumption of a three-bed property with two adults and two children: 3,500kWh per year. If the family swapped to an electric car which covers four miles for every kWh of battery power and then drives 10,000 miles a year, charging at home, they'll need an extra 2,500kWh of electricity.
We've assumed that charging will happen during cheaper night-time tariffs, if available, so we factored these in where possible. To add balance, while we assumed car charging would occur at night, we estimated all other electricity would be used during peak-rate hours. 
Verdict
Finding the right electricity tariff to suit your new electric car is going to take some research, especially because the usual comparison sites won't necessarily show you the best deals. It might seem like time-consuming hassle, but as our figures show, the difference can be many hundreds of pounds. Octopus is a clear winner, with EDF coming in second with cheaper off-peak rates but a higher standing charge. 
Octopus Energy Go
EDF GoElectric
British Gas June 2022v2 
Reviews
Octopus Energy Go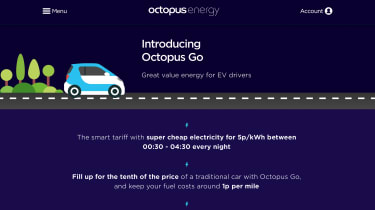 Annual cost: £772.70
Power rate peak/off-peak: 16p/5p
Standing charge/day: 25p
Rating: 5 stars
Contact: Octopus Energy
The relatively high standing charge and 18.9p/kWh cost listed on Octopus's website make it look pricey initially. But dig deeper and you'll find details of its other 'innovative' tariffs, which open up much cheaper electricity rates for smart-meter users. Some of its schemes use fluctuating prices based on demand and supply, but we settled for the more predictable Go, which offers 5p per kWh between 00:30-04:30 every night and 16p at other times. Add in the low standing charge plus a lack of exit fees, and Octopus could save you a few squid.
EDF GoElectric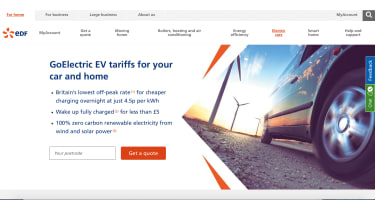 Annual cost: £838.41
Power rate peak/off-peak: 17p/4.5p
Standing charge/day: 31p
Rating: 4 stars
Contact: EDF Energy
Like Octopus, EDF is another company that doesn't offer or quote its most competitive overnight rates immediately, because it likes to let its computers chat to your smart meter for a couple of weeks. Once it has monitored your usage and you've proved you own or lease an electric car, it will let you move to the GoElectric tariff with its super-low 4.5p rate between 00:30 and 04:30 every night. 
This is offset by a higher standing charge and peak rate, but it will make sense if you can shift more of your other household electric use to the night-time hours.
British Gas June 2022v2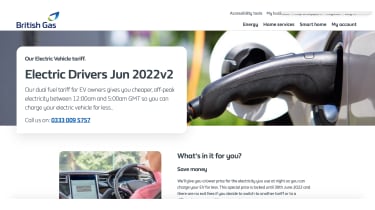 Annual cost: £924.55
Cost/kWh peak/off-peak: 20p/6p
Standing charge/day: 25p
Rating: 4 stars
Contact: British Gas
We were surprised to see the big supplier British Gas offering one of the more competitive rates here. Its fixed package brings a cheaper price between midnight and 05:00, offering an extra hour compared to the others, which might allow you to cram more cheap electricity into a car with a big battery. The service charge matches the Octopus price, too, and the prices are locked for a year without committing to a contract. However, the tariff is only for dual-fuel users, so you'll need to use mains gas, and compare prices for this as well. 
OVO Drive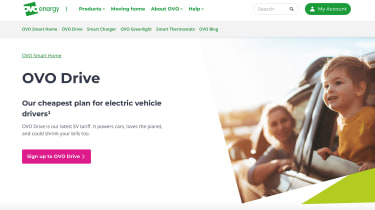 Annual cost: £970.65
Power rate peak/off-peak: 14p/14p
Standing charge/day: 30p
Rating: 3.5 stars
Contact: OVO Energy
OVO's low flat rate for power almost puts it on the podium here, even though it doesn't offer a cheaper night rate. At 14.4p per kWh, its anytime price is the cheapest peak cost we could find, although the standing charge is higher than average to compensate. The rate is fixed for 12 months, but you'll be locked in, and it's only available as a dual fuel, so you'll need to be a gas user, and compare prices here too. 
But the real attraction of this tariff will be if you drive a MINI Electric. A special arrangement means that owners will get the equivalent of 5,000 free miles of power every year. 
Ecotricity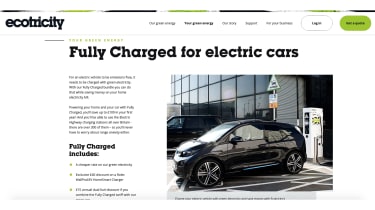 Annual cost: £1,062.41
Power rate peak/off-peak: 19p/11p
Standing charge/day: 38p
Rating: 3 stars
Contact: Ecotricity
In June 2021, Ecotricity decided to sell its stake in the controversial Electric Highway network of public chargers to Gridserve. Ecotricity will now concentrate on its main business of domestic energy supply, and it offers a special rate for EV drivers. It gives a cheaper night-time rate and a deal on a home wallbox charger. Customers no longer get a discount on public charging prices, though, so the overall cost of energy seems pricey compared to rivals here. 
Pure Planet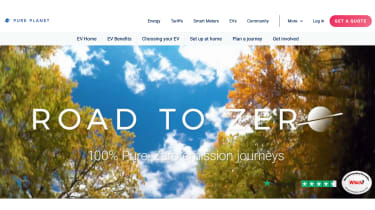 Annual cost: £1,157.75
Power rate peak/off-peak: 18p/18p
Standing charge/day: 26p
Rating: 3 stars
Contact: Pure Planet
Pure Planet offers a choice of three tariffs with fixed rates, or trackers that can move up and down with the price of fuel. We chose the cheapest currently on offer, which has a variable rate and no exit fees. The company says it makes no profit on the power it sells, claiming it gets its money from the 'membership fee' – otherwise known as a standing charge. We think it should be buying its energy from a rival, because its per/kWh rates are high and there's currently no option to get cheap power overnight, so it'll be expensive for heavy users.
Good Energy EV4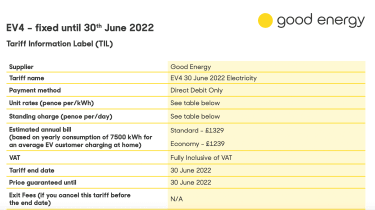 Annual cost: £1,084.77
Power rate peak/off-peak: 16.2p/16p
Standing charge/day: 30p
Rating: 2.5 stars
Contact: Good Energy
Good Energy's special electric-car tariff doesn't rely on you needing a smart meter because it offers a flat rate at all times, which is cheaper than its standard cost per kWh. This means you have the freedom to plug in and  charge whenever you want without having to set timers. However, even the discounted rate is fractionally higher than the peak cost from our top-rated supplier here and the standing charge isn't cheap either. GoodEnergy offers Economy7 rates in some parts of the country but, at 11p/kWh, it still wouldn't alter our ranking.
E.On Charge v2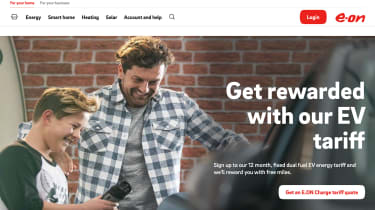 Annual cost: £1,221.50 
Power rate peak/off-peak: 19p/19p
Standing charge/day: 22p 
Rating: 2 stars
Contact: E.on Energy
This 12-month fixed tariff is designed especially for EV owners, but the only benefit appears to be a £30 credit applied to your account after six months of supply – the equivalent to 850 miles driving, according to E.on.
But the offer doesn't seem as good as it might, because the standing charge is 3p per day more than the company's standard tariff and the kWh rate is the same, meaning the bonus is really only worth less than £20 and won't be any benefit at all in future years. The special rate is only available as a dual-fuel tariff, too, so check any savings aren't lost by a higher rate for gas – which varies from area to area.
Source: Read Full Article