Electrogenic unveils new electric car conversion for Jaguar E-Type
Electrogenic's Jaguar E-Type conversion offers up to 400bhp and a maximum range of 250 miles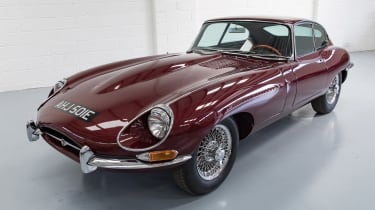 Oxford-based electric classic car conversion specialist Electrogenic has revealed its latest offering: an EV conversion kit for the Jaguar E-Type.
Buyers have their choice of three specifications. Called Tourer, Sprint and Grand Tourer, the cheapest is priced from £54,000 (excluding the cost of the donor car) and it comes with an electric motor and 40kWh battery in place of the original straight-six engine and petrol tank. 
Helm set to launch modern-day Jaguar E-Type
The entry-level powertrain offers a maximum range of 150 miles and a top speed of around 100mph. Like the firm's EV conversions for the Triumph Stag and Morgan 4/4, the motor is also mated to Jaguar's original manual gearbox and drivetrain, which Electrogenic says "retains the feel of classic driving."
Prices for the mid-range Sprint model start from £62,000, excluding the donor car. For the money, buyers get a more powerful electric motor with 470Nm of torque, which is almost 100Nm more than the 4.2-litre straight-six engine fitted to the later Series 1 E-Types.
Electrogenic is keen to stress that both the Tourer and Sprint models have near-enough identical kerb-weights to the petrol-powered E-Type, which means both should handle as well as the original. However, the firm says owners should upgrade the car's suspension and brakes to get the best out of the conversion.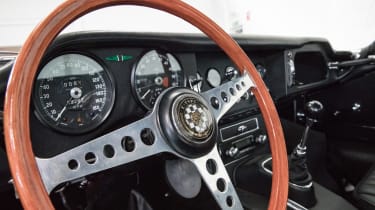 The range-topping Electrogenic E-Type Grand Tourer conversion is priced from £80,000. It's fitted with an even larger electric motor and battery pack, which develops 402bhp and 600Nm of torque. In this model, the original gearbox is swapped out for a single-speed unit. Buyers also get rapid charging tech, though the charging rate is not specified. 
Tourer and Sprint buyers can also specify two bolt-on battery extenders, which add either an extra 13kWh or 26kWh to the EV's battery capacity, and increase range by 50 or 100 miles respectively. Grand Tourer buyers can only specify the 26kWh extension, to take the electrified E-Type's range to a maximum of 250 miles.
Inside, the E-Type's dashboard is identical to an untouched example, and all of its switchgear and gauges have been repurposed to suit the new electric driveline. For example, the fuel gauge now shows the remaining battery charge level.
The electric motors and battery packs have also been designed to fit with the E-Type's original engine mounts, and the company doesn't alter the car's bodywork to make the components fit, which means the conversion is completely reversible.
Ian Newstead, Director and Co-Founder of Electrogenic, said: "As with every classic that we convert to run on electric power, the E-type presented its own unique challenges – the main one being the weight of expectation.
"The E-Type's reputation is well-known in the industry, and living up to that is never going to be easy – but this is a wonderfully engaging car to drive. Our first E-type conversion will be on the stand at the London Classic Car Show and we can't wait to show it off to the world."
Now read about Electrogenic's EV conversions for the Triumph Stag and Morgan 4/4…
Source: Read Full Article