Electric Volkswagen Touareg SUV "in the plan" according to VW boss
A pure-electric version of VW's flagship SUV is on the cards, possibly as early as 2024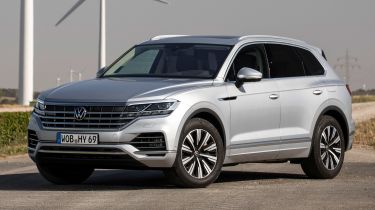 An electric version of the Volkswagen Touareg will top the brand's EV range when it goes on sale towards the middle of the decade. Ralf Brandstatter, COO of Volkswagen Passenger Cars, said an "eTouareg is in the plan", while also claiming that reduced charge times will be more important longer-term than bigger batteries or longer range.
Speaking at the 2021 Munich Motor Show, and following the reveal of Volkswagen's new ID. Life – an entry-level concept of electric urban mobility – Brandstatter told us that the other end of the brand's EV range would be occupied by a large SUV to rival forthcoming models from other premium manufacturers.
Best electric SUVs to buy now
"The eTouareg is in the plan," Brandstatter told us. "This is a very important segment for us."
While unconfirmed, such a model is unlikely to be adapted from the current car's MLB platform. It's possible that it could sit on the J1 architecture, however, which underpins cars like the Audi e-tron GT and Porsche Taycan, with the batteries mounted low under the floor.
Brandstatter went on to admit that, like today, "not everyone will be driving aerodynamic efficiency cars" – that many current Touareg, Audi Q7 or BMW X5 owners will want, or need, a like-for-like replacement with the space and practicality of an SUV, but fitted with the latest battery-electric technology.
The VW boss didn't reveal any further details about the technical make-up of the forthcoming Touareg EV, though he did say that "when charge times come down, range will not be so important" – suggesting Volkswagen wouldn't be chasing a Mercedes EQS-rivalling 500-mile range simply by fitting a big (heavy) battery.
There is still plenty of life left in the latest Touareg, which launched in its current form back in 2018 – meaning a new Touareg may not be revealed before 2026. However, the Group is already working on an all-new Q7, which is due to be replaced two years sooner – meaning Volkswagen may choose to bring forward its new flagship to help meet increasingly stringent emissions targets.
It's also unclear whether the 'eTouareg' name would make production. So far, all of Volkswagen's bespoke electric cars use the ID. preface; ID. 3, ID. 4 and ID. 5, for example, plus concepts like the ID. Life and ID. Buzz.
Click here for all the latest from the 2021 Munich Motor Show…
Source: Read Full Article