Electric, Shmelectric: Cadillac Unveils 2022 CT5-V and CT4-V Blackwing Super Sedans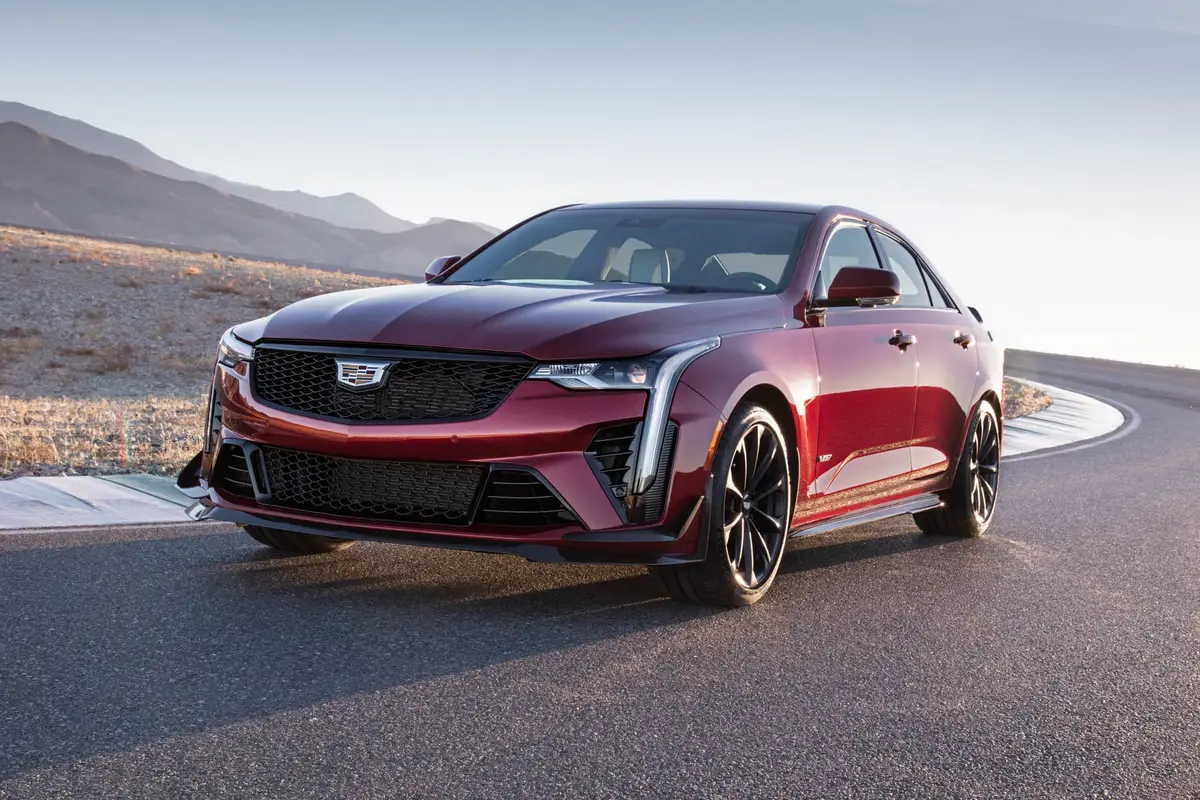 Remember all the talk Cadillac has pushed about how it's going to be GM's premium electric brand going forward? How it's looking to rival Tesla in terms of tech, style and buyers? Yeah, well, apparently we all need to put that on hold — the brand isn't quite done with trying to hang on to a smidgen of its old ways, as it's unveiled two super-high-performance cars for 2022 aimed at people who want a 200-plus-mph American luxury sedan, both new models that spiritually inherit the mantle left by the now-departed CTS-V: the CT5-V Blackwing and CT4-V Blackwing.
Related: What's New From Cadillac for 2021?
The CT5-V Blackwing: Last Gasp of the Crazy V-8?
First up, the big guns: Based off the 2022 Cadillac CT5-V (which is now a mid-level performance model, what Cadillac onced called its V-Sport trim), the CT5-V Blackwing amps up the performance considerably. It's mainly through the use of a supercharged 6.2-liter V-8 engine that's hand-assembled in Bowling Green, Ky., where GM also makes the Chevrolet Corvette. Essentially a carryover from the discontinued CTS-V, the engine has a considerable amount of internal tweaking, mostly to its airflow and exhaust, but it also sports a new supercharger. The result is the most powerful engine Cadillac has ever produced, with 668 horsepower and 659 pounds-feet of torque. 
It sends that power to the rear wheels (no all-wheel drive is offered) via a standard six-speed manual transmission or optional 10-speed automatic. Though the automatic employs a torque converter, Cadillac tweaked it for maximum performance and says it can shift faster than many dual-clutch units. Out back, a new electronic limited-slip differential sits in a lighter aluminum housing (replacing the heavier cast iron) to manage power distribution between the rear wheels, which can be adjusted along with a new electronic Performance Traction Management system.
Underneath are some structural improvements, such as chassis-stiffening reinforcements and larger, thicker suspension bushings. GM's excellent Magnetic Ride Control adaptive shocks, now in 4.0 guise, are standard and feature revised tuning. The brake system sports an upgrade as well, with gargantuan 15.7-by-1.4-inch front rotors stopped by six-piston Brembo calipers and 14.7-by-1.1-inch rear rotors grabbed by four-piston Brembos. They're the largest brakes ever fitted to a Cadillac, according to the brand, but if you'd rather have a lighter carbon-ceramic system with even better thermal management, there's one available, as well. The brake system is tied into two drive modes — My-Mode and V-Mode — to allow the driver to change performance characteristics and pedal feel. There's even a line-lock feature to aid your launch control efforts at the drag strip.
Out back, quad exhausts poke out the rear, with several apparent Easter eggs designed into the underside of the CT5-V Blackwing; of course, most people are unlikely to see them unless the car is up on a lift. Exterior styling receives other upgrades, as well: new primary and secondary grilles, rear spoiler, front splitter, mid-body panels, rear diffuser valance, fender vents and rocker extensions. There are also wider fenders to accommodate the wider wheels, tires and track width of the Blackwing. The grilles and vents are functional; many of them lead to improved cooling and additional radiators, some are for heat extraction and some help with aerodynamics. An available carbon-fiber package reduces lift even more. It will come in a range of colors, including the usual black, gray and white, but also with some pops like blue, red and orange. You can get the Brembo calipers four different colors: gray, blue, red and bronze. The wheels, staggered 19-inch front and rear alloys, wear specially designed Michelin Pilot Sport 4S rubber. 
Inside are more upgrades, including French-stitched seats with unique piping and colors. Base, mid- and high-level interior grades each have unique trim and a mix of leather, suede and carbon fiber. A large 12-inch digital display is reconfigurable depending on the mode you're in, but it also features customizable panels to display things like performance times, lap timers and more, all sporting unique Blackwing graphics. A head-up display is standard, and a high-performance steering wheel with carbon-fiber accents is optional. Some interior details unique to the Blackwing are pretty interesting, such as carbon-fiber seatbacks and head restraints designed to accommodate a helmet without pushing your head forward. That's something often overlooked in track-capable cars.
More From Cars.com:
2020 Cadillac CT4-V Review: Think of It as Fun-Sized
2020 Cadillac CT5-V Test Drive: Great Car, Awful Timing
High-Performance 2020 Cadillac CT4-V, CT5-V Blackwing Sound Kinda Fly
2020 Cadillac CT4: One of Two Prongs
2021 Cadillac Escalade Review: Expensive, and Worth It
The 2022 CT4-V Blackwing: Smaller and Spunkier
Downsizing on the CT5-V Blackwing's theme is the CT4-V Blackwing, the subcompact sedan in Cadillac's lineup. Intended as the spiritual successor to the fire-breathing ATS-V, it's powered by an upgraded twin-turbo 3.6-liter V-6 engine that makes 472 hp and 445 pounds-feet of torque. Like in the CT5-V Blackwing, the engine sends power to the rear wheels through either a six-speed manual or 10-speed automatic. It's a carryover engine, as well, but like the bigger V-8, it got a thorough massage mostly centered on airflow and engine thermal management to boost output, according to Cadillac.
Since the CT4 and CT5 share a common chassis, many features on the CT5-V Blackwing are also present on its smaller sibling, such as the new electronic limited-slip differential, six-piston Brembo front and four-piston Brembo rear brakes (albeit with smaller rotors, measuring 15.0 by 1.3 inches up front and 13.4 by 1.1 inches in back, with no carbon-ceramic availability), suspension and chassis upgrades, standard Magnetic Ride Control 4.0 and forged-alloy wheels (albeit 18, not 19, inches). The styling changes are the same, focused on improved aerodynamics, a better powertrain and brake cooling, reducing lift and widening the car to cover its meatier Michelin Pilot Sport 4S tires. Just like the CT5-V Blackwing, you can opt for a carbon-fiber package that brings even more aggressive styling and aerodynamics to the party. 
Inside, changes are similar to those in the CT5-V Blackwing. Three grades exist for interior trim packages, but with less standard equipment than you'd find in the CT5-V Blackwing: standard faux leather versus real leather, a normal steering wheel instead of the CT5 Blackwing's upgraded wheel, a smaller touchscreen (8 inches versus 10 inches) and more. Both cars feature a standard 12-inch reconfigurable gauge cluster with Blackwing-inspired styling, but the CT4-V does not offer a head-up display. 
On Sale Now, Arriving Later This Year
Ordering for the new Blackwings opens today, Feb. 1, with deliveries expected later in the summer, pandemic willing. Pricing has been announced, as well: The CT4-V Blackwing will start at $59,990, while the larger CT5-V Blackwing rings in with a starting price of $84,990 (prices include destination). Given Cadillac's insistence that its future is electric and GM's recently announced plans to stop selling light-duty vehicles with internal combustion engines by 2035, these may just be the last hurrah for Cadillac's traditional performance cars burning any sort of dinosaur juice. Better get 'em while you can.
Related Video:
Cars.com's Editorial department is your source for automotive news and reviews. In line with Cars.com's long-standing ethics policy, editors and reviewers don't accept gifts or free trips from automakers. The Editorial department is independent of Cars.com's advertising, sales and sponsored content departments.
Source: Read Full Article