'Electric cars must be made more affordable'
Andy Palmer looks at how we can end the perception that electric cars are for the elite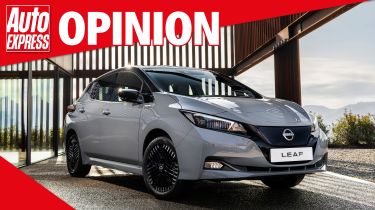 The starting cost of a brand-new Nissan Leaf, the electric vehicle (EV) that I launched at Nissan over a decade ago, is just shy of £30,000. For roughly the same price, you can pick up a used Aston Martin DB9 with around 50,000 miles on the clock. Of course, we are comparing apples with oranges, but it highlights a huge disparity that we find in the current market. For many motorists, the idea of owning an electric car is simply too expensive and the government scrapping consumer grants for new EVs only exacerbates the issue.
Alongside this, significant barriers, such as the lack of consumer education and charging infrastructure concerns, have all played a part in hindering EV mass adoption (and that's not mentioning Brexit, the pandemic and subsequent supply chain issues). But it is affordability which is more often than not cited as the leading obstacle. Recent statistics support this narrative: although 2021 was the best year for EV car sales with 190,727 new registrations, 11.6 per cent of all new car registrations in total, preference for petrol remained high with 46.3 per cent of the annual market share.
The cheapest electric cars on sale
There's no getting away from it. At the initial point of sale, EVs are currently more expensive than equivalent internal combustion engined cars and price parity is not expected to be reached until the mid-2020s. While more than half of EV owners sit in the top 20 per cent of earners, those in the lower income bracket account for only 4 per cent, giving the unfair perception that 'electric is for the elite'.
Such disparity in zero-emission vehicle ownership in the UK may soon become an area of contempt for the government and its Ten Point Plan for a Green Industrial Revolution. Those on low incomes are currently priced out and will be for some time. Even with the plug-in car grant scheme which kickstarted the market in 2011 (but has since been dropped), EVs were still too expensive for many. Rather ironically EVs have lower running costs than conventional cars and have the potential to considerably reduce future motoring costs for households – it's getting them out of the showroom which is proving difficult.
So, what can make EVs affordable for all? Developing cheaper batteries is one answer. Currently battery technology constitutes approximately 40-50 per cent of the value of an EV. Cell prices decreased from $290/kWh in 2014 to $110/kWh in 2020 which lowered the price of EVs. This supports the conjecture that battery powered vehicles will be more affordable than conventional cars by 2025 and the overall cost will eventually be on par with fossil fuelled models.
There is, however, a bump in the road. The decline in battery costs are driven by three key factors: economies, technological improvements, and the price of raw materials. The latter has destabilised over recent months due to the ongoing Ukrainian crisis as Russia accounts for 11 per cent of the world's nickel, a key component of a lithium-ion battery. The supply chain has become strangled and thus, pushed the price of batteries back up.
Back on the home front, we can't ignore the influence government intervention has had to encourage EV adoption. At the end of 2021, the British government announced changes to the plug-in grant scheme to target less expensive models. The previously available grant of £2,500 was cut to just £1,500 and only available for zero-emission cars priced under £32,000. This scheme has now, however, been scrapped entirely with the government saying that cash is better invested in improving charging infrastructure. All well and good, but there's not much point in having chargers if nobody is incentivised to purchase an EV. That said, favourable company car tax rates do remain in place and corporate drivers can reportedly make a cash saving of over £2,000 a year if they use an EV.
However, more could (and should) be done if we want to encourage mass adoption within lower income households.
And what about the cost of charging an electric vehicle? Due to the increase in energy prices, the cost of charging at home has risen by 43 per cent and the cost of public chargers has jumped by 25 per cent. There are 460,000 EVs currently in the UK and just 300,000 home charger points have been installed. This means 160,000 drivers are paying a 'premium' as public charge-point supply is taxed at a VAT rate of 20 per cent rather than the domestic supply rate of 5 per cent.
The good news is that EVs are still much cheaper to run than internal combustion engined cars and while some drivers may be put off by rising energy prices, equalising the VAT rate for public and home charging could rebuild consumer belief that owning an EV is still financially smart. Let's not forget that petrol prices have also reached an all time high and show no sign of slowing down.
The EV market continues to suffer from a perception crisis. Take my point above as an example. The rise in cost-of-living may result in a slowdown in EV uptake. Why? Because electric vehicles are perceived to be more expensive to run, even if the reality is different. We know there are still various incentives, discounts and exemptions, as well as exclusion from Fuel Duty, that drive down the costs drivers would usually pay on petrol or diesel cars. Yes, we are a better-informed audience. However, digestible information about grants and schemes remains lacking (or some may argue non-existent). Such topics are complex and cannot be thoroughly understood without time and resources.
And underneath all of this is a much bigger issue: moral duty. If EVs are perceived as unattainable and unaffordable, petrol and diesel-fuelled cars will remain on the UK's roads for decades after the 2030 deadline when the sale of new combustion engine cars will be banned. And now with the immediate disbandment of the consumer plug-in grant, it is the responsibility of the government, automakers and wider industry – now more than ever – to accelerate more equitable EV ownership, enforcing the message that 'electric is not for the elite'. It's time to democratise the electric revolution.
Click here for our list of the best small electric cars on sale…
Source: Read Full Article