Dream car Christmas gifts for petrolheads 2021
What makes the perfect car Christmas present if money is no object? Here are a few gifts that could fit the bill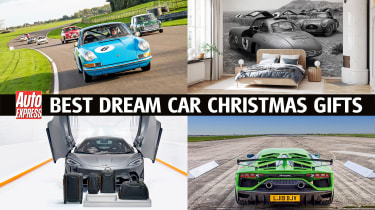 If you plan to make up for last year's subdued Christmas with a present-buying, money-no-object splurge, we have enough ideas below to delight any petrolhead in your life.
Cheap Christmas car gifts under £50 2021
We've something for everyone here, from those that want to get behind the wheel, give their man cave a makeover, or add a car-themed twist to other activities. If you spot something you like, just make sure those with the spending power get the message.
Dream car Christmas gifts for petrolheads 2021
Goodwood Revival Racing Experience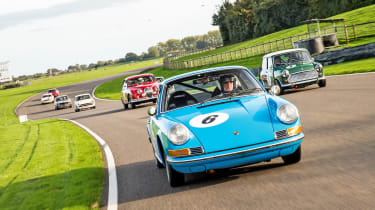 Price: £595
Contact: goodwood.com
Goodwood's turn-back-the-clock race meetings at the historic circuit have a huge following and now you can help the classic car lover in your life to create their own Revival experience. After a briefing, they can drive four classics around the fast, flowing circuit alongside a qualified instructor for a total of 12 laps. Among the classic models available are the Lotus Cortina, Ford Falcon, Mk2 Mini Cooper and Jaguar Mk2.
Lotus Type 99T Uplighter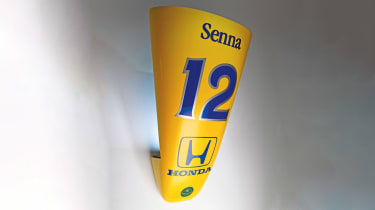 Price: £500
Contact: shop.classicteamlotus.co.uk
For those who recall Lotus as a grand prix giant, this nose cone uplighter will bring fond memories. It's based on the nose of the Type 99T, which continued the Lotus tradition of innovation by using active suspension. This light comes numbered 11 for Satoru Nakajima or 12 for Ayrton Senna, whose first Monaco win came in the 99T. Add £30 for a wall bracket and lighting kit.
Deckorate Ford GT skate deck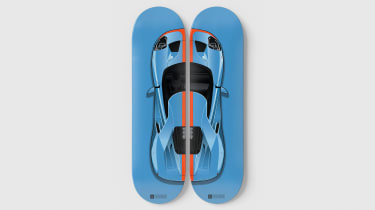 Price: £128
Contact: deckorate.net
If a skateboard looks like a quick way to A&E, then these works of wall art from Belgian firm Deckorate will be for you. You can fit wheels, grip tape and trucks, but for most of us, just looking at them will be enough. There's a wide range of competition and road cars to choose from, but this pair depicting the classic Le Mans Ford caught our eye.
Naim for Bentley Mu-So Special Edition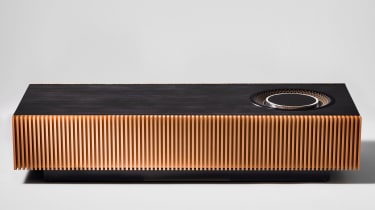 Price: £1,799
Contact: shop.bentleymotors.com
If you can't stretch to one of Bentley's cars on your driveway, then why not enjoy the marque experience at home with this wireless speaker system. This Bentley edition is based on Naim's second-generation set-up, which is equally at home playing your digital music collection, internet radio or streaming services. Bentley design cues include the copper accents and diamond pattern around the volume control that's inspired by the car's headlamps.
Amalgam Ferrari SF21 Steering Wheel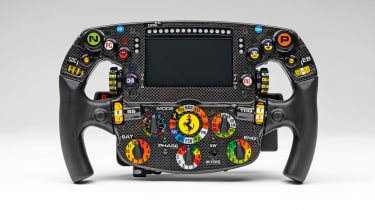 Price: £4,285
Contact: amalgamcollection.com
Amalgam is known for its stunning, highly detailed scale-model cars, but this gives Ferrari fans a life-size insight into what F1 drivers Charles Leclerc and Carlos Sainz experience in the SF21's cockpit. The full-size replica wheel takes more than 120 hours to build and includes working buttons, switches and paddles. It has been developed using original CAD designs and paint codes supplied by Scuderia Ferrari. Perhaps the closest you can get to actually driving an F1 Ferrari?
Peugeot Les Instruments du Sommelier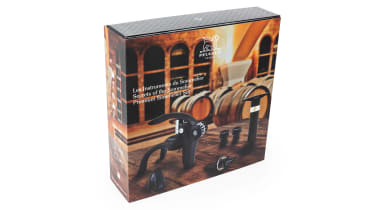 Price: £90
Contact: uk.peugeot-saveurs.com
For lovers of all things French, including the cars and wine, this is the perfect gift. While the two should never be enjoyed together, these are the ideal tools for a relaxing glass at journey's end. Peugeot has long had an interesting sideline in premium kitchenware, and this collection is no exception, with a robust Baltaz Dark corkscrew, drip-free pouring with the Aros spout, and an Epivac pump to prolong the life of unfinished bottles.
Hot Wheels garage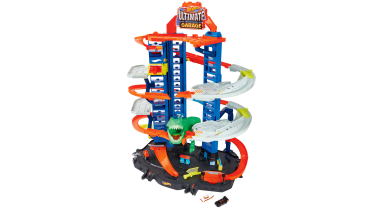 Price: £119
Contact: hotwheels.com
If the young car fan in your family is expecting any of the Hot Wheels cars we included in our under-£50 guide, they may need one of these. There's parking for more than 100 cars and trucks, plus a kid-powered lift to get the vehicles to the upper levels. And when it's time for them to be driven, there's a two-lane racetrack to the floor to see which is the fastest. For added thrills there's a car-eating Robo T-Rex.
Autokraft by AC TR-560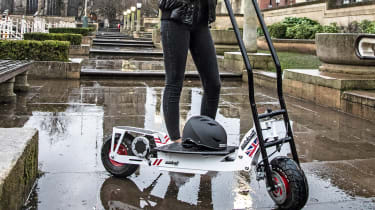 Price: £1,692
Contact: www.autokraft.technology
Think of AC, and images of Cobras with fuel-gulping V8s spring to mind, but the brand has kept up with the times and has linked once again with Autokraft to produce its own E-scooter. The machine weighs in at 30kg and packs a 24V, 30Ah lithium-ion battery driving a 350W motor good for around 15mph. Options include a rear disc brake and a bigger battery.
Maserati Trofeo Red Toy Car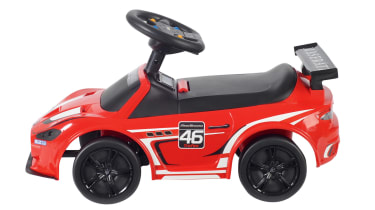 Price: £120
Contact: uk.maseratistore.com
This is for the young car nut who just can't wait to get behind the wheel. The rider provides the power, or gets a gentle push from mum or dad, so it's the ideal start to motoring. There's under-seat storage, horn, engine and start sounds, plus a neat stay to prevent it tipping backwards. It's good for the next F1 stars weighing up to 55lbs.
Draper Storm Force 20V Cordless Kit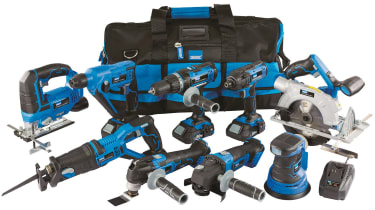 Price: £671
Contact: drapertools.com
If the car nut in your world likes to get their hands dirty, then why not get them started with cordless tools? This nine-tool kit will tackle a host of jobs in the workshop and around the home. All are powered by the three included li-ion batteries, and the set includes combi and hammer drills, an impact driver and an angle grinder. The list is completed by three saws, an oscillating multitool and a sander.
Tamiya 56362 Volvo FH16 Globetrotter 750 8×4 Tow Truck RC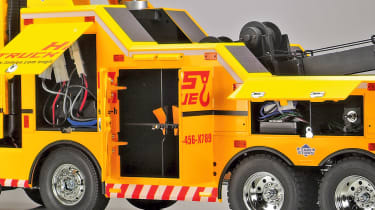 Price: £500
Contact: jadlamracingmodels.com
Know an RC fan? Then take their hobby to the next level with this kit, which will test their assembly skills. There's twin front-wheel steering, a pair of rear axles plus a three-speed transmission. The 1:14-scale truck is 75cm long, and has a working rear boom and lift. There are plenty of options too, including LED tail and headlights.
Auto Vivendi 200mph Challenge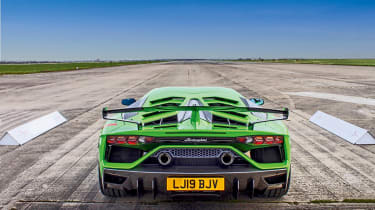 Price: £2,304
Contact: autovivendi.com
If throwing a car around a circuit or through a rally stage is beyond your car nut's abilities, then this could be the experience for them, given that it's just straight-line running – at 200mph. On a private runway with a professional instructor, participants get to warm up in a Ferrari and Aston Martin before attempting to top 200mph in a McLaren and Lamborghini.
Ken Adam Lotus Esprit Submarine Art Print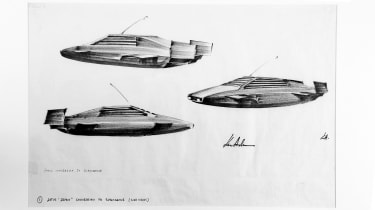 Price: £225
Contact: 007store.com
James Bond is keeping anything but a low profile these days, thanks to the release of his latest adventures in No Time To Die. Shop shelves are packed with 007 Aston Martins, but for an alternative choice why not give the Bond fan in your life this limited-edition (1,000 copies) print of Ken Adam's sketches for the submarine Lotus Esprit S1? Forget Astons, this star of 1977's The Spy Who Loved Me has to be 007's most outlandish transport.
Adult VW Campervan 4 Man Tent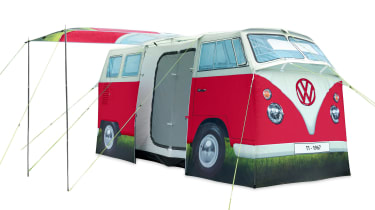 Price: £320
Contact: campervangift.co.uk
Short of a splittie camper, this simply has to be the ultimate accommodation for a VeeDub festival. Unlike the kiddie versions we've featured before, this takes four adults in two inner rooms. It features a zipped entrance, with the door doubling as an awning, plus the whole structure is waterproof and quick to set up. Choose from Dove Blue and Titan Red.
Morris Minor Traveller Drinks Cabinet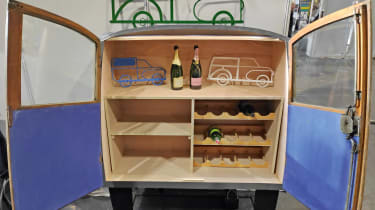 Price: £1,200
Contact: finishlinefurnishings.co.uk
Perfect for the office, living room or workshop, this drinks cabinet cleverly combines a pair of genuine Morris Minor Traveller rear doors with shelves for drinks, glasses and bottles. The styling imitates the car's timber frame, while LEDs subtly light the shelves and wine rack. No classic car fan's home should be without one.
Collector Studio helmets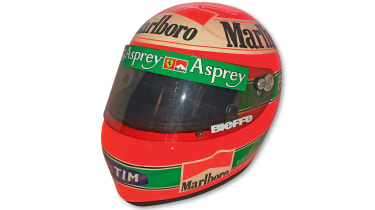 Price: various
Contact: collectorstudio.com
It's hard to get closer to your heroes than to have something they wore while racing, and Canadian retailer Collector Studio has a massive choice of memorabilia such as this Eddie Irvine helmet. For some of the higher-profile items, like an Ayrton Senna helmet, you need to contact the studio, but you can snap up a signed Nigel Mansell helmet for around £17,500. If that's beyond your budget, a Michael Schumacher replica will set you back around £6,225.
Aston Martin Cognizant F1 Official Team Jacket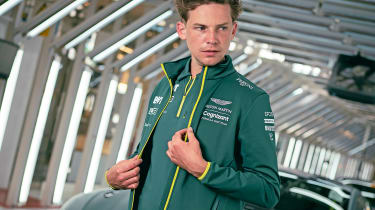 Price: £180
Contact: shop.astonmartin.com
Celebrate Aston Martin's return to Formula 1 with this official team jacket as worn by four-time world champion Sebastien Vettel and his team-mate Lance Stroll. It's available in sizes from S to XXL and is made from waterproof and breathable material, with leakproof zips and taped seams. There's also an adjustable hood stowed in the collar and an inside zip pocket.
McLaren TUMI luggage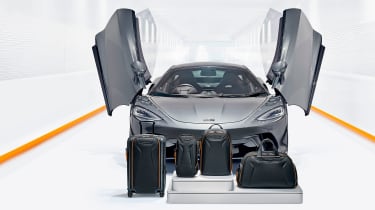 Price: £390
Contact: uk.tumi.com
There's a whole range of McLaren TUMI accessories, but for the seasoned traveller in your life we recommend the £995 Aero Carry-On, £390 Torque Sling, £595 Velocity Backpack and £725 Quantum Duffel. The range features McLaren papaya trim and carbon-fibre accents, plus it uses durable Tegris fabric in the construction. The expandable carry-on also has compression straps reminiscent of the six-point harness in McLaren's cars.
Tesla Decanter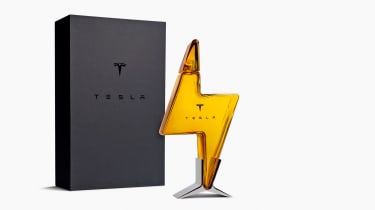 Price: £130
Contact: shop.tesla.com
Inspired by Tesla Tequila, which has not made it to the UK, this striking decanter can be filled with your favourite liquor for a relaxing post-Christmas-dinner digestif. The decanters are blown by hand, so each has a unique finish, but all will take a full 750ml bottle. With the Tesla T logo in gold and a lightning-bolt silhouette, the glass bottle sits in a metal cradle, making it a striking addition to any home bar.
Photowall wallpaper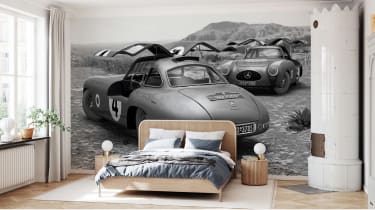 Price: from £26
Contact: photowall.co.uk
Transform a wall into a racetrack, workshop or a scene from fifties America with wallpaper from Photowall. The scenes on offer include trucks, race cars and buildings. Wallpaper starts at £26 per square metre and the images can be bought as canvas prints or posters, too. There's a huge amount of customisation and accessories available to get the perfect fit.
Source: Read Full Article