Deaths on UK's major road network reach eight-year high
Official figures reveal an increase in fatalities on Strategic Road Network, with collisions costing over £1 billion in a year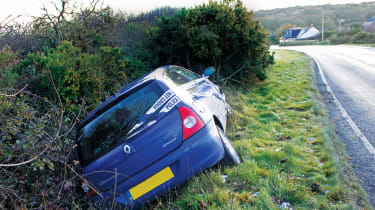 Deaths on the UK's Strategic Road Network (SRN) have reached an eight-year high, according to the latest official figures.
Newly published data from Highways England – which operates the country's motorways and major A roads – show there were 250 fatalities on its Strategic Road Network in 2018 (the most recent year for which data is available), up from 236 in 2017, and the highest figure on record since 2009, when 255 people died on the network.
Safest cars for sale in the UK 2020
Highways England's report also shows that collisions of all types on the SRN in 2018 came at a cost of £1.195bn; in 2017 this figure was £1.115bn. The Department for Transport uses a number of factors to calculate the cost of collisions including tangible bills, such as ambulance and medical costs, and time lost to the workplace. More subjective estimates, including complex equations that relate to the cost of human suffering, also contribute to the £1.195bn total.
Of the 250 fatalities in 2018, 85 were on motorways and 165 were on A roads, with the latter figure made up of 102 deaths on dual carriageways and 63 on single carriageways. This means there were 20 more deaths on A roads in 2018 compared to the previous year, but six fewer deaths on motorways. The data does not split motorways into smart and standard ones, however, while the years it relates to means the now halted expansion of the smart motorway network may not be reflected in these statistics.
Most of those killed in 2018 were occupants of cars – 144 in total – while 42 pedestrians, 32 motorcyclists, 28 goods vehicle drivers and one cyclist also lost their lives on the SRN.
In 2018, 1,737 people suffered serious injuries on the SRN, up from 1,617 the previous year. Of these, 1,015 occurred on A roads, while 722 were on motorways. The total number of slight injuries was down year-on-year, though, from 12,372 in 2017 to 11,393 in 2018.
Of the 1,987 people killed or seriously injured on the SRN in 2018, 245 occurred on the M25 alone. There were also 371 in the south-east of England, 342 in the Midlands, 292 in the east, 287 in Yorkshire and the north-east, 226 in the north-west and 224 in the south-west.
The news comes as controversy continues over the conversion of existing motorways into smart motorways. A Department for Transport "stocktake" on the topic earlier this year saw dynamic smart motorways axed in favour of all-lane running.
Highways England has been contacted for comment.
What does the Government need to do to improve road safety? Tell us your ideas in the comments below…
Source: Read Full Article