Cupra UrbanRebel concept to morph into compact electric production car
Cupra President tells us the sporty Spanish brand will build a compact electric car that'll hit the market in 2025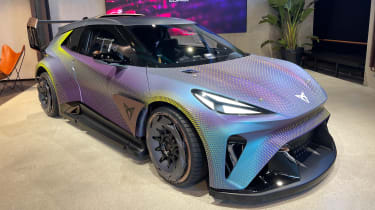 Cupra boss Wayne Griffiths has confirmed that the dramatic-looking UrbanRebel concept unveiled at the Munich Motor Show will form the basis of a new, small electric car from the Spanish brand, due on sale in 2025.
Speaking to Auto Express at the concept's unveiling in the brand's new Cupra Garage located in the posh shopping district of Munich, Griffiths said, "The car is a deliberate statement. I think there's a need out there to do a car for the next generation who are really enthusiastic about cars – and that's what we do at Cupra.
New SEAT urban EV to arrive by 2025
"We do cars that people love, but not necessarily what everyone likes – we like to provoke so this is a provocation, obviously overstating what we will end up doing as a series car. But it's very close; if you take the tail off the back then you're very close to where we are on the series design.
"So the Cupra Rebel will stay very rebellious in the series car – it'll be very sporty. The inspiration will remain on the series car and we will bring that in 2025."
The Cupra UrbanRebel was revealed hours after Volkswagen unveiled its own small EV concept, the VW ID. Life, which is set to share the UrbanRebel's new MEB Entry electric car platform. Both cars are set to be built at SEAT's Martorell factory on the outskirts of Barcelona in Spain, but the two cars will have very different looks and target markets.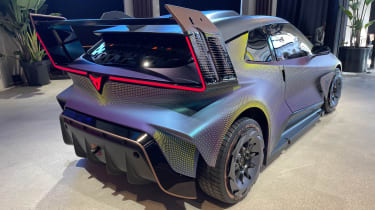 "Everybody has their own target and position," said Griffiths. "Cupra's job is really to conquer the next generation of younger customers – we're a brand for today and now; a contemporary brand for the next generation who are looking for something really cool, desirable, emotiona,l that has fantastic design and a really sporty and driver-orientated experience."
And although the UrbanRebel concept has a race car look, Griffiths didn't rule out taking the car racing when asked if it could be a race car:
"It needs to be – I think so yes," he said. "Werner Tietz, my vice-president for technical development wants to do it as a race car as well and I will support him. We need to get it into some sort of race format."
The proportions of the production car are set to be very similar to the concept, with Griffiths promising that it will not be much taller when the batteries are moved under the car from the back where they are positioned in the concept. "We are very close," he said. "On the length it will be just over four meters but not much taller."
On price, Griffiths hinted that the production car would cost just over €20,000 when it goes on sale. "Volkswagen is talking around €20,000; with Cupra we're positioned above the mass market but below the premium market so somewhere in between."
The profile of the UrbanRacer reveals a very low and short bonnet line, along with an extremely short front overhang – all elements designed to highlight the fact that the vehicle's proportions have not been compromised by the need to accommodate a combustion engine.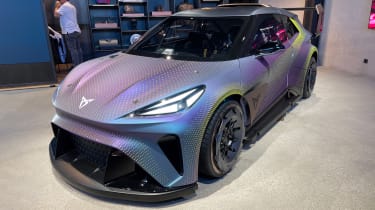 It features a wraparound screen and a 'floating' roof graphic that references Cupra's forthcoming Tavascan SUV, and the front-end treatment also appears to be more than a nod towards that model. The brand also claims that the strong shoulders above the rear wheel arches are a new interpretation of a styling cue from the existing Formentor SUV.
The concept follows this principle and measures up at 4,080mm long, 50mm shorter than SEAT's current Arona. The show car's roofline is significantly lower than the compact SUV's, although it's likely that at least some of this difference will be down to aggressive, lowered suspension. There's no rear doors on the UrbanRebel concept, but again, given buyer trends, it seems more likely that the eventual production model will be a five-door vehicle.
Cupra says the UrbanRebel has 335bhp on tap continuously and that it can produce up to 429bhp for short periods through an e-boost facility, delivering a 0-62mph time of just 3.2 seconds. These numbers – and what is likely to be a dual-motor configuration – will be dialled back considerably for the production car, which is unlikely to have much more than 200bhp in its most basic, rear-wheel-drive form.
The car's race car interior is set to be replaced with something a lot more comfortable and spacious, with what Griffiths says will be driver-orientated.
"At Cupra we make cars for car lovers and car drivers, so everything will be orientated around the driver – we don't do big screens for passengers, the big screen is for the driver and the whole console and experience should be orientated towards the driver.
"We'll do all the autonomous and safety assistance features that people want, but you should always be able to switch it off to have some fun."
Click here for all the latest from the 2021 Munich Motor Show…
Source: Read Full Article