Cheap Christmas car gifts under £50 2021
If you're struggling to find the perfect present for a petrolhead, here are 20 ideal motoring gifts for under £50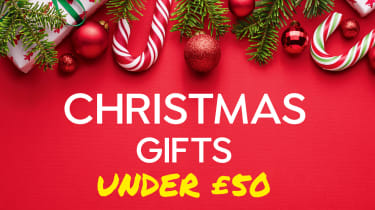 Buying gifts for a petrolhead family member or friend isn't always easy, but we're here to help. Below you'll find some great-value Christmas presents for under £50, perfect for pleasing the car nut in your life without having to spend a fortune.
Whether stuffing a stocking, looking for something more substantial or perhaps planning a day out, there's something here for everybody, and it all costs £50 or less.
Dream car Christmas gifts for petrolheads 2020
Remember, there's only a month or so to go before the big day – and getting prepared early really counts.
Cheap Christmas car gifts under £50 2021
No Time To Die (Blu-Ray)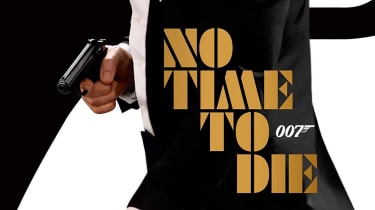 Price: £14.99
Contact: amazon.co.uk
Daniel Craig's final Bond movie is everything you could expect – full of gunfights, explosions, a megalomaniac supervillain and not one but four Aston Martins playing key roles. There's plenty of car-chase action, too. Placing a pre-order now for the DVD and Blu-Ray copies (better to get the Blu-Ray for the highest definition; it's well worth it if you have the player) means they'll arrive just in time for Christmas.
Six-month Auto Express subscription
Price: £53.99
Contact: autoexpress.co.uk
Who could pass up the opportunity to give six months' worth of the world's best car magazine, even if it does break our price cap – just? With the very latest new car news, views and reviews, Auto Express is the best way to keep up to date with all that's going on in the car world – and a subscription means it's delivered to your loved one's door every week.
Christmas is Cancelled Mug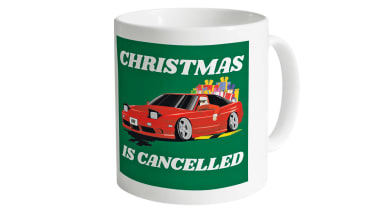 Price: £9.99
Contact: shop.carthrottle.com
Santa swaps sleigh for SX – 200SX, to be precise – and loads up with tons of presents. Presumably they're not for children, though, because "Christmas is Cancelled". Is jolly old Saint Nick off drifting instead of delivering? Whatever his intention, you'll enjoy drinking your Christmas cuppa from this mug.
Tamiya Car Kit – McLaren Senna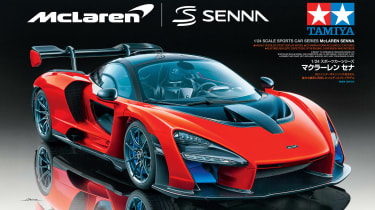 Price: £45
Contact: jadlamracingmodels.com
If you want a striking model car to display, then look no further than this Tamiya McLaren Senna kit. Reproduced in 1:24 scale, it's comprised of a monocoque section to which the body parts are affixed, making it very similar to the real thing in construction. You can assemble it to US, UK or Japanese spec, and choose from the road-going dashboard or a streamlined racing variant. Something to start building on Boxing Day.
BMW M-Tech Socks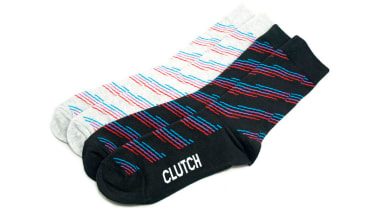 Price: £12.20
Contact: walletwerks.com
We'd never consider this guide complete without at least one pair of socks. These BMW M-Tech affairs, which fit men's size 7-12, are particularly handsome, with the marque's tri-colour M stripes over the top of black and grey backgrounds. Look on the bottom and you'll even find a nice reminder of which foot's which – clutch, or gas/brake.
Coventry Transport Museum Admission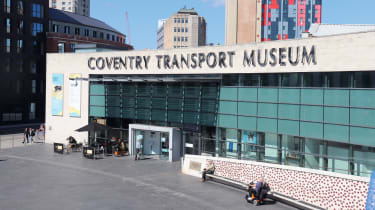 Price: £14
Contact: transport-museum.com
Coventry Transport Museum houses the world's largest collection of British cars, including the last two Land Speed Record holders, Thrust2 and ThrustSSC. It's located in what was the heart of the British motor industry and laid out chronologically, so you start out with the 19th century before moving through to the present day. Keep an eye out when you're booking to see what events might be on at the same time.
Apple AirTag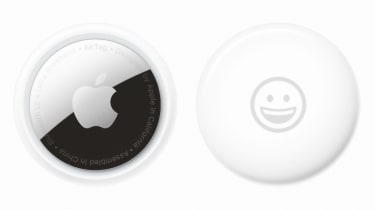 Price: £39
Contact: apple.com
Got a friend or family member who's forever losing things – their wallet, their car keys, perhaps even their whole car? Apple's AirTags are the ideal solution, discreet little tracking devices that connect iPhone users (sorry, Android folks) with their lost items via Bluetooth (for short distances) or the "Find My…" network of other Apple devices. They're great to stick on a keyring or slip into a door pocket.
Trunki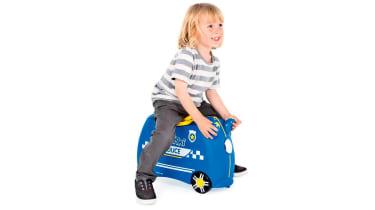 Price: £39.99
Contact: trunki.co.uk
Anyone who's ever had to drag a toddler through an airport knows it'd be so much easier if they were on wheels. Trunki is the answer to your prayers. Not only a useful suitcase but also a great ride-on toy, Trunki is now available as a bus, ambulance, police car or fire engine. It can be pulled along by a parent or walked along by its rider, and it's made of sturdy, wipe-clean plastic.
Baghera Racing Car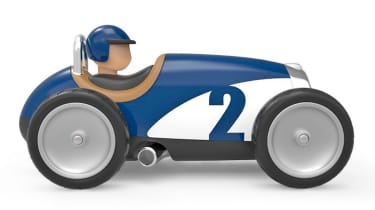 Price: £29.95
Contact: thelovelylittletoyshop.co.uk
Start them young with this gorgeous toy racing car. It's classically styled, but made from hard-wearing ABS plastic that's then hand-lacquered and polished, meaning it's the sort of toy that will last a lifetime, shrugging off all manner of mid-race pile-ups and enthusiastic play. And for those older racers who may have retired from the track, it even looks good sitting on a shelf as a display item.
RetroClassic T-Shirts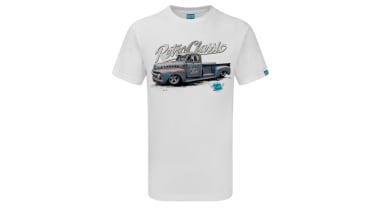 Price: £24
Contact: retroclassicclothing.com
Classic car enthusiasts love a good T-shirt. These are hand-printed on white, grey or sand-coloured bases, and there are tons of designs, from Land Speed Record cars to a Ferguson tractor. Men's and women's shirts are available in all the usual sizes.
Junior Sports Car Driving Experience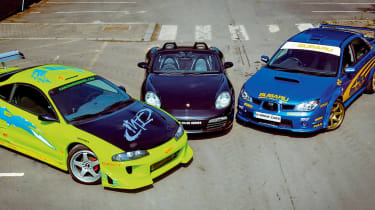 Price: £29
Contact: virginexperiencedays.co.uk
Too young for a proper track day? This junior experience is designed for kids between 10 and 17 years of age, and its bargain price includes three miles of a professional circuit behind the wheel of a Subaru Impreza, Mitsubishi Eclipse or Porsche Boxster. The voucher is valid for a whole year and can be redeemed at 13 locations all over the country, so there's plenty of flexibility on offer, no matter where you live.
Hot Wheels Premium Cars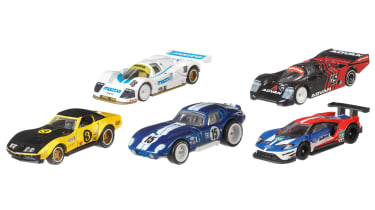 Price: £5.99
Contact: hotwheels.com
There's no better stocking-filler than a Hot Wheels model. The UK range now includes the premium car series, with icons like the Land Rover Defender, Mini or Ford RS200, and you can find them in most supermarkets or toy shops.
5-speed cufflinks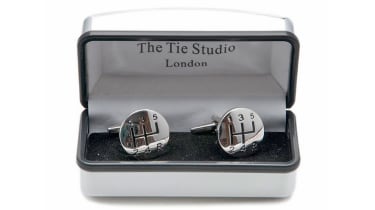 Price: £5.99
Contact: holden.co.uk
Discreet and, dare we even say, classy? It's always useful to have a few sets of cufflinks on hand, and these tidy little numbers feature the familiar motif of a five-speed gearchange pattern on the top. They're not too chunky or glitzy, either, so you can still wear them around your non-car-loving friends.
GP Legends print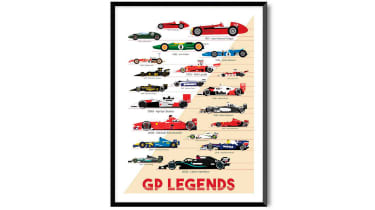 Price: £19
Contact: notonthehighstreet.com
The word Legends isn't used lightly here, with the likes of Michael Schumacher, Alain Prost, Ayrton Senna and Jackie Stewart all represented. Their cars are reproduced in a nicely minimalist, side-profile view, making for an attractive poster that should look good on any wall. It's available in four sizes, and you can have it framed or not depending on your preference.
Citroen Monogram luggage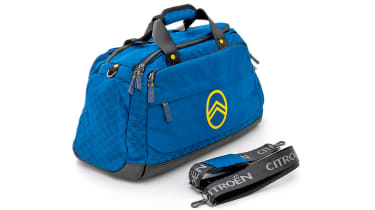 Price: from £33.04
Contact: lifestyle.citroen.com
Want to represent your favourite French car firm and look stylish? Citroen has this great range of luggage, all carrying the double chevron proudly, and with the pattern on the fabric also made up of the logo. They're finished in a rather fetching dark-blue and bright-yellow combo, and made from hard-wearing and water-resistant polyester.
Auto Finesse Ultimate Wash Kit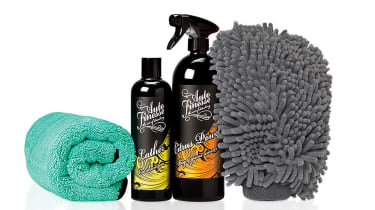 Price: £34.95
Contact: autofinesse.com
Ideal for keeping a new car purchase shiny and clean, this kit includes all the basics: a litre of Citrus Power, 500ml of shampoo, plus a wash mitt and a deluxe microfibre drying towel. A great gift for someone getting started in valeting, plus a good hint for someone whose car could really use a good wash…
Lego Batmobile Tumbler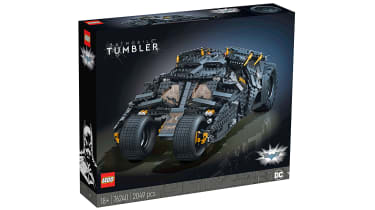 Price: £34.99
Contact: lego.com
There have been plenty of Batmobiles over the years, but few as cool as the Tumbler, introduced in 2005's Batman Begins. And its brutal edges and chunky proportions mean it translates fantastically well to a Lego model, with all the necessary compromises that come from building with bricks. You even get two stud-shooters on the front of the vehicle, plus Batman and Scarecrow minifigures.
Cars We Loved in the 50s/60s/70s/80s/90s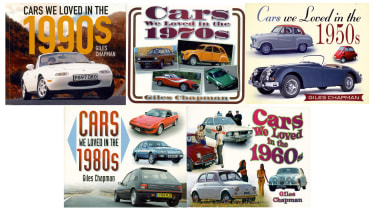 Price: £9.95
Contact: thehistorypress.co.uk
Pick the appropriate decade for whoever's receiving the gift and give them a trip down memory lane. Giles Chapman writes some of our favourite quirky motoring books and these are all excellent – little hits of nostalgia all about the ordinary cars that ordinary people owned and loved in each period. Great stocking-fillers, too.
Kymyko Reversible Umbrella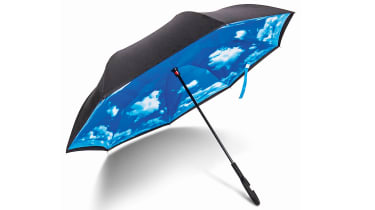 Price: £43
Contact: kymyko-uk.com
An umbrella is an essential bit of car kit, so why not give a really decent one to ensure your loved one's never caught out again? These reversible brollies by Kymyko are fantastic; they close upwards, so the wet surface is on the inside, which means your floor mats never need to be soaked again. They come in a huge array of designs, too, ranging from the cute to the classy.
Land Rover Transformable Defender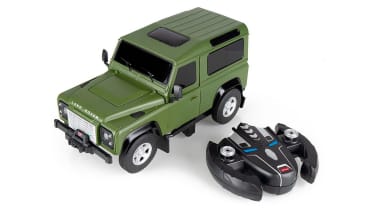 Price: £50
Contact: shop.landrover.co.uk
You could have an ordinary remote-control car – or you could have a transformer. This 1:14-scale Defender (the classic model, of course) operates as a regular RC car, until you push a button and it unfolds to become a giant robot. Take note, Land Rover – we'd like to see a real car do this.
Not ready for winter yet? Read our full checklist of winter car products here…
Source: Read Full Article