Celebrating 100 years of Suzuki
Suzuki has been around for over a century now – we look at the Japanese firm's past, present and future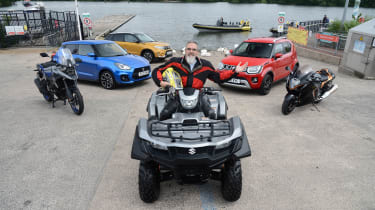 The year 1920 was a busy one. The League of Nations was founded, the island of Ireland was partitioned and the Prix de l'Arc de Triomphe horse race was first run. Meanwhile in Japan, a firm that provided machinery for Japan's massive silk industry was incorporated. That firm? The Suzuki Loom Manufacturing Company.
Fast forward a century (plus one year, thanks to the pandemic), and Suzuki UK celebrated the company's 100th birthday by gathering all of its divisions together at one event for the first time. Why is that so special? Well, if you're reading Auto Express, then you'll already know about Suzuki's cars, and you're probably aware of its motorcycles, too. But did you know that it's also a market leader for all-terrain vehicles (ATVs) and that it has a marine division as well? While cars account for 72 per cent of Suzuki's UK sales and motorcycles make up 16 per cent, the marine and ATV divisions make up the remaining eight and four per cent respectively. 
Greatest ever Mazda cars: classic and modern
The company's diversity is thanks to company founder Michio Suzuki. With a background in carpentry, Suzuki eventually found himself in charge of the family silkworm farm, where he redesigned his mother's loom to help her work 10 times more efficiently. When rival farms heard about it, he decided to mass produce them, establishing Suzuki as an innovative loom manufacturer in the process.
Not content with making looms, Mr Suzuki then looked at transportation. Early experiments were put on hold during World War II, but 1952 saw the arrival of the Power Free motorcycle. Essentially a bicycle with a 36cc engine bolted to the frame, it was quickly followed by the Diamond Free with a 60cc engine, and Suzuki's sales rocketed.
The switch to cars came in 1955, with the arrival of the Suzulight saloon. It set a template for Suzuki's four-wheelers by offering small dimensions and innovation, helping the firm stand out from its rivals. Ever since the company was founded in 1920, Suzuki has followed the philosophy of 'Kaizen': the continuous improvement of its engineering and efficiency, and it's something that's clear to see in the range of models sold in the UK today.
The cars
In Japan, Suzuki is a front-runner in the ultra-compact kei car class with a wide variety of models. Some have even made it to the UK – but why doesn't Suzuki sell any kei cars here now? It all boils down to legislation: it would be too costly to add European safety kit such as eCall and city braking to Suzuki's domestic-market models. Instead, the UK gets a line-up of small cars and 4x4s, and while the company has the modest ambition of increasing its market share to two per cent in the future, its eclectic range certainly offers variety.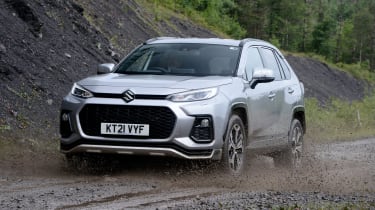 There's the funky looking Ignis and the Swift supermini, which also comes as a fine-handling hot hatch, now with fuel-saving hybrid tech. But Suzuki's other strength is four-wheel drive. It can be had on the Swift and Ignis, while the Vitara, S-Cross and Jimny deliver varying degrees of off-road ability when 4WD is fitted. At one time the Vitara was an off-roader that could carry the family, but today its role is reversed, with practicality and comfort taking a lead, although there's enough off-road ability for most needs. If you need more capability, albeit in a small package, then the Jimny is virtually unstoppable.
Hybrid technology is another area where Suzuki is pioneering, because all cars feature some form of electrical assistance – not many rival manufacturers can claim that. The latest models to arrive are the Swace estate and Across SUV, both of which are the result of co-operation with Toyota. The latter is Suzuki's first plug-in hybrid, while the collaboration with the Japanese giant will also spawn Suzuki's first all-electric car, a version of Toyota's forthcoming bZ4X EV.
The bikes
Suzuki has a longer history on two wheels than it does on four. While its first machines were little more than bicycles with small engines, the company's 'Kaizen' philosophy saw it constantly update its offerings over the years. 
Surprisingly, it only sold two-stroke motorcycles up until 1976, but its many years of expertise with this type of engine helped it to win the 500cc World Motorcycle Championship with Barry Sheene in 1977.
In fact, competition is part of Suzuki's motorcycle DNA. It's won classes at the infamous Isle of Man TT races and has had success in motocross, while teams running Suzukis showed the brand's reliability by clinching endurance racing titles. In Suzuki's anniversary year, Spanish rider Joan Mir won the MotoGP world championship for the marque.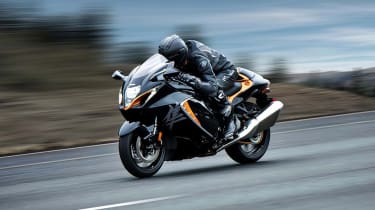 Suzuki's motorcycle line-up covers a variety of models, running from scooters to off-road adventure bikes and high-performance sports machines. At the top of the range is the Hayabusa, with 187bhp and 150Nm of torque from a 1.3-litre engine and the kind of electronic kit you'd find in a cutting-edge sports car. Traction and launch control are both fitted, while anti-wheelie software is developed from the tech used by the MotoGP bikes. The Hayabusa's aerodynamics are designed to deliver stability at speed, too.
The firm's flagship adventure bike is the V-Strom, which could be described as the SUV of the line-up. It has a tall, upright riding position that's comfortable enough for you to consider riding all day, and this is a machine that will be able to take you anywhere. Its 1,050cc two-cylinder motor offers loads of torque, and while the V-Strom has been used to trek across the globe, partly thanks to suspension that is just as capable on the road as off it.
The ATVs
All-terrain vehicles have earned a place on farms across the UK as work vehicles that can access the parts where SUVs can't reach, and Suzuki is a market leader. In fact, the firm invented the quad bike. While trikes with balloon tyres arrived in the late sixties, they were relatively unstable, so Suzuki came up with the idea of adding two front wheels for stability with the QuadRunner LT125.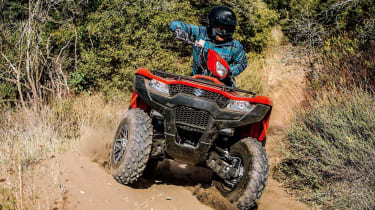 Today, safety is a key priority, and Suzuki offers the King Quad, a four-wheel-drive machine with a 500cc or 750cc single-cylinder engine and disc brakes. With its chunky tyres and long-travel suspension, it's the quad-bike equivalent of the Jimny off-road, while an auto gearbox allows you to concentrate on your surroundings, rather than worrying about what gear you're in.
The marine
Most surprising of all is Suzuki's marine range. The company doesn't sell boats, but makes outboard motors ranging from a 2.5bhp 70cc single cylinder to a potent 350bhp 4.4-litre V6. What's more, these engines are clean-sheet designs, not just car or bike powerplants converted to fill a gap in demand.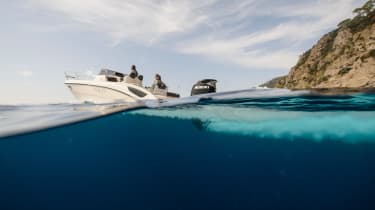 That V6 features twin propellers for improved response, and in a relatively lightweight rigid inflatable (RIB), it really shifts. The motor is used in applications such as offshore fishing and pleasure trips, while the V6's reliability was proven at 2021's G7 summit in Cornwall, where a twin-engined police boat sat idling for the eight days of the conference.
While that operation sounds wasteful, Suzuki is doing its bit to help the marine environment with its Clean Ocean Project. Outboard motors use sea water to help with engine cooling, and Suzuki has developed a filtration system that captures microplastics, returning clean water back to the ocean. As a result, microscopic plastic waste can be collected every time the engine is running, and because it's fitted to the waste return, there's no compromise for engine performance, either.
The future
Suzuki's current company philosophy is 'Sho-Sho-Kei-Tan-Bi', which translates as 'smaller, fewer, lighter, shorter and neater'. It's an extension of Suzuki's 100-year philosophy of innovation within its products that makes life easier for customers, and there is also a sharper focus on helping the environment, too. 
While Suzuki is a relatively small player in the UK market, it has developed a loyal customer base thanks to its range of compact, characterful cars and unique identity. Over the coming years, whether it's cars, bikes, ATVs or outboard motors, Suzuki is sure to innovate and embrace changes for the benefit of its customers across the globe.
What's your favourite Suzuki vehicle? Let us know in the comments…
Source: Read Full Article