Caterham Project V electric coupe concept signals new era for the brand
New 2+1 seater sports car from Caterham is powered purely by electricity and could be on sale by 2025 for around £80,000.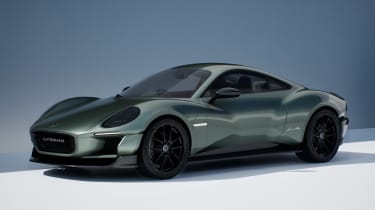 There have been periods in the past when Caterham has dabbled with the idea of models other than its iconic Seven. Take the 21 of the nineties, plus the stillborn mid-engined C120 sports car that was to share its make-up with the Alpine A110. And now, as the small British maker is entering the electric era, it's focusing on a compact 2+1-seat coupe, called Caterham Project V. 
This new all-electric machine has been created by British designer Anthony Jannarelly and could go into production as early as the end of 2025, according to Caterham, so it seems as if the firm is serious about the Project V as a road-going machine – although that name is most likely just a working title. 
Top 10 best track day cars 2023
The car is powered by a 55kWh battery, which is installed in a lightweight chassis made from carbon fibre and aluminium composite, featuring double wishbone suspension with fully adjustable geometry all round. Caterham is aiming for a kerbweight of 1,190kg. 
This relative lack of weight compared with many other EVs means the battery will provide a target range of 249 miles and feed a 268bhp rear-mounted motor for a projected 0-62mph time of 4.5 seconds. Rapid charging at up to 150kW means a 20 to 80 per cent top-up will take as little as 15 minutes, so it's clear Caterham has an eye on track work when it comes to the Project V's intended use.
And it will definitely be used as "Project V is not just a concept or design study," reckons Caterham CEO Bob Laishley, adding, "We've conducted engineering and production feasibility throughout the development process. 
"An electric Caterham of any shape and size has to stay true to what sets us apart from everyone else: being lightweight, simple and offering an unparalleled driving experience; that's our DNA."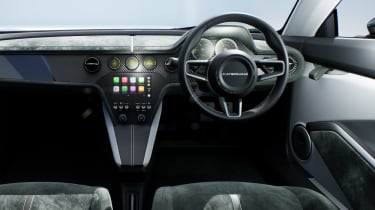 When it comes to the car's design, Jannerelly outlined that "A Caterham Seven's design is simple and minimalist, it's designed for its intended function, to be lightweight and fun to drive. With Project V, we're applying this philosophy to the sports coupe architecture to create a seducing and timeless silhouette. Every single feature has to justify itself from a weight perspective to maintain lightness and optimise driver engagement."
This extends inside as well. The Project V show car features a 2+1 seating layout, although a 2+2 configuration will be optional on the production version. Caterham says the 2+1 set-up means getting in and out is easier, while there's more space in the rear for the single passenger, making Project V a more usable machine than some other small sports coupes.
The interior is focused on the driver, with a simple instrument readout that includes key info. Smartphone mirroring will also be included, while the V offers three drive modes to choose from: Normal, Sport and Sprint. These settings adjust the steering weight and throttle response/acceleration for different driving environments, says Caterham.
According to Laishley, "Project V isn't instead of Seven, it's complimentary to it, and we believe that by retaining the core Caterham values, it will appeal to both our existing customer base and attract new fans to the brand."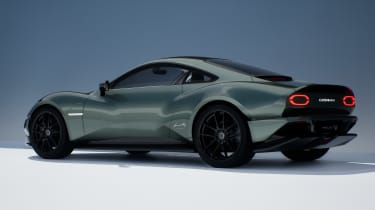 The British firm recently revealed its Seven EV concept, a zero-emissions version of its iconic two-seater sports car, carrying it through into the modern era. The brand's boss believes there's room in the range for another model too, and that "by using a more practical coupe body style and by exploiting the packaging benefits of an EV, this is a car that works as well for trips to the shops, or the school run, as it does for Sunday morning sprints."
With a targeted production date towards the end of 2025 or early in 2026, the eventual road-going Project V could cost less than £80,000, the company has indicated.
Now read our review of the Wiesmann Project Thunderball…
Source: Read Full Article