Car Product Awards 2021: the winners
Our team of experts has tested more than 500 products over the past year. Here, we reveal the very best you can buy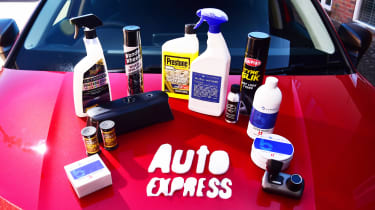 Look at some media awards and you can't help wondering how they were decided, but there's no doubt about how Auto Express picks its cream of the accessories – we test every one. The stars we celebrate below have been thoroughly tested against their rivals, and proved themselves worthy of both our praise and, more importantly, your cash.
We haven't taken the results from websites or 'likes', or put commercial considerations first, instead spending months ensuring our winners do what they should, and are the best of the best.
Car Care Special 2020
Our team of experts combines decades of experience of not just testing, but also simply messing about with cars, and we know the frustrations of products that don't work, and the delight of ones that do.
So we're back again with our Product Awards, working with rigorous assessment regimes and bringing tests together in the face of restrictions. Despite supply-chain problems making it difficult to get samples, we managed to test just over 500 products during the past 12 months, including almost 300 in our multitests and 100 in mini tests focused on new launches. We rated more than 100 products in car care alone, and give huge thanks to the companies that made it all possible in such difficult conditions.
As we come out of lockdown and use our cars for more than essential journeys, we have the kit to make them a pleasure to maintain and drive.
Best car products 2021
Product of the Year: CTEK CS Free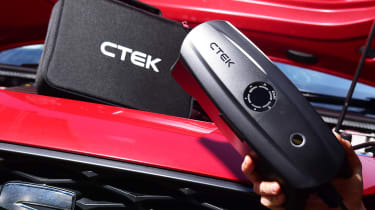 Price: £295
Contact: www.ctek.com
When we pick the winner of our Product of the Year award, we're looking for something that breaks new ground and (this is essential) works well. It has to be something we'd want on our car or in our garage, and this year's winner is no exception.
You don't have to live in a remote area for the lack of mains power near your car to limit what you can do. Just try using a pressure washer or workshop vacuum in a city street, where finding a parking spot is a lottery, and it more than likely won't be near your home. The same goes for charging a battery, which can often only be done by removing it and reviving it at home, with all the complexity of taking out a power pack from today's electronics-laden cars.
The solution is what Swedish specialist CTEK claims is the world's first portable battery charger – the CS Free. This is not a jump pack or a second battery, but an adaptive charger that analyses the failed unit and carefully revives it to the point where it can start the engine.
And it works. We took a battery down to well below where it would start the engine, barely emitting the dreaded clicks. We hooked up the CS Free, left it charging at 14V, and after just 10 minutes the battery could start the engine. It's ideal for failures away from home or topping up a little-used car stored away from mains power. It can be charged from the mains, a 12V socket (£29 option), another battery (£29), or a solar panel (£295). The latter revived a totally discharged CS Free in just two hours, despite a cloud-covered sun. Build quality is as we'd expect from our charger-test winner, and once topped up the CS Free is claimed to be ready for a year, although because it was only launched in February, we've obviously not put this to the test.
There are USB sockets to power electronic kit, plus it works with leisure vehicles like motorbikes, lawnmowers and boats. As CTEK says: "No power? No problem."
Buy now from Amazon
Best car wash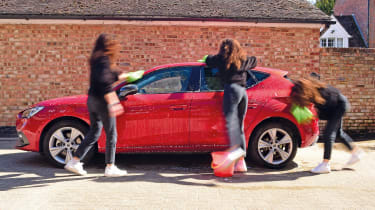 If you're reading this, you'll know using washing-up liquid to clean your car is not the way to go, because what's good for cleaning greasy plates is not what you want for grit-covered paintwork. Yet the question over what you should use remains, and that's what we aim to answer here.
Good practice is the key to car cleaning. Use a mitt, keep it soaked in wash, and use a second clean bucket for rinsing to ensure grit isn't picked up and returned to paintwork. A guard which prevents the mitt reaching grit at the bottom of the buckets can also be used.
With these products nigh-on impossible to separate on washing performance alone, we looked for those that leave the least amount of water on the car to be taken off with a drying towel or leather. We also got the calculator out to determine the cost of each wash, because this can vary wildly.
Winner: Bilt-Hamber auto-wash
Price: £14.95
Size: 500ml 
Contact: www.bilthamber.com
Buy now from Amazon
Best waterless cleaner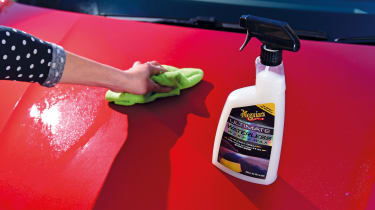 Waterless cleaners are ideal for giving a car a quick clean outside or in a garage, while also providing a one-stop cleaning and wax protection solution.
Our test was divided into two sections. First, we looked at how easily each of our 13 rivals shifted grime, and then we studied the durability of the protection provided after buffing to a shine. We also took into account the ease of application, looking for no wasteful spotting, and factored in price.
Winner: Meguiar's Ultimate Waterless Wash & Wax
Price: £17
Size: 768ml
Contact: www.meguiars.co.uk
Buy now from Amazon
Best car wax and sealant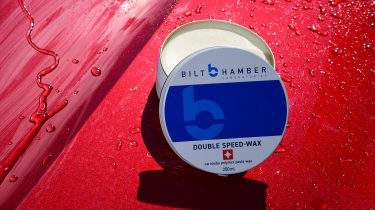 Ceramics and graphene may be fighting for the headlines in the paint- protection world, but that doesn't mean traditional or conventional approaches have disappeared off the shop shelves.
We have a separate test for products with ceramics in their make-up, so here we tackle the hard waxes, spray-on solutions and easy-to-apply liquid formulas without graphene or silicon.
We gathered 24 waxes and sealants, and applied each to a sectioned-off bonnet according to the maker's instructions. The panel was then left outside for six wet and snowy weeks, with beading regularly checked when frozen hoses permitted.
Ease of application and cost were also considered, allowing for hard waxes going further than liquid rivals. Many showed no sign of still being present at the end of our six-week test, but the top performers were still going strong. 
Winner: Bilt-Hamber double speed-wax
Price: £14.95
Size: 250g
Contact: www.bilthamber.com
Buy now from Amazon
Best wheel cleaner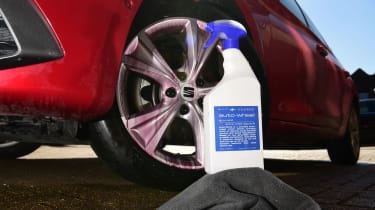 Finding the best wheel cleaner can be tricky, because a strong pressure washer or a stiff brush can mask and make up for any deficiencies in the formula. So our test focused on what each cleaner could achieve on its own.
We sourced long-neglected wheel trims and used each cleaner on separate sections. We left them to dwell for the specified times, then rinsed the trim and assessed progress on shifting brake dust. A socket was then slipped over a wheel brush handle and with gentle agitation we assessed which product was best at loosening grime prior to a jet wash or brush shifting the dirt. With the cleaning results in, we also took into account price to find our favourite.
Winner: Bilt-Hamber auto-wheel
Price: £12.95
Size: 1 litre
Contact: www.bilthamber.com
Buy now from Amazon
Best upholstery cleaner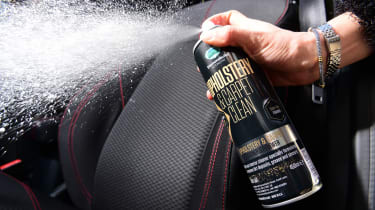 Grime builds up on fabric upholstery over time, often unnoticed, and it's not until the dirt is removed that you realise how the original colour has changed. Little and often is the motto for keeping your fabric upholstery looking good, and this also means you can give it a gentle clean rather than heavy scrubbing, which could damage the material.
Our test includes general grime removal but we also assess the cleaners' ability to tackle ink, ground-in chocolate and greasy butter. As always, we balance performance against cost to find our winner.
Winner: Diamondbrite Upholstery & Carpet Clean
Price: £4.95
Size: 450ml
Contact: www.diamondbrite.co.uk
Buy now from Diamondbrite
Best tyre shine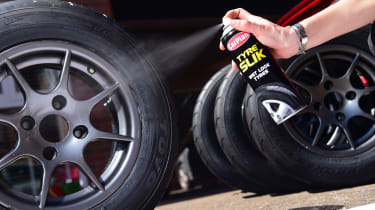 We spend so much time selecting alloys when we get the chance, it would be a shame to wrap them in grey, tired-looking rubber. A good scrub may remove the grime but, unless the tyres are pretty new, it won't restore a deep shine.
For that you need a tyre treatment. You still need clean rubber to make the most of one, but application can be as quick as simply spraying it on and letting it dry. Add in a price that's towards the bottom of the car-care scale, and it's hard not to like a tyre shine – it's the finishing touch to a car clean. To find the best we applied 18 to two large tyres, and monitored the finish over six weeks. We also factored in ease of use and price.
Winner: CarPlan Tyre Slik
Price: £5.50
Size: 500ml 
Contact: www.tetrosyl.com
Buy now from Amazon
Best wheel sealant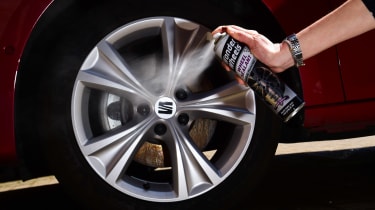 The name is not the only similarity between this category and the waxes and sealants for paintwork, because the same fight between different formulas continues. On paint traditional waxes have retained their advantage, but on wheels, where the coatings have to cope with heat from the brakes, new wheel sealants have had the edge in our tests.
Wax or spray, the aim is to provide a coating that repels water and reduces the ability of brake dust to stick to the rim. For our test we applied 10 rivals to a large wheel, and monitored grime build-up over six weeks. We took price into account, including the long-lasting nature of hard waxes, and how easy they were to apply.
Winner: Wonder Wheels Wheel Sealant
Price: £6.90
Size: 300ml
Contact: www.tetrosyl.com
Buy now from Amazon
Best ceramic sealant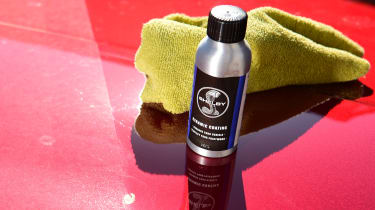 If SUVs are the hot tickets in the car world, in car care it's ceramics – and the most interest has been in paint sealants.
Recently there has been an explosion of products aimed at the DIY sector, so to find out if the hype is justified, we put together our longest test – just under six months. Each product was applied to the maker's instructions and assessed for ease of use and value for money. We then regularly monitored water beading to find the best.
Winner: Shelby Ceramic Coating
Price: £49.99
Size: 100ml
Contact: www.clansmanscotland.com
Buy now from Clansman Scotland
Best screen wash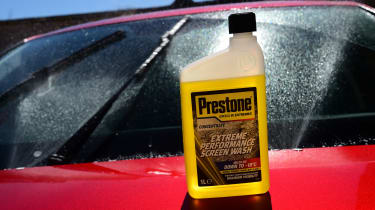 As with car washes, the calculator works overtime when picking a screen wash. But it's even more complicated because the maths varies with the seasons, as concentrations are adjusted to cope. Some products even offer a choice of dilutions depending on the conditions you expect to face.
The result is that a competitively priced screen wash in summer can be hard on the wallet in winter – but it's not just a financial exercise, because cost must be balanced against performance. A weak winter dilution can be easy on the pocket, but freeze quickly in low temperatures.
In our test, we saw how well they cleaned oil and baked-on bug off a screen with 100ml of the summer mix, while the winter concentration was judged on how long it lasted in the freezer before icing.
Winner: Prestone Extreme Performance Screen Wash
Price: £5
Size: 1 litre
Contact: www.holtsauto.com
Buy now from Amazon
Best clay bar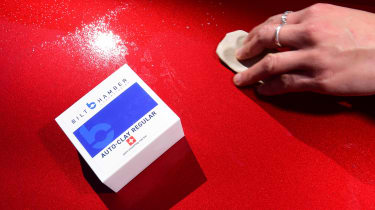 If you've just washed and dried your car, you might ask why it needs more cleaning. It can look fine, but hidden from the naked eye are tiny particles that bond to paint and won't be shifted by a soapy mitt or a pressure washer.
Slip a finger in a plastic bag, run it over your just-washed car, and chances are it will feel like sandpaper. If it does, you need a clay bar to remove those tiny particles and provide the best surface for a good bond, before applying a wax or coating. After claying, when you do the bag test, you should feel no grit.
Our test focussed on this cleaning, making two attempts on a neglected bonnet using limited wiping, and checking progress after each pass. We also took into account cost, calculated the price of the clay in the kits, and wanted to see a warning not to use a dropped bar.
Winner: Bilt-Hamber auto-clay regular
Price: £9.95
Size: 200g
Contact: www.bilthamber.com
Buy now from Amazon
Best tyre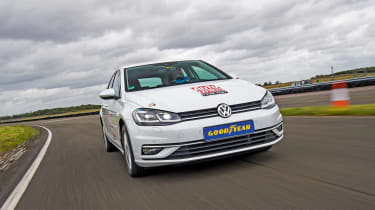 While the bulk of our testing saw little change in 2020, that wasn't true of tyres. Our annual test of the tyres most UK drivers use – known as summer designs in the rest of Europe – was split across three countries, so we thank Goodyear for making the logistics work.
Wet and dry handling tests were done at the Motor Industry Research Association proving ground in the UK, while braking was done by staff at Goodyear's site near Montpelier, France, which also hosted the curved aquaplaning test. Straight aquaplaning, noise and rolling resistance were done at Goodyear's R&D centre in Luxembourg.
This wasn't the most efficient way, but it meant we could rate tyres in the big-selling 205/55R16 size despite Covid.
Winner: Goodyear EfficientGrip Performance 2
Price: £74.14
Contact: www.goodyear.eu
Buy now from BlackCircles
Best winter tyre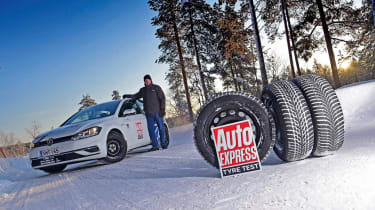 Our test of summer tyres was postponed before it had even started, but we'd completed most of our annual look at winter designs before travel restrictions began to bite.
That meant a return to Ivalo, Finland, and the Test World site, but this time Hankook's own Technotrac alongside the main facility. We also squeezed in a trip to the Contidrom in northern Germany to complete the wet handling test, while proving-ground drivers completed aquaplaning and braking. The pandemic prevented a return to do the dry testing, so braking was done by Contidrom staff and we had to drop handling. Not ideal, but it's not critical to winter-tyre choice.
The UK's erratic weather makes swapping tyres for the season even more attractive. All-season designs may be grabbing the makers' focus, but the ultimate solution is to have the best tyres for the conditions, and these are the best 205/55R16 options for cold weather.
Winner: Bridgestone Blizzak LM005
Price: £63.85
Contact: www.bridgestone.co.uk
Buy now from BlackCircles
Best all-season tyre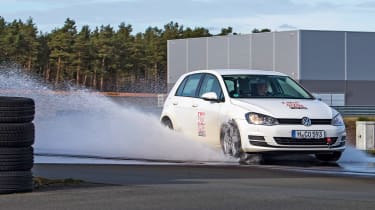 There's no doubt all-season tyres are the focus of many makers. The switch is driven by buyers looking for a solution that can cope with the extremes of our climate without needing to swap tyres twice a year. Plus, the rise of the SUV means the loss of the sharper steering of conventional tyres when swapping is no longer so critical.
Our test of 225/45 R17 rubber was hit by the same travel restrictions as the winter tyres, with braking being the sole dry run we conducted, but we managed to complete all the other tests in Ivalo, Finland, and Hanover, Germany. This sector is growing fast, and several makers were unable to take part because they have new designs launching later in 2021.
Winner: Continental AllSeasonContact
Price: £109.48
Contact: www.continental-tyres.co.uk
Buy now from BlackCircles
Best headlight bulb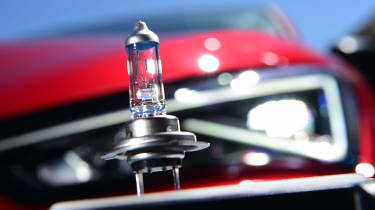 While we had to split some tests and rely on remote expert help for others due to the pandemic, our annual trip to a light tunnel was achieved via a long online meeting and multiple cameras. With the help of Philips, we witnessed 10 single-filament H7 bulbs tested in its facility in Aachen, Germany, from the UK.
We were particularly keen to make this test happen, because Philips had just increased performance levels with a bulb that promised 200 per cent more light in the beam, up from 150 per cent before.
We used our usual figure of merit (FOM), combining readings at 50 and 75 metres in front of the car, plus non-alignment-dependent tests for beam length, brightest spot and the amount of light above 20 lux to give a percentage rating. Prices are for two bulbs, including any current discounts.
Winner: Twenty20 Daylight 150
Price: £20.99
Contact: www.autobulbsdirect.co.uk
Buy now from Auto Bulbs Direct
Best dash cam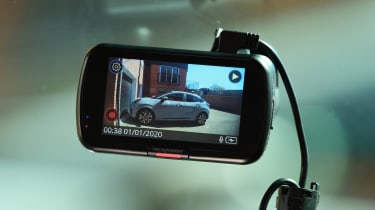 If you've ever had to claim on your insurance you'll know how fraught it can be, especially if another driver is at fault and they try to shift the blame. Hardly surprising, then, that many of us fit dash cams to keep an all-seeing eye on our and others' driving.
They're very popular and we've rated almost 30 over the past year, some recording only the front view, while others capture what is going on around – and even inside – the car.
To test them, we attached the cameras to one car's windscreen to ensure consistency. We then drove in a variety of situations before checking the quality of the footage, and rating how easy it was to use the camera and download video files. Price was the final element.
Winner: Nextbase 622GW
Price: £249 (plus memory card) 
Contact: www.nextbase.com
Buy now from Amazon
Best sat-nav app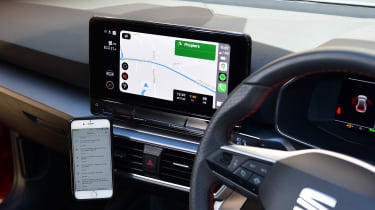 Even if your car has a sophisticated sat-nav set-up, most of us will still reach for our smartphone whenever we need to get somewhere. Connected apps will tell you the best route, but can also warn about traffic, speed cameras and even potholes in real time. Indeed, some car makers seem to have thrown in the towel, because most new models incorporate Apple CarPlay or Android Auto into their infotainment systems.
We pitted top driving navigation apps against the giants of Google and Apple. Using an iPhone 12, we asked for directions to incomplete residential and business addresses. To throw them off the scent, we deliberately took wrong turns and asked to divert to a fuel station and electric car charger. Points were given for clarity, accuracy and useful extras.
Winner: Google Maps
Price: Free
Contact: www.google.co.uk/maps
Best smartphone head unit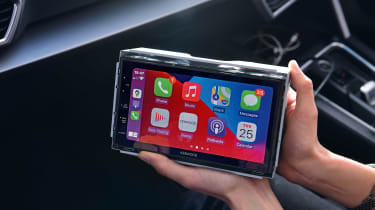 If you have an older car, it's not hard to upgrade its infotainment to more modern tech. To find the best options, we took six double DIN-sized units, which were compatible with Android Auto and Apple CarPlay, and connected them to a test rig to see how easy it was to pair our phones, check the sound quality, and test other features.
None of the units is cheap, but they could update your car for no more than the cost of a monthly repayment or two on a new car.
Winner: Kenwood DMX5020DABS
Price: £349
Contact: www.kenwood-electronics.co.uk
Buy now from Amazon
Best physical security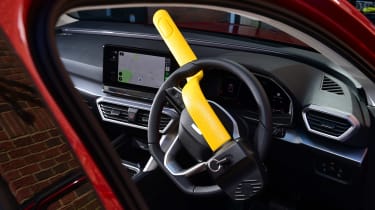 Modern criminals don't rely on a crowbar or screwdriver to steal a car, and instead will use sophisticated electronics to bypass the security features. To foil them, go back to basics and install something that no laptop can get past – a physical lock on the steering wheel.
Fitting one to your car should help to ensure criminals will simply not bother trying to steal it, because doing so will involve lots of tools, noise and damage. A good lock will also be able to prevent opportunist thieves stealing your airbag to repair accident-damaged cars on the cheap.
But while any lock is better than none, there is a massive difference between the protection offered by the various products. We enlisted the help of Mike Briggs, a vehicle security consultant with more than 30 years' experience, to test our samples on his specially made rig. All our recommended locks resisted his tools and brute force for several minutes. We also judged them on ease of use and value for money.
Winner: Stoplock Pro Elite
Price: £49.99
Contact: www.amazon.co.uk
Buy now from Amazon
Best 12V compressor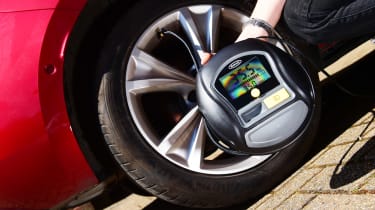 It seems there's always an excuse not to check and top up your tyre pressures: there's a queue at the air line or you're just in a hurry to get home. But with correct pressures your car will stop and corner better, while giving more mpg.
Incorrect pressures can also lead to uneven wear and the possibility of some hefty penalties, with a fine of up to £2,500 and three points on your licence per tyre. Having a 12V mini compressor means you can top up when it's convenient, and you'll avoid the ill-treated and often inaccurate garage pressure gauges.
During our test, we timed each unit while it pumped from 20-30psi on a 15-inch tyre, and then as it added 5psi to a space-saver tyre already inflated to 60psi. We marked each compressor for noise, hose and power-cord length, clear displays, easy-to-use controls, extras such as adaptors and cases, plus price.
Winner: Ring RTC1000 Premium Rapid Digital Tyre Inflator
Price: £35.60
Contact: www.ringautomotive.com
Buy now from Amazon
Best tool box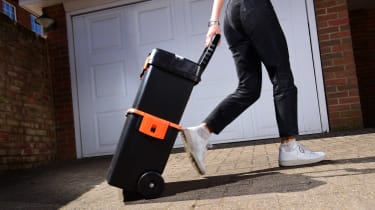 Car DIY is a great way to save money, but you'll need good tools and they're not cheap, so it pays to keep them in top condition. Hence the need for a good box, which will keep commonly used tools organised and together, saving you hunting for the right one.
Tool boxes used to be metal, but modern, plastic boxes are as tough, lighter, easier to carry and not prone to rust. Their lack of sharp edges also makes them kinder on your car's interior.
We expected our test boxes to store a reasonable kit of hand tools in the tote tray, and larger items in the space below, plus liked to see organisers for small parts, such as fuses. As well as our practical tests, we marked on the weight, build quality, size, and cost per litre.
Winner: VonHaus Roller Tool Box
Price: £34.99
Contact: www.vonhaus.com
Buy now from Amazon
Source: Read Full Article