Car news: the biggest motoring stories 2021
We take a look at the some of the best news stories featured on Auto Express throughout 2021…
January
February to March
April to May
June to July
August to September
October to November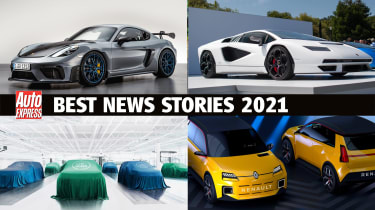 2021 was another tough year for the automotive industry. Not just because of coronavirus-related issues with dealerships closing, re-opening and closing again, but also shortages with supply of vital car parts which compounded the lack of new car sales. There was however lots of interesting new cars released in 2021 to keep us entertained.
The upcoming 2030 ban on petrol and diesel ban has forced car companies to re-evaluate their stance on EVs and we've seen a load of fascinating new electric concepts and production cars to keep us hopeful about the impending change.
For the enthusiasts there was plenty to get excited about with the new Toyota GR86, Ferrari 812 Competitizione, Audi RS 3 and Lamborghini Huracan STO all hitting the roads.
Unfortunately, coronavirus will still be making headlines well into 2021, but if this year's biggest headlines have shown us anything, it's that the automotive sector is a resilient one and there's always another great new car around the corner.
January
More tech and sharper styling for MINI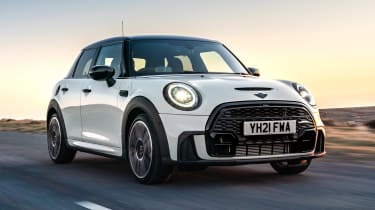 MINI pulled the covers off its updated best-seller, with a sharper look and more tech, plus the usual overtly British design details. The update applied to three and five-door models, plus the Convertible, while the hotter Cooper S also received visual tweaks to make it more aggressive. Looking towards its future, which it announced later in the year would be all-electric from 2030, MINI made a big deal of the revised Electric, too.
New MINI facelift revealed with updated look and added tech
​​Merc reveals Hyperscreen infotainment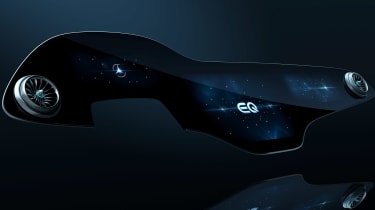 We'd get to see Mercedes' EQS electric flagship later in the year, but the firm started its drip-feed of information in January by unveiling the car's 55.5-inch "Hyperscreen" infotainment system.
The 12.3-inch digital dash, 17.7-inch main touchscreen and a 12.3-inch touch panel on the passenger side are separate OLED displays, but appear to be one large screen. It was immediately obvious that it would define the EQS's interior.
Renault goes back to the future as new 5 spearheads the firm's drive to electrification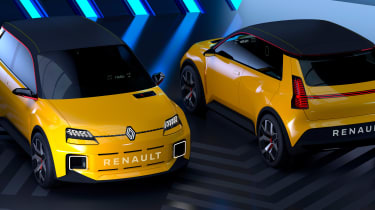 Renault kicked 2021 off with a bang, taking the automotive industry by storm with a new business plan to go all-electric that the firm dubbed 'Renaulution'. The crowning glory of the company's announcement was chief executive officer Luca de Meo standing on stage as the reborn Renault 5 prototype made its debut, rebooting the brand's iconic small hatch for 2021 as an electric supermini with retro-inspired styling cues.
Far from just a pie-in-the-sky concept, though, it was also our first chance to hear about the brand's new CMF-BEV platform that would underpin future small electric Renaults. At the unveiling, we were told that the R5 Prototype would go into production at a later date – which we now know is 2024.
The 5 stole headlines, not least because of its looks, but the announcement was Renault Groupe-wide, and also included value-focused sister brand Dacia, which unveiled its Bigster SUV concept as a window to a more rugged, lifestyle-focused range of models that will join the line-up in the future.
Dacia also confirmed that all of its new models would sit on the current Renault-Nissan Alliance's CMF-B platform, meaning the budget brand would no longer be behind the curve compared with parent Renault when it comes to engineering technology.
Finally, rounding off a flurry of news, Renault-owned performance brand Alpine outlined plans for three new electric models in what will be a zero-emissions range in the future. The first, a small hot hatch based on the R5 prototype, will be joined by an SUV as Alpine committed to seeking greater profit margins on its products. The firm confirmed the current A110 will be replaced by an electric sports car, with Alpine working in conjunction with Lotus on the tech beneath, which had us salivating at the prospect of a fun, driver's EV.
This statement of intent from one of the big players in the electric market, and on a smaller scale committing to driver-focused EVs with Alpine, put the ball firmly in Porsche's court on a decision to build an electric successor to the Cayman – something the German brand would preview later in the year with its Mission R concept.
As an aside, the news also highlighted that all hot Renaults would be sold under the Alpine brand in the future, with current Renault Sport models not being replaced at the end of their lifecycles.
This was Renault and de Meo really setting their stalls out against global players such as Volkswagen, however. The French brand showed it wants to be a player at the sharp end of the market in the industry's transition to fully electric mobility over the next decade, and given the firm's experience with cars such as the Zoe, it's well placed to do so, as we'd see when we sampled the Mégane E-Tech Electric towards the end of 2021.
Restructured Renault, Dacia and Alpine brands to launch into new segments
Wraps come off Mercedes EQA SUV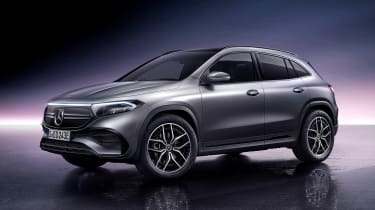 Following the larger EQC, Mercedes revealed its compact electric SUV, the EQA. It's adapted from the GLA, but a 264-mile range from a 66.5kWh battery and 100kW rapid recharging outclassed rivals immediately.
A smart cabin with Mercedes' trademark twin infotainment screens, adjustable brake regeneration and plenty of EV design cues outside – such as a smoothed front – meant the EQA ticked many boxes.
Read our review of the Mercedes EQA
Designer shows secret plans for new Capri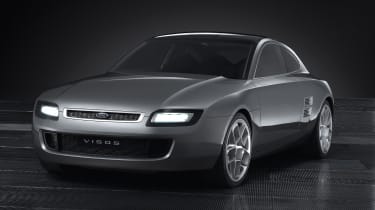 More than three decades after the Ford Capri went out of production, we spoke to Steve Saxty – a former member of Ford's product design team – about his new book, Secret Fords. Specifically, we found out about some ideas for a new Capri, few of which saw the light of day.
One of the concepts we looked at was made unfeasible by the sudden popularity of smaller, more efficient coupés, while another lost momentum at a crucial stage of development after the then-president of Ford of Europe left the business.
Secret Fords uncovered
We reveal problems following Low Traffic Neighbourhoods rollout
At the start of the year, we exposed an issue impacting communities all over the UK. In what was marketed as a bid to reduce car usage and increase the number of people walking and cycling, councils spent millions of pounds of taxpayer money on implementing Low Traffic Neighbourhoods (LTNs).
The cash came from the Government's £250million Emergency Active Travel Fund, launched in the wake of the pandemic, which made using public transport difficult. One issue was that work on LTNs had to begin within four weeks of funding being received and finish within eight weeks, meaning councils rushed to complete schemes and often didn't think about what they were doing in enough detail.
The LTNs also generated a huge amount of income for authorities. In one month, Ealing Council issued 7,125 penalty charge notices to drivers for breaching LTN restrictions, worth up to £926,250. Lewisham took around £3million in LTN fines between June and October 2020, while Enfield reaped £1.25million between September 2020 and January 2021.
Our investigation uncovered not only that nearly £15million had been spent planning, implementing, completing, altering and reversing these schemes, but that traffic was being diverted from residential streets in expensive areas, to major roads with denser housing. A two-tier society was being created.
The schemes also hampered emergency services. One ambulance service in London requested barriers to a road be removed after they had been delayed by them while trying to assist an unwell 95-year-old lady. Fire brigades also had to explain to councils that concrete barriers would affect response times, and police forces voiced their concerns as well.
A number of authorities admitted they had failed to liaise with emergency services and/or residents before implementing LTNs. Our investigation gave voice to people being negatively affected by LTNs and the issue reached the wider media as a result, with coverage given to campaigns against the restrictions, with backpedalling by councils following swiftly.
Exclusive: the high cost of Low Traffic Neighbourhoods
Continue Reading
1January – currently readingWe take a look at the some of the best news stories featured on Auto Express throughout 2021…
2February to MarchWe take a look at the some of the best news stories featured on Auto Express throughout 2021…
3April to MayWe take a look at the some of the best news stories featured on Auto Express throughout 2021…
4June to JulyWe take a look at the some of the best news stories featured on Auto Express throughout 2021…
5August to SeptemberWe take a look at the some of the best news stories featured on Auto Express throughout 2021…
6October to NovemberWe take a look at the some of the best news stories featured on Auto Express throughout 2021…
Source: Read Full Article