Car news 2022: the year's biggest motoring stories
These are the biggest and best motoring news stories of the year

Car news 2022: the year's biggest motoring stories
Car news 2022: the year's biggest motoring stories: April – July
Car news 2022: the year's biggest motoring stories: August – November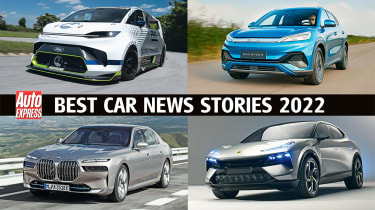 As 2022 comes to a close, it's probably fair to say that the last 12 months have been far from quiet. The headlines have been dominated by the challenges faced both at home and abroad, while the automotive industry has had its own hurdles to overcome, too. 
Record-high energy prices and continuing supply shortages have had a considerable impact on carmakers, with delivery times and prices reaching record highs. Buyers, meanwhile, have also had to get to grips with increasing fuel costs and an exceptionally strong used market, too, bringing further unease to an already turbulent market.
Best new cars coming in 2023 and beyond
It's not all been bad news, though, as there have certainly been some huge motoring highlights throughout 2022. Maserati made its long-awaited comeback into the supercar sector with the sensational MC20, Mercedes pushed the boundaries of EV technology with its Vision EQXX concept, and MG announced a return to its sporting roots with the upcoming Cyberster.
These are just a handful of our favourite stories from the past year, but there are plenty more, so keep reading to see our monthly news highlights of 2022.
January
Updated Citroen C5 Aircross shows fresh face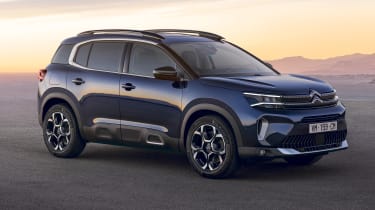 The start of the year brought some significant changes for the Citroen C5 Aircross to keep it fighting fit against rivals, including the Peugeot 3008. The most obvious revision is a new front end, with redesigned lights and a fresh grille, all designed to give the car a more imposing look. Inside, meanwhile, there's a new dashboard that features the same infotainment set-up as the C5 X, while the centre console has also been redesigned. 
Mercedes pushes EV envelope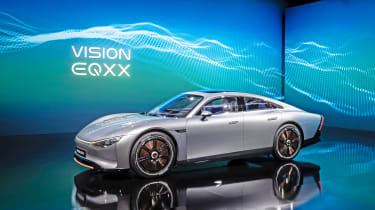 Range is crucial for any electric vehicle. Mercedes knows as much and embarked on an incredible technological experiment to extract as much from a full charge as possible, resulting in its breathtaking Vision EQXX concept that made its debut at CES 2022 in Las Vegas.
However, rather than simply install a huge battery to maximise range, Mercedes optimised every area of the car, with slippery aerodynamics that give the EQXX its unusual shape and an incredibly low drag coefficient of just 0.17Cd. 
Lightweight materials (including a battery with a similar amount of energy to a Mercedes EQS limo, but weighing 30 per cent less and taking up 50 per cent less space) and clever 3D printing of certain components also optimised mass. Synergies with Mercedes' F1 team on battery management, control electronics and motor tech all helped, too.
Mercedes Vision EQXX extends all-electric record to 747 miles
Despite going from a clean sheet of paper to a road-viable concept in just 18 months, the result – revealed later in the year – was a colossal 746 miles on a charge, thanks to a drive system that boasts up to 95 per cent efficiency. But this wasn't achieved in lab conditions. No, Mercedes actually drove the car on public roads, in all conditions and even over mountain passes to record this real-world result.
We'd learn that tech in the EQXX will directly influence Mercedes' future road cars, too, with some of it coming as early as 2024 – and this will extend to the infotainment. Even the on-board tech was fresh, with a clever energy management system that governs how the multimedia set-up uses energy to maximise efficiency, processing tasks in energy spikes rather than constantly consuming power.
Speaking to Auto Express, Mercedes Chief Technology Officer, Markus Schäfer, told Auto Express: "It's the most efficient Mercedes in 150 years. Internally we were joking that it's our Mars landing, achieving this kind of record in the EV world. We've set new benchmarks and milestones, and now we'll implement everything that we have learnt and the components into series production in the next few years."
Sony returns with another vehicular Vision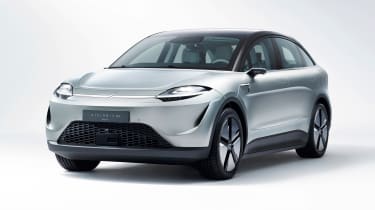 Tech giant Sony returned to CES with a new concept car, called Vision 02, and announced the formation of a new company – called Sony Mobility Inc. – and its intent to start building cars in time. 
The seven-seat SUV packed a 536bhp punch, while the on-board tech was suitably advanced, with a full-width high-definition display spanning the dashboard. Second-row passengers benefit from screens on the front seat backs, while there are multimedia controls for those in the third row.
Merc SL reinvented for a new generation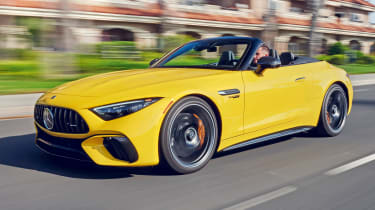 An all-new Mercedes SL arrived in January, and with it came a move towards the sportier end of the segment, thanks to a new bespoke platform from AMG. Available in 63 and 55 forms with four-wheel drive, the V8-engined models pack the punch you expect from an AMG. 
Mercedes later confirmed a 2.0-litre 43 model, while rumours of a plug-in hybrid 53 model remain. What was confirmed is that the SL had been reborn as a proper convertible sports car without losing its cruising ability.
Statistics put UK's roads policing under the spotlight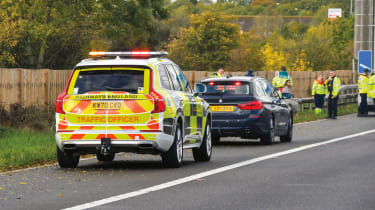 January saw Auto Express run two major stories about the state of UK roads policing. The first was based on police data, which revealed there had been a 16 per cent reduction in the number of road traffic officers since 2015. 
Meanwhile, 38 of the UK's 45 police forces had adopted the Nextbase National Dash Cam Safety Portal and were relying on footage sent in by the public to prosecute drivers for traffic offences.
'Swapping traffic police for cameras has been a deadly cost saving'
Although the argument in favour of dash-cam footage was that this greatly reduced the time it takes to deal with a reported offence, our follow-up a couple of weeks later saw Tim Rogers, driver training lead at the Police Federation and a highly experienced traffic cop, criticise what he called "invisible policing".
Rogers pointed out that 60 per cent of drivers who commit traffic offences are involved in other criminality, but this isn't picked up unless you have actual cops in cars. His concern was that policing by dash cam would target law-abiding people more, causing alienation.
Fiat boss plans range based on two core models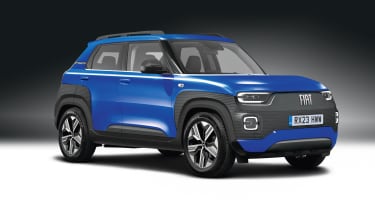 In an exclusive chat, Fiat boss Olivier François told us that the brand's future line-up would be made up of cars based on two pillars: the 500 and a model that would be the spiritual successor to the Panda – and our exclusive image shows what the latter could look like. 
Whereas the 500 will be more style-focused, the 'Panda' will have a simpler, more boxy shape designed to offer an electric vehicle at a budget price. François added that the Fiat range would be all electric by 2027. 
New lease of life for Ford Mondeo in China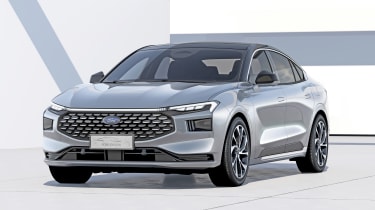 Ford killed off the Mondeo nameplate in the UK (and it wouldn't be the last announcement with news of a famous model to be axed here in 2022) but revealed an all-new model for China. The sleek saloon's design gave a hint of how Ford's future global range could look in a few years to come. With a 12.3-inch digital dash and a 27-inch central screen, the new Mondeo packed plenty of tech, but its combustion-only engine line-up for China wasn't quite as advanced.
February
Road pricing could fill gap in Treasury income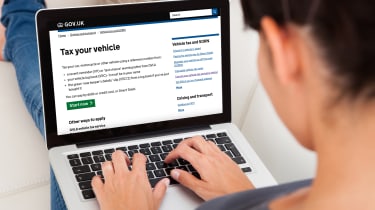 EVs currently avoid vehicle excise duty – colloquially known as road tax – and fuel duty. The Transport Select Committee's report looking at alternative tax models to avoid a hole in the Treasury's coffers concluded that a pay-per-mile road-pricing system is the most practical suggestion thus far, but added that it was open to other ideas. The Government has said a new system will be needed, but not what form it will take and from when.
Alfa ends three-year wait by revealing its new Tonale SUV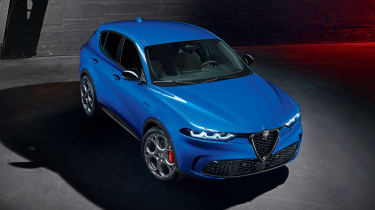 Three years after making its debut as a concept, and after a self-imposed delay for further development, the Alfa Romeo Tonale was finally revealed in February. Alfa spent much of that time improving the quality, infotainment and connectivity, as well as enhancing the plug-in hybrid powertrain, following intervention by CEO Jean-Phillippe Imparato when he joined in March 2021.
It's that engine/motor combination which would be key to the car's success, pairing a 1.3-litre four-cylinder petrol engine with a 15.5kWh battery and rear-mounted motor for a combined 271bhp. It's the fastest version in the range, sitting above a 1.5-litre mild-hybrid petrol. 
Alfa's DNA driving model is fitted across the range, and engineers told us the steering would be the most direct in the segment. Frequency Selective Dampers are standard, with Alfa claiming the set-up's characteristics can allow improved comfort or more controlled body roll as required.
New Alfa Romeo Tonale 2022 review
The Tonale's tech represents a big step on for Alfa, with a 12.3-inch digital screen designed to replicate the firm's traditional instruments, plus a 10.25-inch central touchscreen, with Apple, Android and Amazon Alexa connectivity. The Tonale would be the first car to use blockchain technology to become a digital record of the car's service history and over-the-air updates. Level 2 autonomy, and a range of active safety features, such as pedestrian and cyclist detection keep pace with rivals.
While Alfa hoped the regular Tonale would become a major player in the important compact SUV market, top engineers and executives from the firm revealed it could be just the start. They told us that both fully electric Tonales and a high-performance Quadrifoglio model are technically possible, although they remained coy, saying they'd assess market conditions before deciding on production. 
We're blown away by new Maserati supercar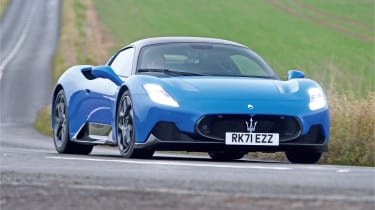 The launch of a Maserati supercar is rare, but it's always hotly anticipated. We already knew the Italian firm would rise to the aesthetic challenge, but little prepared us for how the MC20 would devour British roads. 
We loved the gearbox, the ride and the exceptional straight-line pace delivered by the firm's new 3.0-litre twin-turbo V6. We said that we wished it sounded a little more dramatic, but otherwise the car "earns a place among the highest level of the supercar elite".
Fresh ground for Skoda with its first hot EV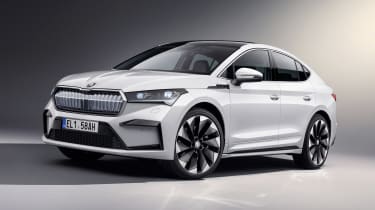 Skoda confirmed its first electric vRS model in February, as part of the Enyaq Coupé line-up. The four-wheel-drive, 295bhp vRS boasts a 6.5 second 0-62mph time. Like the rest of the Enyaq Coupé range, it features a sloping roofline, improved aerodynamic efficiency and, Skoda claims, a similar amount of rear headroom to the Octavia Estate. The vRS packs the same 135kW charging capability as the regular Enyaq, allowing a 10 to 80 per cent charge in as little as 29 minutes.
March
Honda Civic revealed with hybrid tech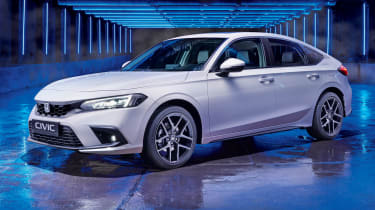 With Honda's announcement that its entire Civic line-up, apart from the Type R hot hatch, would move to hybrid powertrains, it also signalled that its European range would be electrified. It was a significant moment for the brand, which was an early adopter of hybrid tech, with the launch of the original Insight in 1999, and the first time UK buyers will be offered a hybrid-powered Civic hatchback. Plus, with the closure of Honda's Swindon plant, it will be the first Civic since 1994 that's not built in the UK.
Badged e:HEV, to keep it in line with hybrid HR-V and CR-V models, it was revealed that the Civic would feature a newly developed 2.0-litre Atkinson-cycle engine working in conjunction with a lithium-ion battery feeding a dual electric motor set-up. Peak power is rated at 181bhp and 315Nm of torque, while putting out CO2 emissions at 110g/km and 56mpg. As is typical, drivers can cycle through Eco, Normal, Sport and Individual modes to switch between full-electric, hybrid and purely combustion engine operation.
Honda Civic review
The 11th generation Civic does without much of the extreme and somewhat divisive styling of the Mk10, but retains what Honda describes as a fastback silhouette. That means a larger boot opening than in the US-market saloon variant; this boost in practicality will be welcomed, because unlike its key rivals – the Toyota Corolla, Volkswagen Golf and Ford Focus – there's not expected to be an estate. Nevertheless, the hatchback's wheelbase has been extended by 35mm over the Mk10 to increase passenger space. Additionally, the track has grown in the pursuit of greater dynamic stability, as well as more hip room across the rear seats.
Passengers were also tipped to enjoy an improved cabin, which takes its inspiration from other recently launched Hondas, meaning a cleaner, more elegant look, and what the brand described as "new tactile, high-quality materials". 
Honda Civic vs Toyota Corolla vs Vauxhall Astra: 2022 group test review
Technology takes a step up, too, with the firm's latest Sensing package, which includes advanced features such as a 100-degree wide-view front camera with improved pedestrian and road marking-detection. Apple CarPlay and Android Auto are standard, and operated though a nine-inch central touchscreen, although top-spec Advance models boast a 10.2-inch digital dash and a 12-speaker Bose stereo.
Alongside the reveal of the new Civic, Honda confirmed it would launch a production version of its e:Nty1 electric SUV. The compact offering will become Honda's second full-EV in Europe, and European boss Katsuhisha Okuda said it "will be at the centre of Honda's future product line-up". Technical details are yet to be announced, but it could borrow from the Chinese market's e:NS1 and e:NP1 electric SUVs, meaning a 66.8kWh battery for a 311-mile range.
Ford's trio of electric SUVs on the way by 2024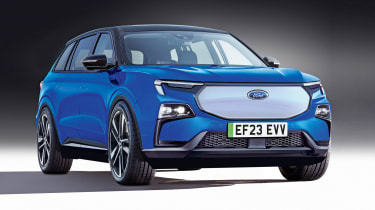 Almost in readiness for its Fiesta news later in the year, we lifted the lid on Ford's EV blitz, with three new cars to be launched by 2024: a medium-sized crossover, a 'Sport Crossover' and an electric Puma. The models will be based on VW's MEB architecture, so batteries of up to 77kWh, rear and four-wheel drive and up to 295bhp will be on offer. We also pondered on the future of the Fiesta, given the difficulties in making cheap EVs profitable.
Polestar sports car reveals brand's ambition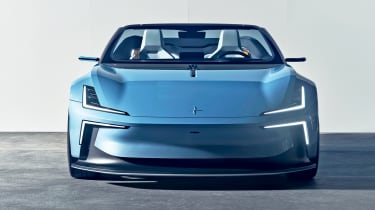 Polestar is a small brand with big ambitions, and the unveiling of its O2 concept showed its plans to move beyond compact execs and SUVs. The O2 is based on technology that will underpin the forthcoming Polestar 5, and Polestar boss Thomas Ingenlath said it would be "irresponsible" not to build the 2+2 convertible. One feature that is all but certain to be dropped from any series production car is a camera drone stowed in the cabin to shoot social media-ready video clips.
ID. Buzz electric MPV and Cargo van turn on the style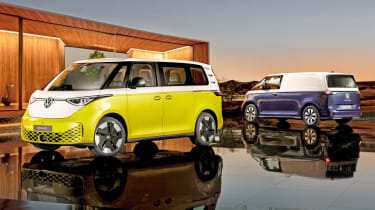 Volkswagen has long delivered the X-factor when it comes to its vans and van-based people carriers, but the ID. Buzz is the funkiest in decades. Unashamedly taking design cues from the classic Type 2, it delivers a charm all of its own, especially with the two-tone paint scheme featured in VW's first images. Choose one of those models, and you'll also get a matching colour scheme inside.
The hues aren't the only appealing thing about the ID. Buzz's interior, either. VW has also eliminated the use of leather, while the carpets and seat fabrics are made from recycled plastics. It's an important step in VW's desire to make production of the Buzz carbon neutral.
New Volkswagen ID. Buzz 2022 review
Based on the same platform as the ID.3, the ID. Buzz uses a 201bhp electric motor driving the rear wheels anda 77kWh battery. 
At its maximum charging rate of 170kW, it'll take half an hour to charge from five to 80 per cent, and it's possible to feed electricity back into the grid, too.
Best electric vans 2022
But as stylish and smart as the ID. Buzz is, first and foremost it's a practical vehicle. Among its features are up to eight USB-C sockets, while the 'Buzz Box' is a storage system between the front seats with multiple compartments that also contain an ice scraper and bottle opener. Much of the tech is carried over from the ID.3, including a 5.4-inch digital instruments, while 10 and 12-inch touchscreen displays are also offered. These feature wireless smartphone connectivity.
Lifting the tailgate reveals 1,121 litres of space in the five-seat people-carrier version, rising to 2,205 litres with the sliding rear seats folded. The van variant, called ID. Buzz Cargo, packs 3.9 cubic metres of carrying capacity. 
Lotus branches out with Eletre electric SUV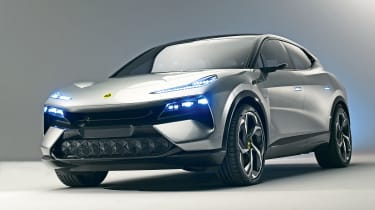 "A momentous point in our history" was how Lotus boss Matt Windle described the launch of the Eletre. It's not hyperbole, either: the firm that made the concept of a lightweight sports car its own is now embarking on an electric future that includes an SUV. Such models are profitable enough to ensure the future of brands, but the Eletre retains enough weight-saving principles to still be considered a 'proper' Lotus. Tech borrowed from parent company Geely should help Lotus in that area, too.
Continue Reading
1Car news 2022: the year's biggest motoring stories – currently readingThese are the biggest and best motoring news stories of the year
2Car news 2022: the year's biggest motoring stories: April – JulyThese are the biggest and best motoring news stories of the year
3Car news 2022: the year's biggest motoring stories: August – NovemberThese are the biggest and best motoring news stories of the year
Source: Read Full Article