"BYD, Nio, Lucid – get ready for some car brands you've never heard of"
Editor-in-chief Steve Fowler thinks 2023 will be the year that new cars from a host of start-ups make an impact in the UK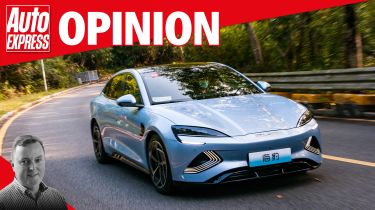 Car brands are an emotive subject. Just the mention of some of them will make fans go all giddy, while reputations (good and bad) tend to stick, and building (or rebuilding) a name can be hugely time-consuming and costly.
This year we're going to be inundated with new brands, all eager to persuade you that they're the new this or that, that they're offering something others don't, and selling cars in ways you'd never have imagined.
New BYD Seal 2023 review
Only last week I drove past what used to be my local Volvo dealer. It now wears Ineos Grenadier branding in preparation for the arrival of the new 4×4, which we'll be driving in the next few weeks.
Chinese brands are coming aplenty, too. We've already driven the BYD Atto 3 and Seal and the GWM Ora Funky Cat. It's no wonder BYD is choosing an initialism rather than spelling out its full name, Build Your Dreams. I'm not sure pub talk along the lines of "I've just bought a Build Your Dreams" will really cut it. Names are vitally important and not everyone has got it, or will get it, right.
Nio is another Chinese brand that impressed me when I drove the ET7 (complete with cute, digital personal assistant NOMI) while judging Germany's Golden Steering Wheel Awards. It's an all-electric Tesla rival and is so good it walked away with a trophy.
Another highlight of 2021 came on World Car Awards duty, when I tested the Lucid Air. It's along similar lines to the Nio and, I reckon, better than a Tesla Model S.
Also arriving in 2023 will be the Fisker Ocean – which will be followed by the Pear. That car's set to be built by Foxconn, maker of so much of our in-pocket electronics.
Other new names will be arriving, too – maybe even Lynk & Co will turn up in the UK, as promised for so long! But what of the existing brands? It's going to be tough for them, for sure, but it's great news for car fans and buyers.
Click here for our list of the best electric cars on sale right now…
Source: Read Full Article