BMW M440i xDrive: long term test review
First report: The new BMW M440i coupe looks like a fine car to live with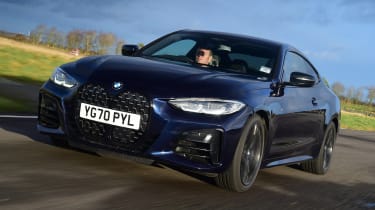 4.0 out of 5
Buy used for less at Buyacar
Verdict
The BMW M440i is an intriguing car for all sorts of reasons. Slightly old-school yet capable of 40mpg and a sub-five-second 0-62mph time, it has a strong mix of abilities. The more time we spend with it, the more we like it. 
Mileage: 1,640Economy: 34.2mpg
The all-new 4, as it's known, is a controversial car for one eye-wateringly obvious reason: the way it looks. Its gaping new grille attracts attention and inspires debate from all quarters, and not always is that attention flattering.
Truth be told, some like it, some do not. Either way, the 4 Series is a car that guarantees its 15 minutes of fame long before it has turned so much as a wheel nut. And in the Instagram era this ensures it of success, no matter how good or otherwise it might be as a car to drive, and to live with.
New BMW M4 Competition 2021 review

Fortunately, however, the Tanzanite Blue M440i xDrive you see here, which I'll be running for the next six months, is already proving to be anything but a disappointment on the road. Dynamically it represents something of a return to form from BMW, featuring a slightly old-school appeal to its steering, engine and chassis, despite being loaded with convenience tech. And that makes it an unusually interesting machine to get your head round.

More reviews

Car group tests

BMW 4 Series vs Audi A5 vs Lexus RC

In-depth reviews

BMW M4 (2014-2020) review
BMW 4 Series Coupe (2014-2020) review

Road tests

New BMW M4 Competition 2021 review
New BMW 4 Series 2020 review
New BMW M440i xDrive 2020 review

Used car tests

On the one hand, the M440i is a car that will all-but drive itself along a motorway thanks to its clever speed-sensitive cruise control, its lane-assisted steering and its subtle pre-emptive braking system. And it'll return anything between 32-42mpg while doing so thanks to its mild but highly effective hybridised powertrain.

Yet on the other hand, the M440i is also a car that can deliver a proper hit of driver appeal if you switch all its electronic systems off and select Sport within the multi-adjustable drive programme.

Do this, and its 369bhp 3.0-litre twin-turbo straight six produces a major hit of performance, right where you want it most, and it sounds menacingly appealing in the process. Its steering, ride and handling are also sweet as a nut if you select the right settings for the right road. As a result, the M440i has an unusually wide range to its dynamic personality, and is proving quite a fascinating car to live with.

Even after 1,500 fairly committed miles in it, I'm still not quite sure what kind of car it really is – B-road bruiser or high-tech luxury coupé. The truth, I suspect, is a lot of both, with all sorts of other attributes in between – although more miles will reveal other hidden depths, no doubt, and maybe even some faults as well.

One of which I was alerted to via the BMW Driver App just the other day. The app pinged me with a message saying "recall", yet I'd only had the car for few days. So I called my local dealer, Chandlers of Brighton, and got it booked in.

It was for a potential problem with the starter generator cable connection, which, if left unchecked, "could result in a fire", according to the app. Hmm…

A couple of days later, and having been given a shiny white 320i saloon to chip about in while I was waiting, Chandlers did the recall, gave the car a full health check, sent me a nice video of it being inspected up on the ramp, and I got the car back. All good, no fire, no more worries.

Despite the surprisingly early-doors recall, it was a curiously positive experience overall, though, because the aftersales treatment from Chandlers was flawless.
The whole experience, although entirely contactless physically, was the opposite of painful, which is just what you want from a new £51,300 sports coupé.

Since then I've been to Wales in it, twice – and to Goodwood, Brands Hatch, the Bedford Autodrome, and up to Birmingham and back a couple of times – and I've found lots to like about it, and not a whole lot to dislike. In Comfort or Eco Pro, with all the driver systems engaged, it really is a very relaxing, comfortable car to do big miles in.

| | |
| --- | --- |
| Model: | BMW M440i xDrive coupé |
| On fleet since: | November 2020 |
| Price new: | £51,338 |
| Engine: | 3.0-litre 6cyl turbo, 369bhp |
| CO2/tax: | 155g/km/£540 |
| Options: | Technology Plus pack (£3,650), Shadowline Plus (£500), Comfort Plus pack (£1,950), M sport seats (£850), Interior aluminium fabric (£500) |
| Insurance*: | Group: 50/Quote: £871 |
| Mileage: | 1,640 |
| Economy: | 34.2mpg |
| Any problems? | Recall for starter generator |

*Insurance quote from AA (0800 107 0680) for a 42-year-old in Banbury, Oxon, with three points.

Next Steps

Source: Read Full Article