BMW iX vs Audi e-tron Sportback: 2022 group test review
BMW and Audi do battle once again – this time in the shape of electric SUVs with the new iX and e-tron Sportback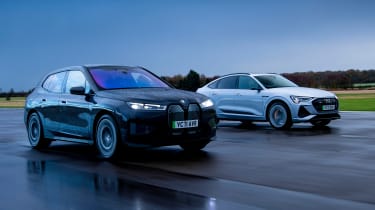 In the sixties, businessman and engineer Gordon Moore predicted that the rate of processing power in computers would roughly double every 18 months. Since then, Moore's Law has been used as a catch-all term to chart the rate of progress in technology in general.
With an electric car, it seems that new models are becoming more closely aligned with consumer tech than ever before – and the industry's relative infancy means that progress is rapid.
New BMW iX xDrive50 2022 review
One of the latest arrivals in showrooms is the BMW iX. This SUV is filled with all of the brain power Munich's finest can throw at it – the benefit of knowledge from past electric attempts. There's a huge amount of promise on paper, so will it prove to be the future of electric motoring?
To find out, we've put it up against the Audi e-tron. As with the BMW, it's a large SUV from a traditional German powerhouse that's making a rapid switchover from combustion to electric in order to keep up with demands. But the Audi came out in 2019 – so has it become obsolete in a matter of years, or does it still have the strength to hold off its rival here?
BMW iX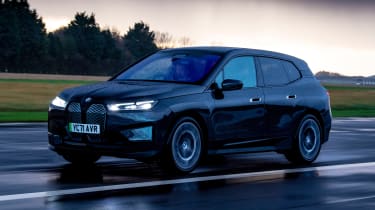 | | |
| --- | --- |
| Model: | BMW iX xDrive40 M Sport |
| Price: | £72,905 |
| Powertrain: | Twin e-motor, li-ion battery, 322bhp |
| 0-62mph: | 6.1 seconds |
| Test economy: | 3.0mi/kWh |
| CO2: | 0g/km |
| Annual road tax: | £0 |
Here, we're testing BMW's new EV with the entry-level xDrive40 powertrain, which is predicted to make up 78 per cent of iX sales. In M Sport trim, it comes to £72,905, but with a range of extras, including laser headlights (£2,000), 22-inch wheels (£1,350), and a Sky Lounge Pack, which includes a panoramic sunroof and anthracite roof lining (£3,500), our test car comes in at £84,845.
More reviews
Road tests
New BMW iX xDrive50 2022 review
New BMW iX 2022 review
Design & engineering
When the i3 city car was released in 2013, BMW was among the first brands to introduce a fully electric vehicle into series production. It's not until recently that the range has expanded, though, with the iX3 SUV, 4 Series Gran Coupé-based i4, and now the iX.
It's this car which is the most significant of the bunch from a technological standpoint. Under the skin, it's the first BMW to use an all-new, scalable platform for electric vehicles, and here the iX is roughly the same size as an X5.
The iX uses the brand's fifth-generation "eDrive" tech, which houses the motor, power electronics and transmission in a single unit. There are no rare-earth metal magnets in the motor's construction, either – instead the rotor is spun by a direct electrical feed. According to BMW, this means that the two-motor set-up in the iX not only delivers the powerful punch that we're used to from electric vehicles, but also sustains its torque through a very broad spread of revs, so it shouldn't tail off at higher speeds. In this xDrive40 model, there's 322bhp on offer. Above it sits the xDrive50, which gets 523bhp and a much larger battery for a longer range.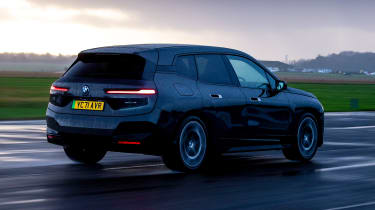 Step inside the iX, and the design and quality are fabulous. The cabin is dominated by the pair of 14.5-inch curved displays across the top of the dashboard, but extensive use of soft suede-like materials across the gently sweeping dash looks and feels incredibly expensive. The steering wheel is an odd shape, but it's quite pleasant to hold.
Sustainability has been an important consideration when constructing the iX. Aluminium is sourced from plants powered by solar energy (much of the material is recycled), while recovered plastics, including old fishing nets, are used in areas such as the carpets and floor mats.
Driving
The first thing to strike you when driving the BMW is the lack of noise. There's not a hint of a whine from the electric motor (although there's an artificial hum piped into the cabin if you want it), and barely a whisper of wind noise at speed. Even though our test car came with enormous 22-inch wheels on 275-section tyres, road roar is exceptionally well insulated from the cabin. Knocks from the suspension are relegated to the most distant and gentle of thuds, too.
The ride itself is excellent. Over almost anything less severe than a speed bump, the iX remains impressively soft and forgiving, and the body stays level, so occupants don't get moved around in their seats.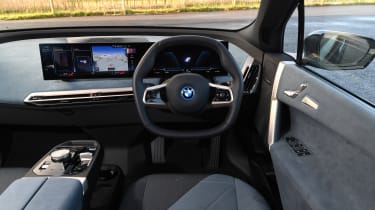 Capable though it is, it seems like comfort should be a given for an SUV that weighs well over two tonnes. More of a surprise is the way that the iX handles. Point the front wheels into a corner with the well weighted steering, and the iX turns in even more positively than BMW's large combustion SUVs. The tyres offer up more grip than the Audi's, and the body roll that delivers such a smooth ride really plays into the iX's hands through the corners, too.
The feeling of agility is matched by a keen throttle response. Acceleration always feels lively, but the pedal has enough travel to allow you to meter out the power very precisely at lower speeds, too. Overall, it's very hard to find fault with any aspect of the BMW's driving experience.
Practicality
Passenger space inside the iX is a strong point. Knee room is vast, even more so than in the already very spacious Audi. Even with the optional panoramic glass roof fitted to this test car, headroom is very impressive, so even for tall adults it's a very comfortable place to sit. The floor is flat right across its full width, so foot room is generous, too.
Both cars score well for in-car storage, with each offering generous door bins. The BMW's wireless charging pad for smartphones is large and neatly positioned below the iDrive controller on the centre console, while the Audi has a very deep glovebox.
Ownership
Premium buyers expect the highest level of after-sales experience and fault-free driving, and to that end, both of these brands lag behind the current standard.
In the 2021 Driver Power survey, BMW and Audi took 23rd and 21st respectively in the manufacturers' category, out of 29 makers. BMW's dealers fared a little better, achieving an 11th-place finish out of 21, but here Audi disappointed again, taking 18th overall.
Running costs
We'll cover the costs of recharging in depth in a few pages' time, but overall, the BMW proved to be the more efficient of this pair by some margin, and will therefore rack up smaller electricity bills.
The iX also proves to be cheaper to run in terms of other costs. BMW offers a competitive service plan specifically for its entire 'i'-branded electric range, which means that iX owners can buy a three-year plan that costs £15 per month. That compares well against the e-tron's two-year package which costs £32 per month.
Beyond that, the iX is expected to hold on to 61.8 per cent of its value after three years – 8.9 per cent more than the Sportback over the same period – and our typical insurance quote was cheaper, too.
Testers' notes
"Wheel choice has an impact on range, albeit only slightly. Our car's 22-inch rims drop range by two miles when compared with the 21-inch items."
Audi e-tron Sportback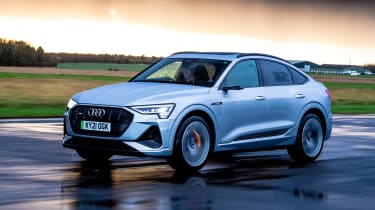 | | |
| --- | --- |
| Model: | Audi e-tron Sportback 55 quattro S line |
| Price: | £79,960 |
| Powertrain: | Twin e-motor, li-ion battery, 402bhp |
| 0-62mph: | 5.7 seconds |
| Test economy: | 2.1mi/kWh |
| CO2: | 0g/km |
| Annual road tax: | £0 |
We're testing the swoopier-looking e-tron Sportback here, which gets a coupé-like roofline when compared with the e-tron SUV, and costs £1,700 more, too. Our test car is the 55 quattro S line, which costs £79,960, but the car in our pictures is a top-spec Vorsprung model, costing an eye-watering £95,160 before extras.
Design & engineering
While the iX is developed on a platform conceived exclusively for electric vehicles, the e-tron rides on a re-engineered version of the MLB Evo underpinnings used by a wide range of VW Group products, including the Q5, Q7 and Q8 SUVs.
Still, with the car's near-five-metre length, Audi has had little trouble installing a 95kWh battery within the e-tron's footprint. As with the BMW, there are two motors, one driving the front axle, the other at the back. Combined, they offer up to 402bhp (in overboost mode) and 664Nm – 80bhp and 34Nm more than its rival. However, that is offset by a chunky 2,595kg kerbweight – 235kg more than the BMW.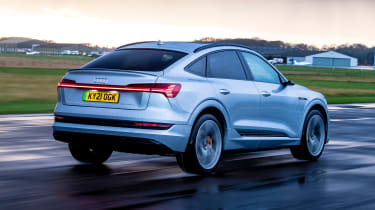 Since its launch, various small tweaks have helped to improve the e-tron's overall efficiency. Updates to the cooling system and the ability to use only the rear motor when cruising have liberated 12.4 miles of extra range. These revisions have been offered to existing owners for free, too.
As with the BMW, the e-tron can accept a maximum charging rate of 150kW, allowing a 20-80 per cent battery top-up in 30 minutes. An optional on-board AC charger allows the e-tron to accept 22kW destination charging, otherwise it uses a more leisurely 7kW system.
Air suspension is standard on all models, while S line versions and above get a sportier set-up. The ride height varies based on the drive mode selected; in Efficiency mode, the suspension drops to its lowest setting to minimise aerodynamic drag and boost range.
Driving
Barely three years ago, we were quite blown away by the levels of comfort and refinement that the e-tron offered. While it's still undoubtedly an incredibly relaxing place in which to while away the miles, the iX has the measure of it.
Indeed, in pretty much every metric you could choose to compare how the two perform – ride, handling, throttle response, steering weight – the BMW has either a slight or a significant edge.
Both of these machines weigh well over two tonnes, but the BMW does a much better job of hiding it. The Audi feels lazy and nose-heavy when turning into a corner, and the front tyres hold on less gamely once they're loaded up. The Audi's damping also feels looser – which means that it feels a little more bouncy on undulating roads – and it's slightly more crashy across harsher surface changes and potholes. Relatively speaking, it's very cosseting – and high-speed stability is still supreme – but the BMW is exceptional in this area.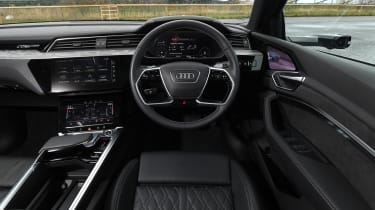 Save for a very distant whine, the motor is almost impossible to detect, but at a cruise the BMW is more peaceful still; road noise in particular is very well muffled from the cabin.
The Audi is quicker than the iX on paper – it covers the 0-62mph benchmark four tenths of a second quicker, at 5.7 seconds – but it doesn't really feel that way. That's because you need to plant the throttle beyond a little step in its travel – a bit like kickdown on some combustion cars – to access maximum power in "boost mode". So if you're not mashing the throttle to the floor, the initial response is a little dull and the 0-62mph time drops to 6.6 seconds. The BMW feels more sprightly.
Practicality
The Audi falls behind the BMW in terms of passenger space, but overall it still boasts very roomy rear quarters. The one small criticism is the centre seat; the rear backrest (part of the folding armrest) is very firm, so it's not ideal for a third passenger.
While the BMW proves to be the more spacious option for passengers, the Audi has its rival covered for storage. The e-tron's 665-litre boot is comfortably ahead of the 500 litres that the iX offers. Unlike the BMW, the Audi boasts a small compartment under the bonnet – large enough to keep all of the charging cables neatly out of the way, although there's also a huge underfloor space in the back that fits the same purpose. The Sportback's sloping roofline slightly compromises seats-down volume, with the Audi's 1,665 litres behind the BMW's 1,750 litres.
Ownership
The standard warranty packages on these two models are very similar. Both are offered with three years' cover from new, although BMW allows for an unlimited mileage, while Audi's protection is capped at 60,000 miles. Both brands also include an eight-year/100,000-mile warranty specifically for the battery.
Running costs
Thanks to a tie-in with Octopus Energy, e-tron buyers switching to the company get a £90 EV charge credit on their account. That money can potentially go a long way; if you top up your car overnight, Octopus charges just 5p per kWh, instead of the UK average of 17.2p/kWh. BMW's EV offer instead focuses on public networks, giving buyers a 12-month free subscription to both the Ionity and BP Pulse charging networks.
As £80,000-plus SUVs go, both cars are incredibly cheap for business users. Thanks to the one-per-cent BiK band in which this pair sits, annual deductions for a higher rate income tax payer come to just £291 on the BMW and £316 on the Audi. Deductions for combustion-powered cars of a similar value would be nudging £11,000 per year.
Testers' notes
"Through the touchscreen or the My Audi app, it's possible to preheat or cool the car before you get in. It's a simple feature, yet so satisfying to use."
Verdict
First place: BMW iX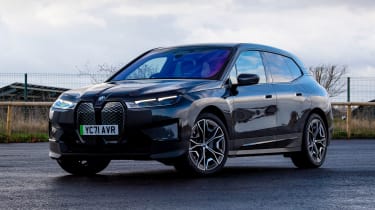 The iX is a stunning piece of kit. Comfort and refinement are brilliant, in-car tech is superb and the spacious cabin feels special. Yet it's the performance, handling and efficiency that impress the most. Driving range could be better, but other models deliver superior figures. Overall the iX doesn't just easily win this test, if money is no object, then it's arguably the best EV on sale today.
Second place: Audi e-tron Sportback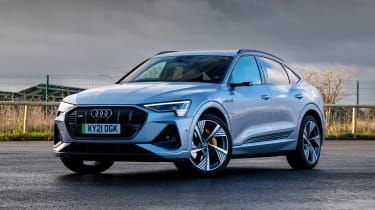 Barely three years ago we ranked the e-tron among the best EV SUVs around, but BMW has really moved the game on. The Audi's boot is bigger, and to many its looks will be easier to stomach, but in every other area the BMW is either slightly or significantly better. In isolation there's still much to like, but beside the iX the Audi feels like old tech – and very expensive tech at that.
Also consider…
Mercedes EQC
Model: Mercedes EQC 400 AMG Line Premium
Price: £73,960 
Power: 402bhp
As with the Audi, the EQC is built on an adapted combustion platform. Performance, refinement and build quality are excellent, but like the e-tron, its powertrain and battery tech aren't on the same level as the iX's, so
it's not as efficient.
Tesla Model X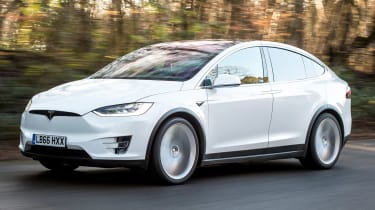 Model: Tesla Model X Dual Motor AWD
Price: £98,980 
Power: 550bhp (est)
Thanks to fine efficiency and the quality of the Supercharger charging network, the Model X is still a front-runner. An update to the line-up due later this year should keep it competitive, introducing a refreshed interior and even better performance.
| | | |
| --- | --- | --- |
| | BMW iX xDrive40 M Sport | Audi e-tron Sportback 55 quattro S line |
| On the road price/total as tested | £72,905/£84,845 | £79,960/£97,625 |
| Residual value (after 3yrs/36,000) | £45,077/61.8% | £42,275/52.9% |
| Depreciation | £27,828 | £37,685 |
| Annual tax liability std/higher rate | £146/£291 | £158/£316 |
| Annual electricity cost (12k/20k miles) | £688/£1,147 | £983/£1,638 |
| Insurance group/quote/road tax cost | 47/£1,447/£0 | 50/£1,631/£0 |
| Servicing costs | £15/month (3 years) | £32/month (2 years) |
| Length/wheelbase | 4,953/3,000mm | 4,901/2,928mm |
| Height/width | 1,695/1,967mm | 1,616/1,935mm |
| Powertrain | Two electric motors/lithium-ion battery | Two electric motors/lithium-ion battery |
| Peak power/revs | 322bhp | 402bhp |
| Peak torque/revs | 630Nm | 664Nm |
| Transmission | Single-speed/4WD | Single-speed/4WD |
| Battery capacity/usable | 76.6/76.6kWh | 95/83.6kWh |
| Boot capacity (seats up/down) | 500/1,750 litres | 615/1,665 litres |
| Kerbweight/payload/towing capacity | 2,365/645/2,100kg | 2,595/575/1,800kg |
| Turning circle | 12.8 metres | 12.2 metres |
| Basic warranty (miles)/recovery | 3 yrs (unlimited)/3yrs | 3 yrs (60,000)/3yrs |
| Driver Power manufacturer/dealer pos | 21st/11th | 23rd/18th |
| NCAP: Adult/child/ped./assist/stars | 91/87/73/81/5 ('21) | 91/85/71/76/5 ('19) |
| 0-62mph/top speed | 6.1 secs/124mph | 5.7 secs/124mph |
| AE economy/predicted range | 3.0mi/kWh/230 miles | 2.1mi/kWh/176 miles |
| Claimed range (WLTP) | 254 miles | 261 miles |
| Charging capability | 1.6/7/150kW | 1.6/7/150kW |
| Charging time | 35h 45m/10h 45m/ 31m (10-80%) | 42h/14h/ 30min (20-80%) |
| CO2/tax bracket | 0g/km/1% | 0g/km/1% |
| Airbags/Isofix/parking sensors/camera | Yes/yes/yes/yes | Yes/yes/yes/yes |
| Auto/lane keep/blind spot/AEB | Yes/yes/yes/yes | Yes/yes/no/yes |
| Climate control/adaptive cruise | Yes/yes | Yes/yes |
| Leather/heated seats | Yes/yes | Yes/yes |
| Metallic paint/LED lights | £795/yes | £750/yes |
| Keyless go/power tailgate | Yes/yes | Yes/yes |
| Nav/digi dash/DAB/connected apps | Yes/yes/yes/yes | Yes/yes/yes/yes |
| Wireless charge/CarPlay/Android Auto | Yes/yes/yes | Yes/yes/yes |
Next Steps
Source: Read Full Article