Best used sports cars 2022
Our top used sports cars for those looking for some fun but usable second-hand wheels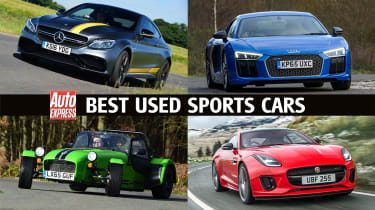 If you are looking for a car that's fun to drive above all else, you can't beat a used sports car. A second-hand sports car offers all the thrill of owning a truly special model, yet the reduced price – and lesser depreciation – means that the sharp edges of a new model have been shaved off by the previous owner.
Pick a car with a proper service history and there's no reason to think it'll be less reliable than a new sports car – especially as owners of these desirable models tend to look after their cars.
Top 10 best sports cars 2022
All of the cars we've picked aren't just for weekend blasts, although they do excel in that area. They're all well-engineered and designed to be used every day, so you can commute in comfort, yet still enjoy a holiday or weekend drive.
Sports cars tend to hold their value better than run-of-the-mill cars, so you'll get more back when you sell than you might expect – although you'll also pay a little more when you buy. Go in with your eyes open and you won't be disappointed.
Read on for our picks of the best used sports cars to buy…
Best used sports cars to buy
Porsche 911
Audi R8
Caterham Seven
Jaguar F-Type
Porsche Cayman
BMW M4
Mercedes-AMG C63 Coupe
Aston Martin V8 Vantage
1. Porsche 911 (991) – Used Sports Car of the Year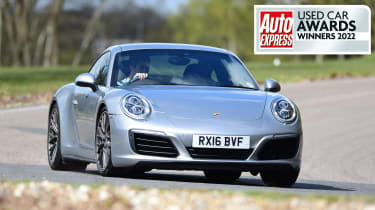 Our pick: Carrera 4 PDK (2016/66, 11k miles, £79,980)
There's a reason the 911 has been at the top of the sports car pecking order for more than half a century. In fact, there are many. The sublime handling and scorching performance are expected, but it's the fact it mixes these qualities with everyday usability and solid reliability that makes the 911 our top used pick in this category.
The Porsche has evolved hugely over the past six decades, but its styling has remained instantly recognisable, plus it has retained its trademark rear-engined layout and versatile 2+2 seating. Launched in 2012, the 991 generation is one of the best ever, combining typical 911 agility and pace with vastly improved refinement, efficiency and tech. You're also spoiled for choice, from the basic Carrera to the supercar- slaying Turbo S and the track-honed GT3 and GT3 RS.
A facelift in 2016 added turbocharged engines across almost the full range. While these lack some of the character of earlier units, they respond more quickly and feel far faster on the road, and are more frugal. Also included was updated infotainment that featured much better connectivity.
Best used coupes 2022
All 991-era 911s are brilliant to drive, with quick steering that lets the driver feel the road, involving handling and hugely powerful brakes. That classic flat-six engine also delivers a distinctive bark from its exhausts. Most are fitted with the excellent PDK twin-clutch transmission, which serves up quick and slick shifts in manual and auto modes.
Yet the Porsche's real party trick is how it fits seamlessly into your life. Great visibility and a relatively compact size make it a doddle around town, while the rear seats are big enough for kids. There's also a large boot in the nose, and 30mpg is possible if you take it easy. Use an independent specialist and even maintenance needn't cost a fortune.
Take your time to search for a mint, comprehensively maintained example and the 911 could be one of the most exciting and satisfying used-car purchases you ever make.
BuyaCar finance options
Splash out on a used 911 Carrera 4 PDK and monthly payments come in at £1,866 on a four-year hire purchase deal with a £3,000 deposit. Given that this is an HP set-up, once you've made the final monthly payment, the car is yours. This might not be cheap, but because 911 residual values are so strong, and this is a dying breed of car, it arguably stacks up as a long-term investment more than any other car in our rundown.
See the latest used Porsche 911 prices on our sister site BuyaCar…
2. Audi R8 (Mk2)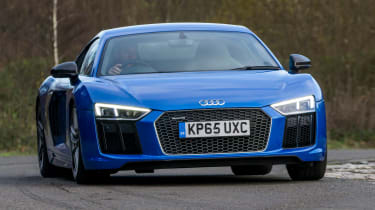 With its supercar looks, howling V10 engine and crushing performance, the second-generation R8 is a vehicle that creates a stir wherever it goes. The mid-engined Audi serves up beautifully balanced handling and an interior that looks and feels special. Yet it's as easy to drive as an A3 hatchback, plus you can find examples on sale for less than half their new price.
See the latest used Audi R8 prices on our sister site BuyaCar…
3. Caterham Seven (all generations)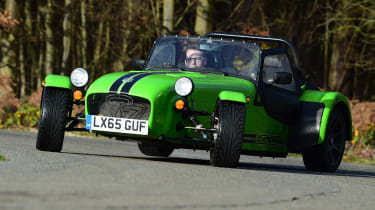 For back-to-basics driving excitement there isn't much that can touch the sensational Seven, even if it is a left-field choice. No other street-legal machine delivers such a connection between the road and driver, while its kerbweight of around 500kg makes for electrifying performance. Most use easy-to-maintain Ford or Rover engines, while depreciation is so slow you're unlikely to lose much cash if you sell.
4. Jaguar F-Type (Mk1)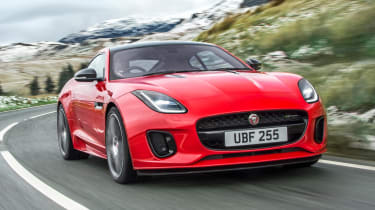 The Jaguar F-Type is available as a coupe or a convertible, and both are great. The coupe looks sleeker but the convertible provides open-air thrills and the ability to enjoy the sound of the V6 or V8 engines (avoid the four-cylinder model) even more.
The engines are the real highlight and provide incredible performance along with a bold soundtrack. The F-Type isn't for shrinking violets, despite its classy looks. It's fun to drive, though it's not as sharp as a Porsche 911 or even a Cayman to drive.
Go for an auto model, as the (uncommon) manual models aren't as good. The V8 R version is incredibly fast but the V6 S is better value, nearly as fast and still sounds brilliant.
See the latest Jaguar F-Type prices on our sister site BuyaCar…
5. Porsche Cayman (Mk3)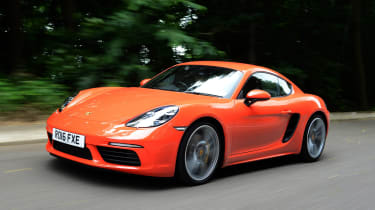 The Porsche Cayman is a two-seater, unlike the 911, and since it's smaller it makes more sense for those who don't expect to carry more than one other person around. The Cayman is arguably even more fun than the 911 – it's not as quick but the delightful steering, agile chassis and powerful engines mean it's a real driver's car.
The Cayman's engine is an interesting one to consider. The 718 Cayman models of recent years use four-cylinder turbocharged engines which aren't as responsive as the six-cylinder cars that came before it – but they are really powerful and the chassis of the 718 is fantastic. The later 718 GT4 and GTS models have the best of both worlds, with the newer chassis and a six-cylinder engine.
Yet we'd recommend any version of the Cayman – all are amazing to drive, comfortable, refined, have enough in-car tech and they're great value.
See the latest used Porsche Cayman prices on our sister site BuyaCar…
6. BMW M4 (Mk1)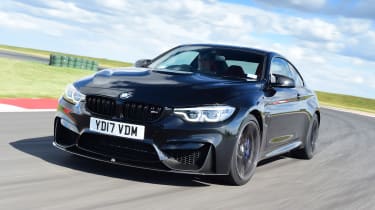 BMW is known for making ordinary cars that are fun to drive, and then turning them into extraordinary cars with its M division. The BMW M4 is one of the best in recent years, particularly if you can find one with the desirable Competition pack, which added more power, different wheels and a better suspension set-up. Not that the standard car was lacking in any area – it's a fast, fun and usable everyday sports car.
There's a set of reasonably-sized rear seats in the back of the M4, so it's useful for short trips if you need to carry passengers. The interior is high quality and comes with loads of toys, so it makes a great commuter for those with pockets deep enough to pay for the fuel.
After all the six-cylinder turbocharged petrol is rather thirsty – though it's acceptable considering the incredible performance. The BMW has no trouble at all scaring passengers with how quick the car is – and it's all the more thrilling for the driver.
See the latest used BMW M4 prices on our sister site BuyaCar…
7. Mercedes-AMG C63 Coupe (Mk4)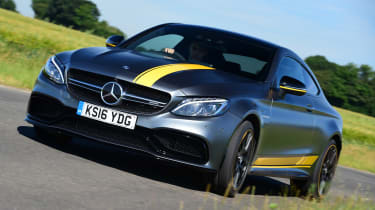 The BMW M4 isn't for everyone – it doesn't have the most sophisticated image, and the turbocharged engine, while punchy, isn't a delight to use. The same can't be said for the Mercedes-AMG C63 Coupe's incredible V8 engine, which sounds like thunder rumbling away in the distance.
It provides performance to match the M4 as well, and the Mercedes is just as fun to drive, with an adjustable rear-wheel drive layout and loads of grip round corners. The Mercedes isn't the most comfortable cruiser but it's still usable every day, and has a decent boot.
It's not very economical, though few cars on this list are. The C63's luxurious interior is packed with tech, is a great place to spend time and feels well built as well.
See the latest used Mercedes-AMG C-Class Coupe prices on our sister site BuyaCar…
8. Aston Martin V8 Vantage (Mk1)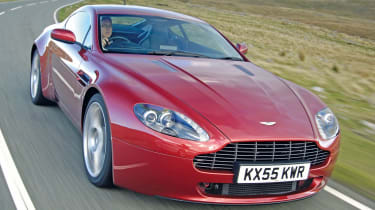 The Aston Martin V8 Vantage is an old-school sports car that can be picked up for around £25,000 these days, which is an incredible price for what is a relatively modern sports car that has an astonishing V8 soundtrack and stunning design.
It's a great car to drive, with plenty of performance from the potent V8 engine and the rear-wheel drive chassis. The steering could have more feel, and the auto gearbox isn't the greatest, but if you can live with those, who could resist the way the V8 Vantage looks?
If you're thinking of buying you'll have to be aware that these cars are getting a little older now and you'll want one that has been regularly serviced at reputable dealerships or independent garages. Running costs can be a bit high but the entry cost is so affordable, it still looks very tempting.
See the latest used Aston Martin V8 Vantage prices on our sister site BuyaCar…
Now find out more about the best used cars you can buy…
Source: Read Full Article