Best used car finance deals 2022 / 2023
If you're after a used car, we've picked out 10 top examples – ranging from superminis to SUVs – on our sister site Buyacar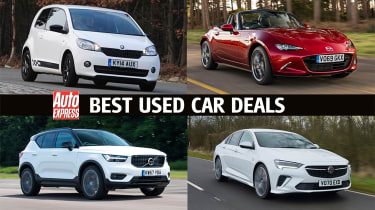 If your budget can't quite stretch to a brand-new car, don't worry, as there's plenty of top-notch used car finance deals to be found that make a used one even more affordable. Below, we've picked out some of our favourite Personal Contract Purchase (PCP) deals on our sister site BuyaCar. The cars we've selected are ones that our road testers rate highly and many are past winners of our New and Used Car Awards.
Best car leasing deals 2022
With so many cars available to buy second-hand, picking the right one for you can be quite tricky. To help you whittle down your selection, we've picked out some examples of cars we rate highly that caught our eye. The line-up we've selected covers a broad range of model types, too – ranging from superminis and city cars that are perfect for nipping around town, to large SUVs that'll suit the needs of buyers who are after something spacious, versatile and family friendly. 
Plus, depending on the car and how old it is when you bought it, many of these models may also have some manufacturer warranty cover left, which could give you an extra bit of peace-of-mind if you're concerned about repair costs.
If you need to part exchange your old car, check out our valuation tool to get an accurate valuation and options for a quick sale at the best price…
Best used car finance deals
Citroen C3 Aircross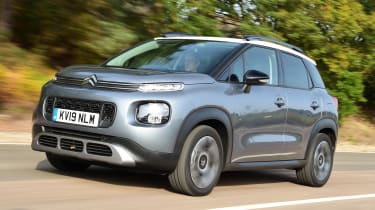 The used car market is certainly awash with small SUVs, but we're particular fans of the Citroen C3 Aircross – so much so that we named it our Used SUV of the year for 2022. The C3 Aircross is very well put together, one of the most comfortable models in its class, and easy to drive in either petrol or diesel form. A higher-spec pre-facelift model is arguably the best choice at the moment, and we found a 2019 model in range-topping Flair trim with 19,640 miles for just £172.26 per month.
Find a used Citroen C3 Aircross with BuyaCar…
Dacia Duster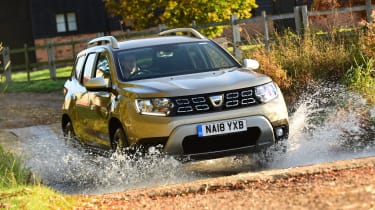 The best thing about cars that are already reasonably priced when new is that they can go on to become huge second-hand bargains. The Dacia Duster is one such car – it's a sturdy SUV that can be found for the price of a supermini. Opt for a used second-generation Duster in at least the Comfort trim and you'll have a well-equipped SUV for far less than most base-models from other manufacturers. We found a top-spec 2019 Duster Prestige with 22,726 miles for just £157.64 per month.
Find a used Dacia Duster with BuyaCar…
Ford Fiesta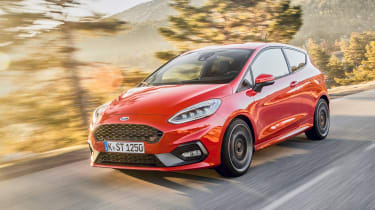 If you're in the market for a used supermini, the Ford Fiesta should be very high on your list. Thanks to features like its spacious cabin, terrific handling, and a range of punchy yet efficient engines, it's a great all-rounder. We've also named it the Best Supermini in both our Used and New Car Awards on several occasions. One example that caught our eye was a 19-plate Fiesta in Titanium trim with just under 17,000 miles on the clock for £189.50 per month.
Find a used Ford Fiesta with BuyaCar…
Hyundai Ioniq Electric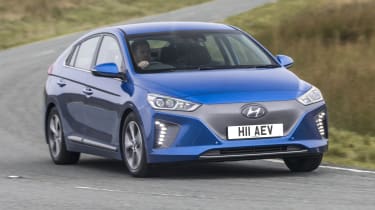 Our Best Used Electric Car of the Year might not be as eye-catching as its newer Ioniq 5 and Ioniq 6 namesakes, but the original Ioniq Electric is an excellent choice if you're looking to make the switch to an EV on a budget. This family-friendly hatchback can achieve around 190 miles on a single charge, and examples can easily be found for under £400 per month. We found a 2020 Ioniq Electric with 31,356 miles for £378.23 per month – this particular example even boasted the larger 100kW battery pack.
Find a Hyundai Ioniq Electric with BuyaCar…
Mazda MX-5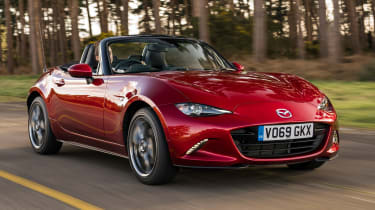 If what you seek is pure driving pleasure then the Mazda MX-5 is one of the best used cars that you can buy right now. Few other affordable cars offer the same blend of thrills and usability as this iconic roadster, and, of course, you can fold down the roof on sunny days. The latest MX-5 has been on sale since 2015, so plenty of them can now be found in the classifieds. We found a 2019 MX-5 in SE+ spec with 10,000 miles for £239.17 per month.
Find a Mazda MX-5 with BuyaCar…
Renault Clio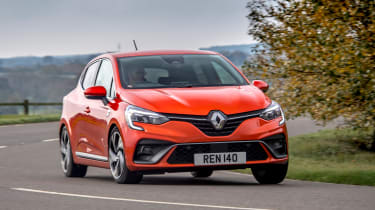 Renault's top-selling Clio supermini entered its fifth generation in 2019, and it has bagged our Supermini of the Year title every year since its launch. Earlier 5th-generation Clios can now be snapped up for well under £200 per month. All Clios come with LED headlights, auto-folding mirrors, cruise control and numerous active safety systems, so whichever trim you choose will offer plenty of kit. One of our favourite deals is this 20-plate Clio in TCe Play 100 spec with only 14,067 miles for £196.62 per month.
Find a Renault Clio with BuyaCar…
Skoda Kodiaq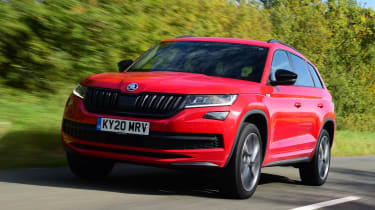 SUVs have taken over from MPVs as the car of choice for many families, and the Skoda Kodiaq is one of the best you can buy. This large SUV is practical, comfortable, and can even be specced with seven seats. Opt for the 2.0-litre diesel engine and the Kodiaq can even achieve over 50mpg, which is great for keeping running costs down. If you aren't too afraid of a higher-mileage example, the potential savings can be very attractive. One of the biggest bargains we discovered was this 2019 petrol-powered model in SE trim with 55,458 miles for £275.98 per month.
Find a Skoda Kodiaq with BuyaCar…
Skoda Citigo/Seat Mii/Volkswagen up!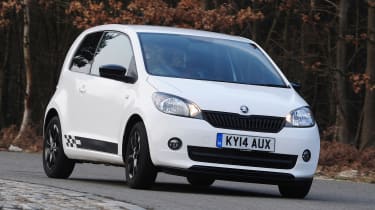 Although you may have your own preference when it comes to the badge, these three models are all virtually identical – and they're all great city cars. After ten years on sale, there are plenty of these VW Group models to be found second-hand. The 1.0-litre three-cylinder petrol cars are far cheaper than the electric versions at the moment, and although this engine may be small, its power should prove to be plenty in urban environments. Just one of many low-priced examples we found was a 2019 Skoda Citigo 1.0 MPI GreenTech Colour Edition for £167.30 per month.
Find a Skoda Citigo, Seat Mii or Volkswagen up! with Buyacar…
Vauxhall Insignia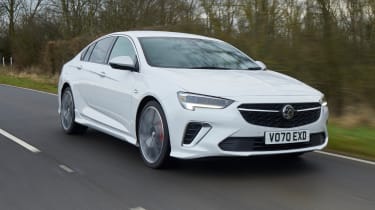 If you're after a comfortable motorway cruiser that can easily double up as a family car then the Vauxhall Insignia is difficult to top. The Insignia's comfort and refinement make it a great choice for tackling the daily commute, while its 490-litre boot and generous passenger space will accommodate your loved ones with ease. There are plenty of first- and second- generation Insignias to be found in the classifieds, but the second-generation features more up-to-date tech and styling, so this is the one we'd recommend. We found a 2019 Insignia Design with the turbocharged 1.5-litre petrol engine and 34,951 miles for £207.30 per month.
Find a Vauxhall Insignia with BuyaCar…
Volvo XC40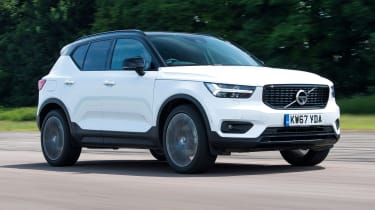 The Volvo XC40 has many strings to its bow – ranging from its smart styling to the upmarket interior, comfy ride and decent equipment levels. Perhaps the Volvo's biggest selling point is its strong residual values, which means you should get a decent amount of your money back if you decide to sell the car on. One of the top deals we found was this 1.5-litre petrol-powered 2019 XC40 with 23,079 miles for £294.94 per month.
Find a Volvo XC40 with BuyaCar…
Buying brand new? Check out our list of the best deals…
Source: Read Full Article