It's a hard-fought class, but these are the 10 best superminis on sale right now
Introduction
Renault Clio
Ford Fiesta
Toyota Yaris
Vauxhall Corsa
Peugeot 208
MINI 5-door
Skoda Fabia
Volkswagen Polo
Mazda 2
Citroen C3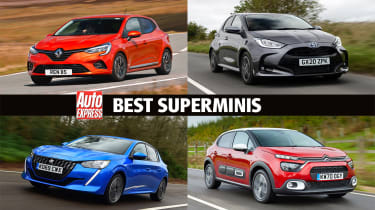 Although SUVs may be enjoying their time in the spotlight right now, they can't top superminis, which continue to dominate the list of best-selling new cars in the UK. But with so many models to choose from, which are the best? Below we've listed the best superminis available. It's a class that has a number of hugely talented contenders, many of which have been updated recently.
Their success shouldn't come as a surprise because today's superminis are great all-rounders. The majority have space for four or five people plus luggage, as well as efficient engines and levels of quality and refinement that would embarrass the family hatchbacks of 10 years ago.
Best city cars to buy 2020
The breadth of choice in the supermini class is larger than ever before, with the latest generations of the Renault Clio, Ford Fiesta and Toyota Yaris proving the best yet.
While the new Vauxhall Corsa and Peugeot 208 are proving to be sales successes, the evergreen MINI, Skoda Fabia and Volkswagen Polo still remain capable contenders, and customers also have the more leftfield choices of the Mazda 2 and Citroen C3 to consider.
You'll also find representative prices for each model, sourced from Auto Express's sister brand Buyacar.co.uk – a great place to start your hunt for a new supermini with great discounts.
Supermini buying advice
Choosing your perfect supermini from the huge list of options on the market is tough, but it's not impossible; you could even have fun doing so if you approach the process in the right way.
It's worth starting your hunt by having a clear idea of your requirements before visiting a dealer. Take into account your average weekly, monthly or yearly mileage, the number of passengers you carry, required boot space and must-have features like smartphone connectivity, heated seats or cruise control. Consider your budget not just for fuel and insurance, but also for servicing and maintenance.
Given the efficiency and relative low purchase cost of a modern petrol supermini, diesel models are becoming increasingly difficult to recommend for most buyers. They are best avoided for mainly city driving, considering the current climate of low-emissions zones, and are better suited to long-distance motorway work. If you need a car to munch the miles, it might be worth looking at something more refined from the class above.
Instead, consider a small turbocharged petrol. Most modern units are designed to blend decent performance and economy. An engine with around 90 to 100bhp usually offers the best compromise.
Don't underestimate the power of a test drive. Aspects like driving position, clutch weight, seat comfort and visibility can be make or break, even on a car that's perfect on paper. Make sure you'll be happy living with it before you buy.
If most of your driving will be in town, check you're comfortable in tighter spots; try parallel parking or a three-point turn. Similarly, if your supermini will be a countryside commuter, find a B-road and see how the driving experience measures up.
Most entry-level superminis come with a decent amount of standard equipment, but it pays to weigh up cost versus requirements when working your way up the range. Figure out what you'll need to avoid paying extra for features you won't use.
If you plan to carry small children or are worried about safety in general, bear in mind that not all superminis will have a five-star Euro NCAP rating.
Best superminis to buy now
Renault Clio
Ford Fiesta
Toyota Yaris
Vauxhall Corsa
Peugeot 208
MINI 5-door
Skoda Fabia
Volkswagen Polo
Mazda 2
Citroen C3
Read more of our best car recommendations…
| | |
| --- | --- |
| Best city cars | Best superminis |
| Best small cars | Best small 4x4s |
| Best first cars | Best cars for students |
| Best hatchbacks | Smallest cars on sale |
| Best crossover cars | Most economical cars |
| Best low emissions cars | Best tax free cars |
| Cheapest cars to run | Cheapest cars to insure |
| Best car deals | Cheapest cars on sale |
| Best-selling cars | Best car leasing deals |
| New Car Awards | Best used cars |
Continue Reading
1Introduction – currently readingIt's a hard-fought class, but these are the 10 best superminis on sale right now
2Renault ClioThe fifth-generation Renault Clio is the best yet: refined, spacious and good value.
3Ford FiestaIf it's driving involvement you're after, the Ford Fiesta is the model to go for
4Toyota YarisThe stylish Toyota Yaris is a strong supermini contender – with good looks, frugal hybrid engines and generous levels of standard equipment.
5Vauxhall CorsaThe Vauxhall Corsa looks better than it ever has, while the comfortable interior includes good-quality trim and up-to-date tech.
6Peugeot 208Peugeot faces high expectations for the new 208 supermini, and on many levels it succeeds.
7MINI 5-doorThe MINI is an upmarket and fashionable hatchback, combining attractive retro styling with a great driving experience.
8Skoda FabiaComfortable, practical and with a strong range of engines, the Skoda Fabia is hard to fault.
9Volkswagen PoloThe sixth-generation Volkswagen Polo is more like a shrunken Golf than ever before.
10Mazda 2Want the handling of a sports car in a supermini? Look no further than the Mazda 2
11Citroen C3The Citroen C3 majors on comfort and is a strong contender in the supermini class
Source: Read Full Article