Best solar chargers for car batteries 2023
Use the sunlight to keep your car battery topped up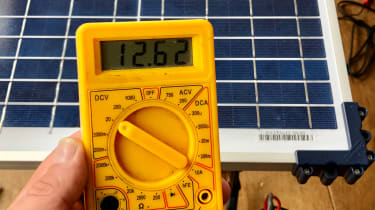 Car batteries are under constant demand, even when the car is switched off. The battery has to start your car, demist the windows, keep the alarm system running and generally power many functions drivers take for granted. It's little wonder that they can lose charge over time and need a top-up. In an ideal world, you'd probably just use a mains battery charger but not everyone can park in easy reach of a plug. That's where solar car battery charges come in. 
Cold weather slows down the chemical reactions inside the cells andeven the summer heat can speed up the battery ageing process – leading to reduced performance or failure. If you are only doing short journeys or not using the car often, the battery might not have a chance to be recharged by the engine, and eventually you'll need a top-up or a jump start – usually at the most inconvenient time.
Solar battery chargers address these issues by keeping your car battery topped up with a steady supply of free and environmentally friendly energy. But do they work and which solar charger is the best?
Best 12V tyre inflators 2022
In previous tests we found some solar chargers were barely worth the effort, but the technology is improving all the time, and prices are coming down. Below, we reveal which of the solar panels we tested is your best bet  to prevent the dreaded 'click' when you turn the key?
Which of our solar chargers puts the others in the shade?
How we tested them
We connected the chargers to a series of multimeters to measure the output when they were exposed to natural sunlight at various times of day, in both overcast and sunny weather conditions. 
We also checked to make sure the chargers wouldn't drain the battery in darkness and that they would not overcharge in sunny conditions. 
Points were also awarded for ease of connection, features such as USB outlets, and overall value.
Solar: Plan ahead
Solar charging can work well for you, but you'll need to plan before you buy to make sure you get the best panel for your needs. 
Firstly think about where the panel will go. If you have a van or motorhome, some waterproof panels can be fitted on the roof permanently.
If you want to keep the panel within the car without trailing wires under the bonnet, you will need to connect via the OBD port or a 12v socket. However, most cars will cut off the circuit to the 12v when the ignition is off, so you may have to find a permanent live feed in the boot.
Verdict
First, a word of warning. None of these chargers will revive a bad battery and any charging is going to be slow, even with the best we tested in the sunniest of conditions. 
Still, the Photonic Universe 10W provided the best balance of price and performance, and had the added bonus of a USB port. The Gunson is a good budget choice if you don't need so much power. The OptiMate is a pricey option but works well. 
Photonic Universe 10W Trickle Charger
Gunson 77170 Solar Charger
OptiMate Solar Duo 20W
Photonic Universe 10W Solar Trickle Charging Kit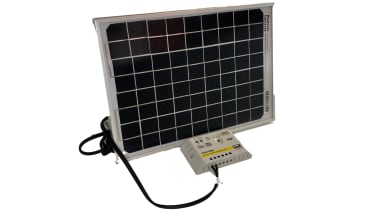 Price: Around £45 
Output: 10W  
Connections: Clips only  
Rating: 5/5 stars
Contact: photonicuniverse.com
With a quoted output of 10W, Photonic Universe's reasonably priced kit shouldn't be the most powerful charger here. But it was the most effective, even though it looks a little 'home made'.
It's waterproof so can be used outside and has five metres of cable, so could be sited on a garage roof. There's a USB outlet too, so it could be used to charge a phone or sat-nav. The only real drawback is that the connection is only by crocodile clips, which  means it has to be attached directly to the battery.
Buy now from Photonic Universe
Gunson 77170 Solar Charger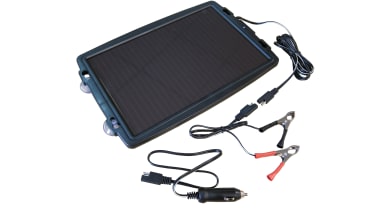 Price: Around £30
Output: 4.5W  
Connections: Clips, 12v socket
Rating: 4/5 stars 
Contact: gunson.co.uk
Gunson has produced a neat charger which produces a decent output even though it's less than half the size of the biggest panels here. That means it fits on a dashboard or parcel shelf without needing to be moved before you drive. 
The kit is also supplied with both a 12v socket and battery clips. It doesn't have enough power to charge a battery, but for maintaining and topping up levels in a car with a small current draw, then the Gunson works well and is good value.
Click here to buy from The Tool Academy
OptiMate Solar Duo 20W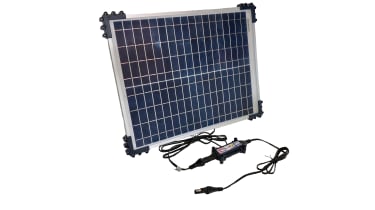 Price: Around £160  
Output: 20W  
Connections: Clips, clamps
Rating: 3.5/5 stars  
Contact: optimate.co.uk
Optimate is well known for its plug-in battery chargers and conditioners. Its solar-panel kits incorporate some of the same technology, with an electronic monitor that's claimed to feed just the right amount of power to a battery to top it up and even recover cells which are apparently dead. It certainly did a decent job on our semi-flat battery.
In our last test the similar kit included an OBD plug to make it easier to connect to a car without having to rely on clipping straight to the battery or finding a 12v socket. However, this is no longer available.
Buy now from Amazon
Halfords 20W Solar Maintainer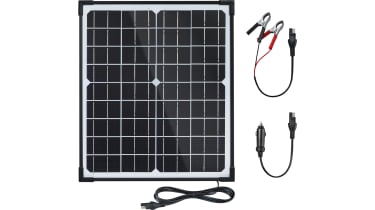 Price: Around £42  
Output: 20W  
Connections: Clips, 12v socket
Rating: 3.5/5 stars
Contact: halfords.com
In the last test we tried Halfords' 6W charger, but this 20W panel is very different. It's clearly designed to be kept outside rather than being thrown on the dashboard, although the three-metre cable means it can't be too far away. 
It's certainly efficient – in fact the voltage peaked at 20.9v in direct sun. We worry this might be too much for a 12v battery over a prolonged period. It's supplied with battery clips and a 12v plug, with an OBD connector available for an extra £13.99.
Click here to buy from Halfords
Powoxi Solar Car Battery Trickle Charger 3.3W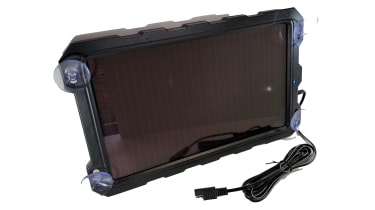 Price: Around £30  
Output: 3.3W  
Connections: Clips, 12v socket
Rating: 3/5 stars
Contact: amazon.co.uk
Powoxi popped up as the best seller on Amazon and the specification looks decent on paper – or a screen. The charger is the cheapest in this test, has a soft-edged casing and suction pads to hold it on glass. An LED indicator shows when it's working. 
The disappointment comes from the output, which we couldn't get to match the claimed 3.3W, even in bright sunlight. However, it provided a modest charge and should be enough to keep a battery topped up.
Click here to buy from Amazon
Sealey SPP03 Solar Power Panel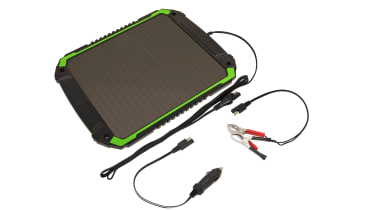 Price: Around £78 
Output: 4.8W  
Connections: Clips, 12v socket
Rating: 3/5 stars  
Contact: sealey.co.uk
The Sealey is designed to be used inside a car, which has limitations, but also means it has soft edges and a sturdy frame to protect your trim and survive being thrown around in a footwell or boot.
This is a huge panel, though, with dimensions similar to those of the Optimate and Halfords units. Despite this, the output is only 4.8W. It did prove able to supply this amount even in overcast conditions. However, the biggest issue is the cost – the Sealey doesn't do anything special to justify the price.
Click here to buy from Sealey
Click here to discover the best toolbox and storage solutions for your tools…
Source: Read Full Article