A traditional road map still has its place, and we rate the best of the bunch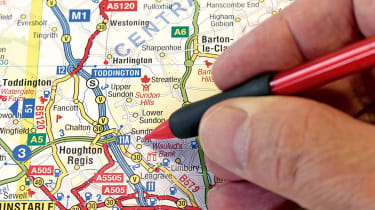 Despite the rise of sat-navs and apps, many drivers still prefer to use paper maps which can't go wrong or misdirect you. They are also great for seeing the bigger picture ahead of a trip.
The best sizes are A4 or A3, and the bigger options usually work out cheaper per page. But of course the bigger you buy, the more room they take up in storage. A larger scale gives more detail but means more pages and weight.
In general, spiral-bound maps are easier to use since they fold flat, although they're often not as robust as perfect-bound versions. So which atlas will put you on the right road? 
How we tested them 
We checked for up-to-date mapping by picking four current road projects and detail by searching for four small hamlets and London's Congestion Charge zone. City and town plans and approaches to larger urban areas won points; air/sea port and Channel Tunnel layouts were a bonus.
We preferred large scales with more detail, but this was balanced against value, worked out per A4 page (A3 pro-rata). And atlases that listed speed cameras were a plus; even better if they included the limit. We liked clear motorway junctions, with restricted ones listed separately. 
Reviews
A-Z Great Britain and Northern Ireland Super Scale 2021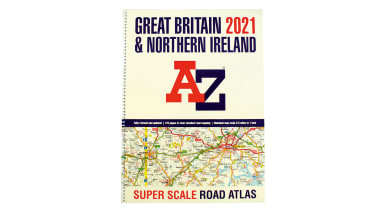 Price: £14.99
Scale: 2.5mpi
Rating: 5 stars
The A-Z large-scale atlas is logically arranged, with the countrywide mapping followed by approach roads and town plans. We liked the air and sea port plans, eight of each, and the major city approach plans (for London, Birmingham and Manchester) were suitably detailed. The 70 town plans covered all bases and we thought the London congestion zone in particular was clearly marked. Places of interest and attractions were shown on the maps and listed at the rear of the book, along with their postcodes. Overall, the best way from A to B remains the A-Z.
Buy it from Amazon here
Philip's Big Easy Read Britain 2021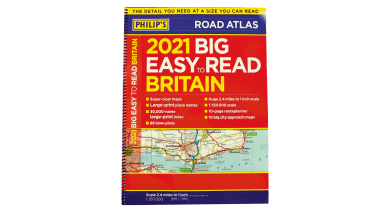 Price: £12.99 
Scale: 2.4mpi
Rating: 4.5 stars
With a scale even better than the A-Z, this was certainly detailed and came with an impressive 88 town plans and 10 approach maps. It missed one of our hamlets and two of the road works, and no sea or air ports were listed, nor the Channel Tunnel, but the 10 pages of basic route planning maps was a handy addition.
Buy it from Amazon here
Collins Big Road Atlas Britain and N. Ireland 2021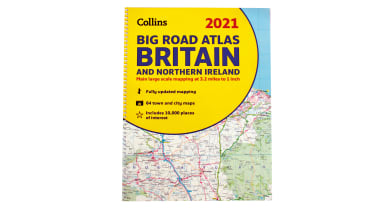 Price: £12.99Scale: 3.2mpi Rating: 4 stars
Although smaller than its rivals, this scale still gave plenty of detail along with 64 town plans and, a best on test, 17 approach versions. We were pleased to discover all our four small locations but, like the Philips atlas, it missed two of the three road projects.
Buy it from Amazon here
AA Big Easy Read Britain 2020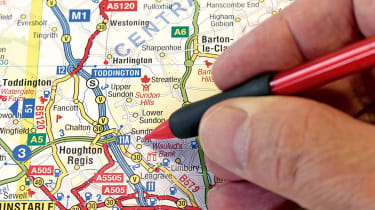 Price: Around £15Scale: 2.5mpiRating: 3 stars
Unsurprisingly, the Britain-only AA atlas is aimed at the motoring tourist, with two pages detailing camping and caravan sites, many roads shown as scenic routes, and a list of tourist sites along with their postcodes. The large 2.5mpi scale gives plenty of detail, the 55 town plans are reasonable and detailing 17 sea ports is very good, although no airports are included. The four hamlets were shown although, like the Collins, only one proposed route was present. Oddly, there are no safety camera locations given; had they been included this would've been a four-star product.
Buy it from The AA here
Source: Read Full Article