We find out which of these handy all-in-one multitools is best to keep in your car's glovebox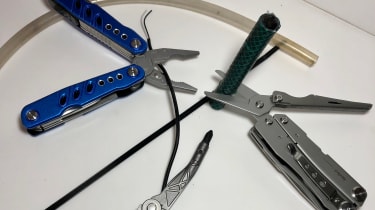 A good multitool is something you will find yourself reaching for time and time again. Keep it in your pocket while working on your car, and it will save you countless trips to the tool box for screwdrivers or pliers. And storing it in a glovebox could mean you have the right tool to hand to fix your car, saving you a long wait for a recovery truck. 
They're not just useful for the car though, because they can tackle numerous jobs around the house, and are also the perfect size for camping and cycling trips. 
Best toolboxes to buy
But choosing one can be tricky, with those that cost less than a tenner looking pretty similar to tools costing hundreds of pounds. What should you look for, and how do they tackle jobs? 
We've lined up nine multitools from across a range of prices, to see which you should pack in your pocket or keep in your car.
How we tested them
We tried the tools on a series of jobs that might be faced by a broken-down motorist, such as trimming a cable tie, cutting a wire and undoing various sizes of screw. We used the saw or sharpest knife and measured the time it took to slice through two sizes of hose.
Points were awarded for extra features that might be useful in the car or around the home. Being able to operate the pliers one-handed is a bonus, and a knife that locks into place was considered a desirable safety feature. Finally, price was also taken into account. 
Verdict 
The Gerber is the best multitool here, and would be our choice if money were no object. It's particularly good if you want to use the driver with different screwheads. But the Nextool will do most jobs just as well, has some extra features and is less than half the price, which is enough to give it a win here. 
Leatherman's Rebar is far from perfect, but it's compact and will probably outlast its owner. It takes the third spot. 
Nextool Flagship Pro
Gerber Center-Drive Multi Tool
Leatherman Rebar
Reviews 
Nextool Flagship Pro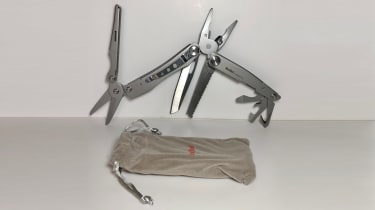 Price: £41.95
Tools: 16
Locking: Yes
Rating: 5/5
Contact: www.heinnie.com
Best Buy The Nextool doesn't have the longest list of features, but those it does have are extremely useful and usable. The most surprising is a substantial pair of spring-assisted scissors folded into a section of the handle. These made light work of our cable tie and small hose. 
It has one of the biggest knife blades here, too, and this locks firmly into place. A simple but neat addition is a hardened point for breaking car glass in an emergency. It's all frill-free and has no case, but is simple, practical and great value.
Buy now from Amazon
Gerber Center-Drive Multi Tool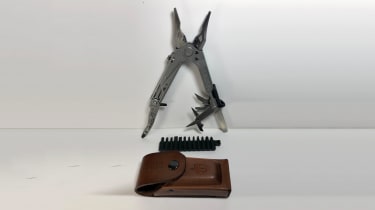 Price: £103.99
Tools: 14
Locking: Yes
Rating: 4.5/5
Contact: www.gerber-store.co.uk
RECOMMENDED ThIS Center-Drive was our winner in this test two years ago, but has had a few minor changes, including a massive £46 drop in price. This makes it all the more impressive. 
The knife is a huge 9cm long and can be extended, locked and then unlocked with just one movement. The pliers slide (rather than fold) out easily, too, and the screwdriver-bit holder fixes into a central position to make it comfortable. It's brilliantly simple to operate and you'll find yourself using it all the time, not just in emergencies.
Buy now from Amazon
Leatherman Rebar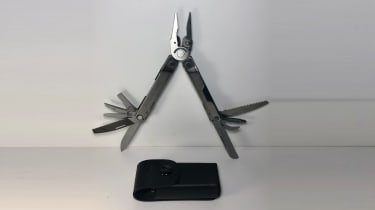 Price: £84.95
Tools: 17
Locking? Yes
Rating: 4/5
Contact: www.leatherman.co.uk
Leatherman's brand is strong, to the extent that its name describes a type of product, in much the same way Hoover does. The quality of the Rebar shows you why: this is a substantial tool that feels like it could be used for decades. 
The knife and two saws sliced through our hoses in seconds, the pliers are usefully needle-nosed for getting into smaller spaces, and the wire cutters chopped our toughest cable easily. 
The only real complaint is that the pliers aren't sprung, which makes them a bit more difficult to use.
Buy now from Amazon
Victorinox SwissTool Spirit X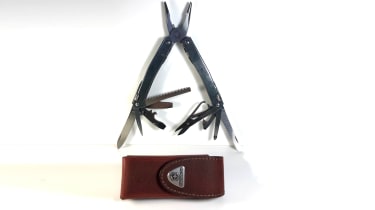 Price: £114.99
Tools: 26
Locking: Yes
Rating: 3.5/5
Contact: www.swiss-store.co.uk
This tool will have features that are familiar to anyone who has ever owned a Swiss Army Knife, because it is made by the same company. 
As you'd expect, the blades are sharp and made quick work of our hoses after locking safely in place. 
The presence of a pair of scissors is a welcome addition, but they are so small they're only really of use for trimming fingernails and threads. Our biggest disappointment, though, was the absence of spring-assistance for the pliers, making them awkward to use.
Buy now from Amazon 
Leatherman Super Tool 300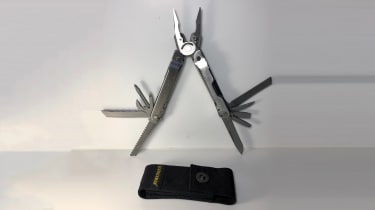 Price: £119.95
Tools: 18
Locking: Yes
Rating: 3.5/5
Contact: www.leatherman.co.uk
The Super Tool 300 is pretty much identical to the Rebar, just bigger. The extra 15mm in length makes the blades and plier jaws usefully longer, so sawing through our hose was even faster. 
The lack of spring-assistance to the pliers is a real drawback, though, especially as all of the joints on the Super Tool are stiff to use. Pulling out the blades and other tools requires long and tough fingernails.
Like the Rebar, it feels as though this Leatherman would last forever. At this price you would want it to.
Buy now from Amazon
SOG Powerlock B63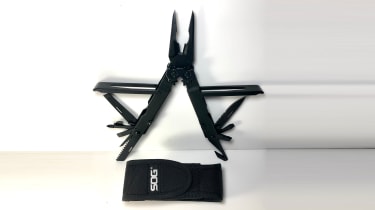 Price: £117.95
Tools: 18
Locking: Yes
Rating: 3.5/5
Contact: www.heinnie.com
The SOG includes a tool to "crimp explosive blasting caps", so it should be capable of fixing a Fiesta. 
Besides being able to work with combustibles, the SOG also makes handling wires easy with a nifty v-shaped cutter. It even has a quarter-inch drive for small sockets, although there are none included.
The fold-out blades all double lock in place to ensure safety, but storing them again is more work than it needs to be, and the cutting edges face inward, making them awkward to use.
Unless you are a soldier, there are more user-friendly multitools for the money.
Buy now from Amazon
Clarke 13 in 1 Multi Tool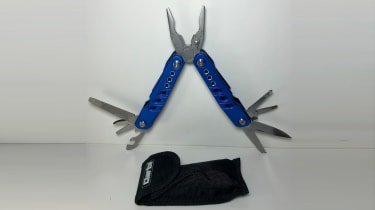 Price: £9.59
Tools: 13
Locking: Yes
Rating: 3/5
Contact: www.machinemart.co.uk
It might cost less than a tenner, but the Clarke 13 in 1 has a substantial feel and is one of the heaviest tools on this test. 
The tool includes sprung pliers, plus locking saw and knife blades that are quick to open. There are also three sizes of flat screwdriver, but only one tiny crosshead, which seems odd.
The pliers and wire cutters work well enough, but the saw and knife are blunter than airline cutlery, and we gave up trying to slice through our hoses. Great value if you don't need to cut anything.
Buy now from Amazon
Clarke CHT907 11 in 1 Survival Hammer
Price: £13.19
Tools: 11
Locking: No
Rating: 3/5
Contact: www.machinemart.co.uk
Unlike the others, the CHT907 is specifically designed to be kept in your car, because it has a number of survival tools for use in an emergency. 
The most obvious of these are a hammer for breaking glass, and a seatbelt cutter. As a result, it's heavy and large, so you're unlikely to want to keep the Clarke in your pocket or take it on a bicycle ride.
There's also a ratchet that can be used for small sockets (which aren't included). If you unfold the handle the CHT907 reveals a pair of sprung pliers and a large knife that is unfortunately quite blunt.
Buy now from Amazon
Mountain Warehouse 12 in 1 Multi Tool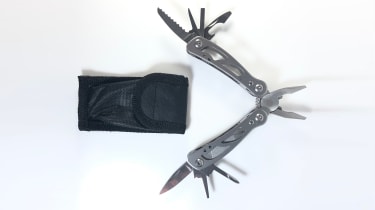 Price: £5.99
Tools: 12
Locking: No
Rating: 2.5/5
Contact: www.mountainwarehouse.co.uk
This multitool is the cheapest in the test, and costs less than the postage on some of the others being rated here. 
The money has been saved partly by making it so tiny; when folded the tool is about the same size as a Bourbon biscuit. 
This means that the tools themselves are also petite, making the drivers of little use except on the smallest screws. The pliers are spring-loaded and trimmed our wire with no problems, but the saw and knife would struggle to cut a cocktail stick. 
Buy now from Mountain Warehouse
Source: Read Full Article