We find out the best way to keep tabs on your car with these GPS trackers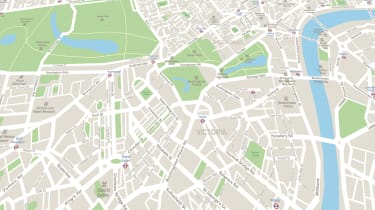 We can't keep our eyes on our precious motor all of the time, but thankfully there are gadgets that will do it for us. GPS trackers are no longer only for spies and supercar owners; you can buy them for a less than £50. They aren't just useful if your car is stolen, either – the latest trackers can calculate your business mileage, tell you about your driving or just help you locate where you parked. We tried eight to get you on the right track.
How we tested them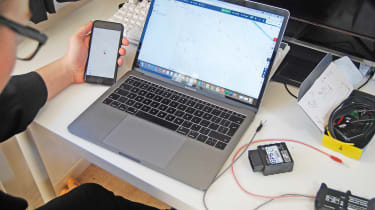 We looked for a selection of trackers which could be fitted by a DIYer. Some are wired to the battery, others use another source of power or plug into a car's OBD port – the data connection point which is used by garages to download information. We also included a professionally fitted, police-approved Tracker to compare all of the relevant costs. 
Verdict
Your choice of Tracker will largely depend on what you want it to do and how it's installed in the car. The Amacam pair worked well, were great value for money, and had the advantage of letting you choose your own SIM. The Streetwize is more versatile and easier to hide, but the operation isn't as slick. For permanent wiring, the Rewire is good value, and the monthly cost is the same as a basic phone SIM package. 
Amacam AM-T22 
Amacam AM-T101
Streetwize GPS Tracker
Reviews
Amacam AM-T22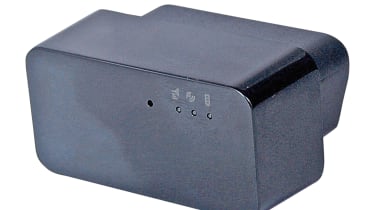 Price: £49.99
Cost per month: £0 (Choose your own SIM)
Rating: 5 stars
Contact: www.amacam.net
Once you've downloaded the free app and installed your own SIM, the T22 works brilliantly. It fits into the OBD port and protrudes by just 17mm, making it discreet and unlikely to get snagged by shoes if the port is in a footwell. It's packed with features, too, including the option to be able to listen in on your vehicle. Factor in the low purchase cost, as well as the freedom to use your own SIM, and it's a worthy best buy.
Buy now from Amazon
Amacam AM-T101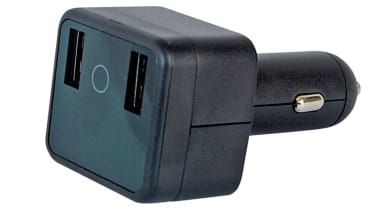 Price: £45
Cost per month: £0 (SIM)
Rating: 4.5 stars
Contact: www.amacam.net
This tracker is the easiest to fit; it simply plugs into a 12V power socket and, as long as there's a SIM installed, it will start tracking immediately. It also provides a double-socket USB charger too, and the makers claim this acts as a 'disguise' if your car is stolen. The flip side is that it's easy to remove, although the device alerts you if it powers down.It uses the same smartphone app package as the Best Buy T22 unit.
Buy now from Amazon
Streetwize GPS Tracker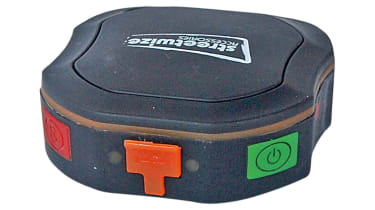 Price: £44.99
Cost per month: £0 (SIM)
Rating:  4 stars
Contact: www.halfords.co.uk
Uniquely here, the Streetwize can be used outside of the car to keep tabs on pets, children or even luggage. The internal battery lasts up to 200 hours or the device can be hardwired into a vehicle. You need to use your own SIM card but, once set up, it works brilliantly. However, the instructions are inaccurate; we could only get it running after talking to Streetwize's technical department. 
Buy now from Halfords
Rewire Security DB2 Self-Install Tracker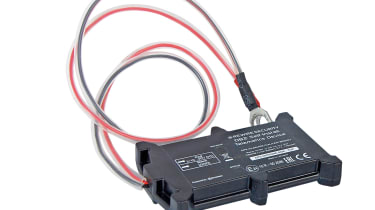 Price: £59.99
Cost per month: £4.99
Rating: 4 stars
Contact: www.rewiresecurity.co.uk
Fitting the DB2 is pretty simple, with connectors that slip under the battery terminal bolts. Then the unit can be attached nearby with a sticky pad or cable tie. The tracker box has a built-in SIM card, which is activated on the Rewire website and costs £4.99 per month. Once connected, the site shows the car's location and historical routes in great detail. It offers a decent package at a reasonable price.
Buy now from Amazon
TrackingFox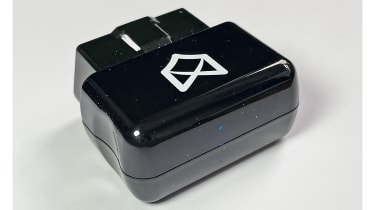 Price: 49.99 Euros (£43.45 approx)  
Cost per month: 4.45-6.45 Euros a month (£3.86-£5.60 approx)
Rating: 3.5 stars  
Contact: www.trackingfox.com
The TrackingFox couldn't be easier to set up. Simply download the app, enter the code from the device and then plug it into your car. The SIM is already installed, so it works straight away, and the first month is free. 
However, when you order the TrackingFox you'll have to sign up for a subscription package, ranging from a month to a year, and, if you let this lapse, you'll need to buy a new SIM from the company. Once set up it starts logging your car's movements and can give you alerts if the car is switched on. 
The app itself is slick, and the information displayed includes distance travelled, journey times, plus highest and average speeds. The unit lost connection on a few occasions on test, so our longer trips were broken into several segments in the journey history section. The TrackingFox is a decent product, but it doesn't do anything better than the Amacam T-22 and it falls behind in a few areas.
Buy now from TrackingFox
Vodafone V-Auto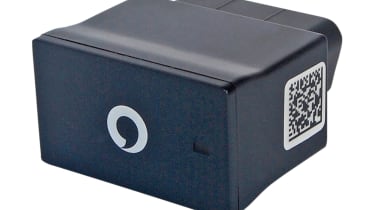 Price: £85
Cost per month: £4
Rating: 3.5 stars
Contact: www.vodafone.co.uk
Mobile giant Vodafone markets the V-Auto as a safety device, not an anti-theft tool. It includes an accelerometer to detect a collision, and connects you to an operator to summon help. The slick-looking app will monitor journeys and score your driving too – great if you want to keep an eye on someone borrowing your car. The V-Auto is neat, but pricey and big, making OBD fitment awkward and obvious.
Buy now from Amazon
ABAX Triplog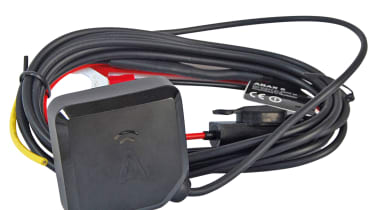 Price: £0
Cost per month: £15 (3-year contract)
Rating: 3.5 stars
Contact: www.abax.com/uk
If you want a discreet tracker, the ABAX is the least conspicuous device we tested. Once wired to a power source, it can be hidden almost anywhere in the car and forgotten about. The device has a built-in SIM and requires a (pricey) monthly subscription, although the device itself is free if you sign up for three years. The app and website work nicely, but this is definitely aimed more at a professional fleet manager than a private user. 
Buy now from Abax
Trackport OBD GPS Tracker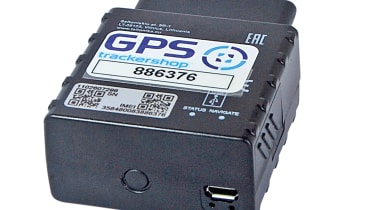 Price: £73
Cost per month: £14 (£42/3 months)
Rating: 3.5 stars
Contact: www.trackershop-uk.com
Setting up the Trackport is easy; it plugs into the OBD port and is immediately trackable via a website or app. However, the unit itself is comparatively big, sticking out 50mm from the port. As well as making it obvious to thieves, it simply can't be used if your OBD port is in a footwell, because it is vulnerable to getting kicked. It's also expensive to buy and run compared with most others here.
Buy now from Amazon
Tracker S5 Plus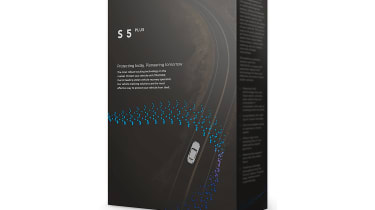 Price: £708
Cost per month: £18.25 (£219/12 months)
Rating: NA
Contact: www.tracker.co.uk
The professionally installed Tracker S5 Plus is in a different league, but so is its price. An insurer may actually insist on an approved device like this being fitted on valuable cars. It uses transmission of GPS data in addition to sending out radio signals that can be detected by police vehicles if activated. We can't publish a picture of the device, because Tracker doesn't like thieves knowing what to look for.
Buy now from Tracker
Source: Read Full Article