Best EV charging cables 2022
We test a selection of EV charging cables to find out which is best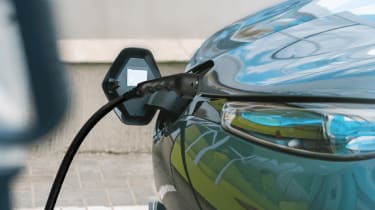 Almost every plug-in hybrid or electric car comes with one EV charging cable. Some come with the three-pin cable for use in a conventional plug socket, and others with the simpler Type 2 charging cable that connects to dedicated home wallbox chargers or public charge points.
Electric car charging in the UK: prices, networks, charger types and top tips
It's rare for an electric car to come with both types and can be an expensive option to add, but there's now a few cheaper options should you need to buy a replacement, or get the lead you're missing. Our favourite lead in previous tests has been the versatile-but-pricey Juice Booster, which allows the user to connect to a variety of sockets. It's now joined by some more affordable competition, so is it still the best EV charging cable when put up against them?
Ring's new RCC23205 is an impressive and smart cable, but we can't justify the extra £50 it costs over the Masterplug 32A 7kW cable, which has become our new winner if you're looking for a Type 2 lead. The Simply Auto is a good option for those after a three-pin plug cable, however, so you could buy one of each cable type from the list of rivals for less than the cost of the Juice Booster alone.
Read on for our reviews of the best EV charging cables…
Reviews
Masterplug 32A 7kW Cable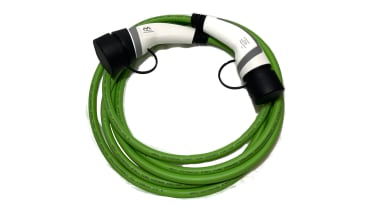 Price: around £150
Maximum kW: 7.2
Rating: 5 stars
Contact: internet-electrical.co.uk
Compare the Masterplug with its rivals here and the materials used immediately feel cheaper. It only has a lesser IP55 rating for protection against dust next to the Ring's IP65 rating. The waterproofing level is the same as the Ring's, however, and the Masterplug also has protective caps to keep the plug ends dry.
If you want a storage case for the cable you'll need to pay a tenner more, though. In operation it works just as well as the Ring, with no difference in charging performance or overall length. We liked the bright green finish, too, which may help avoid tripping up the postman on your driveway or a pedestrian on a busy pavement. At this price it seems like good value for money and takes the win.
Buy now from Internet Electrical
Ring RCC23205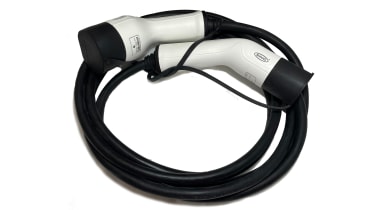 Price: around £200
Maximum kW: 7.2
Rating: 4.5 stars
Contact: ringautomotive.com
Ring's new range of cables varies in price depending on the power level you need. We think it's worth future-proofing and going for the RCC23205 at least, because it can deliver the higher 7.2kW offered at most public charge points.
All the cables are five metres in length and have caps at either end to prevent dirt and water ingress. They also have a smart, protective storage case to make tidying away easy, and keep the mucky cable away from luggage in the boot. We were impressed with the Ring, but unless you need the extra protection from impacts or think a case is essential, the Masterplug cable charges just as well for £50 less.
Buy now from Amazon
Simply Auto Premium Type 2 to UK 3-pin 5M EV cable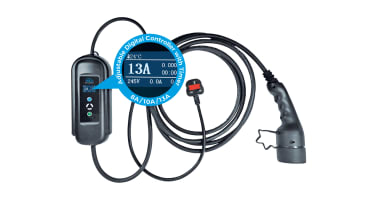 Price: around £340
Maximum kW: 2.2kW
Rating: 4 stars
Contact: jrpdistribution.co.uk
Simply Auto's new range of charging cables includes simpler (and cheaper) connectors, but we tested the Premium model, which has a fixed three-pin plug and some handy smart features.
You can manually adjust the current flow between eight, 10 and 13 amps, which allows owners to make the most of the output from solar panels. There's also a timer to delay the charge to take advantage of cheaper overnight energy.
Settings are controlled via a simple screen that displays how much charge has flowed through the cable – handy if you've got to pay for the energy. It costs at least £150 less than most genuine manufacturer-branded cables.
Buy now from JRP Distribution
Juice Booster 2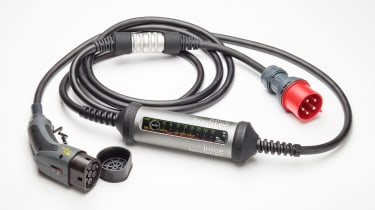 Price: around £820
Maximum kW: 22kW
Rating: 3.5 stars
Contact: juice-world.com
The Booster 2 still looks like a costly option, despite a price cut since we last featured it. But it could still pay for itself if you are able to connect to a free power supply.
Its real advantage are the interchangeable heads, which let you connect to a variety of sockets, ranging from a standard domestic outlet to the 22kW three-phase supplies at industrial premises. These can allow you to charge a car more than 10 times faster than a three-pin plug.
If you don't need this adaptability, the Juice Booster isn't as sophisticated as the Simply Auto, with LED indicators rather than a screen, so less information, and it doesn't allow you to set a timer. There's no denying it's expensive; you could buy two separate cables for the price of a Booster 2.
Buy now from Amazon
Now read our list of the best electric cars here…
Source: Read Full Article