Best electric SUVs to buy now
Electric SUVs are becoming more and more popular, and for good reason. Here are 10 of the best…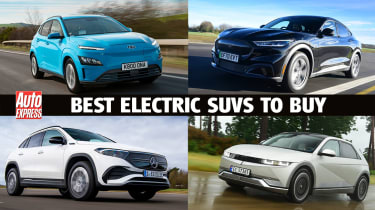 During this decade we're seeing the popularity of electric cars rise at a phenomenal rate. Ever-improving battery tech, faster charge times and, crucially, an increased charging infrastructure will merely encourage a huge range of new EVs. 
On top of all of that, there's pressure from world governments to force manufacturers to drop their average fleet CO2 emissions by a significant margin over the coming years. Big, heavy SUVs are generally the worst offenders when it comes to tailpipe emissions, and given their ever-growing popularity among car buyers, what better place for car firms to kick off the EV boom?
Best electric cars to buy 2021
The choice on the market is ever-increasing, with all sorts of car manufacturers due to get in on the EV SUV act over the next few years. We've taken a look at the best 10 electric SUVs on sale right now. All of these cars are significantly cleaner than their combustion-powered counterparts, and as national energy supplies become increasingly less dependent on fossil fuels, the gap will continue to grow. There are, however, other benefits to EVs such as quieter powertrains and smoother power delivery.
Below we examine the best electric SUV options on the market right now…
10. Hyundai Kona Electric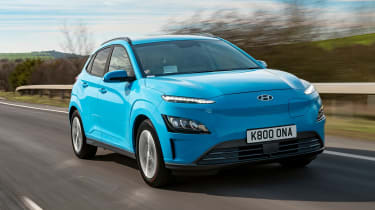 The Hyundai Kona Electric offers a great balance of everything you'd hope to find in an electric SUV. Designed with everyday driving in mind, the Kona Electric offers a refined and comfortable interior, as well as subtle but distinctive styling to help it stand out in the range. 
Of the two powertrain choices Hyundai offers, we'd opt for the more powerful 64kWh battery model, which packs a healthy 201bhp motor and is good for an impressive range of up to 300-miles. 
There aren't many EVs offering this level of all-round capability at such an attractive price point. If you're considering your first EV purchase the Kona Electric represents an approachable and familiar package with impressive on-the-road performance.
9. Mercedes EQA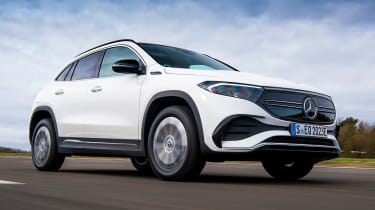 Mercedes is a brand known for comfort and refinement, and to that end, the EQA's electric powertrain perfectly fits that brief. The EQA's cabin has a quality feel that you would associate with the more expensive models in the German firm's range. Mercedes' own MBUX found on one of the dual 10.25-inch screens is up there with the best infotainment systems.
All EQA variants offer the same 66.5kWh battery offering a range of around 250 miles. Powertrain options range from a 187bhp, front wheel drive setup to range-topping four wheel drive, 288bhp model. It may not be the quickest car on this list, but if you're looking for a luxurious, quiet ride, the Mercedes EQA is one of the best options around.
8. MG ZS EV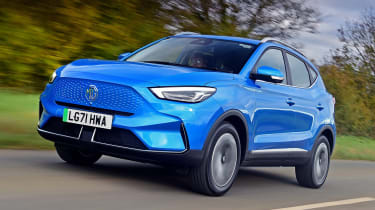 The MG ZS EV has one big thing going for it, and that's price. At around £26,000, it's among the cheapest electric cars on sale today – impressive considering that its crossover body style makes it more practical than others at a similar price point.
And even though it's cheap, on paper, the ZS doesn't want for much; it'll crack the 0-62mph time in a sprightly 8.5 seconds, it'll cover over 160 miles on a charge, and 50kW rapid charging means that a battery top-up top to 80 per cent takes a reasonable 40 minutes. If you're looking for a great-value electric SUV, the MG ZS EV is difficult to ignore.
7. Jaguar I-Pace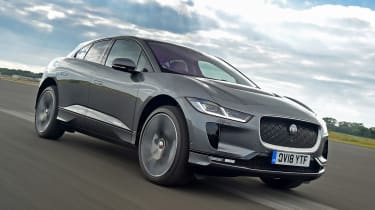 When Jaguar first unveiled the I-Pace in 2018 it instantly became one of the most stylish and desirable EVs on the market. With looks that are as dramatic and sporty on the outside as they are posh and sumptuous inside, the Jaguar I-Pace SUV looks both completely unique yet unmistakably Jaguar at the same time. 
But there's plenty of substance to back up those looks. You'd be forgiven for thinking you were behind the wheel of a true sports car given the exceptional handling of the I-Pace, a mind-boggling feat given its hefty 2.2 tonne weight. The 396bhp output means that it delivers an exhilarating sub-five second 0-62mph time. At 200 miles or so, the range could be better, but otherwise the I-Pace is a brilliant all-rounder. We loved the I-Pace so much we awarded it the Auto Express Car of the Year award in 2018 and it still represents a fantastic option even by today's standards.
6. Ford Mustang Mach-e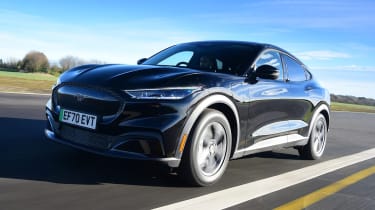 Ford took a brave step when the manufacturer announced the next iteration of the Mustang lineage would ditch the fire-breathing V8 for a silent, electrically powered motor encased within a family-friendly crossover shell. However, the final product certainly lives up to its namesake. 
The Mach-e is available in a range of powertrain and battery specifications, starting with an entry-level model providing a single 265bhp motor, and a 240-mile range on a single charge. The extended range model claims a range of 379 miles, while the driver-focused Mach-e GT has a 480bhp setup able to fire you down the road in a more traditional Mustang fashion.
The Mach-e features an upmarket interior space for a comfortable ride as well as a fantastic handling setup for a B-road blast when the opportunity presents itself. 
5. Audi Q4 e-tron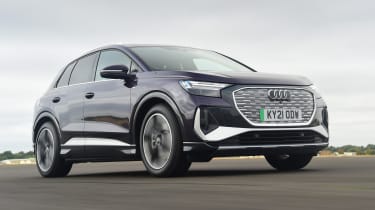 If you're looking for a premium electric vehicle built for family use, you won't find many options better than the Q4 e-tron. As to be expected from a high-end offering from Audi, you can expect a refined, luxurious drive, strong performance, a sharp exterior design and a sophisticated interior with all the boot space and legroom you could ever wish for. 
The entry-level model features a great range of kit as standard, including heated seats, a fantastic infotainment system and three-zone climate control. Higher trim levels with additional options are plentiful, so be aware that prices can get expensive rather quickly with the Q4 e-tron. 
4. Tesla Model Y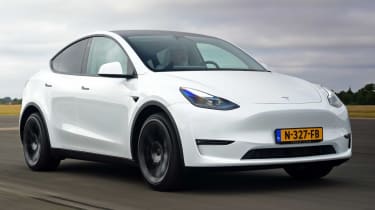 It wouldn't be a list of the best electric SUVs without mentioning Tesla. The Model Y offers all of the renowned Tesla tech and distinctive EV styling of the Model 3 with the added functionality and space of an SUV. An added advantage of the Model Y over its competitors is access to Tesla's Supercharger charging network, which has some of the fastest battery-refilling technology available. The Long Range model is good for around 315 miles between charges, so range anxiety shouldn't be a worry for most families. 
The Model Y offers strong performance, a minimalistic tech-focused interior and distinctive styling synonymous with the California-based company that revolutionised the EV game. If that sounds appealing to you, then the Tesla Model Y might be the perfect electric SUV.
3. Skoda Enyaq iV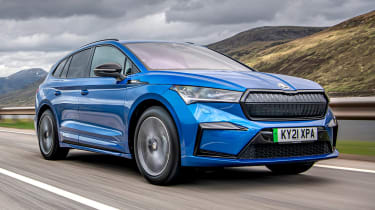 The Skoda Enyaq iV is a great all-round electric SUV that offers great value on top of real ability and comfort. We think the entry level iV 60 represents the best deal. On top of a plush and comfortable interior you'll get a roomy interior and impressive boot space, as well as a range of up to 256 miles, which should be plenty for all but the longest trips.
The Enyaq iV has all the makings of a fantastic family car, so if you're looking for an electric SUV that can fit the entire family plus luggage, the Skoda is a great option. 
2. Kia EV6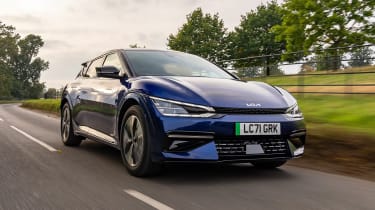 We think the Kia EV6 is one of the best electric cars currently on the market. With an impressive range of more than 300 miles and 350kW rapid charging technology, the EV6 is a great choice for those looking for a long-distance EV. The EV6 has a sporty feel given its size and weight, and offers exterior styling to match its performance. 
It's also well equipped, with features such as 19-inch alloy wheels, folding door mirrors, automatic wipers, rear parking sensors and a sizeable boot. 
You'd be hard pressed to find an EV as capable and well-equipped as the Kia EV6 for everyday driving. 
1. Hyundai Ioniq 5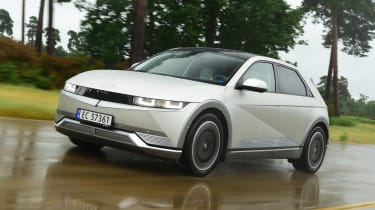 Right now, the Hyundai Ioniq 5 is our favourite electric SUV. The Ioniq 5 offers a great balance of performance and range, while charging speeds are among the best in class. 
Styling is perhaps the strongest attribute of Hyundai's impressive compact electric family car, with retro-inspired yet futuristic exterior styling and an equally impressive tech-focused interior that makes its rivals' look outdated. 
The Hyundai Ioniq 5 is a fantastic all-rounder that attracts attention for all the right reasons and leads our list of the best electric SUVs currently on sale. 
Not sure about going all electric just yet, then check out our list of the best hybrid SUVs to buy….
Source: Read Full Article