If you need to strike a balance between performance and fuel economy, the best diesel cars of 2021 will be just the job.
Introduction
Renault Megane dCi 115
Vauxhall Insignia GS
BMW 320d
Mercedes S 350 d
Volvo XC90 D5 Momentum
Skoda Karoq 1.6 TDI
Honda Civic i-DTEC
Range Rover SDV6 Vogue
BMW 520d
Peugeot 3008 1.5 BlueHDi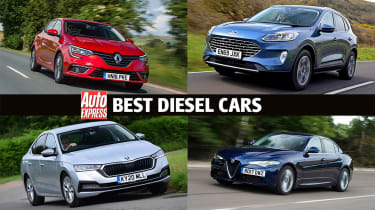 Sales of cars with diesel engines have been on the slide of late, with plenty of manufacturers dropping them from certain model line-ups altogether. In some ways that's a surprise, because the latest diesel cars are cleaner than ever.
Yes, diesels do pollute, but the latest models are far cleaner than those of old and have lots of technology on board to help reduce the harmful gases they pump out.
Most economical family cars 2021
Diesel still has an important role to play in the European car market. With clear fuel economy and CO2 emissions advantages over petrol engined cars, diesel is a sensible choice for buyers of larger cars who cover higher mileages. The smooth, muscular power delivery of a diesel really comes into its own on longer journeys in particular.
With that in mind, check out what we think are the best diesel cars on sale now. They offer a great combination of low running costs and superb performance…
Best diesel cars 2021
BMW 320d
Skoda Octavia 2.0 TDI
Ford Kuga EcoBlue mHEV
Mercedes E 300 de
Volvo XC60 B4
Renault Megane dCi 115
Mercedes Benz S 350
Land Rover Discovery SDV6
BMW 520d
Alfa Romeo Giulia 2.2d
1. BMW 320d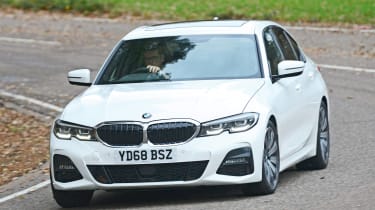 BMW returned to form with the latest 3 Series by shedding weight, improving driving dynamics and adding an impressive array of on-board technology. The 320d in particular will be a popular choice within the 3 Series range as the 187bhp unit possesses genuine performance.
BMW 3 Series review
The 3 Series has also lost up to 55kg, which not only helps it return to the top of the class for handling but improves fuel economy. The 320d achieves more than 50mpg on a combined cycle and while that may not sound particularly impressive, it has undergone the stricter WLTP tests so those figures are more similar to what you'll see in real world driving. The 3 Series now boasts mild-hybrid technology too, squeezing that little bit more out of the tank.
The previous generation 3 Series was a strong competitor in the compact executive saloon sector but the Mercedes C-Class was more refined and the Jaguar XE better to drive. The new car however, has gone straight to the top of the class.
2. Skoda Octavia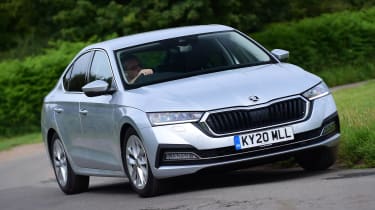 The Skoda Octavia was crowned Car of the Year at the 2020 Auto Express New Car Awards, with the hatchback offering a unique mix of efficient engines, a practical cabin, great technology and – as the Czech brand does so often – a focus on value for money.
Skoda Octavia review
The 2.0-litre diesel engine available in the line-up comes in two states of tune: a lesser powered, 114bhp version that's capable of up to 68.9mpg, or a 148bhp alternative with a DSG automatic gearbox that still achieves 64.2mpg. 0-62mph takes 10.3 and 8.7 seconds respectively, and while the turn of speed won't blow you away it's more than adequate for everyday driving in either form.
Inside, passenger space is excellent with plenty of legroom and headroom to go around throughout. The boot is an impressive size too, measuring up at 600 litres even with the rear seats in place. Should you drop those down, capacity rises to 1,555 litres.
The infotainment system is the cherry on the cake. SE L First Edition cars get a 10-inch touchscreen, which is responsive, easy to read and comes with logically laid out menus too.
3. Ford Kuga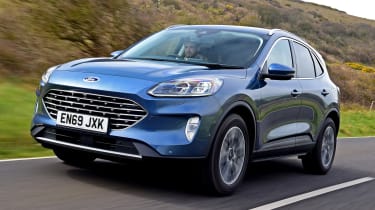 Taking a leaf out of the Ford Puma's book, the latest version of the Ford Kuga SUV is one of the best cars to drive in its class. There's fun to be had behind the wheel, despite the fact that this remains a practical car with family life in mind.
Ford Kuga review
Inside, there's enough space both in the front and in the back for adults to stretch out and be comfortable. Meanwhile, the 526-litre boot is more than adequate for trips to the supermarket or weekends away. The Kuga is well built too, with most of the cheaper materials hidden away in areas of the cabin where you're unlikely to come into contact with them.
The Kuga is available with a 2.0-litre EcoBlue diesel engine that also makes use of 48-volt, mild-hybrid technology. It's mild in every sense of the word and you'll only notice the difference when you come to a stop, with the system allowing the engine to shut down earlier than normal, thus saving fuel. Fuel economy is a very respectable 55.4mpg, with a six-speed manual gearbox propelling the car from 0-60mph in under 10 seconds; a great balance between performance and frugality.
4. Mercedes E 300 de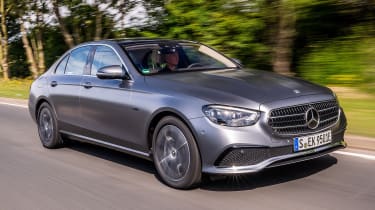 It isn't often that diesel engines are used in plug-in hybrid vehicles (PHEVs): in fact, Mercedes is the only manufacturer to have tried it so far. And on paper the set-up makes perfect sense: you get a battery and an electric motor to give you the lowest running costs on short journeys, and then a diesel engine to provide the best possible fuel economy on a long-distance, motorway cruise.
Mercedes E-Class review
Equipped with a diesel engine (you can also get an E-Class PHEV with a petrol engine), the E 300 de will hit 0-62mph in 5.9 seconds, operating as smoothly as you'd expect from a car bearing a Mercedes badge. Up to 235mpg is claimed, but this is a figure inflated by the E 300 de's 25 miles of electric-only range. You can still expect 50mpg from the engine on its own, though.
Beyond that, the car's strengths are the comfort it offers and its high-quality interior, not to mention its sophisticated styling.
5. Volvo XC60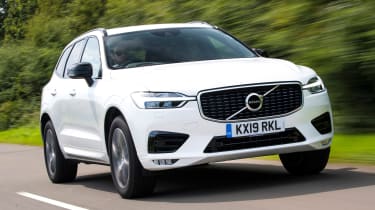 At the premium end of the compact SUV class, the Volvo XC60 is as good as it gets. Comfort and luxury are its key strengths, with a fine interior design, a practical cabin and an excellent engine line-up making it a terrific all-rounder.
Volvo XC60 review
The diesel B4 engine is your best best for keeping running costs low (unless you fancy splashing out more for the T8 plug-in hybrid variant). Volvo claims fuel economy of 49.5mpg, while 194bhp will get you around very happily. Emissions sit at 150g/km, although this figure climbs to 167g/km if you go for the all-wheel drive option over the standard front-wheel drive.
It's true that the XC60 isn't the last word in ride comfort, falling shy of the standard set by the BMW X3. However, it's well-composed through corners and offers a nice blend of comfort and purpose for when you feel like driving more aggressively.
6. Renault Megane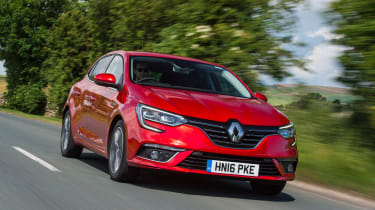 The Renault Megane is a front-runner in the compact hatchback class, especially in diesel guise. It arrived in the UK in 2016, and instantly issued a challenge to the class leaders in the hard-fought compact hatchback sector.
Renault Megane review
The Megane is attractive to look at, with a quality of design that raises the game with crisp styling lines and a nose that makes quite a statement with its big Renault badge and LED lamps. The fresh original looks are carried over inside with a cabin that makes most cars in the sector look a bit unimaginative – the portrait-orientated touchscreen in the centre console being a particularly nice touch. All trim levels are respectively well equipped too, and a comprehensive list of safety tech means the Megane has the full five-star EuroNCAP safety rating after independent crash testing.
It's great to drive, with decent handling (if not with as much driver engagement as the SEAT Leon) and refinement. But what really makes the Megane interesting from a diesel owner's point of view is the dCi 115 model that returns a mighty 74.3mpg. The 1.5-litre four-cylinder turbo engine makes 114bhp and 260Nm of torque, and will do 0-62mph in 11.3 seconds with a top speed of 116mph. For the economy conscious hatchback driver, those numbers are hard to beat.
7. Mercedes S350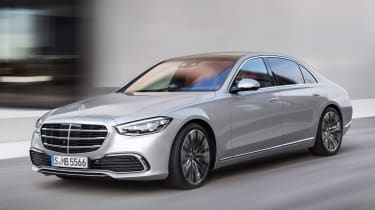 Massive road presence and a cosseting interior mean the Mercedes S-Class is our top luxury car, and it's at its best in diesel guise: if you want the ultimate in luxury diesel driving, then look no further.
Actually, that's not strictly true. Mercedes offers a hybrid S-Class as a true economy champ, but the hybrid powertrain isn't so suited to the car as this diesel engine. The 3.0-litre twin-turbo V6 is super-smooth yet seriously quick with 0-62mph taking just 6.0 seconds – quite a feat in a car weighing nearly two tonnes. Yet driven carefully it will return 52mpg.
Best luxury cars 2021
Weight certainly aids comfort and whatever guise the S-Class is in, it irons out any imperfections in the road. Sophisticated technology 'reads' the road ahead and is able to prep the air suspension for upcoming bumps. This really is one of the most comfortable cars short of a Rolls-Royce Phantom.
The Mercedes S-Class has always been a showcase for the absolute latest technology and this one doesn't disappoint, with two 12-inch screens in the dash, mobile data, optional night vision, reclining rear seats and an industry first – there isn't a single filament lightbulb on the car.
When it comes to luxury limos, the S-Class stands head-and-shoulders above its rivals.
8. Land Rover Discovery SDV6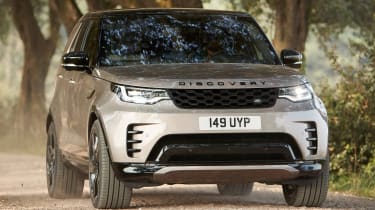 The Land Rover Discovery is an incredibly capable machine: it's spacious inside, it's exceedingly comfortable and the technology on offer compares well with the very best kit imaginable. It also does what few other SUVs can realistically hope to achieve off-road, yet doesn't suffer from impaired on-road driving dynamics as a result.
Land Rover Discovery review
The 3.0-litre V6 diesel engine is a joy to behold, with a recent update boosting power to 302bhp and torque up to a gigantic 700Nm. 0-60mph takes seven seconds en route to a top speed of 130mph, and the soundtrack along the way will be music to your ears.
While most diesels offer a semblance of decent fuel economy, the SDV6… doesn't. You're looking at an official figure of 31.5mpg, although the reality is even bleaker with anything over 25mpg worthy of a celebration. Emissions aren't great either, standing at 202g/km. Still, if you're able to meet the lofty asking price for a Discovery then this won't be too worrisome.
9. BMW 520d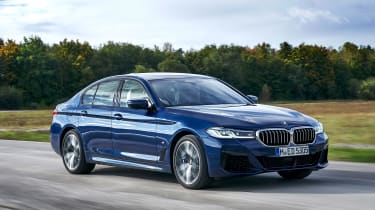 The BMW 520d is a great all-rounder – mixing comfort, economy and performance in a practical package. Like the new 3 Series, the current 5 Series benefits from a 100kg weight reduction over its predecessor. This aids driving dynamics, important in all BMW saloons, as well as efficiency.
BMW 5 Series review
The 520d makes up a huge chunk of 5 Series sales and it's not hard to see why: the 187bhp 2.0-litre turbocharged diesel gives the 520d a warm-hatch rivalling 7.5 second 0-62mph time. More impressive though is the fuel economy achieved with the addition of a 48-volt mild-hybrid system; very nearly 60mpg under the latest WLTP rules.
Of course, there are much more powerful engines available with the 5 Series – topping out in the form of the 616bhp M5 Competition, but the 520d is a competent performer, providing the driving experience you'd expect of a BMW and the efficiency you may not. 
10. Alfa Romeo Giulia 2.2d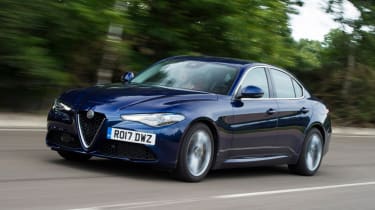 It's not often that a manufacturer gets a car right first time round, but the Alfa Romeo Giulia hit the ground running when it arrived a few years back, impressing with its superb handling and looks that made a fresh change from what was already available in the compact executive saloon sector.
Alfa Romeo Giulia review
There's no manual gearbox option in the UK, however the eight-speed automatic doesn't disappoint regardless of what it's paired to. The 2.2-litre turbodiesel engine is the biggest seller here, available with 158bhp or 187bhp. Unlike many of the alternatives out there it has a very linear power delivery and feels more eager to rev, although as a consequence there's not as much torque available at the lower end of the range as we'd like.
Still, 0-62mph in 8.2 seconds isn't too shabby (7.1 seconds for the higher-powered diesel) and 53.3mpg is pretty good too. The Giulia ticks all the right boxes when it comes to the fundamentals too, with a useful infotainment system, very reasonable interior space and a 480-litre boot that's as useful as anything else out there at this price.
The challenges facing diesel
Today's diesel cars are a far cry from the noisy, rattly, smoky diesels of old. They use clever particulate filters and additional measures that are designed to cut exhaust emissions, and one study has estimated that you would need to put 42 million new diesel cars on the road to match a coal-fired power station for harmful nitrogen oxide emissions.
That hasn't stopped the UK government from introducing schemes like the Ultra Low Emissions Zone (ULEZ) in London as a deterrent for drivers of high-polluting vehicles. Unfortunately for drivers of most diesel cars registered before 2016, their cars don't meet the standards set by Euro 6 and they'll need to pay £12.50 per day to enter the ULEZ zone. Every new diesel car on sale today is Euro 6 compliant and increasing numbers are also compliant with the tougher RDE2 real-world emissions standards.
London ULEZ: the Ultra Low Emissions Zone explained
The reputation of diesel wasn't helped by Volkswagen and the Dieselgate scandal. The manufacturer fitted devices to some of its TDI engines to achieve better emissions results in lab tests than were possible in everyday driving. The resulting scandal pushed through the introduction of the more representative WLTP and RDE emissions tests that give a closer indication of the fuel economy and emissions a car will produce in the real world. But even the VW story was concentrated on older diesel engines, and the current ones are just as clean and efficient as those made by rivals.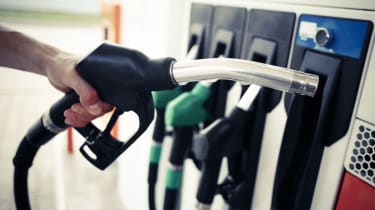 As part of the fallout of the diesel backlash, some manufacturers have rolled back on the number of diesel models they offer. Small diesel engined cars in particular are becoming rare with hybrid and electric technology taking over. On the whole, however, a diesel car is still a sound choice for the new car buyer with the right usage patterns.
Should you buy a diesel car?
Our top 10 diesel cars offer smooth driving, great efficiency and plenty of power for every day needs, although you should still consider whether a diesel model suits you. If you do lots of short, urban low-speed journeys, then you won't be getting the best from a diesel, and a petrol, hybrid or electric model might be a better bet. That's part of the reason why so few small cars are offered with diesel engines today.
Diesel is still the engine of choice if you cover longer distances, as it's more fuel efficient than an equivalent petrol, while the torque of a diesel engine means they're well suited to towing, but without harming fuel economy too severely.
Best diesel automatics
Given the kind of long distance driving at which diesel cars excel, automatic gearboxes are a very popular choice. The user-friendliness of a smooth self-shifting gearbox is great whether you're cruising on the motorway or snarled up in an urban traffic jam. Our picks of the diesel models on sale today include numerous models with automatic gearboxes that will take even more of the strain out of your daily driving.
Cars like the Volvo XC90, and Mercedes S 350 d come with autos as standard, while family hatchbacks like the Megane and Civic offer autos as an option. BMW's eight-speed automatic available in the 3 Series and 5 Series is a particularly slick performer, with barely perceptible shifts that are designed to make the most of the diesel engine's efficiency.
Diesel power not for you? Then check out our list of the best hybrid cars to buy…
Continue Reading
1Introduction – currently readingIf you need to strike a balance between performance and fuel economy, the best diesel cars of 2021 will be just the job.
2Renault Megane dCi 115The Megane is a front-runner in the compact hatchback class, especially in diesel guise
3Vauxhall Insignia GSThe Vauxhall Insignia is surprisingly good to drive, practical and with a great range of punchy diesel engines
4BMW 320dBMW returned to form with the latest 3 Series by shedding weight, improving driving dynamics and adding an impressive array of technology
5Mercedes S 350 dMassive road presence and a cosseting interior mean the Mercedes S-Class is our top luxury car, and it's at its best in diesel guise
6Volvo XC90 D5 MomentumThe XC90 comes with a variety of powertrains, but the diesel is still the best all-rounder
7Skoda Karoq 1.6 TDIThe Skoda Karoq had big shoes to fill in the shape of the popular Yeti, but its appeal is amplified by sensible diesel engines
8Honda Civic i-DTECSmooth and refined i-DTEC diesel adds another string to hatchback's bow
9Range Rover SDV6 VogueThe Range Rover mixes incredible refinement with go anywhere off-road capability, especially with the V6 diesel
10BMW 520dThe 520d is a great all-rounder – mixing comfort, economy and performance in a practical package
11Peugeot 3008 1.5 BlueHDiThe Peugeot 3008's bold looks, funky interior and efficient diesel engines make it hugely appealing
Source: Read Full Article