If all-wheel drive is a must but you're on a bit of a tight budget, the best cheap 4×4 cars can be found on the second hand market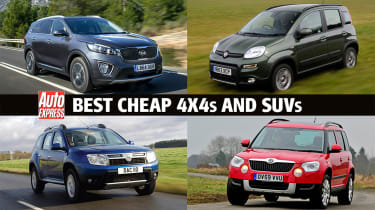 SUVs and 4x4s continue to grow in popularity each year, with almost every manufacturer – even the likes of Lamborghini and Ferrari – now trying to get a piece of the action. Modern 4x4s combine rugged styling, all-terrain ability and great practicality with comfort and polished road manners, ensuring near universal appeal.
Having said that, they can also be expensive, leaving premium models out of reach for some customers. So to help out we've rounded up some of the best cheap 4x4s and SUVs on the second hand market.
Buying a used 4×4 or SUV is the best way to make your money go further, with plenty of older models offering the same current-generation qualities at a much cheaper price.
Most economical SUVs, 4x4s and crossovers 2021
There are a whole host of reasons why this might be the right path for you. With more space and versatility than hatchbacks, SUVs also have a style advantage over traditionally boxy MPVs. Four-wheel-drive can be a handy tool as well, helping you stay one step ahead of the unpredictable British weather and generally giving you more confidence on slippery surfaces.
While some will use a 4×4 for the intended purpose of serious off-roading, at the premium end of the spectrum high-end SUVs are replacing luxury limos as the transport option of choice for celebrities and heads of state. The 4×4 has gone from utility vehicle to style statement in the space of a couple of decades.
Whatever your budget, there's a 4×4 or SUV out there for you, offering many of the above qualities without compromising on reliability or running costs. That is, of course, if you buy well, and the following list should help you do just that…
Best cheap 4x4s and SUVs
1. Dacia Duster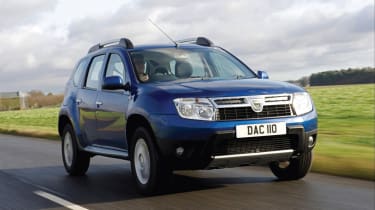 We found: 1.5 dCi Lauréate 4×4 (2014/14-reg, 63k) 
Price new: £13,440 
Now: £4,790 
Engine: 1.5-litre 4cyl, 108bhp 
Economy: 56.5mpg 
CO2: 130g/km 
Euro NCAP: 3 stars (2011)
The Dacia Duster was updated in 2018, but it didn't lose the personality that made this no-frills SUV such a hit – which is why the pre-facelift car is still a great used buy.
For just over £4,000 you can get a top-spec Lauréate. While lesser models have hardly any kit, this car offers toys such as Bluetooth, air-con and a stereo.
So while it was once the pricey option in the range, the creature comforts now make it the one to go for. It's low-rent inside, but there's plenty of space and a dependable 108bhp diesel engine for decent fuel economy.
2. Kia Sorento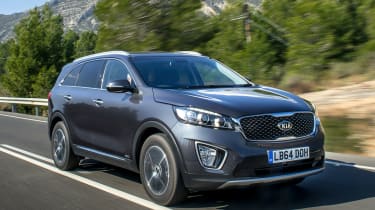 We found: 2.2 CRDi KX-1 (2015/65-reg, 67k miles) 
Price new: £28,795 
Now: £12,950 
Engine: 2.2-litre 4cyl, 194bhp 
Economy: 42.2mpg 
CO2: 174g/km 
Euro NCAP: 5 stars (2014)
The new Kia Sorento ranks among the best cars in the large SUV class these days, and the performance of the latest model has its roots in the third-generation car that preceded it. That car went on sale for the first time in 2015, priced from £28,795. Only a 2.2-litre diesel engine was offered, although every model came with four-wheel drive and enough seating for seven people.
Manual and automatic options were available, but we think the latter suits the Sorento's character best. Entry-level KX-1 cars had DAB radio, Bluetooth, air-con, cruise control and rear parking sensors as standard, so your decision on which trim level to focus on will be dictated by just how plush you want your car to be. If it's a tow car you're after, it's worth stepping up to the KX-2 model for the self-levelling suspension.
The quality of the interior is very high indeed and there's lots of space inside, however that third row of seats is only really suitable for children.
3. Land Rover Discovery 4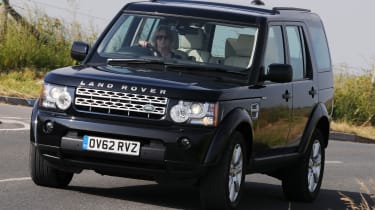 We found: SDV6 HSE (2012/62-reg, 80k miles) 
Price new: £50,405 
Now: £15,995 
Engine: 3.0-litre V6 diesel, 253bhp 
Economy: 32.5mpg 
CO2: 230g/km 
Euro NCAP: N/A
SUVS don't come much more capable. For 2012, Land Rover boosted its twin-turbo V6 diesel to 253bhp and 600Nm of torque which, coupled with excellent 4WD and Terrain Response, lets the Discovery tackle just about any kind of terrain you can imagine.
• Used Land Rover Discovery 4 review
As a motorway cruiser, it has a supple and compliant ride, and it does a reasonable job of hiding its bulk in corners. Inside, the top HSE blends luxury and rugged practicality – and don't forget its seven-seat layout.
There's another reason to go for the Discovery 4 too: reliability improved over the Discovery 3, meaning you should have to fork out less for running one over the course of your ownership. Add the better interior and more frugal engine into the equation, and you've got the makings of a great used buy.
4. Skoda Yeti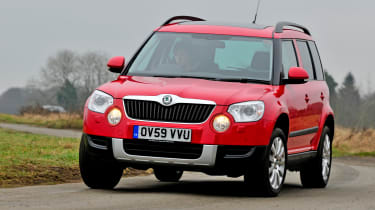 We found: 2.0 TDI CR DPF S (2012/62-reg, 74k) 
Price: £4,350 
Engine: 2.0-litre 4cyl, 109bhp 
Economy: 62mpg 
CO2: 118g/km 
Euro NCAP: 5 stars (2009)
The Skoda Yeti has something of a cult following, with the plucky crossover proving to be greater than the sum of its parts over the course of its life. Not only was it one of the most practical cars in its class, but it was also great to drive and developed a reputation for reliability with owners.
The Yeti was offered in front- and four-wheel drive forms, with the latter exclusive to the 1.8-litre petrol and 2.0-litre diesel in 138 and 168bhp guises respectively. 4WD could be optioned on the 109bhp version of the 2.0-litre diesel too. Grip was excellent in muddy and snowy conditions, and the system dampened the throttle response in order to reduce wheelspin. An off-road function automatically controlled traction, hill descents and braking, making the Yeti one of the easiest cars to drive off-road.
One area where the Yeti falls short is fuel economy. While 62mpg looks promising on paper, you're more likely to see 40mpg in real-world driving. Things aren't helped by the aerodynamic design, which you can hear on the motorway in the form of excessive wind noise.
5. Hyundai Santa Fe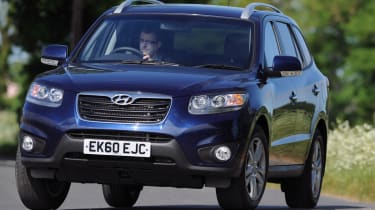 We found: 2.2 CRTD CDX (2008/08-reg, 98k miles) 
Price new: £22,820 
Now: £3,499 
Engine: 2.2-litre 4cyl, 155bhp 
Economy: 38.7mpg 
CO2: 191g/km 
Euro NCAP: 4 stars (2006) 
In 2007 Hyundai was on its way to becoming a serious rival to the mainstream European and Japanese firms, and it was the Santa Fe that led the charge.
Admittedly, it lacked the sophisticated driving manners of the class leaders, but it made up for that by being great value for a large SUV that offered up to seven seats, a strong diesel engine and lots of equipment. The excellent ride ensured that all passengers were comfortable on the go, and the 969-litre boot offered the kind of space that few rival cars could match at the time.
Today the Santa Fe has the same ingredients that made it such a fine family 4×4, although as you'd expect several improvements have been made since then.
6. Suzuki SX-4 S-Cross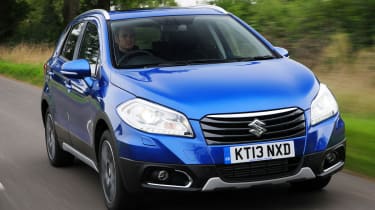 We found: 1.6 DDiS SZ-T (2013/63-reg, 89k miles) 
Price new: £19,499  
Now: £5,249 
Engine: 1.6-litre 4cyl, 118bhp 
Economy: 67.2mpg 
CO2/tax: 110g/km 
Euro NCAP: 5 stars (2009)
It's not the prettiest SUV, but the Suzuki SX-4 S-Cross is a simple, relatively efficient choice with great all-weather performance, due to an effective four-wheel-drive system. We ran one on our fleet in 2014, and it impressed with its solid feel and lack of gimmicks. The 430-litre boot is practical, while six-footers can comfortably fit in the rear.
The small diesel engine is punchy and fuel economy is respectable. The earliest versions of the car didn't have the best styling it has to be said, but it made up for the gawky looks with an impressive kit list that belied its price tag.
If you need a small SUV that's reliable and cheap as chips to run, the SX4 S-Cross is a great alternative to some of the pricier options that were around when it first appeared in 2013.
7. Fiat Panda 4×4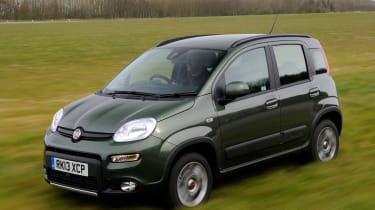 We found: Copy (2013/62-reg, 91k) 
Price: £3,950 
Engine: 1.3-litre 4cyl, 74bhp 
Economy: 60.1mpg 
CO2: 125g/km 
Euro NCAP: 4 stars (2011)
The Mk3 Fiat Panda was launched in the early stages of 2012, although it wasn't until 2013 that the Panda 4×4 joined the line-up. Putting a four-wheel drive system into a city car doesn't make a great deal of sense on the face of it, but with Fiat having introduced the first Panda 4×4 in 1983 and sold 6.5 million examples thereafter, clearly there was a demand to be met.
In addition to four-wheel drive, the Panda 4×4 welcomed steel bash plates, plastic bumpers and wheelarch extensions, a raised suspension for better ground clearance and a new, electronic rear diff for genuine off-road ability. Fiat even threw in 15-inch alloy wheels fitted with mud and snow tyres for when the going got tough in the winter.
Engine choices included a 1.3-litre diesel producing 74bhp, or an 895cc, two-cylinder turbo petrol with 84bhp. On paper these could return 60.1 and 57.6mpg respectively, largely due to the Panda 4×4's relatively light body. The boot measured 225 litres, and there was enough head and legroom in the back for two adults to sit comfortably.
8. Nissan Qashqai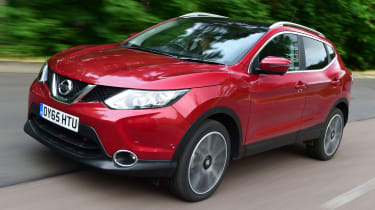 We found: 1.6 dCi n-tec 4WD (2015/65-reg, 91k) 
Price £8,195 
Engine: 1.6-litre 4cyl, 128bhp 
Economy: 55mpg 
CO2: 133g/km 
Euro NCAP: 5 stars (2014)
A new Nissan Qashqai is due soon, meaning the lifecycle of the second-generation model is slowly winding down to a close. It first launched in the UK early in 2014, with four-wheel drive available on the 1.6-litre diesel.
All Qashqais came with climate control, Hill Start Assist, cruise control with a speed limiter function and a five-inch colour touchscreen as standard, and while front-wheel drive suited most buyers, four-wheel drive was a wise choice for those needing to tow. Incidentally, the towbar was the subject of the Qashqai's first recall in 2014, which identified a manufacturing error that could lead to the towbar detaching.
Extra grip and traction aside, the Qashqai has been an excellent family car ever since Nissan took a leap of faith in launching it in 2007. Back then it was the first proper crossover, and it kick-started the tsunami of SUVs that have come to dominate the market today. As such a popular model you're sure to find a bargain on the used-car model, and you'll have the added satisfaction of driving around in a modern-day pioneer of the automotive landscape.
Looking to cut fuel costs? Read our list of the Most economical SUVs, 4x4s and crossovers…
Source: Read Full Article