Best car workshop vacuum cleaners
Which vacuum cleaner is best for heavy-duty car cleaning? We pick from the top buys to find out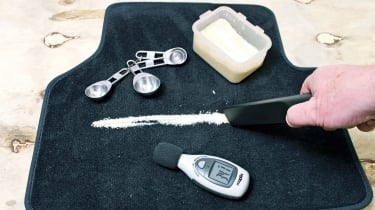 As cordless vacs make mains models obsolete around the home, there's now a greater need to invest in something a bit more heavy duty for your car and workshop.
While cordless models are brilliant at shifting light household dust, hefty dirt can cause problems with cyclones and filters. Prolonged cleaning often falls foul of limited battery life, too. Workshop vacs, on the other hand, couldn't be more straightforward to use: a powerful mains motor, a simple filter able to cope with wet and dry rubbish, and a large reservoir to catch it all. But which is best for your car and workshop? 
How we tested them
Our tests were primarily based around wet and dry suction. We pitted each vac against rice, sugar and flour. Also, we timed how long each model took to suck up 10 litres of water. 
Extra points were awarded for ease-of-use features such as long power leads and hoses, plus accessories supplied, drain plugs and adjustable-height extension tubes, and vacs scored well if swapping from wet to dry operation was simple. 
Features such as air blowing, upholstery/carpet cleaning and automatic filter cleaning also picked up extra points. Price was our final consideration, with figures taken from makers and online sources.
Verdict
Nilfisk's Buddy II T wins as a powerful model perfectly suited to DIY chores. The Titan TTB431VAC is a good alternative for bigger jobs. Silverline's cost-effective 974451 and the Sealey Wet and Dry Low Noise vacuums complete the podium places.
1. Nilfisk Buddy II T
Reviews
Nilfisk Buddy II T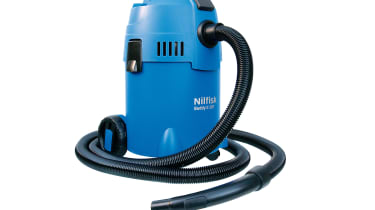 Price: around £78Capacity: 16 litresRating: 5 stars
After three wins, Nilfisk's Multi 30 T has been unseated by the firm's own Buddy; a smaller, slightly lower-spec and, significantly, cheaper model. And while the Buddy trailed the bigger machine on performance, the difference was marginal; only trade users battling tough dirt, every day, are likely to notice it. There are some compromises to price, though, such as the rigid extension tube made of plastic instead of stainless steel, and an accessory socket that's permanently live, rather than switching in and out with the vac. But quality, the long hose and keen price make this an unbeatable package.
Buy now from Amazon
Titan TTB431VAC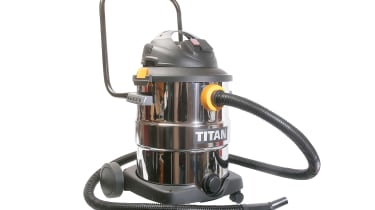 Price: around £79.99Capacity: 40 litresRating: 4.5 stars
A little dearer than Nilfisk's winning Buddy, but this is a much larger machine, making it fantastic value for money. Granted, some of the accessories feel a little flimsy, although they work perfectly and there are plenty of them: the usual crevice tool, power tool adapter and floor head are joined by a corner brush. Performance from the 1,400-Watt motor ran the winning Nilfisk close in our wet and dry tests and, overall, this is a well-designed unit. We like the large drain plug, the 1,600-Watt synced power socket and the five accessory clips.
Buy now from Amazon
Sealey Wet & Dry Vacuum Cleaner (Low Noise) PC20LN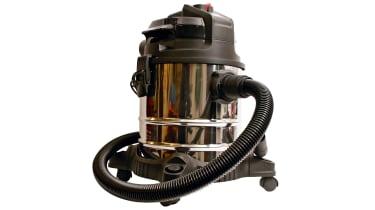 Price: around £105  
Capacity: 20 litres
Rating: 4 stars
You don't have to have moaning neighbours to appreciate this 'low noise' vacuum, because we measured it at just over 83 decibels, a full 10dB below its rival. Its 1,000W motor is down on power compared with the Nilfisk Buddy II and was a touch behind in the cleaning and water suction tests. In reality, though, you'd hardly notice. 
Swapping between wet and dry required a filter switch, but was still pretty quick and storage was good, with a power lead hook and slots to hold the hose neatly. However, that hose is just 1.7 metres long. Despite similar pricing it lacks the Nilfisk's power tool outlet, but does have a blow function. Great for prolonged use, but the Nilfisk is a better overall package.
Buy now from Amazon
Silverline 974451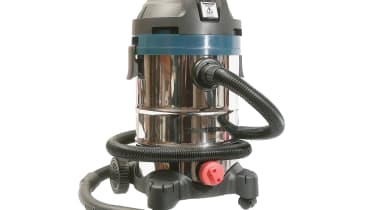 Price: around £92Capacity: 30 litresRating: 4 stars
Although this is a little less gutsy than the Nilfisk Buddy and Titan TTB431VAC, it's still a powerful enough vac with lots to like. The heavy-duty synced power socket, which allows the unit to work as a dust extractor for power tools requiring up to 2,000 Watts, leads the group. And even though the power cable is incredibly heavy duty, it's still a generous six metres long. In fact, ease of use seems to be a theme with this unit. A large drain plug makes emptying a reservoir full of liquid an absolute breeze, and the adjustable-length extension tube is another bonus.
Buy now from Amazon
Nilfisk Multi II 30 T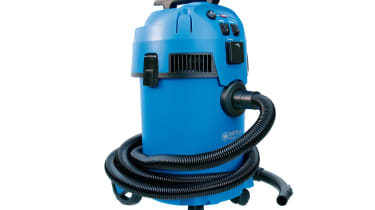 Price: around £139.99Capacity: 30 litresRating: 4 stars
Nilfisk's Multi II 30 T has some big shoes to fill. The previous version of this vac has won our test three times. But the model seems up to the challenge. Suction beat all others here, across our tests, and Nilfisk has fitted a warning light to tell you when the filter needs a clean. Better still, a cleaning button – which vibrates the filter to loosen off detritus – restores performance while preventing you having to open up the machine. But the extras have come at the cost of removing the drain plug and replacing the adjustable-length extension tube with a simpler two-piece design.
Buy now from Amazon
Kärcher WD 3 P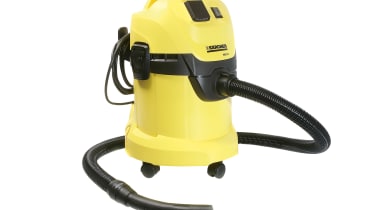 Price: around £109.99Capacity: 17 litresRating: 3.5 stars
Full marks to Kärcher for making this vac a real contender in the suction stakes, even though it has a considerably less powerful – and consequently more frugal – motor than most here, at just 1,000 Watts. Power aside, performance is also helped by dedicated inserts – for wet or dry use – that simply clip into the floor head. Overall, though, this isn't the nicest product to use. Considering the premium price for the relatively small capacity, it's disappointing that the power lead and hose are shorter than most here. And it's surprising that there isn't a drain plug. 
Buy now from Amazon
Vax 6131T Multivax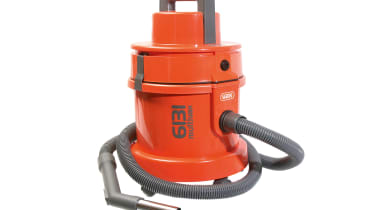 Price: around £159.99Capacity: 30 litresRating: 3.5 stars
Here's a model that's been around for years now, even if its price has jumped up considerably since our last test in 2016. But unlike most here, this is a full carpet and upholstery cleaner that pumps cleaning solution into the fabric before sucking it back up. In true Vax style, plenty of accessories are supplied, including dedicated wet and dry floor heads, a crevice tool, brush and even a couple of bottles of shampoo. However, staple workshop vac features, such as a blow function and a synced power socket for dust extraction, are missing.
Buy now from Amazon
Sealey PC310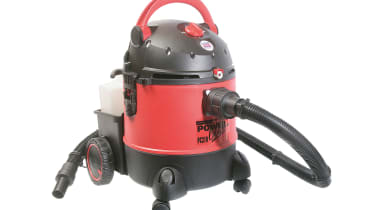 Price: around £143Capacity: 20 litresRating: 2.5 stars
As with Vax's Multivax, the Sealey PC310 is a full carpet and upholstery cleaner. And again, the detergent mechanism seems to be in place of usual workshop vac features such as a blower and synced power socket. But this is still an impressively powerful vacuum, in wet and dry modes, and in some ways we prefer it to the Vax. The upholstery cleaner head is a boon for car usage, and the separate external detergent tank allows the entire reservoir to be used for waste. Sadly, a sub-two-metre hose and a fiddly filter and wet cover arrangement robbed some points.
Buy now from Amazon
Vac King CVAC20PR2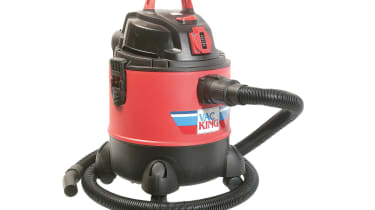 Price: around £77.99Capacity: 20 litresRating: 2.5 stars
Even though it's ranked last, the Vac King is worth considering in an impressive field. Unfortunately a price tag of just under £80 is premium money for a 20-litre vac, making this is a direct rival to Nilfisk's Buddy. Out of the two, the Buddy performed better and scored higher thanks to a longer power lead and hose, and Nilfisk's simpler filter set-up – the same arrangement for wet and dry. Swapping between the Vac King's linen bag (for dry) and foam wraparound (for liquids) is fiddly. But one saving grace is the Vac King's superior adjustable-length stainless steel extension tube.
Buy now from Machine Mart
Source: Read Full Article