Best car mats on sale 2021
Which car mat sets offer the best protection for your vehicle's carpets?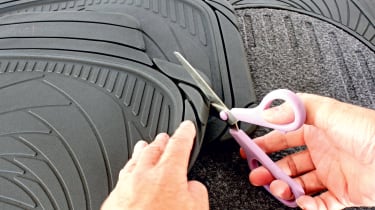 Given the huge cost of replacing worn and frayed original-fit carpets, investing in protective mats makes a lot of sense. When it's time to sell your car, pristine carpets will help to give it that as-new look, increasing both its value and desirability. 
There are cut-to-size sets available, although it's cheaper to opt for universal mats. However, these sometimes leave areas uncovered. Overall, a trim-to-fit set offers the best compromise and could potentially be used in your next purchase. 
In terms of materials, carpets look more upmarket and are kinder on the heels, whereas rubber or PVC mats are tougher and better at dealing with mud and water. Sets which feature both materials tend to offer buyers the best of both worlds.
How we tested them
All the mats were tried on a Mk4 Renault Clio. We checked how well each set fitted, trimming them where applicable. We marked each set for wear resilience by wire-brushing part of the mats, and then for resistance to dirt by grinding in a mix of salt and grit, vacuuming the mats and assessing the results. 
Mats that move around when you get in and out of the car are a nuisance, so we did some deliberate shuffling to check this. Carpet mats usually use an anti-slip backing, while rubber/PVC versions rely on small nibs that dig into the carpet to keep them in place. A heel pad to protect your shoes is always useful, and gained extra points. The prices were the best we could find at the time of testing. 
Verdict
For performance, coverage and price, the Sakura SS5177 remains our top choice, although the Ring RMAT1 wasn't far behind. The Michelin 98016 impressed, and was the best of the non-carpet sets. 
Sakura SS5177
Ring RMAT1
Michelin 98016
Reviews
Sakura All-Weather Car Mat Set SS5177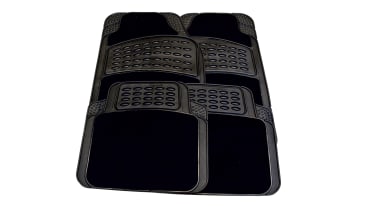 Price: £14.95
Contact: www.saxon-brands.com
Rating: 5 stars
Our 2019 winner scored handy points straight away, with a price reduction of almost £5 since the last test. The specification was the same as before, with the front mats being usefully long and wide, at 70 x 45cm, and a mix of carpet sections set into rubber mats. They showed barely any effects of the wire brushing, and vacuuming got out all the grit. We cut the front mats to make a nice fit, although the trimmable areas weren't as big as on some other sets in the test, and might be tricky to fit in smaller cars. However, the rear mats were large, and easily trimmed to size for our car.
Buy now from Amazon
Ring Ultra Shield 5000 Premium Car Mat Set RMAT1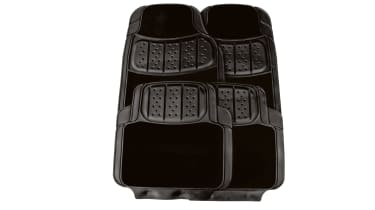 Price: £25.99 
Contact: www.ringautomotive.com
Rating: 4.5 stars
Ring's RMAT1 had a mix of carpet and PVC. At 72 x 45cm, the front mats went well under the pedals and suited LHD or RHD cars. They were easily trimmed for a good fit, and the combined area of all four mats made them one of the largest sets overall. The PVC shrugged off the wire brush and we got all the grit out. Only the Ring's higher price lost it top spot.
Buy now from Amazon
Michelin All-Weather 4 Piece Car Mat Set 98016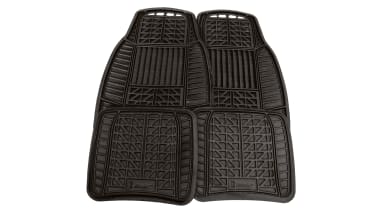 Price: £24.99  
Contact: www.caeurope.co.uk
Rating: 4.5 stars
Our top choice for an all-rubber mat set, the Michelins oozed quality, practicality and versatility. The design had loads of areas to trap mud and moisture, and there were lots of choices for trimming to size. The number of cleats and nibs to keep them in place was also good. The identical 70cm front mats went under the pedals, but left a little area uncovered at either side. We cut the rear mats for a perfect fit, and they extended under the front seats.
Buy now from Amazon
Ring Dura Shield 3000 Car Mat Set RMAT15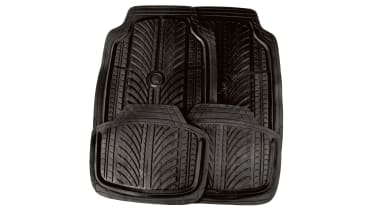 Price: £20.99
Contact: www.ringautomotive.com
Rating: 4 stars
This is the second of two non-carpet sets, and we loved the RMAT15's design, which looked like we'd got tyres on the floor. The combined coverage and keen price made it good value for money, and the design was again PVC rather than rubber. It was certainly tough, shrugging off the wire brush with ease. All the mats were trimmable, the identical fronts at 51cm, the widest we tried. All had an inverted 'V' lip which would keep dirt and water away from carpets, but did hinder trimming, especially on the rears.
Buy now from Amazon
Sakura All-Weather Car Mat Set with Carpet Panel AWM0001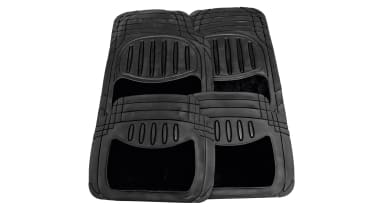 Price: £29.99  
Contact: www.saxon-brands.com
Rating: 3.5 stars
Despite being a rubber and carpet design, the mats had almost as many trim lines as some of the non-carpet sets, yet the design was similar to the other Sakura. The carpet wasn't so good at resisting the wire brush or enthusiastic vacuuming. The mirrored 73cm front mats were the longest we tried, and went an impressive distance under the pedals, while the rears could be trimmed to fit under the front seats. They did cover the largest area, but their price and more impressive newcomers dropped them down the order.
Buy now from Amazon
Michelin Premium Carpet 4-Piece Mat Set 92846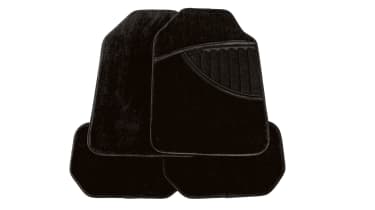 Price: £24.63
Contact: www.caeurope.co.uk
Rating: 3.5 stars
We couldn't help but like the luxurious, thick-pile carpet that covered all four mats, especially as it was unaffected by wire brushing and hard vacuuming. The only non-carpeted area was the large and soft rubber driver's heel pad. Underneath, nibs kept them securely in place. The rears were angled a little at the front, so covered plenty of carpet, but didn't go far under the front seats. These are really good mats, but with no trimmable areas, it's a bit of a lottery if they will be suitable for your car.
Buy now from Amazon
Ring Carpet Shield 5000 Car Mat Set RMAT29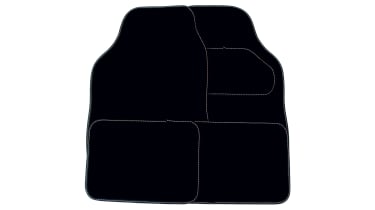 Price: £14.99
Contact: www.ringautomotive.com
Rating: 3 stars
This Ring set features simple carpets with no trimmable sections. We liked the grippy non-slip backing that prevented unwanted movement. Being smaller than most of the others, getting the fronts under the pedals meant leaving a big gap behind, and there was another at the side. In the rear, the oblong mats had to be turned portrait, which left more carpet exposed. The wire brushing test did cause some fluffing, but we got all the grit out eventually. This set's size really makes it more suitable for a smaller car.
Buy now from Amazon
Safe Travel 27752 Universal Car Mats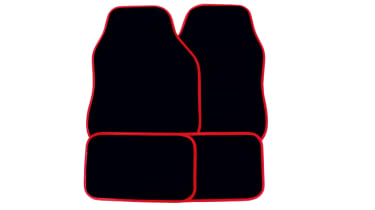 Price: £17.99  
Contact: www.amazon.co.uk
Rating: 2.5 stars
This set was undeniably the brightest and most attractive we tried, with red binding around each mat. We liked the thick heel pad, and the grippy underside kept the mats in place. But the 58.5cm-long fronts were too small for complete coverage, as were the oblong rears, which left lots of carpet uncovered regardless of orientation. The set was the smallest here, with Sakura's AWM0001 more than twice as big. The carpet fluffed easily and the grit took some getting out, even when vacuuming in turbo mode.
Buy now from Amazon
Source: Read Full Article